'The Bad Batch' to Have 16 Episodes in the First Season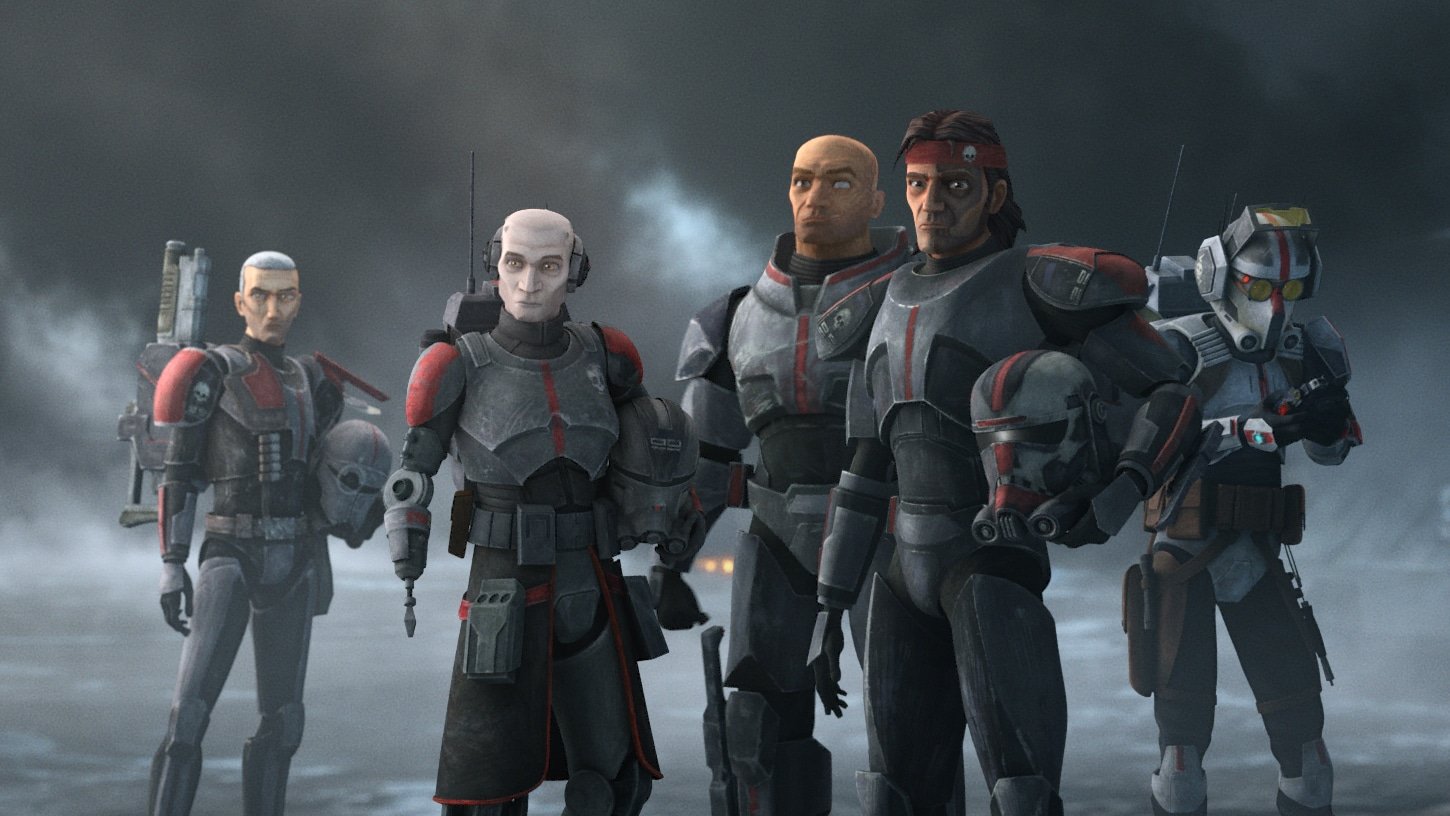 The Bad Batch will make its debut on Disney Plus on May the 4th, and even though we have known the release details for the show for a while now, we didn't really know how long it will be running. Since the show will be dropping a weekly episode, every Friday, except for this week, when two episodes drop, one on Tuesday (the 70-minute premiere) and the next one on Friday, a logical (yet disappointing) answer would have been six episodes, since that would place the last episode of the series on June 4, a week before Marvel's Loki show for Disney Plus drops.
However, those who are excited about the Clone Wars spin-off series can now sigh in relief, because the total episode count is gonna be much higher than that. We already knew that was not the case, since Kevin Kiner said in an interview last month he'd just finished scoring the 14th episode. In a new interview with CNET, Brad Rau, who directed the series, said that there will be 16 episodes. He also weighed in on the possibility of a second season:
"We have 16 episodes in season 1. We can't confirm any more than that, but we have high hopes. We love these characters. We'd love to keep telling the stories."
This places the season finale for The Bad Batch on August 13, 2021. Whether or not a making-of documentary on the series is coming out next, remains to be seen. After that, Star Wars: Visions will be coming out before The Book of Boba Fett closes the chapter of 2021 Star Wars by December. Visions is set to have 10 episodes, so unless Boba Fett premieres before December, which is unlikely given the title card at the end of The Mandalorian season 2, we won't be having back-to-back Star Wars shows on Disney Plus for the rest of the year.
The episode count, however, was not the only remarkable quote from that interview. Writer Jennifer Corbett was asked about the inclusion of the young Omega, which she used to fuel a lot of speculation:
"We wanted to challenge these elite soldiers, because they're so good at what they do. Interacting with this child seemed like a natural way to throw them for a loop, because they're not equipped to deal with being guardians.

Who she is and why she's important is definitely something we explore throughout the series. And we are going somewhere with this little family unit."
Speaking of The Bad Batch, yet another clip just dropped online. While it is labeled as a featurette, it is basically a collection of short clips from the episodes while the characters are introduced one by one via voice-over. Check it out:
This is the journey of an unlikely few. Meet Star Wars: @TheBadBatch when the Original Series starts streaming May the 4th on @DisneyPlus. #TheBadBatch pic.twitter.com/CdTEUzTC5w

— Star Wars (@starwars) May 3, 2021
The Bad Batch officially drops tomorrow, on May the 4th. Look forward to our review of the first episode in the morning, but if you are already hungry for some first reactions, here is ours (non-spoiler):
Review: Surprise! #TheBadBatch is basically The Clone Wars 🙂
However this time around, many loved characters won't be there.
"Aftermath" convinces ME to stick w/ the show long term, but can the clones & newcomer Omega become the NEW "loved characters?"
We will see!-James Baney pic.twitter.com/AW1irzt5ef

— SWNN (@StarWarsNewsNet) May 3, 2021
Aftermath is the title of the premiere episode, which is 70 minutes long.
Miguel Fernández is a Spanish student that has movies as his second passion in life. His favorite movie of all time is The Lord of the Rings, but he is also a huge Star Wars fan. However, fantasy movies are not his only cup of tea, as movies from Scorsese, Fincher, Kubrick or Hitchcock have been an obsession for him since he started to understand the language of filmmaking. He is that guy who will watch a black and white movie, just because it is in black and white.