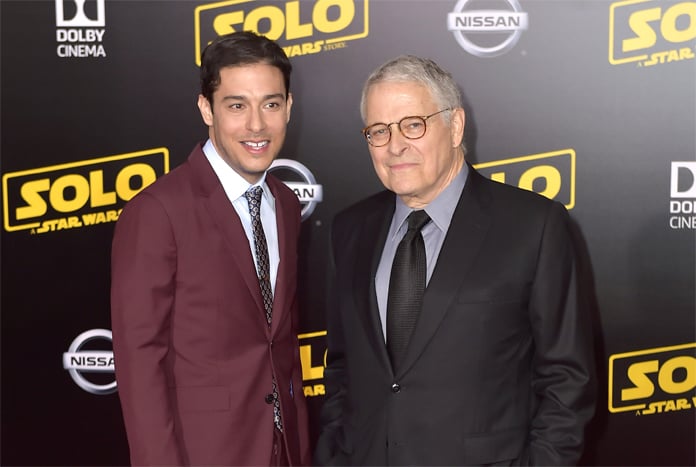 When you're tasked with writing an epic Western featuring arm ripping Wookiees, scruffy nerf herders, caped smooth talkers and self modified droids – it's best to not be working solo.
Lawrence Kasdan was Star Wars royalty, having co-written The Empire Strikes Back, Return of the Jedi, and The Force Awakens, long before he was given the reins to tomorrow's Solo: A Star Wars Story. But this time around, the big shot writer was putting together a crew. Namely, his son Jonathan. Back in November 2012, Lawrence was approached by Kathleen Kennedy and George Lucas about the idea of doing more movies set in that galaxy far far away. Friends for over 40 years, Lawrence agreed to meet with them and listen to their thoughts on continuing the story of the farmer boy and the princess.
"They said 'you know, one of the ideas would be to do just a movie about Han' and I suddenly perked up, because that was the only thing that interested me."
The idea that began forming in Lawrence's head that afternoon would soon have to be put into carbonite freeze as the writer was first drafted into a consultation job on the script for The Force Awakens. "I just put aside Han completely and began working with J.J. on Episode VII. We wrote it very fast. We started in the fall of 2013 and delivered our first draft to Disney in January," says the elder Kasdan. "And from January until the start of production, J.J. and I just continued to write and write and write and then, much to my surprised, we continued to write right through the entire picture. And so I didn't have much time to concentrate on [Solo]."
With much of his attention being diverted from his true interest, Lawrence began to lose steam in the original idea that had ensnared his attention in the first place. "At that point I didn't want to do the Han job, to be frank with you. I had just now written a third Star Wars movie… I really thought I had used up my welcome and my enthusiasm."
Jonathan Kasdan had grown up with Star Wars being an important aspect of his childhood and his enthusiasm for the franchise had only grown with him. It was Jon's ideas and overall excitement for the project that reawakened the Force inside his father, making the elder Kasdan remember why he loved the character and the universe so much in the first place and and how he could finally write the movie he wanted to see.
"I was interested in how was the character I fell in love with at Mos Eisley formed, and what kind of story could you tell about that. Because really, I'm a Western freak. I've made two Westerns and there's nothing more Western than A New Hope and Mos Eisely. In walks a gunfighter. He looks like a gunfighter, he sits like a gunfighter, he shoots first like a gunfighter. And so I thought, what happened before that guy walked in the door?"
In the fall of 2014, the Kasdans were visiting the set of The Force Awakens for inspiration when Jonathan began helping to craft certain pivotal moments in the film – including the scene where Han Solo meets his demise at the wrong end of a lightsaber wielded by his son. The Kasdans remained on set, helping to write and guide the production, for a total of six weeks before returning home and beginning to shape their own story: together.
"It's a saga about generations. It's a saga about passing the torch. It's a saga about mentoring, and who guide people, and where do people learn how they do their thing."
The father and son writing team spent the next three years working in close quarters with each other, learning to find each others rhythms and learn more about one another in the process. "It became this enormously satisfying thing that after a lifetime of sharing not only family and love, but a love for movies, we were able to work together for three years and still be in love with each other."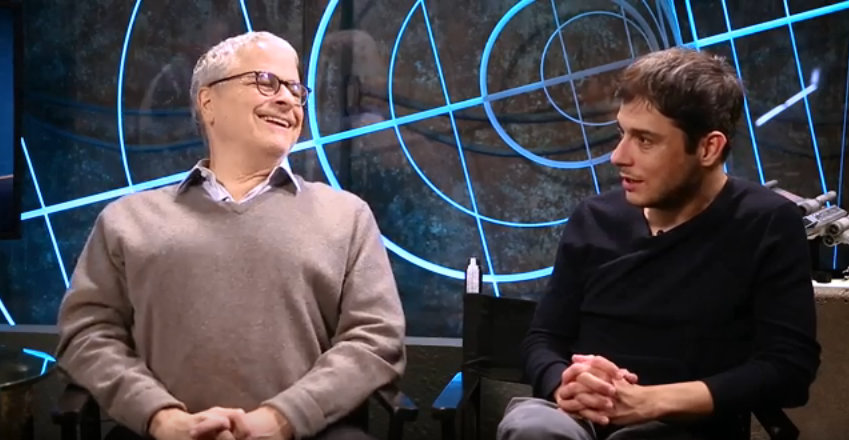 And that theme of love is one that carries over into the very foundations of the movie they have built together. The Kasdans went to great lengths to make Solo: A Star Wars Story uniquely human. There are no mentions of the Force. No allusions to Jedi or to ancient religions. It's a rite of passage. A story about flaws and changes and the shaping of a man – but more importantly, a story about love. "It's a love story. It's a Spencer Tracy/Katherine Hepburn love story but it's between Han and Chewie." A love story about friendship, bonds and trust that goes beyond the outer rims of the galaxy as told by a father and son who's love for one another goes even further than that.
Solo: A Star Wars Story opens in theaters tomorrow, May 25th, but be sure to check out this great interview with the Kasdans as conducted by Dan Brooks of Lucasfilm here for more behind the scenes stories and confirmation on just who shot first.
Under the twin suns of Los Angeles, Chris continues to mourn the loss of Admiral Ackbar while championing the rights of Ewoks everywhere. For more of his views on Star Wars, Universal Monsters, the godliness of Paddington 2 and The Office memes, follow him @Chri5Manning
Click HERE to check out and comment on this topic in our forum The Cantina