Solo: A Star Wars Story – New Details on Dryden Vos and Ron Howard Shares First Screening Reactions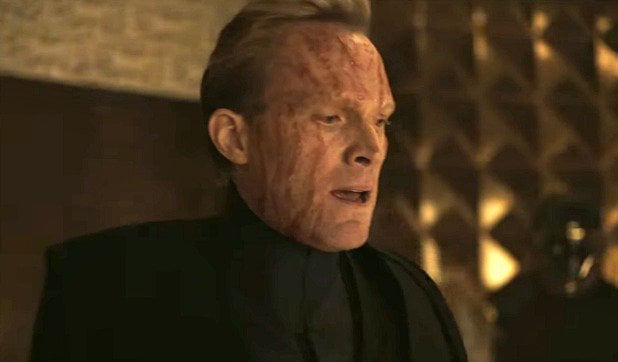 What would a Star Wars movie be without good villains? There is new information about lavish crime boss Dryden Vos from Solo: A Star Wars Story, including a little more about his criminal organization, his preferences for ships, and some other minor details.
From the official StarWars.com Data Bank it sounds like Dryden Vos, while villainous due to his dealings, isn't necessarily some sort of maniacal irrational monster of a villain:
Dryden Vos heads up an emerging criminal syndicate known as Crimson Dawn. This organization has quickly cemented a reputation for ruthlessness. This is true of its leader as well, though Vos is no crude cutthroat. He surrounds himself with luxury.
Vos's criminal organization has surfaced in the newly released Daniel Jose Older novel Last Shot, where fan favorite Sana Starros tells Han Solo about the group:
"Obviously, things were gonna get messy, and indeed they did. In the final round of bidding, a Crimson Dawn agent outbid the closest contenders—an unaffiliated Talz smuggler and some tall hooded fellas I presume had something to do with the Commerce Guild."―Sana Starros, to Han Solo
In addition to this, we find out that the Crimson Dawn gang bids on items in Last Shot. This doesn't necessarily have any direct connection to the events of the movie but in the novel the group bid on an item called the Phylanx Redux, which serves as the MacGuffin of the novel.
It should be noted that a listener of our podcast asked us if we think Last Shot will spoil anything about Solo: A Star Wars Story and the book's author Daniel Jose Older answered him for us with a funny answer!
I read it already and it totally won't 😉

— Daniel José Older (@djolder) April 10, 2018
Thanks to Wookieepedia, we also found out that like Jabba the Hutt, Dryden Vos likes his ships, as he evidently owns a yacht of some sort which was revealed in the children's book Choose Your Destiny: A Han and Chewie Adventure
The role, now played by Paul Bettany, was originally played by Michael K. Williams, who was cut due to the timing of the film's reshoots, as he had prior contractual commitments to another project. When Williams played the character, it was originally a motion captured alien resembling a mountain lion of sorts, so the change was quite drastic.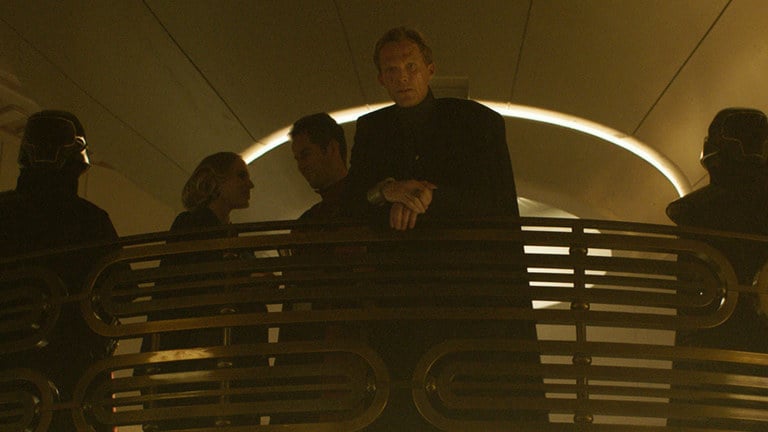 Regardless of what the character looks like, he appears to be a collector of sorts, as we see in the Empire stills he proudly displays Madalorian armor, and in previously leaked images from last year we even saw what seemed to be a taxidermied Ewok display in the same location. Are these trophies more than collections?
The Star Wars Authentics site lists that image of the tusk surrounded location on Vandor as "Dryden Vos' Lair", but we noticed another caption that seemed to have incorrect information, so we are proceeding with slight skepticism on this.
The official @StarWars Authentics site have titled the first image – "Dryden Vos' Lair". Which is good to know.
But then the second image is titled "Mimban Train", and we know that the snow planet is Vandor, not Mimban. So who knows. #SoloAStarWarsStory https://t.co/wL7tlaNP4u pic.twitter.com/edRIyj7Zlg

— SWNN (@StarWarsNewsNet) April 20, 2018
We are officially just five weeks away from Solo: A Star Wars Story opening in theaters, and Ron Howard continues to have fun interactions with fans, his latest answering a plea from a man asking Ron to convince his wife to go see the movie with him.
Well…based on the feedback I'm getting from small screenings I think she'd very likely enjoy it. Action is cool & Han's relationships with these characters drive the story in a fun & emotional ways. https://t.co/Bn8gkz1UxY

— Ron Howard (@RealRonHoward) April 19, 2018
If everything we have heard and seen so far carries through in the movie, I think this person will have no regrets having seen Solo: A Star Wars Story. As we've said before, through all of this movie's productions issues from a year ago, we may have ourselves the closest thing to an underdog success story that a Star Wars movie can be in 2018.
"For my ally is the Force and a powerful ally it is."