Donald Glover Opens up About the Han Solo Director Change and His Approach to Lando Calrissian
Donald Glover has opened up about his meeting with Billy Dee Williams, in which the two discussed his approach to bringing a younger Lando to the big screen. Glover also gives a glimpse into his experience and vantage point with the director change for the Han Solo stand alone film.
Speaking with The Hollywood Reporter, Glover talks about his meeting with Billy Dee Williams earlier this year, in which he retrospectively laughs at the fact that it was a lot of him blabbering on to a stoic Billy Dee about the depths of who Lando Calrissian is.
"I was like, 'I've always felt like this character could do this, and he represents this, and I kind of feel like he comes from here, and it's very obvious he has a lot of taste, so maybe he grew up seeing that from afar? Because I'm like that.

Maybe he saw it from other planets and was like, 'I want to be that.' "

Glover is full-on laughing now as he re-enacts the exchange. "He(Billy Dee Williams) just let me ramble on and on, and then finally I was like, 'So, what do you think?' And he goes, 'Yeah, I don't know about all that. Just be charming.' "
In the most Billy Dee response ever, he essentially told Glover to play it cool. We have heard about this meeting before, but it is intriguing to hear Glover came into the role fully interested in peeling at the layers beyond the cool and suave exterior of Calrissian. But at the same time it is also great to see the original Lando himself pull Glover back to the surface and remind him that through all of the potential character searching and motivation, just make sure you're charming. Glover will undoubtedly bring a healthy blend of depth and face value classic charm to his take on Calrissian.
Little did Glover know that the production for Han Solo would end up not being as smooth as the card playing, gambling scoundrel he is portraying. As we are all well aware, directors Phil Lord and Chris Miller were fired from the film in June, sending waves of concern through the Star Wars galaxy. While he doesn't reveal a lot about what happened, he does make it pretty clear he was blindsided by the news:
"To be honest, I don't know exactly what happened. I feel like I was the baby in the divorce, or the youngest child. The oldest child is like, 'We know what's happening, but we are keeping you out of it.'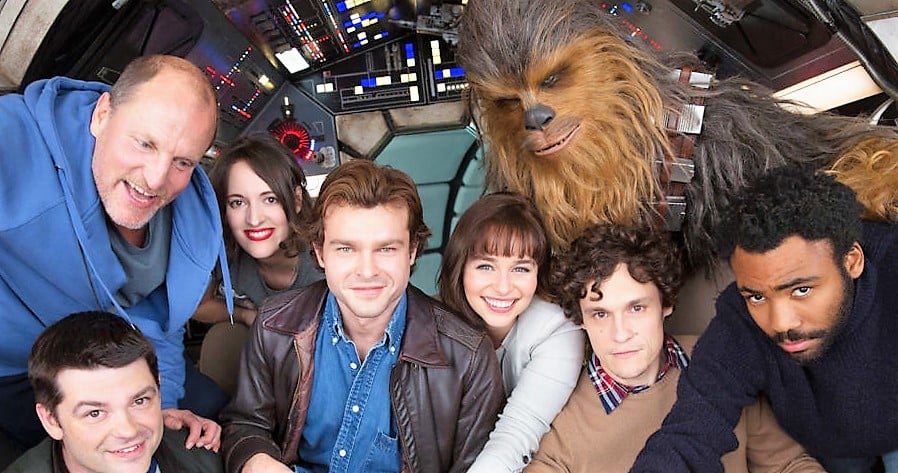 One other takeaway from his discussion about the change is his brief description on the transition in tone and vibe on set now that veteran director Ron Howard has taken over production. It is clear that Howard hasn't just stepped in to resume pace, but has had a significant impact on the trajectory of production on set:
Though Glover is uncomfortable elaborating, he acknowledges that the change on set has been dramatic. "Ron is such a legend, and he knows exactly what the vision for what he is doing is … [but Phil and Chris] hired us, so you sort of feel like, 'I know I'm not your first choice …' And you worry about that". I'm just like, [Glover's voice rises several octaves] 'Was that scene good? How did you feel?' "
What do you think about Glover's statements? Do you like that he wanted to dig deep to find out why Lando is the way he is? Or should he have just relaxed and been charming as Billy Dee suggested?
Are you surprised that Glover wasn't aware of the trouble on set between Kennedy and Lord and Miller? It is interesting to hear that there has been a definitive change on set now that Ron Howard has taken over. The Han Solo movie is still set to open next May, and as production steamrolls on we only have one thing to say to Donald Glover, although we don't think he's going to need it!
"Good luck"
You know we'll be discussing this on The SWNN podcast The Resistance Broadcast this week as well! You can find me on Twitter sipping on a Colt 45 at @JohnnyHoey and be sure to follow The Resistance Broadcast at @RBatSWNN.
"For my ally is the Force, and a powerful ally it is."
John Hoey is the Lead Editor and Senior Writer for Star Wars News Net and the host of The Resistance Broadcast podcast
"For my ally is the Force, and a powerful ally it is."