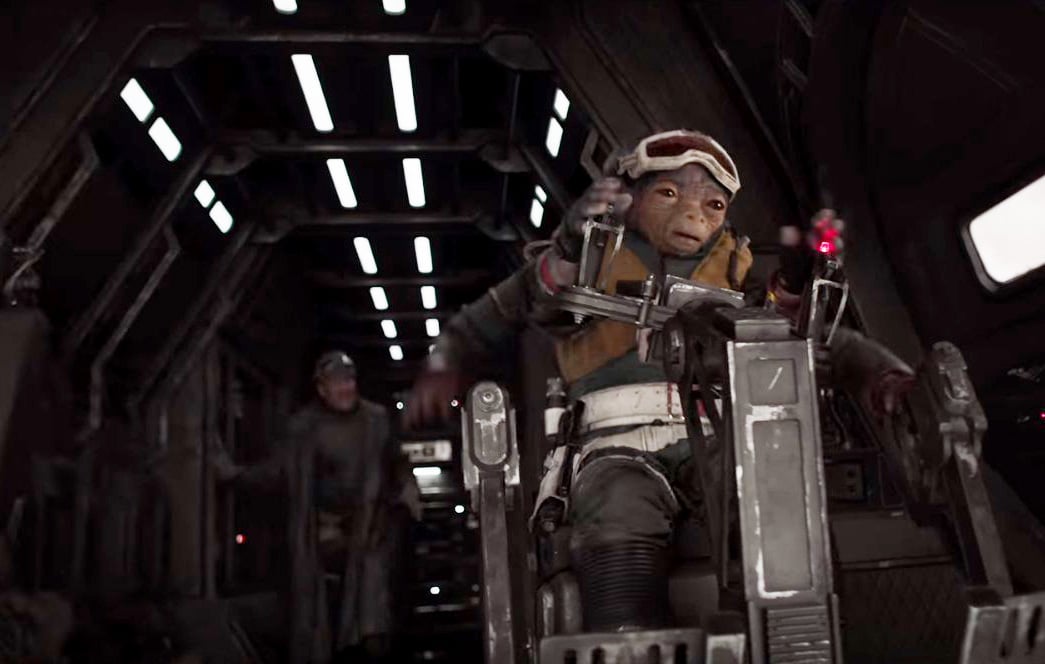 A new image posted on Twitter reveals the upcoming full line of Funko figures for Solo: A Star Wars Story. The line consists of 11 figures listed with their names. The photo is the first revelation of the name of the alien character that Jon Favreau will be playing in the movie. Read on for the details.
A few weeks ago Solo director Ron Howard revealed that Disney's "golden boy" and Star Wars fan Jon Favreau will be voicing a character in his movie. Later the Iron Man and Jungle Book director took to twitter revealing that he will be voicing the alien pilot who we briefly see in the Solo teaser trailer (see title image).
Now Twitter user @MayTheFunkoBWY found a photo taken from the Funko box of the droid character L3-37, which also shows the full line for the upcoming Solo movie. While we already know the names of the rest of the characters, this is the first time when we see Favreau's character name – Rio Durant!
#starwars #soloastarwarsstory spoiler of all 11 upcoming commons!
238 Han Solo
239 Chewbacca
240 Lando Calrissian
241 Qu'Ra
242 Tobias Beckett
243 Val
244 Rio Durant (name reveal)
245 L3-37
246 Range Trooper
247 Enfys Nest (name confirmation of @yak_face info)
248 Mudtrooper pic.twitter.com/nv9o1cSjXR

— MTFBWY (@MayTheFunkoBWY) March 7, 2018
The photo also confirms the name of the movie's villain Enfys Nest which we discussed before here.
It's also funny that the Mimban Stormtrooper here is called "Mudtrooper". As you probably remember Hasbro revealed during Toy Fair New York a curious set of figures featuring Han and Chewie all covered in mud. And we've also seen the mud covered troopers from Mimban from one of the LEGO sets, making us to conclude that the "muddy" planet is indeed Mimban.
We've also glimpsed Mimban from one of the Solo photos revealed by EW:
And in case you are wondering about this planet, here's Wookieepedia's entry on it:
Mimban was a swamp planet located in the galaxy's Expansion Region, in grid square O-12 on the Standard Galactic Grid, that was connected to Attahox and Gyndine by a hyperspace route. Its atmosphere's thunderstorms made the planet's sky perpetually overcast, while its marshlands were always draped in mist. During the Clone Wars, the Mud-Jumpers of the Grand Army of the Republic's 224th fought on Mimban in the year 22 BBY. During the reign of the Galactic Empire, Imperial mudtroopers served on the planet.
From everything we've seen so far, it seems that Solo: A Star Wars Story will take us on a journey to a lot of new places – Corellia, Kessel, Mimban, and we are still not sure if the desert and snow planets where we see Enfys Nest are completely different planets altogether. We will have our answers in just 79 days.
Click HERE to check out and comment on this topic in our forum The Cantina