Solo: A Star Wars Story's Ad Campaign May Get A Super Bowl Kickoff
Deadline and The Hollywood Reporter are both suggesting that Solo: A Star Wars Story will finally get its trailer in front of the Super Bowl, and from the sound of things, the timing has everything to do with Black Panther.
First up is the less-sure of the two reports from Deadline, which confirms that there are at least two movie ads that Disney has paid for:
Disney/Marvel's Black Panther will also be showing up during commercial breaks… While Disney will have a presence during the Super Bowl, they're tight-lipped about their plans. Deadline has knowledge that they will run a 30-second and 45-second spot. A good guess is that a Marvel trailer or two will run… Over the last two years, Marvel has aired spots to their summer season openers during the Big Game, read Guardians of the Galaxy: Vol. 2 and Captain America: Civil War.

A spot for July 6th's Ant-Man vs. The Wasp would be a complete surprise as we haven't seen any footage from that pic to date. There's also the question whether Disney decides to drop a trailer for Solo: A Star Wars Story. Should that occur, it would be the first time ever during the Super Bowl that Disney has done so since taking ownership of Lucasfilm. Given that the film's May 25 release is less than five months away, they have to start promoting. During the 2016 Summer Olympics, Disney raised the profile of Rogue One: A Star Wars Story with a second official trailer drop.
Other potential TV spots that Deadline list as definite maybes include a new one for A Wrinkle In Time, Avengers: Infinity War, and The Incredibles 2. However, looking at the proximity to the big game itself makes it likely that we can rule Incredibles 2 out, and A Wrinkle In Time seems like a long shot – or at least something that would be better-suited to be attached to Black Panther itself. It's also entirely possible that the TV spot for Black Panther is actually a tie-in ad like what they're doing with Lexus, and the two ads they drop at the game are Avengers: Infinity War and Solo: A Star Wars Story. I certainly think that Disney will run ads for the Olympics, but the question is if they'll be fore Solo or Avengers.
Meanwhile, The Hollywood Reporter is a little more bold with their assertion of what their sources have told them, and suggests that an ad for Solo is imminent:
The marketing campaign for Solo: A Star Wars Story is widely expected to kickoff during Super Bowl LII upon the release of the first ad for the summer 2018 tentpole, according to industry insiders.

If so, Sunday's big game will end chatter as to why Disney and Lucasfilm have waited to drop any materials for the standalone Star Wars movie, which opens in theaters four months from now on May 25. Lucasfilm and Disney have insisted since Ron Howard took over directing duties in June 2017 that Solo — an origin story starring Alden Ehrenreich as a young Han Solo — would still be able to meet its release date, but that hasn't stopped speculation to the contrary.

Disney declined to comment regarding its Super Bowl plans. Hollywood marketing experts say Disney may have held off touting Solo until Star Wars: The Last Jedi, debuting in mid-December, was largely done with its run in theaters.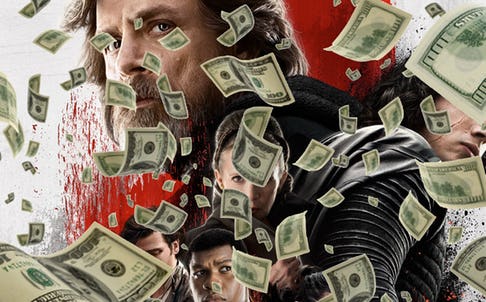 Furthermore, The Hollywood Reporter argues that there will be three ads for Disney films instead of Deadline's two. If that's the case, then they will almost certainly be Black Panther, Avengers: Infinity War, and Solo: A Star Wars Story – all movies which look to be set to become of Disney's biggest hits this year. If Disney wants to pull a surprise, they could substitute A Wrinkle In Time for one of those.
Bear in mind that these two reports are far from an official confirmation, but given that these are trade websites, their advice definitely should be heeded. I certainly think that the Solo trailer is going to be attached to Black Panther – from the sound of things on the front of box office projections, that movie is going to blow expectations away with an opening well above the $120M figure that's expected of the film, which itself was already well above initial expectations for the film. As such, they can't afford to not have a Solo trailer attached to it. But at the same time, I don't think they'll wait that long to drop it – and if they opt to skip the Super Bowl, there's always the Olympics.
Disney has opted to leave Star Wars out of the Super Bowl ad blitz in previous years, and it's not hard to imagine why: given that their three previous films have released at the very end of the year, spending a bunch of money so far ahead of the movie's premiere is counterproductive. But since Solo is looking deadlocked for that late-May release window, it's incredibly likely that Disney may opt to break a tradition. One tradition that they've stuck to thus far is to drop a trailer with a big football game, and you certainly can't get any bigger than the Super Bowl.
Grant has been a fan of Star Wars for as long as he can remember, having seen every movie on the big screen. When he's not hard at work with his college studies, he keeps himself busy by reporting on all kinds of Star Wars news for SWNN and general movie news on the sister site, Movie News Net. He served as a frequent commentator on SWNN's The Resistance Broadcast.