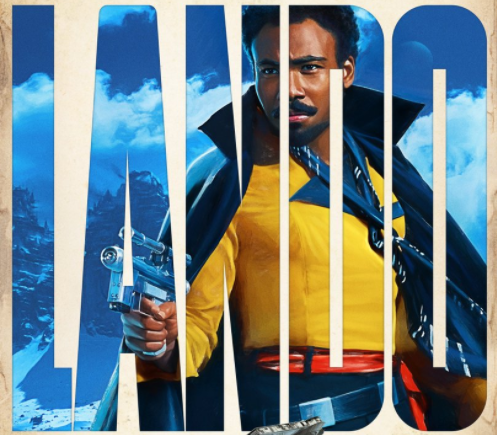 Continuing his coverage of Solo: A Star Wars Story, Entertainment Weekly's Anthony Breznican talks with Donald Glover about his portrayal of Lando Calrissian in the upcoming movie. In the interview, Glover shares about his conversations with the original Lando (Billy Dee Williams) and the insight he received from the Star Wars alum. He also took a moment to discuss Lando's frame of mind when we see him in Solo and what he attempted to bring to the character through his performance.
(quotes from EW):
"I'm interested in what you were able to discover from Billy Dee Williams when you met with him. What was it like with two Landos getting together?

Donald Glover: It was really, really relaxed. He was great. I mean, I had a lot of questions. And then he just told me, just be charming. [Laughs] And so, I was like, "Okay!" I just kind of did that. He said, "Just be interested in things." Lando has, I wouldn't say eccentric, but eclectic tastes. So I tried to work that into the role as much as possible."
"We see the Millennium Falcon under Lando's ownership and it is a very different looking ship. What do you think the Falcon reveals about who Lando is? 

He's a very particular person with particular tastes and he likes the comforts of life. I would live in it right now, to be honest! [Laughs] In between takes, they'd be like, "Okay, we are going to set up for the next shot , so you can go sit in your chair or whatever," and I'd be like, "Actually I'll just stay in Lando's room." It was that nice! I would just lay in his bed and read a book or write something because it is very comfortable. I think he likes to be comfortable. He's not a cowboy kind of guy."
I love how different the Falcon looks in this movie. It makes perfect sense that the ship would be a totally different vessel while in Lando's possession, proudly displaying his own unique taste and style. It also adds a whole new level of meaning to Lando's "What have you done to my ship?" line to Han in TESB, and those are the kinds of things that make prequel stories so much fun – the level of detail they add to existing scenarios and dialogue.
"One of the images we have is you playing cards and a little two-headed alien sitting beside you. Can you tell me anything about this scene?

Yeah, we are playing a game of sabacc. And that character, I mean, I had a good time with that character. We improv'd a lot together actually. She doesn't speak English so it's a little hard, but I had a fun time with those [puppeteers], they are really good. Probably some really good outtakes on set.
"You got guidance from Billy Dee, but how would you say you made Lando your own? What did you contribute to this galactic operator?

I always like seeing younger characters when they are in younger times because it tells a lot about how they got to where they are. Like, when I was a teenager I felt like I knew a lot, but I didn't. By the time we meet him in Empire Strikes Back, he owns the city already. [Laughs] So, I wanted to show the person he was before that was even possible. Like, I don't even know if he thought that was possible at the time."
As a fan of the character, I have to say that I really appreciate the fact that Glover put a lot of effort into his own understanding of the character, something that really comes across in his recent scene-stealing appearances in the Solo teaser trailer (despite him having no dialogue whatsoever). He seems to really get what makes Lando tick, and that is essential to nailing the portrayal of any pre-established character.
For the complete interview, head on over to Entertainment Weekly, and stay tuned as EW is promising three more reports on Solo in the hours ahead. It's going to be an exciting day as the marketing machine for Solo continues to advance full steam ahead.
Jordan Pate is Co-Lead Editor and Senior Writer for Star Wars News Net, of which he is also a member of the book and comic review team. He loves all things Star Wars, but when he's not spending time in the galaxy far far away, he might be found in our own galaxy hanging out in Gotham City or at 1407 Graymalkin Lane, Salem Center, NY.
Click HERE to check out and comment on this topic in our forum The Cantina