Review: Celebrate the Ships of Star Wars and Become a Paper Artist With 'Star Wars Kirigami' from Chronicle Books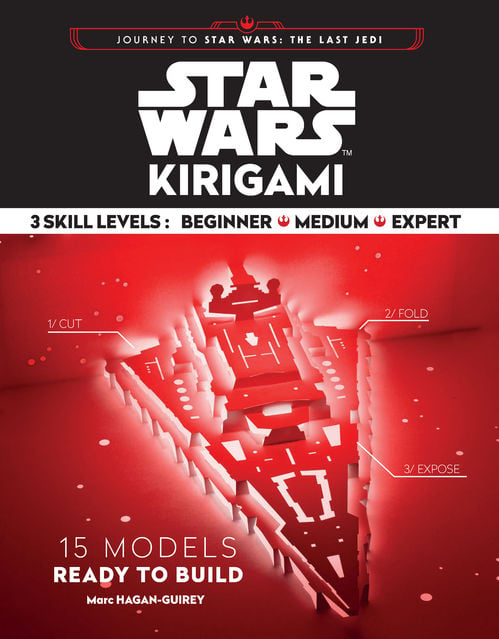 If you're like me, you've heard of "origami", but you may not be as familiar with the concept of "kirigami" – a design process that, like origami, involves folding paper to create shapes, models, and other various artistic expressions. Kirigami, however, takes origami one step further, employing intricate cuts in the paper to achieve a unique look and style. Our friends at Chronicle Books recently sent us a copy of the new book, Star Wars Kirigami, to try for ourselves – and I have to say, kirigami may be my new favorite thing in the galaxy.
(from Chronicle Books):
In STAR WARS KIRIGAMI, celebrated paper artist and designer Marc Hagan-Guirey applies his genius to the Star Wars galaxy in this book of 15 unique kirigami (cut and-fold) ships featured in the saga's films. Ranging in difficulty from beginner to expert, each beautifully detailed model features step-by-step instructions and a template printed on cardstock—all that's needed are a utility knife, a cutting mat, and a ruler. Clear tips and guidance through the tricky stages help readers craft their own X-wing, Imperial Star Destroyer, Millennium Falcon, and a dozen more ships and vehicles, each accompanied by colorful and inspiring photographs of the final model on display (or ready for a jump to hyperspace). STAR WARS KIRIGAMI a part of the "Journey to Star Wars: The Last Jedi" program, and includes an all-new vehicle from the highly anticipated film as well as intricate paper versions of these Star Wars ships:

Anakin's Podracer

Jedi Starfighter

Luke Skywalker's Landspeeder

Millennium Falcon

Imperial Star Destroyer

X-wing

Rey's Speeder…and more!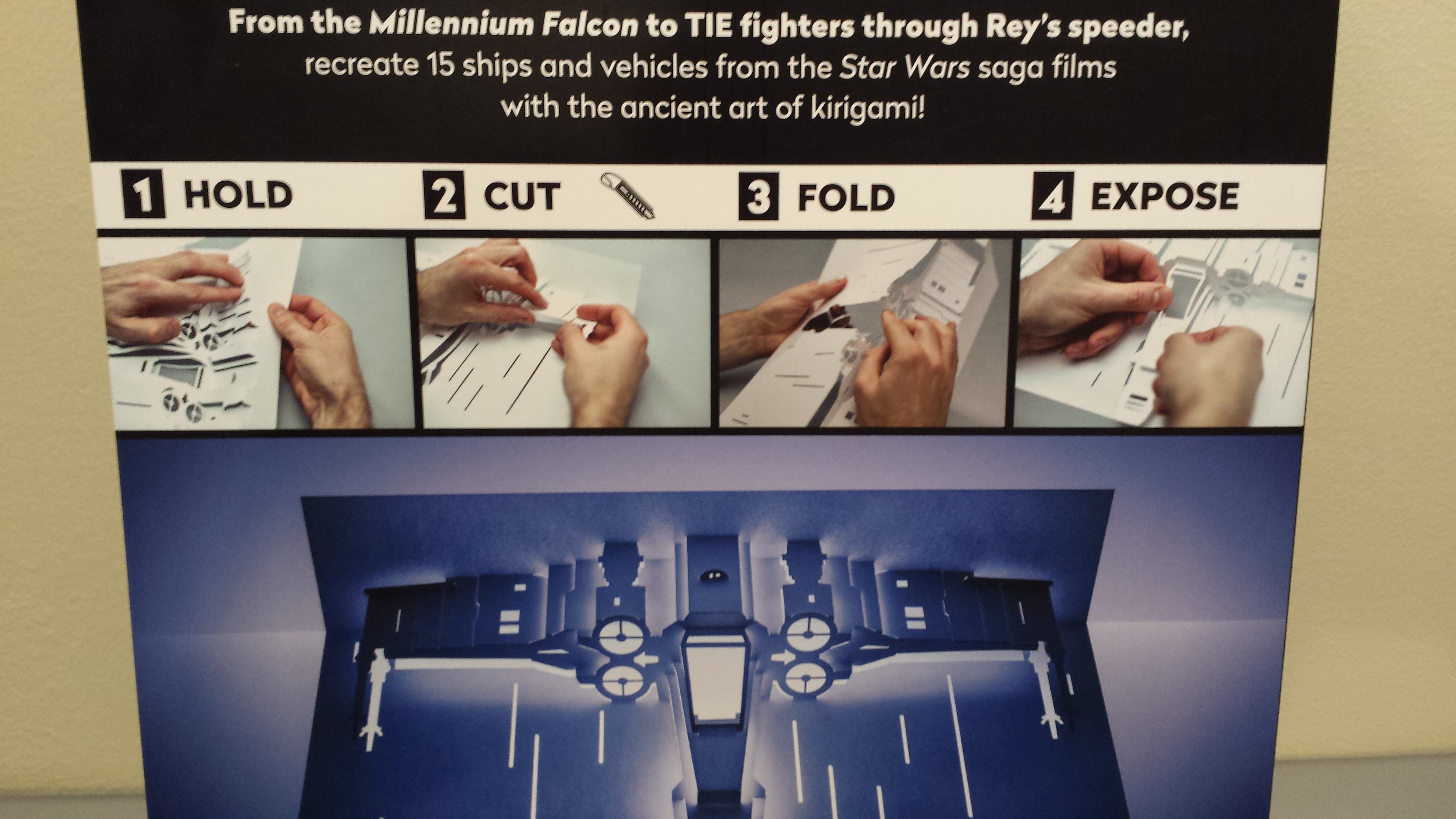 As mentioned above, Star Wars Kirigami has 15 different designs inspired by and celebrating the ships and vehicles from the prequels, the original trilogy, The Force Awakens, and even a brand new ship from the upcoming The Last Jedi. It would have been cool to see a few ships from Rogue One as well, but for the money, I think the offerings in the book are more than sufficient.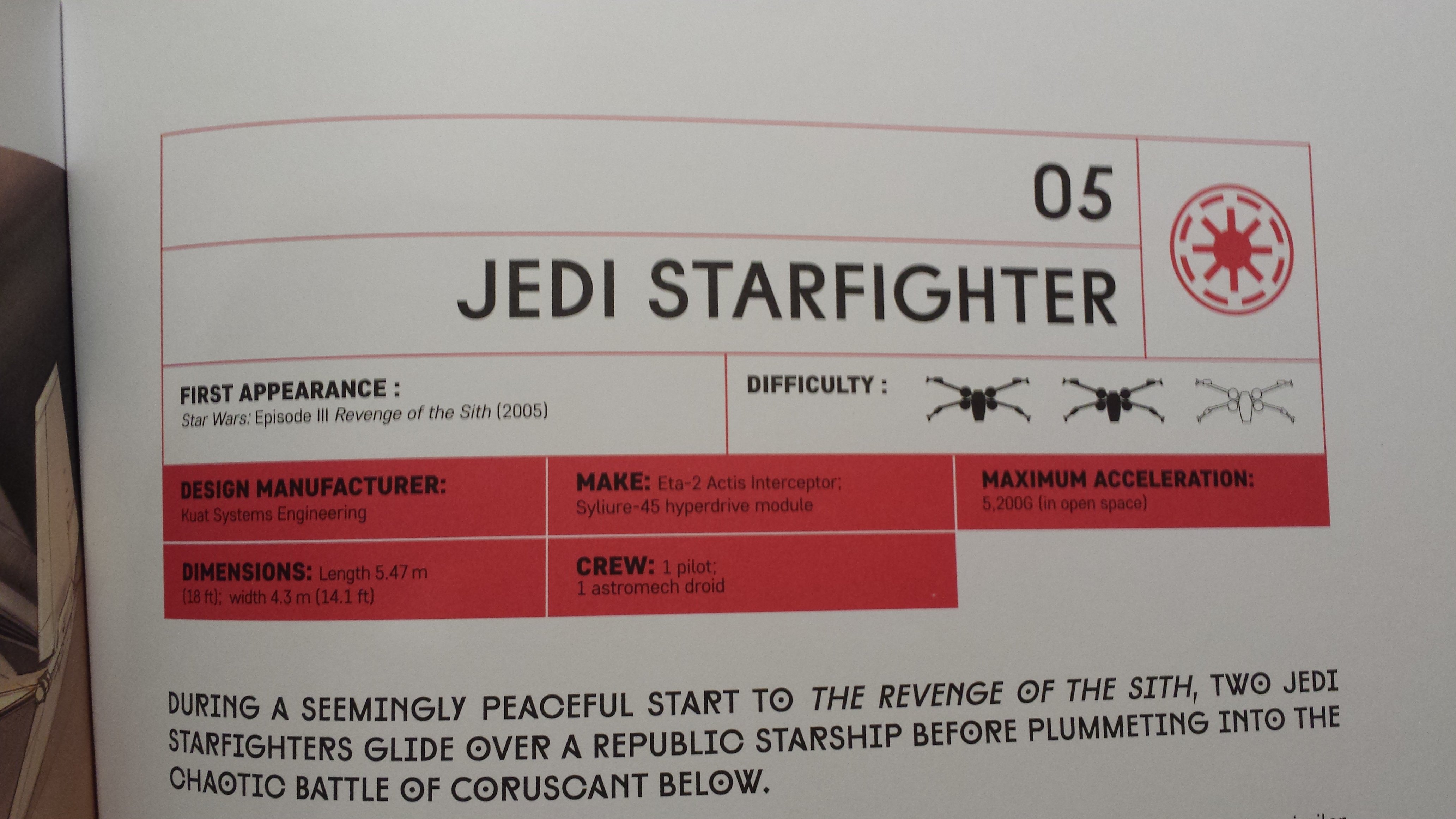 There are three different difficulties of models, represented at the introduction of each model by the number of X-wings in the title block. As you can probably guess, one X-Wing = Beginner, two = Medium, and three = Expert. For my review of the book, I chose to tackle the Millennium Falcon, both due to its medium difficulty and its significance to the saga. I mean, if you're only going to do one model, it has to be the Falcon, right?
So, after rounding up my straight edge, my X-Ahch-To knife (see what I did there?), and a self-healing cutting mat (thankfully I already had all these things at home), I was ready to get started. The first thing I did was carefully remove the paper template from the book. I was really nervous about this step as I can't tell you how many coloring pages my children have proudly colored and asked me to remove for display, only to tragically destroy their artwork on removal. But thankfully, this thick card-stock paper can take the abuse.
I did have to use my straight edge and knife to remove about a quarter inch strip on the side of the paper that had been binded in the book as the glue used in the binding process came with it. However, it seems that they allowed for this as I discovered after removing this portion at the edge of the paper that the design was symmetrical on the paper and ready to go. There is no perforation for this step though, so you'll have to be careful and use good judgment.
The book includes a general introduction to the process at the beginning, as well as tips unique to each model, and I strongly recommend that you read these thoroughly before attempting to create the models on your own. After familiarizing myself with the terms and their applications (terms like "valley folds", "mountain folds", and "half-cuts") I found that the entire process was fairly straight forward, and I actually found it to be a pretty good stress relief as well.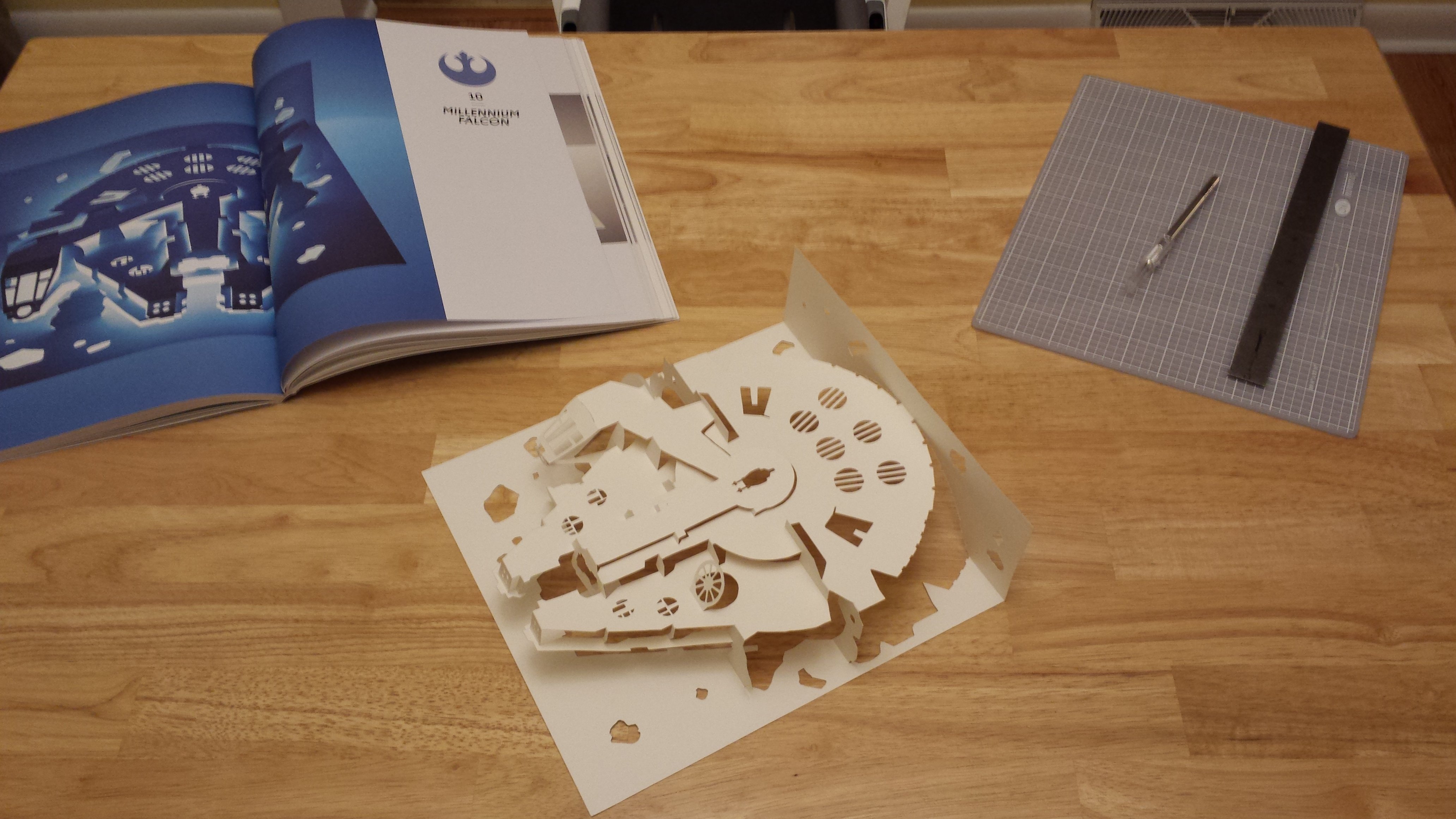 The whole model took me about three hours, which I spread over two evenings. The first night, I removed the template and cut out all of the interior details, which took me about two hours. The next night, I did all the exterior cuts and completed the folds, which took me about an hour. I found the work to be enjoyable, and although it was challenging, I never grew frustrated with it. If you're looking to get your hands busy and your mind off of things for a while, I strongly recommend you give this a try for yourself.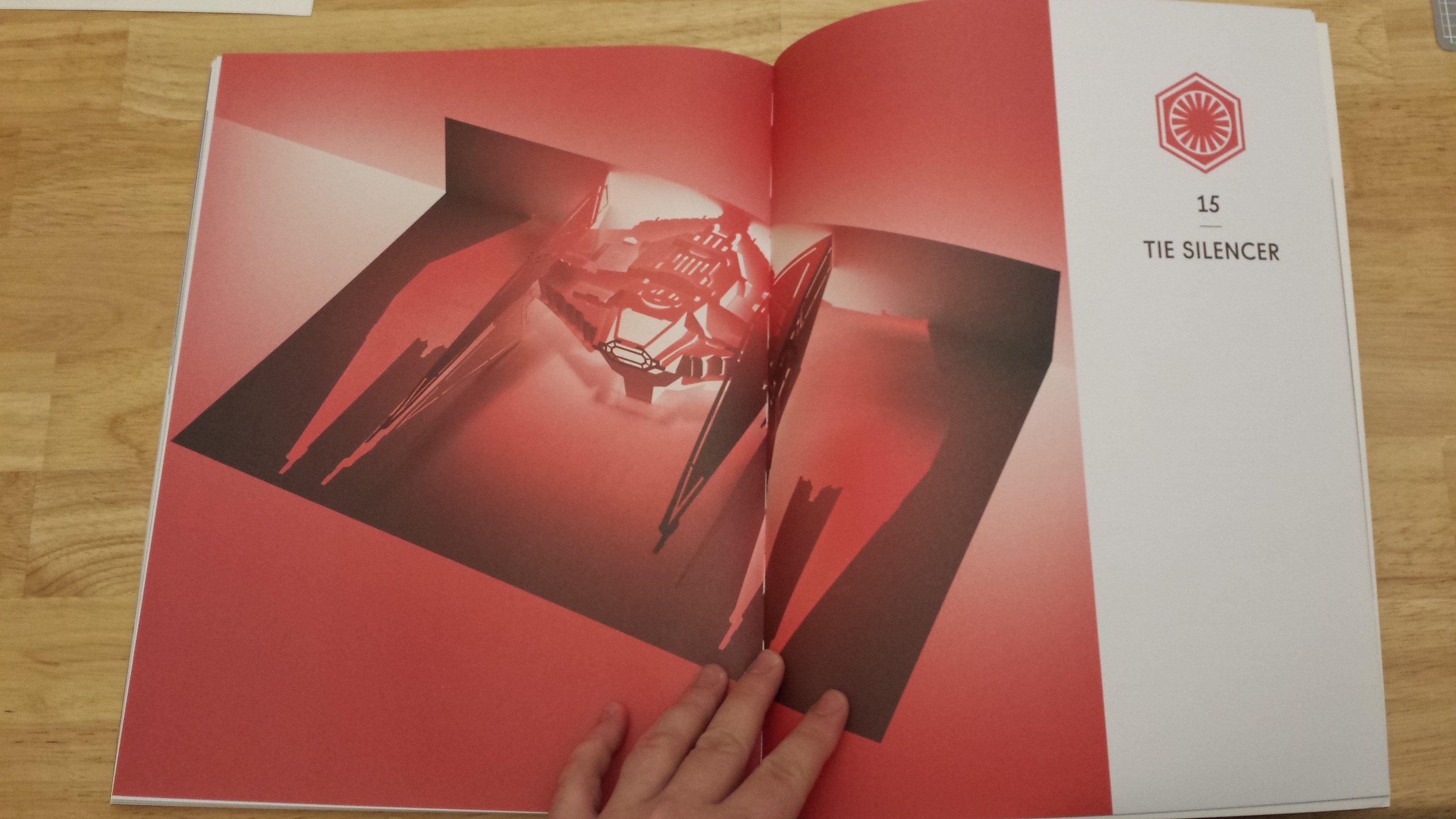 This book would be a fantastic gift idea and even a nice little treat for yourself. Retailing at just under $30, you're looking at about $1.50 an hour for a solid 45 hours of entertainment, so if this is something you think you might enjoy, I say go for it. For an additional value, each model section includes concept art and a full page of information about the ship. The only exception being Kylo Ren's TIE Fighter, perhaps in effort to keep details about the upcoming movie close to the vest.
In closing, I would like to note that this is more of an adult activity. While I think kids 12 and up could probably handle the challenge, it does require a smooth and steady hand, as well as good safety awareness when working with the knife. Just something to keep in mind if you're thinking about getting this book for your kid. My son is a little too young for this one, but he did want to display it in his room and use it as a night light after I finished it. The Falcon was a lot of fun, and I look forward to tackling some more of these designs in the near future.
About the Author:
Marc Hagan-Guirey (aka Paper Dandy) is a London-based design director and paper artist whose fine art kirigami have been featured in exhibitions and covered by the BBC, CNN, and Wired.
About Chronicle Books:
One of the most admired and respected publishing companies in the U.S., Chronicle Books was founded in 1967 and over the years has developed a reputation for award-winning, innovative books. Recognized as one of the 50 best small companies to work for in the U.S. (and the only independent publisher to receive this award), the company continues to challenge conventional publishing wisdom, setting trends in both subject and format, maintaining a list that includes much admired illustrated books and gift products in design, art, architecture, photography, food, lifestyle, pop culture, and acclaimed children's titles. Chronicle Books' objective is to create and distribute exceptional publishing that's instantly recognizable for its spirit, creativity, and value. For more information about Chronicle Books, visit www.chroniclebooks.com.
Partnering with Chronicle, we will be holding three different contests in the coming weeks which will give you three different opportunities to win a copy of this book for yourself. Keep an eye out for your chance to win here on the blog, as well as on our Resistance Broadcast and our forum, The Cantina. In the meantime, check out this brief instructional video from the book's author as he shows you how to make Rey's Speeder…
Jordan Pate is Co-Lead Editor and Senior Writer for Star Wars News Net, of which he is also a member of the book and comic review team. He loves all things Star Wars, but when he's not spending time in the galaxy far far away, he might be found in our own galaxy hanging out in Gotham City or at 1407 Graymalkin Lane, Salem Center, NY.