Legends Characters Tag and Bink to Appear in the Han Solo Movie
Ron Howard's latest tease from the Han Solo set is perhaps his best one yet. At first glance Howard's post on Twitter seems rather ordinary but the added hashtag to it made many fans excited. The two main characters from the popular spoof comic Tag & Bink are about to become official Star Wars canon! Apart from the new characters revelation, the tweet also confirms that Lawrence Kasdan's son Jon, who co-wrote Han Solo with his father, will have a role in the movie.
Here's Ron Howard's tweet with the hashtag #tagandbink ?
#tagandbink ? pic.twitter.com/1EzUbS3MQs

— Ron Howard (@RealRonHoward) October 14, 2017
At first the question mark made us hesitant to believe that these two characters on the photo are indeed the very same Tag and Bink from the spoof comic. But the creator of the Tag & Bink series Kevin Rubio responded to Howard's tweet thanking him that his series is now official canon.
#HOLYCRAP Ron Howard just made my comic #OfficialCanon #Thanks Ron! pic.twitter.com/7a3Xe8nOyO

— Kevin Rubio (@TheKevinRubio) October 14, 2017
Just a moment later Jon Kasdan, who is co-writing the movie with Lawrence Kasdan, confirmed to Kevin that it was his decision to make the characters canon, since he is a huge fan of the comic book.
Thank You, Kevin. I'm a huge fan and I had to get 'em in there, and then had to play it myself (with Toby Hefferman) to do it justice

— Jon Kasdan (@JonKasdan) October 14, 2017
Also Jon Kasdan confirmed that he himself is playing one of the characters, together with Toby Hefferman (the guy in the middle on the photo), who is working as a first assistant director on Han Solo (he worked on Rogue One as well on the same position).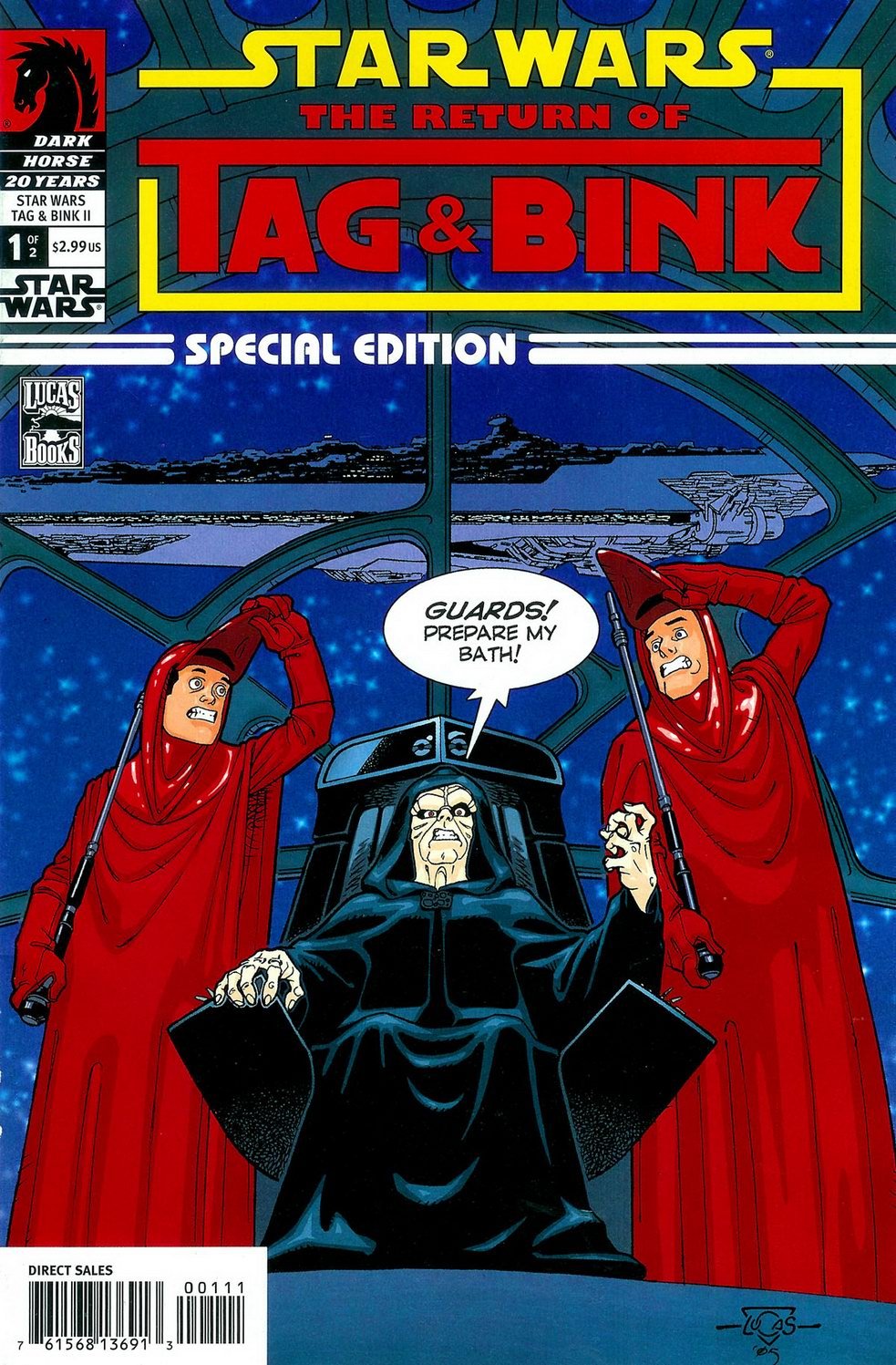 For those unfamiliar with the Tag & Bink series, here's Wookieepedia's description:
The Tag & Bink series of comic books was created by Kevin Rubio. Following the success of Kevin's shorts that appeared in Star Wars Tales, Dark Horse and Lucasfilm commissioned Kevin to do a two-part original series, which became Tag & Bink Are Dead 1 and Tag & Bink Are Dead 2 (Often referred to by Kevin as "Tag and Bink Live").
The stories themselves are comedic in nature and based in part on Tom Stoppard's Rosencrantz & Guildenstern Are Dead – an award winning play that centers around the lives of two minor characters in William Shakespeare's Hamlet. But in the case of Tag and Bink, we follow two hapless rebels in the Star Wars universe, as they cross paths with every major character, in both the original and new trilogy.

All of the stories are explicitly non-canon.
So as you can see the two characters are actually rebels and they are probably undercover as we see them in Howard's photo, as they were numerous times in the comic book.
Are you familiar with the Tag & Bink series? Are you excited to see them on the big screen as official Star Wars canon? I really wonder how big their involvement will be, since obviously they will be a comedic element in the movie. Well, we'll find out in seven months.