SWNN's Coverage of New York Comic Con 2017!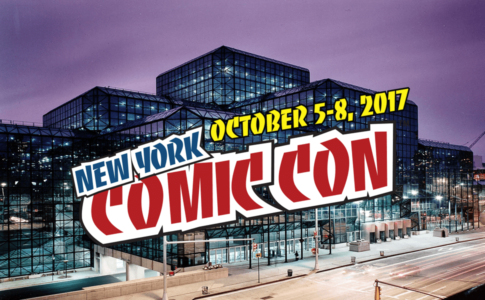 New York Comic Con was held October 5th – 8th at the Javits Center and surrounding venues in the heart of Manhattan, New York City. We sent John Hoey to cover all things Star Wars at the event, and have packaged all of that for you neatly here! Check out his report!
Hi SWNN Community!
This was my first comic con, let alone first with press credentials, so it was a lot to take in right away. I knew that I wanted to experience and cover anything and everything that had to do with Star Wars throughout the weekend, so here it is!
The crowds were intense at times, but people were kind and friendly which made it manageable. Check out this view from the press area overlooking the floor, and this was just the first day before everyone started arriving!
LUCASFILM PUBLISHING PANELS
Lucasfilm Publishing: Tales from a Galaxy Far, Far Away
The panel was about current and upcoming Star Wars books. The highlights of this panel for me in terms of memorable personalities were Delilah Dawson, Daniel Jose Older, and Claudia Gray.
Delilah Dawson described how she would prepare to write for her novel Phasma. It involved good whisky and watching a lot of violent Netflix shows, particularly ones about Vikings. Her down to Earth personality shined through at this panel. Her writing contributions to the galaxy and her personable personality make it no surprise as to why she is such a big hit with Star Wars fans.
Claudia Gray's highlight moment for me was when she was asked if she could choose, what would she write about next? Her answer lit the room up with excitement when she said she wanted to write about Ben Solo's fall to the dark side. Considering how successful and well received Lost Stars, Bloodline, and Leia: Princess of Alderaan have been, I would say there is a good chance we might see this book happen in the near future!
Daniel Jose Older made me laugh the hardest when he talked about his short story for the book From A Certain Point of View, which is a collection of 43 stories, from 43 different authors, filling in the gaps to some stories, for some characters (big and small) in the Star Wars universe.  His story is about a stormtrooper on Tatooine, relegated to riding around on a dewback. An Empire with all of this technology, lightspeed travel, and advancement, and this guy is getting chaffed riding around on a dewback in 200 degree heat on Tatooine. I don't know how he came up with that idea, or that angle, but it is such a great point and absolutely hilarious.
The biggest pop from the crowd came from Timothy Zahn, who stole the show with a major reveal. He announced a sequel to his Thrawn novel! The crowd went CRAZY! But then, Zahn said (paraphrasing):
I am not working on this book…..because I finished it two weeks ago.
The crowd popped again! The book is called Thrawn: Alliances and will be released next summer, 2018. It was then revealed that Darth Vader will appear in the book! That is some alliance if you ask me! The panel drew to a close, unfortunately without the opportunity for questions, sorry, I tried!
From A Certain Point of View: A Star Wars 40th Anniversary Celebration
The next panel was held outside of the Javits Center, and was hosted by Lucasfilm Story Group's Pablo Hidalgo. The panel was about the book I mentioned above, From A Certain Point of View. Sixteen authors took the stage organized by type of characters they wrote about. Pablo talked briefly with each author about their story, and we had a few surprised as well, including host and Star Wars audio book narrator Marc Thompson reading the Yoda/Obi-Wan story to the crowd (and yes he did the impressions, very well I might add). Del Rey Books has posted the entire panel online so you can all view it right here!
Everyone in attendance received a signed copy of the NYCC exclusive version of the book. I have offered mine for a giveaway contest for our official SWNN podcast @RBatSWNN, but don't worry if you don't win, we will have a LOT more giveaways coming, so be sure to subscribe, follow, and listen to our show on iTunes or Soundcloud for future giveaways!
STAR WARS PEOPLE
I had the chance to meet a few wonderful human beings in the Star Wars community that a lot of you may know. I unfortunately did not have a chance to meet Mark Hamill or Felicity Jones, but I am sure they are just as wonderful.
First off are Mark Ellis and John Rocha from Collider Video/Collider Jedi Council. I met Mark on the show floor and saw his comedy show which was beginning-to-end hilarious. You can find dates for his shows at markellislive.com. Mark's show Collider Jedi Council uses Star Wars News Net as their main news source, always giving us a shout out week to week, so i wanted to present him with one of our t-shirts as a thank you! He, John Rocha, and the others I met from Collider couldn't have been nicer people, it was a pleasure meeting them!
I was fortunate enough to meet Lucasfilm Story Group's Pablo Hidalgo and author Jason Fry. Again, I feel like I am saying this a lot, but these two were such down-to-Earth nice guys, it was really great to meet them and speak with them briefly. I talked to Jason about his upcoming novelization of The Last Jedi and he told me that he just finished his first draft, so he has a long way to go before it's release in a few months. I thanked Pablo Hidalgo for always answering our questions from SWNN, when we need to confirm facts, typically always something about Star Wars canon! Thank you both it was an honor to meet and speak with you.
COMING TO YOU LIVE! 
Whenever I had the chance I took to Twitter to send video updates live from the event. Here was my recap from day TWO! Thanks to my broadcast partner James Baney (@mirahtrunks) for editing this offsite and posting it quickly for me to get it out to you all!
We're at #NYCC! It's been insane but @JohnnyHoey is holding it down. Here's a quick recap of the day! #StarWars @StarWarsNewsNet pic.twitter.com/5pNcTkJGCi

— The Resistance Broadcast | Star Wars News Net (@RBatSWNN) October 7, 2017
EXHIBITS, COLLECTIBLES, AND TOYS
THE LAST JEDI EXHIBIT
The exhibit featured costumes, props, models, and weapons from the film!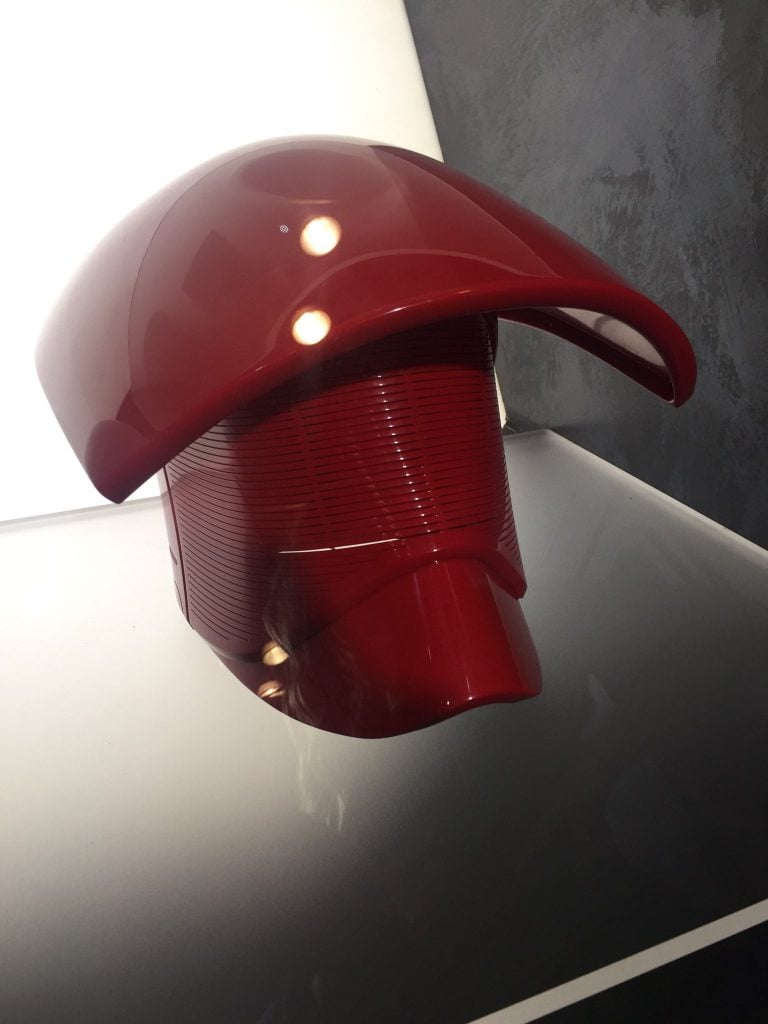 TOYS
Oh yeah and how can I forget, TOYS! There were a lot of Star Wars toys and collectibles on display as you could imagine. I have broken them down by brand for you:
Beast Kingdom (@beast_kingdom)
These were the cutest toys I have ever seen. They are miniature figures and vehicles, but details were not spared! After the picture of me with their display model version of Vader, you'll see:
Millennium Falcon
Hologram Darth Vader (no not a Force ghost)
Galactic Empire Stormtrooper
Darth Vader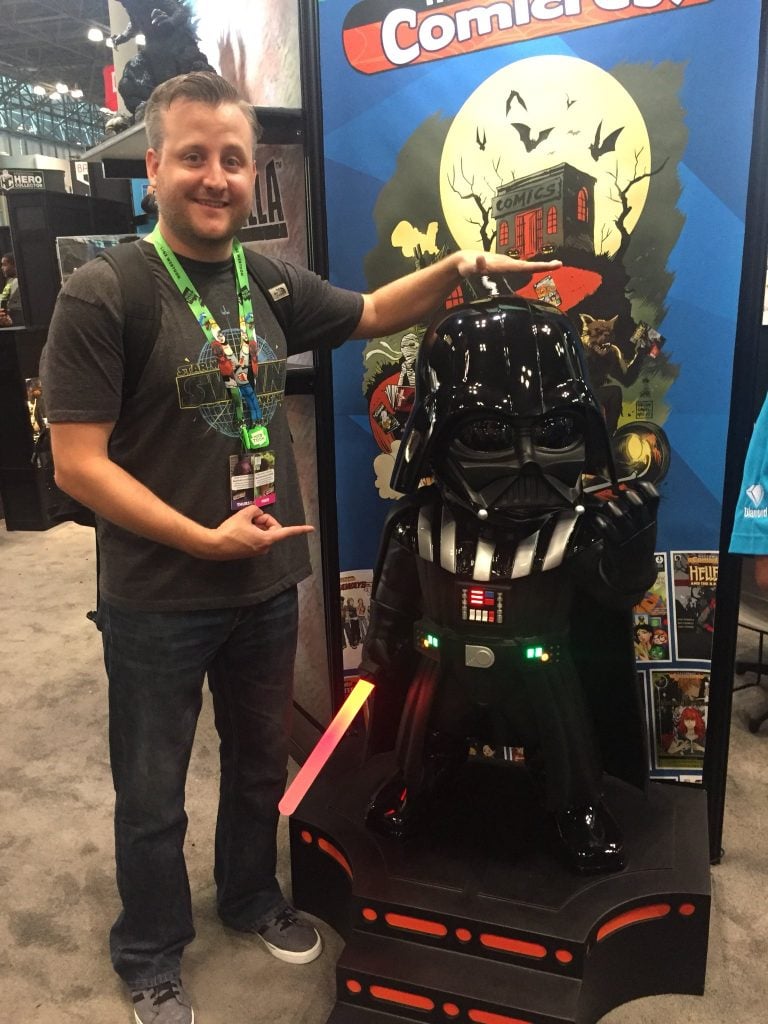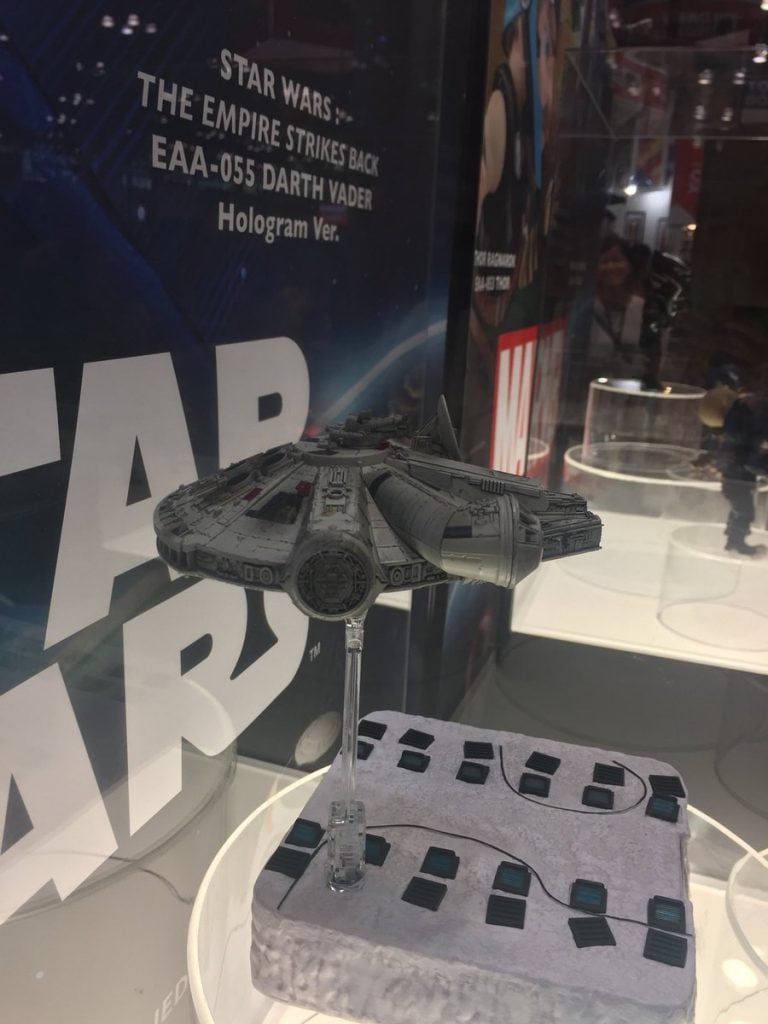 Sideshow Collectibles (@collectsideshow) 
These figures, while expensive, have INCREDIBLE detail at 1:6 scale. I was so impressed by these figures, Sideshow does an outstanding job with this line.
THE LAST JEDI
First Order Executioner
Elite Praetorian Guard
Luke Skywalker
Rey
BB-9E
BB-8
OTHERS
Mythos Obi-Wan Kenobi
K-2SO
Jyn Erso
Rey and BB-8
Han Solo (The Empire Strikes Back)
Luke Skywalker (The Empire Strikes Back)
Captain Phasma
Han Solo in Carbonite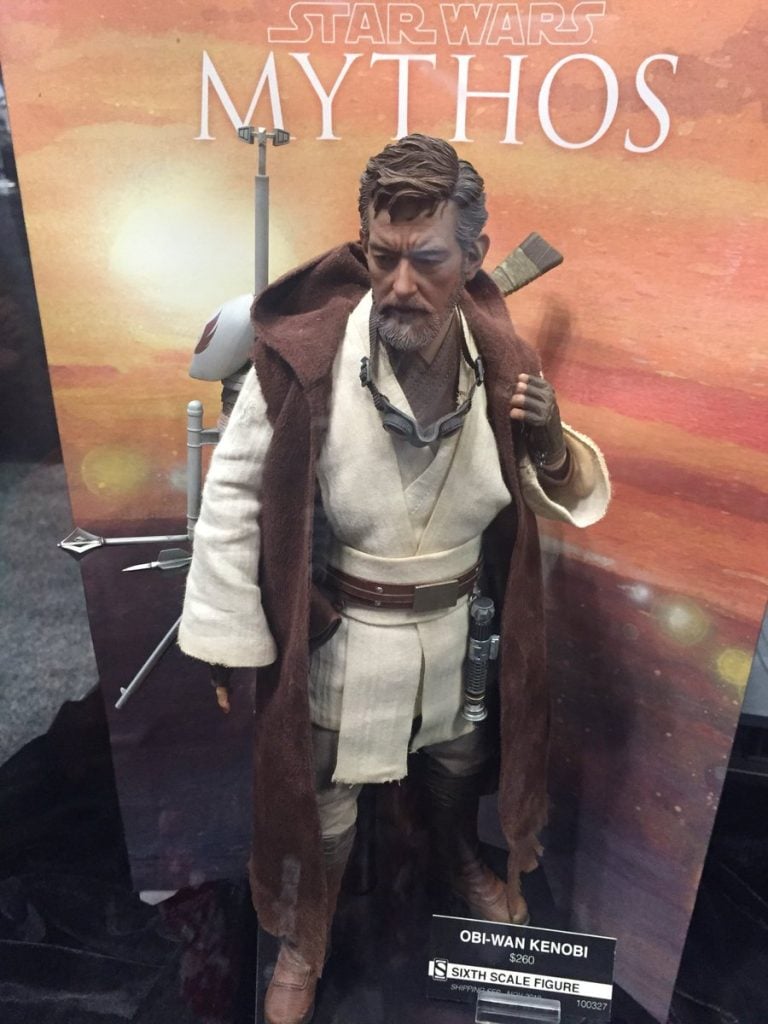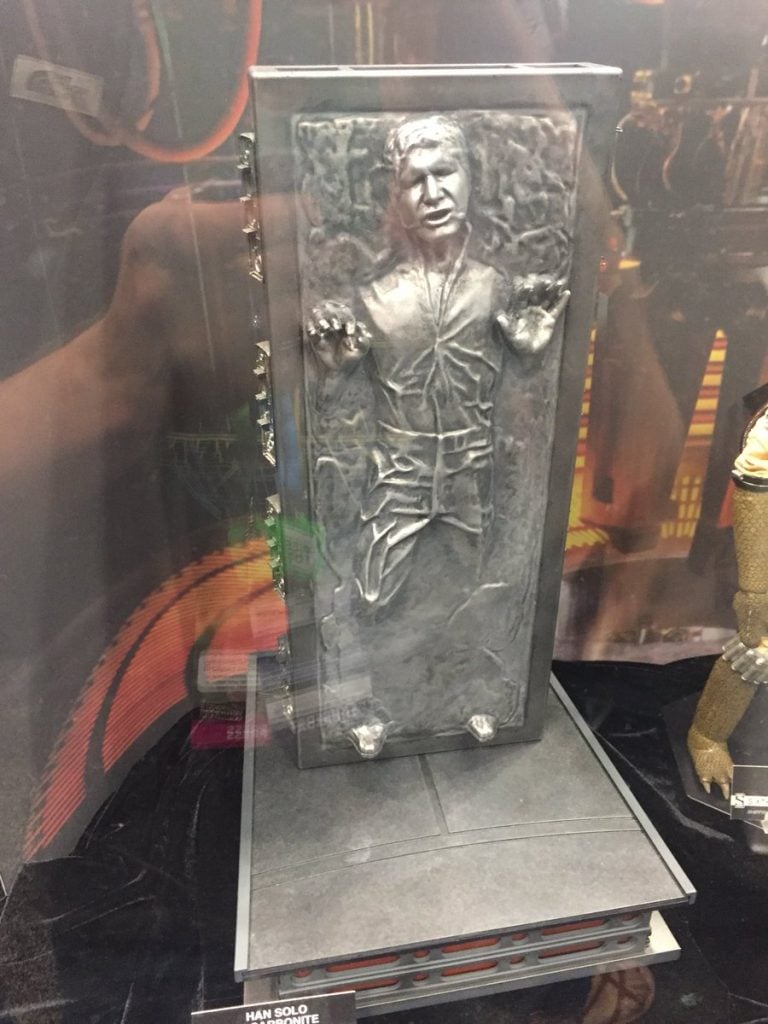 The Kenobi figure was the stand out for me. This is what I imagine Obi-Wan will look like age-wise in the (yet to be confirmed by Lucasfilm) Obi-Wan standalone film.
LEGO
NYCC BrickHeadz Exclusive
Boba Fett w/ Han Solo in Carbonite
This 'Brick Headz' set was exclusive to NYCC lottery winners for purchase only. I see a bunch of them popping up on sites like Ebay marked up, so if you really want one you can grab one there, but look for the best price you can!
Sphero (@Sphero) 
Sphero was a big hit with the BB-8 released in conjunction with The Force Awakens, well they have smartly expanded this line to other droids. I imagine like with BB-8, these will be enabled for reaction to the Blu-Ray editions of The Last Jedi when that comes out next Spring. Check them out!
R2-D2
BB-9E
R2-Q5
EFX Collectibles 
EFX presented helmets and props from Star Wars, including items familiar to the Millennium Falcon that you'll spot immediately, and the now famous burnt Darth Vader helmet from The Force Awakens, check out their display:
ANOVOS (@ANOVOS)
Anovos had a great display of all sorts of helmets from the Star Wars saga, as up to date as First Order Executioners!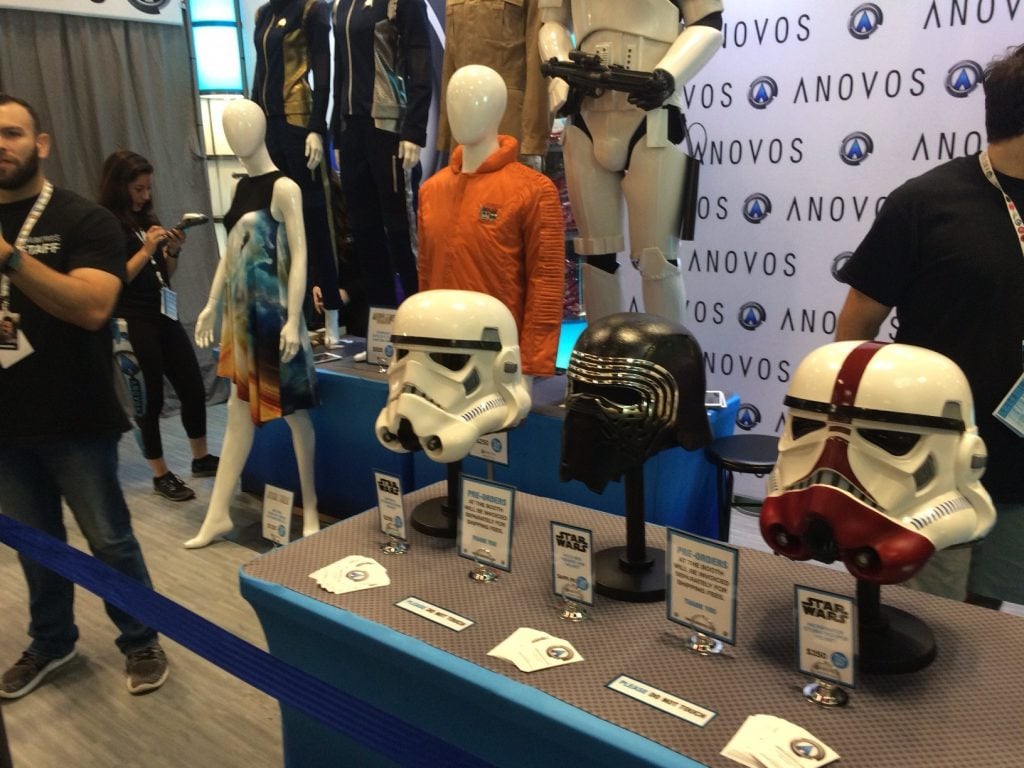 FINAL THOUGHTS
New York Comic Con was an unbelievable experience. For such a massive crowd, everyone was friendly, courteous, and got along. The people that saw my SWNN shirts and came up to me saying how much they love our website blew me away. You guys are all what make writing these articles worth while, truly. It was an absolute honor to represent this website at NYCC and meet fans of what we do, and fans in general! I hope to go back and see more of you next year.
Oh and one more thing, this was my dog Ralphie the night I left to go to comic con. He NEVER plays with his Darth Vader toy but he grabbed it that night, he knew!
I hope this write up helped bring you into the Star Wars experience at New York Comic Con, and if you went this year and I didn't see you, hopefully we can meet and chat next year, and if you didn't go this year, definitely do what you can to experience it in the future!
You can find me on Twitter @JohnnyHoey and SWNN's official podcast account @RBatSWNN!
For my ally is the Force, and a powerful ally it is.
John Hoey is the Lead Editor and Senior Writer for Star Wars News Net and the host of The Resistance Broadcast podcast
"For my ally is the Force, and a powerful ally it is."