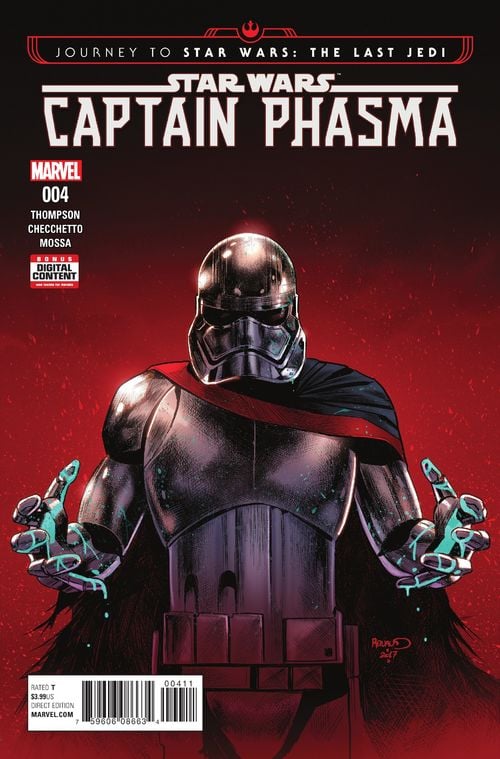 Written by Kelly Thompson
Art by Marco Checchetto
Phasma and Pilot are in disguise! After tracking down a First Order officer to a mysterious planet, Captain Phasma finds herself leading a new army against a new threat. Find out how the biggest and baddest officer of the Galactic First Order makes her way across the galaxy before she reunites with her team in THE LAST JEDI.
SPOILERS AHEAD
The previous three issues, as well as Delilah S. Dawson's book Phasma, have fleshed out Phasma's character and highlighted certain aspects of her personality that we should all keep in mind going into The Last Jedi. Phasma is not the devoted member of the First Order that we might have imagined her to be, but she certainly has the qualities necessary for a military leader. We witnessed some of her charisma in the previous issue when she rallied the locals with ease and got them to do things that were forbidden to them for a long time.
As this issue opens, we find Phasma and her pilot, FN-3456, in the middle of a battle with the monstrous R'ora. When it seems they are overwhelmed, the Lupr'or join the battle, starting an all-out-war and allowing Phasma and her pilot to try and find Lieutenant Rivas. It is clear that FN-3456 has compassion towards the local people, but Phasma is there only for Rivas.
Rivas, beaten and scarred, is being held prisoner by the R'ora. He is seemingly happy to see Phasma, but it doesn't take long for all pretenses to drop away. They are both aware that Rivas holds Phasma's secret. When it's clear what Phasma intends to do he pleads for his life, but Phasma kills him in cold blood. The murder is witnessed by her pilot who is aware that if the Captain learns that she also knows her secret, she is as good as dead too. She pretends she was fighting R'ora to keep their escape root clear.

Phasma wants to leave Luprora as soon as possible. When TN-3456 objects to leaving its people behind, Phasma tells her that they are lost, unsuitable for the planet they colonized and that the arrival of two First Order soldiers only sped up their inevitable destruction. When the tide comes, they will be wiped out.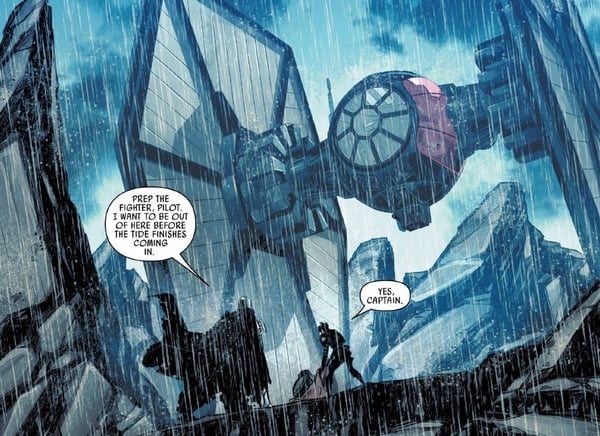 While the pilot prepares the ship, Phasma destroys their droid with a sniper. When all ships systems are operational, Phasma takes out her too, in spite of her pleas. As she says, even one loose end is one too many.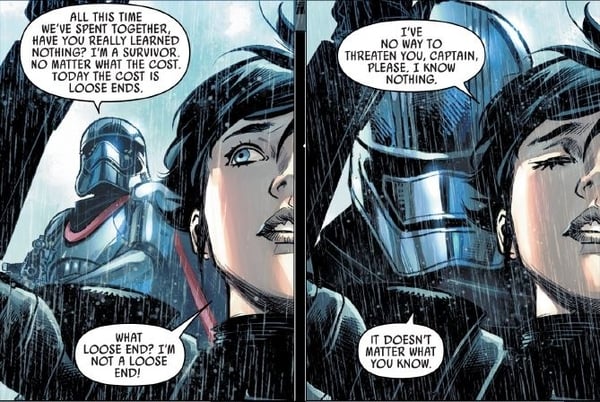 As Phasma flies back to the First Order, she composes her version of events that happened since the attack of Resistance on the Starkiller Base. And, since she is the only person left who knows the truth, her version of the story will indeed become the official truth. When she arrives on the Finalizer, she is met by General Armitage Hux who wants to know why hadn't she followed protocol, returning to the fleet after the destruction of Starkiller Base.
It is hard to say whether Hux buys her story or not. After all, the two of them share a similar secret, and he does say that they will talk more about it later. Either way, it is not important; with no one to oppose her story, Phasma holds all the cards.
The four-part miniseries managed to do what The Force Awakens missed out on – to give us a pretty well-rounded character. As Phasma says herself, she is a survivor, and her only loyalty is to her own survival, regardless of who has to be sacrificed in the process. She is an exceptional fighter and a solid tactician who uses her every skill and every resource to survive, whether it's a native population or – the First Order. No wonder she is so fond of her armor or, as we see in this comic, any armor for that matter. There is no softness in her, she is tough, precise, and – if need be – cruel. I wonder if her "devotion", as Hux puts it, will be tested further in The Last Jedi.
I suppose it will depend on the development of events and people she will interact with in the film. We know that she will have an encounter with Finn. Both of them have every reason to want revenge, she for garbage chute and he for everything he lost (and is probably still losing) to the First Order. Besides it being an inevitably awesome action scene (if we can judge by a few shots alone), I wonder if this battle or any future battle with the Resistance would reveal a few chinks in the gleaming armor, not just to us as viewers/readers, but her First Order mates as well.
It's no secret that I love Marco Checchetto's work on Star Wars. I loved his art in Shattered Empire, Obi-Wan and Anakin as well as Screaming Citadel (first issue). He doesn't disappoint here either. Since Phasma's face is covered, he gives all the expressiveness to supporting characters like Rivas and FN-3456. Coupled with Andress Mossa's coloring, his art is the perfect match for Thompson's story, doing both the adventure and grandeur justice.
There is no next issue this time promising to continue Phasma's story. Check out the next step in Phasma's journey in…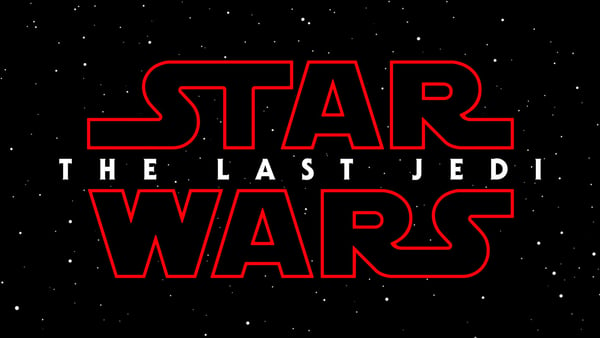 But until that happy day and keeping with the official color scheme, Captain Phasma #4 gets 8/10 STARS.
Staff member, comic and book reviewer. Cheers for the Light Side, but would drink with Grand Admirals.
Click HERE to check out and comment on this topic in our forum The Cantina