RUMOR: Darth Vader May Cameo In The Han Solo Movie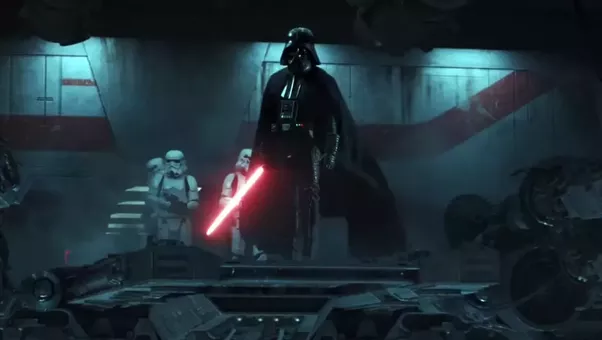 A new report suggests that none other than Darth Vader will be making an appearance in the Han Solo spin-off.
A few months ago, we reported a story from the site FandomFest that actor Spencer Wilding, who was one of two actors to portray Darth Vader in Rogue One: A Star Wars Story, had to cancel a convention appearance at Kentucky's Fandom Fest due to filming for Han Solo. At the time, we had info that if this info was true, it was not for the role of Darth Vader. Wilding himself later confirmed that not only did he not film any Vader scenes for Han Solo, but he didn't film anything Star Wars-related at all! Now a new report from That Hashtag Show suggests the Dark Lord of the Sith might appear in the Han Solo movie after all (presumably played by another actor):
"A source close to the production has revealed to us that someone—presumably not Wilding, given his pretty definitive statement that he isn't involved—was on the set of Howard's Han Solo reshoots in Darth Vader's armor as recently as two weeks ago. Unfortunately, that's pretty much all we can confirm. We don't know how big of a role Vader will play in Han Solo; it could be nothing more than a brief cameo in a single shot; it could be a full scene with dialogue; it could be multiple scenes. We don't know. The only thing we can say with confidence is that Darth Vader is making some kind of appearance in the film."
The site That Hashtag Show has a good track record of keeping tabs on casting calls, so this is definitely something that should not be dismissed. It sounds like this is going to be a cameo for Darth Vader akin to his instantly memorable appearances in Rogue One: A Star Wars Story. Lucasfilm are very aware that Vader is a unique character who should not be over used in the new movies. The Han Solo movie takes place 10 years before A New Hope and I am sure many fans will be fine if we don't see Vader in the film at all. If this rumor turns out to be accurate, we hope Vader's cameo will be a brief yet memorable one. What do you think?
Grant has been a fan of Star Wars for as long as he can remember, having seen every movie on the big screen. When he's not hard at work with his college studies, he keeps himself busy by reporting on all kinds of Star Wars news for SWNN and general movie news on the sister site, Movie News Net. He served as a frequent commentator on SWNN's The Resistance Broadcast.