Lucasfilm Enlists 'Monsters at Work' and 'The Rocketeer' Animation Studio for Unannounced CG Series
A job listing has revealed that CGI animation group ICON Creative Studio, the animation group which has done work on Disney shows Elena of Avalor, The Rocketeer, and Monsters at Work, has been collaborating with Lucasfilm Animation on a currently unannounced "high-end" CG animated series.
Per a listing on LinkedIn (hat tip r/StarWarsLeaks), it's been learned that the British Columbia-based ICON is collaborating with Lucasfilm Animation, with new talent willing to reloate to Canada currently being requested to join their ranks on this new endeavor. Check out a screencap of the page below:
ICON Creative Studio (Monsters at Work, Elena of Avalor) put up a LinkedIn listing back in November looking for animators for a new Lucasfilm production from StarWarsLeaks
In addition to this, ICON Creative Studio President Shea Kevin Wageman's LinkedIn page lists an upcoming high-end CG series as "Un-announced Lucasfilm Series":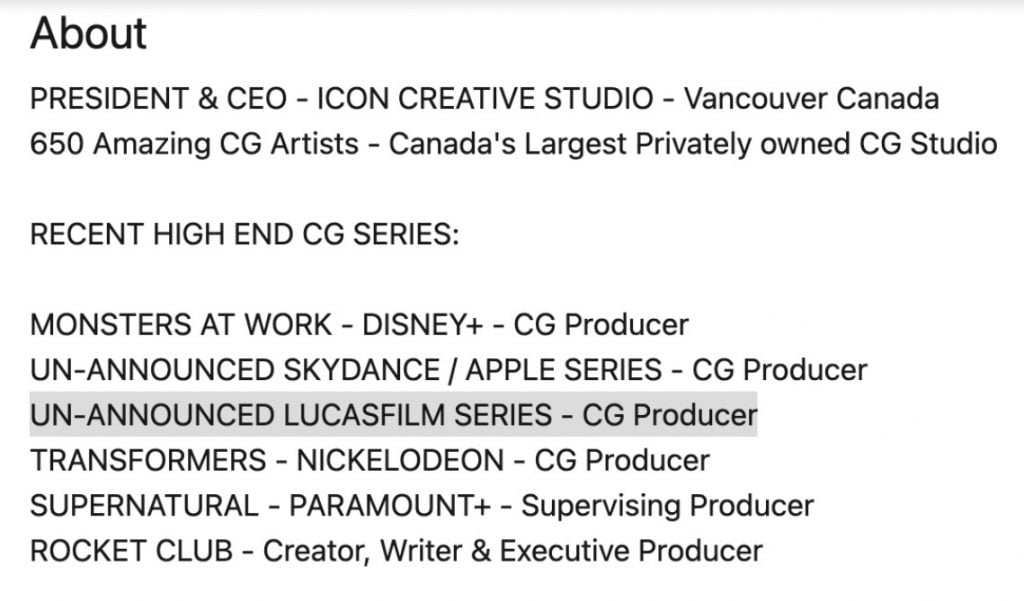 While ICON has some experience with live-action CGI effects, it seems clear this is a new, unannounced animated series. The listing itself is dated back to November 2021, but new hires may have been sought before that, as there are some listings indicating that "a top-secret project" was in the pipeline a few months beforehand. So safe to say, Lucasfilm Animation is making sure that they have more in the pipeline for Disney Plus than just the second season of The Bad Batch and possibly the Disney Plus film A Droid Story (which we haven't had an update on in a year).
Could this new project possibly be the Tales of the Jedi project believed to be in development? It's difficult to say, but if we are to assume that project is an animated series and not a live-action feature film – either for theaters or Disney Plus – then the timing might line up just right for a show to start airing just around the end of 2022 or early into 2023. ICON is no stranger to working with action in their animated series, and their upcoming Transformers cartoon should likely prove that they could cut the muster for working with the kind of kinetic action that we associate with the galaxy far, far away. But again, this makes a lot of assumptions, and it's also possible that Lucasfilm could be making an animated series based on a different intellectual property altogether.
We'll be sure to keep you updated on the future of Star Wars in animation and more when it comes to news on Star Wars television in general. As it stands, it seems like the future – as unclear as it is – will have a lot of content in store for every type of Star Wars fan.
Grant has been a fan of Star Wars for as long as he can remember, having seen every movie on the big screen. When he's not hard at work with his college studies, he keeps himself busy by reporting on all kinds of Star Wars news for SWNN and general movie news on the sister site, Movie News Net. He served as a frequent commentator on SWNN's The Resistance Broadcast.