The Last Jedi is less than 100 days away and Empire Magazine takes its turn with its eight page spread covering the film. We have shared bits and pieces from the spread with you this week, and now that the issue is released, we can put it all together for you, including some new bits of info and quotes.
BREATHE…..JUST…BREATHE…
Take a deep breath, The Last Jedi is on its way, and Empire Magazine is here to quench our thirst, if only for a moment. Rian Johnson delves into the creative process, from how Star Wars stories are developed, channeling the old, imagining and creating the new, and melding them together to create the next chapter in the cherished saga.
The most tiresome question Johnson receives must be about who is in charge, who is really in creative control of these films? Skeptics assume it's nothing more than Disney suits ultimately making the call, but Johnson, although likely tired of answering the question, knows how important it is, especially now with recent events, to make it clear his experience in creating this film was no different than anything he has done before in regards to the control and freedom he had:
The perception of these films is that they're all planned out on a secret sheet of paper in advance, but that's just not the case. I wasn't given an outline of where it goes or even a list of things to hit. It really was just, 'Okay, what's next?'
WHAT DO YOU SEE?
Johnson didn't dictate his story outline, instead he quite literally asked himself open ended questions, limiting the restrictions on where he could take these characters, old and new:
I had a couple keynote ideas, then I just started freedom writing with each of the characters. What do I know about them? Where do I want to see them go? What would be the toughest thing each of them could be faced with? I started this big document that ended up growing and growing and eventually a through-line started to become clear.
Place your bets as you venture into a bit of high society in the Star Wars galaxy. We've seen dive bars riddled with scum and villainy, we've seen lavish scenic planets and places of royalty in the prequels, and now we'll see where the wealthy carefree, couldn't care less crowd goes to play, Canto Bight on Cantonica!
I wanted a new environment that was dunking your head in a cool bath of water, right in the middle of the movie. Apart from the prequels, all the touchstones that make something feel like Star Wars involve griminess and dirt. I wanted something completely different. I thought, 'What would Monte Carlo of the Star Wars universe look like?'

It's like Mos Eisley but they are all rich jerks, as opposed to slimy, underworld guys. They're a ctually worse: they're slimy underworld guys wearing tuxedos and driving yachts.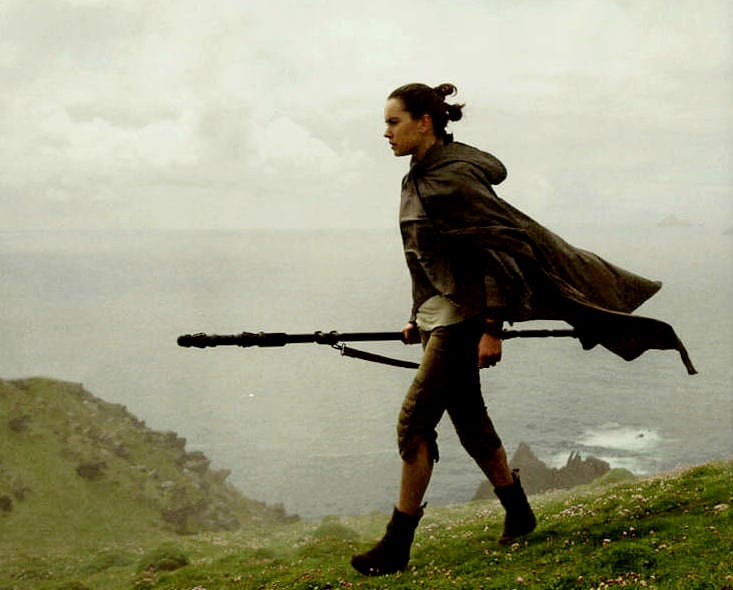 LIGHT
Everybody is asking what will we expect to see from Luke Skywalker in The Last Jedi, after his brief but muted yet powerful cameo in The Force Awakens. Johnson asked himself the same questions when developing the story. Reassuringly protective of Luke Skywalker the hero, the kid in Johnson knows that Skywalker is no runaway, but where is he mentally? What has brought him to this point? He explains his process in answering those:
Who is Luke Skywalker? But more than that, who's Luke Skywalker now? I grew up with an idea of who Luke was, so the real question was why is Luke on that island? Luke's no coward, he is not hiding from a fight, so there must be some reason he's there that makes sense to him. That was the first nut to crack. The seed for the whole story was inside that shell. I just had to get to it.
The Force Awakens might have been a film about Luke Skywalker, but The Last Jedi is Luke Skywalker's film. Missing for decades, his trusty X-Wing rusting beneath the waves, Luke finds redemption in the form of Rey.
It sounds like Luke's X-Wing has seen better days, perhaps we see him raise it from the water this time? Or will he let Rey give it a shot? Will Yoda appear to witness it happen? Any potential scene like this will be sure to send chills up our spines, especially as it will undoubtedly be backed by an iconic piece of John Williams music.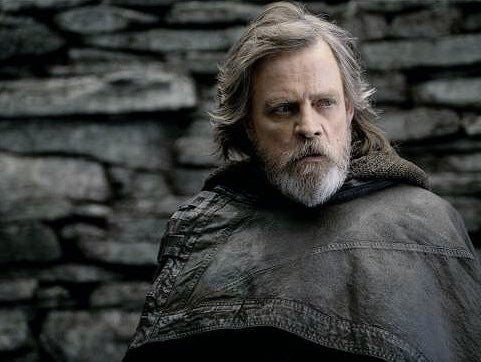 Mark Hamill, humble and candid as ever, admits he was a bit skeptical of Johnson's take on Luke's frame of mind heading into the film, but as he typically does in his signature self-deprecating manner admits that he was wrong for being so skeptical:
Luke's changed a lot. It was as shocking for me to read what Rian had written as I am sure it will be for the audience. I was surprised by the way he saw Luke – to hear him say something like, 'It's time for the Jedi to end' – and I wasn't even sure I agreed with it. Being the caretaker of the character I have a possessive attitude towards him, but even though it's not the way I would have gone, the more I got into the work, the more I realized I was wrong.
Forty years into playing the character that he will forever be linked to, and called out on the street as, Hamill still holds onto Luke with a tight grip. It is clear in these quotes that he still cares very much about the character, and that is such a beautiful thing to see. Hamill could easily show up, hit his mark, deliver a line, and head to the trailer waiting for the check, but it's evident he is fully aware how important this character, these movies, are to the fans, and that hasn't gotten lost on him in the last forty years.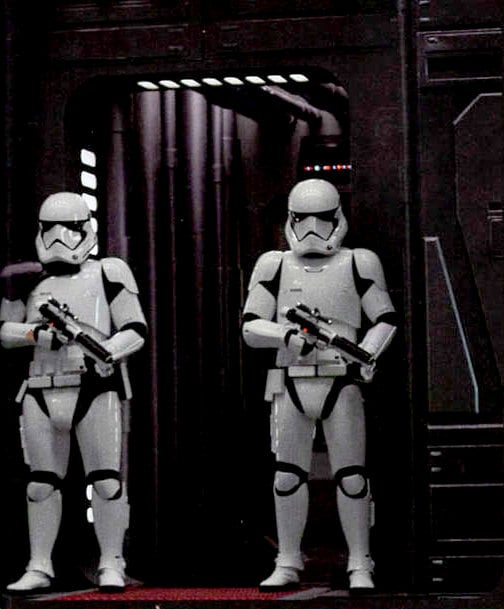 DARKNESS
Johnson talks about Snoke and Kylo Ren, which we covered in depth earlier this week, so instead of repeating ourselves like film frames of a Tusken Raider moving it's arms up and down, you can check out our coverage of that segment of the spread right here! BUT beware! Once you start down the dark path, forever will it dominate your destiny…consume you it will, as it did Obi-Wan's apprentice!
THE BALANCE
While The Last Jedi is the second in the trilogy, a linear comparison can be made to The Empire Strikes Back, arguably the most revered Star Wars movie of all time. However, while Johnson admits that in a three act story, the second act typically comes with challenges and conflict, The Last Jedi will be it's own healthy blend of all things that made him love the saga so much to begin with. Almost as a metaphor using the the light and dark, Johnson finds humor in Star Wars as impactful and important as the heavy moments:
This is the second movie in the trilogy, so it's easy to draw parallels to Empire in terms of a darker feel. And we do dig into the characters: we're going to challenge them and things are gonna get tough for everybody. But I didn't want this to go too dark. One of the things I drew from J.J.'s film was the sense of fun and playfulness – that's as much Star Wars as, 'I am your father.'
The end of the piece gets into Johnson discussing the future of the saga beyond his film. Obviously things are a bit skewed now with the recent departure of writer/director Colin Trevorrow. Before we continue to get caught up in the drama surrounding Episode IX, let's remember that "always in motion, the future is. Clear your mind of questions."
We are just around the corner from The Last Jedi. Let's take a moment to realize how incredible that is. A saga that was only in our rear view mirror five years ago, is now bigger than ever, and Rian Johnson appears ready to show us what he has created for us, the next chapter in the most iconic film franchise of all time.
I ONLY KNOW ONE TRUTH….IT'S TIME FOR THIS ARTICLE….TO END
For the full story get your copy of Empire in stores near you, or subscribe here.
You can find me counting down the days to The Last Jedi on Twitter @JohnnyHoey and we'll be talking about Empire Magazine's coverage on our next episode of The Resistance Broadcast @RBatSWNN.
"For my all is the Force, and a powerful ally it is."
John Hoey is the Co-Lead Editor and Senior Writer for Star Wars News Net and the host of The Resistance Broadcast podcast
"For my ally is the Force, and a powerful ally it is."
Click HERE to check out and comment on this topic in our forum The Cantina