Rian Johnson on Snoke, Kylo Ren, and Poe's Improved X-Wing in The Last Jedi!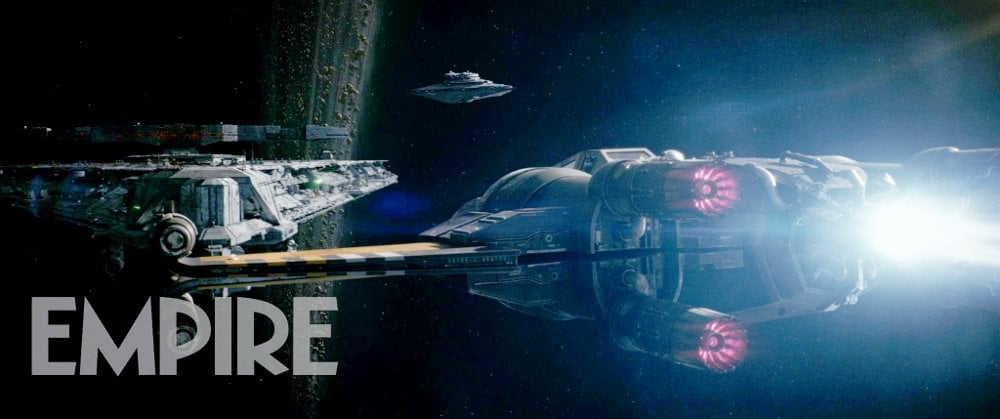 The Last Jedi is a few months away, and Empire Magazine is releasing their feature on the film. They spoke with writer/director Rian Johnson about several topics, including Supreme Leader Snoke, Kylo Ren, and Poe Dameron's improved X-Wing.
SUPREME LEADER SNOKE
Character origin stories have become a popular choice among filmmakers in recent years. Just recently we've heard of DC potentially making Joker origin films. After hearing Rian Johnson talk about Supreme Leader Snoke in The Last Jedi, it is safe to say that he is not taking that approach when it comes to the leader of The First Order. Johnson, taking a cue from the mystery shrouding Emperor Palpatine in the original trilogy, likes the idea that Snoke doesn't need a back-story, and that as a matter of fact, us not knowing his back-story makes him all the more mysterious, and fearsome.
"We got the whole story of Palpatine's rise to power in the prequels, but in the original films he's exactly what he needs to be, which is just 'The Emperor'"Johnson tells Empire in the new October issue. "He's a dark force: the scary thing behind the thing. That was entirely how I approached Snoke. I wasn't interested in explaining where he came from or telling his history, except where it serves this story."
We are certain to get a larger dose of Snoke in The Last Jedi as images via merchandise and official released photos have shown us his massive stealth bomber looking Star Destroyer Supremacy, as well as his throne room and loyal Praetorian Guards. Just because we won't know where Snoke went to grammar school doesn't mean we will be starved of Andy Serkis's brilliance this time around.
KYLO REN
Unlike Snoke, who appears to be a more linear, to the point character, Kylo Ren has offered Johnson the opportunity to apply his incredible writing talents, with a character that some could argue might be the most complex Star Wars character we've seen. Johnson delves into Kylo, not so much about his evident inner-struggle between dark and light, but more-so about the understanding of how he ended up where he is, how we all have that side of us, and those choices to make.
"Writing Kylo Ren is just so much fun," says Johnson "Star Wars boils down to the transition from adolescence into adulthood. That's the heart of these films and Rey is most obviously the one that hangs on. But it's also Kylo. In the originals you project entirely onto Luke, while Vader is the scary other — he's the minotaur. The fascinating thing about Kylo and Rey is that they're two sides of something. We can all relate to Kylo: to that anger of being in the turmoil of adolescence and figuring out who he's going to be as a man; dealing with anger and wanting to separate from his family. He's not Vader — at least, he's not Vader yet — and that's something I really wanted to get into."
I have continually said that The Last Jedi will be Kylo Ren's movie. While Rey and Luke have been in the spotlight, I think Adam Driver will steal the show. As I mentioned before, Kylo Ren might be the most complex Star Wars character we've ever seen, and we wait with baited breath to see what direction he takes in The Last Jedi.
Source: Empire
POE DAMERON'S X-WING
The best pilot in The Resistance deserves the best starfighter. Poe Dameron, who appeared to have no issues evading enemy fighters in The Force Awakens, now has a few more features on his X-Wing to make him even more dominant in space battles across the galaxy far, far away. Code-named Black One, Dameron's X-Wing has been "specially retrofitted with additional thrust to help evade incoming fire."
For you weapon and ship experts, the official model is Incom-FreiTek T-70. The piece from Empire discusses Rian Johnson's explanation for the purposes of the X-Wing's new features:
The X-Wing, according to Rian Johnson, been specially modified by Resistance engineers, with a temporary accelerator pod affixed to the aft section. According to The Last Jedi director, the pod, when primed, increases Dameron's speed, allowing him to outrun First Order cannon emplacements. It's just a temporary boost and will burn out quickly but it's enough to get beyond the barrage of turbo laser fire from First Order Star Destroyers such as the one depicted in the image.
The ring of debris/rocks leads us to believe this showdown between Poe and the Dreadnought happens over D-Qar.
In the behind the scenes sizzle reel from D23, we do see Poe Dameron in the cockpit of a Ski-Speeder, speculated to be on Crait. Does this mean his X-Wing suffers the same fate as the one he had at the village in Jakku? Or perhaps another chain of events finds him in one of these new ships at this moment in time.
Source: Empire
Are you happy we aren't getting a back-story on Snoke? Is experiencing him now in the present enough for you? What direction do you think Johnson has taken Kylo Ren in The Last Jedi? Finally, what do you make of Poe Dameron's improved X-Wing? The complete eight-page spread on The Last Jedi at Empire Magazine is due out on Thursday, and we expect a lot more photos and discussion from Rian Johnson about the film.
"For my ally is the Force, and a powerful ally it is."
You can find me not exploring my back-story on Twitter at @JohnnyHoey and of course you know we'll be talking about the Empire spread on The Resistance Broadcast this week, you can find us on Twitter @RBatSWNN.
John Hoey is the Lead Editor and Senior Writer for Star Wars News Net and the host of The Resistance Broadcast podcast
"For my ally is the Force, and a powerful ally it is."