Blackmail! Aphra's Droids Hatch a Devious Plan in Marvel's Star Wars: Doctor Aphra #12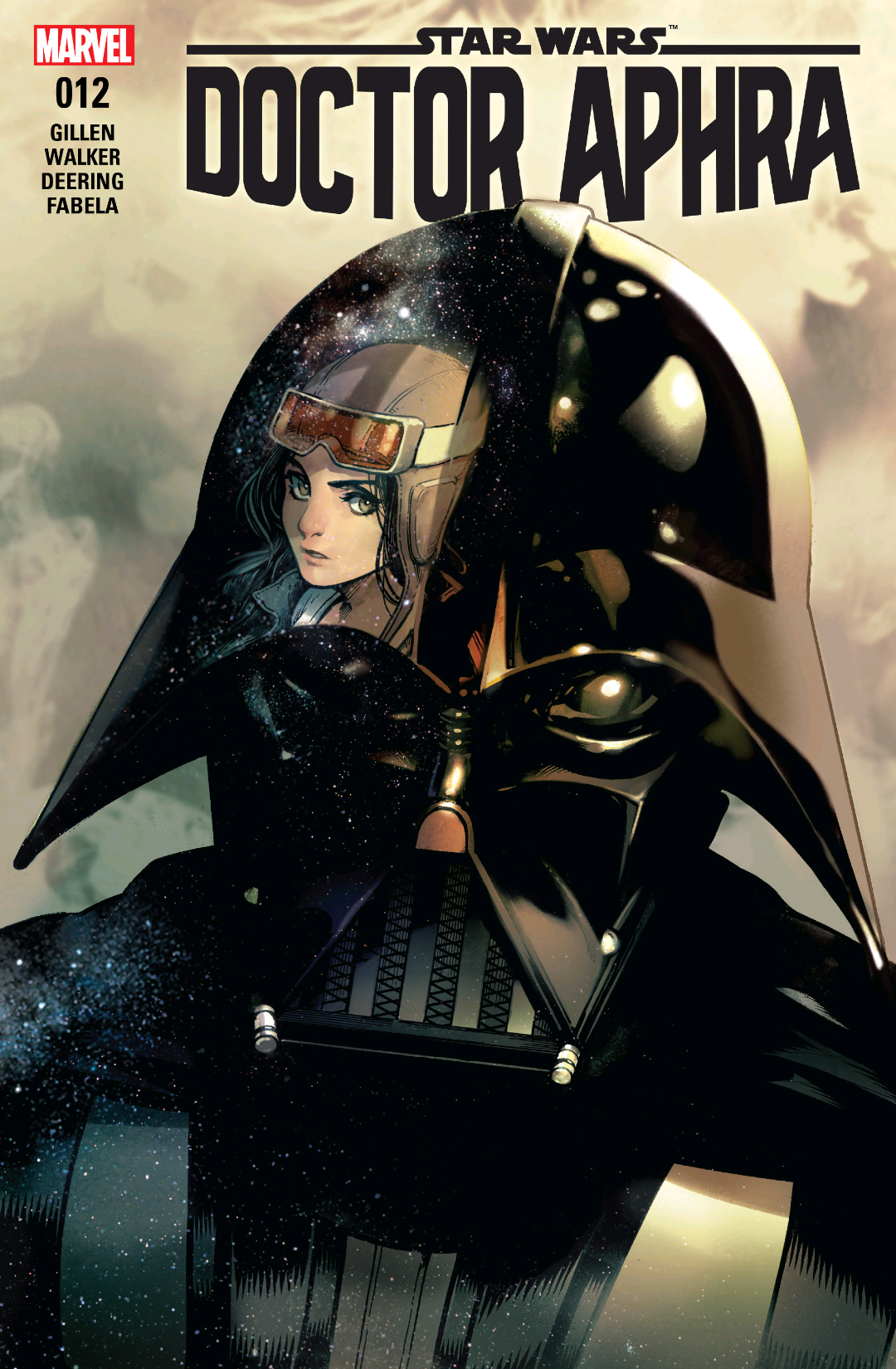 After her  murderous droids derail Aphra's attempt to auction of the Rur Crystal, an artifact that contains the consciousness of an ancient Jedi, by contacting Darth Vader – the Sith Lord has arrived and Aphra is once again on the run! Read on for the full review of Marvel's Star Wars: Doctor Aphra #12. Spoilers ahead…
When the sadistic droid Triple-Zero reveals to Aphra that he contacted Vader, he tells her that he did not inform the Sith Lord that Aphra was alive, only that there was an gathering of ne'er-do-wells attempting to secure an ancient Jedi artifact. The droid has found a clever loophole in his programming to blackmail his master into setting him and his counterpart BeeTee free from servitude.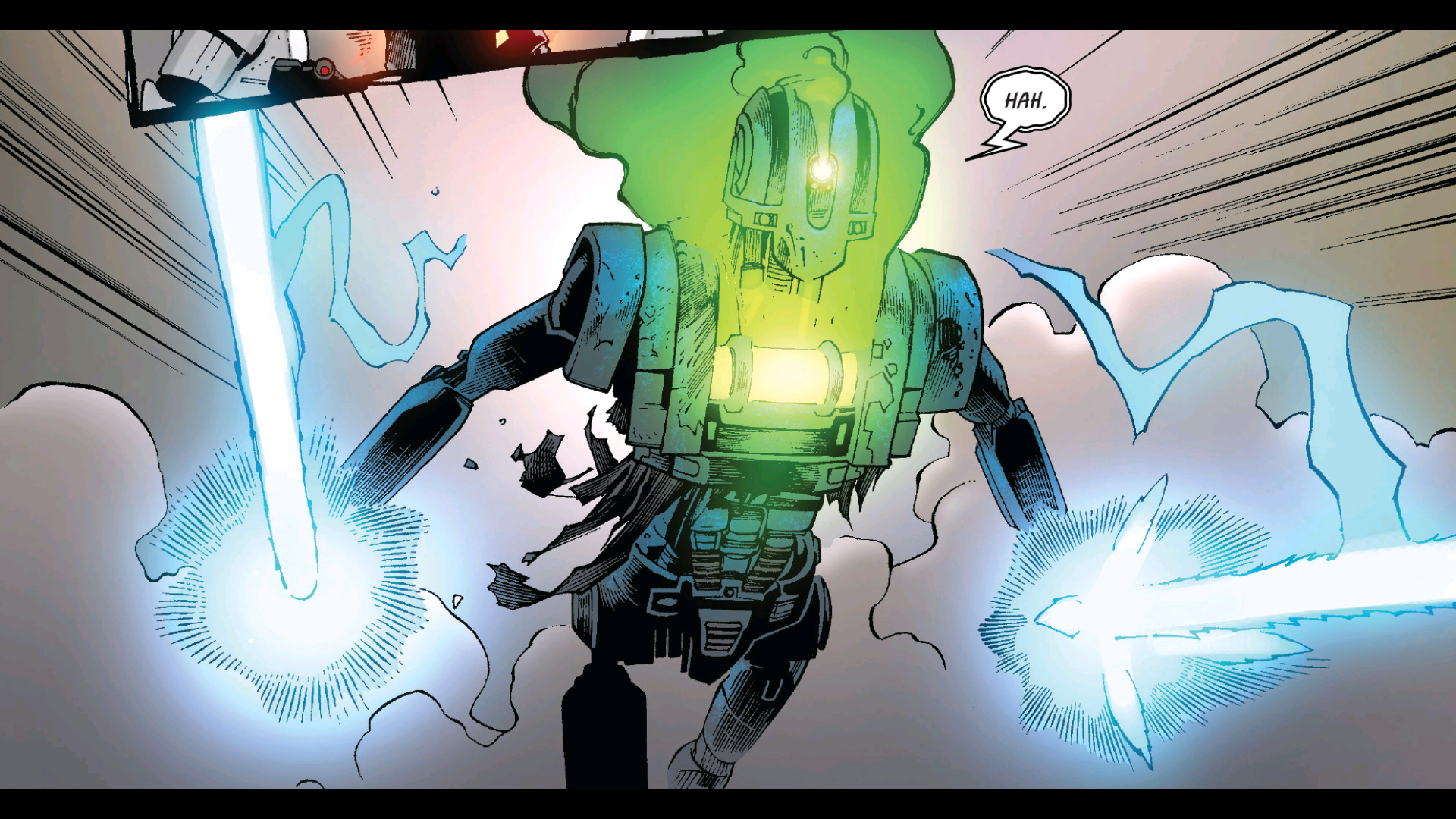 To make matters worse, Rur, who has possessed a droid body and is wreaking havoc on the station, is still on the loose. Regretfully, Aphra is faced with no other options but to alter the programming on her droids, hoping that they don't decide to turn right around and kill her. After setting them free to murder at will, the droids thank Aphra by leaving her still breathing.
When Aphra reunites with her Wookiee partner, Black Krrsantan, the two make their way to a ship to make their escape. Before leaving, Aphra realizes that she can still be a hero, and rich, by securing the ship belonging to the now dead representatives of the Shadow University which contains priceless artifacts. As she asks Krrsantan to talk her out of going back, the Wookiee responds by taking off without her.
With her decision now made for her, she doubles back, only to be chased down by the lightsaber-wielding Rur-possessed droid. As Aphra tries to outrun the droid, Vader arrives and provides a much-needed distraction. As the Sith Lord and the ancient Jedi begin to fight, Aphra may finally have the window she needs.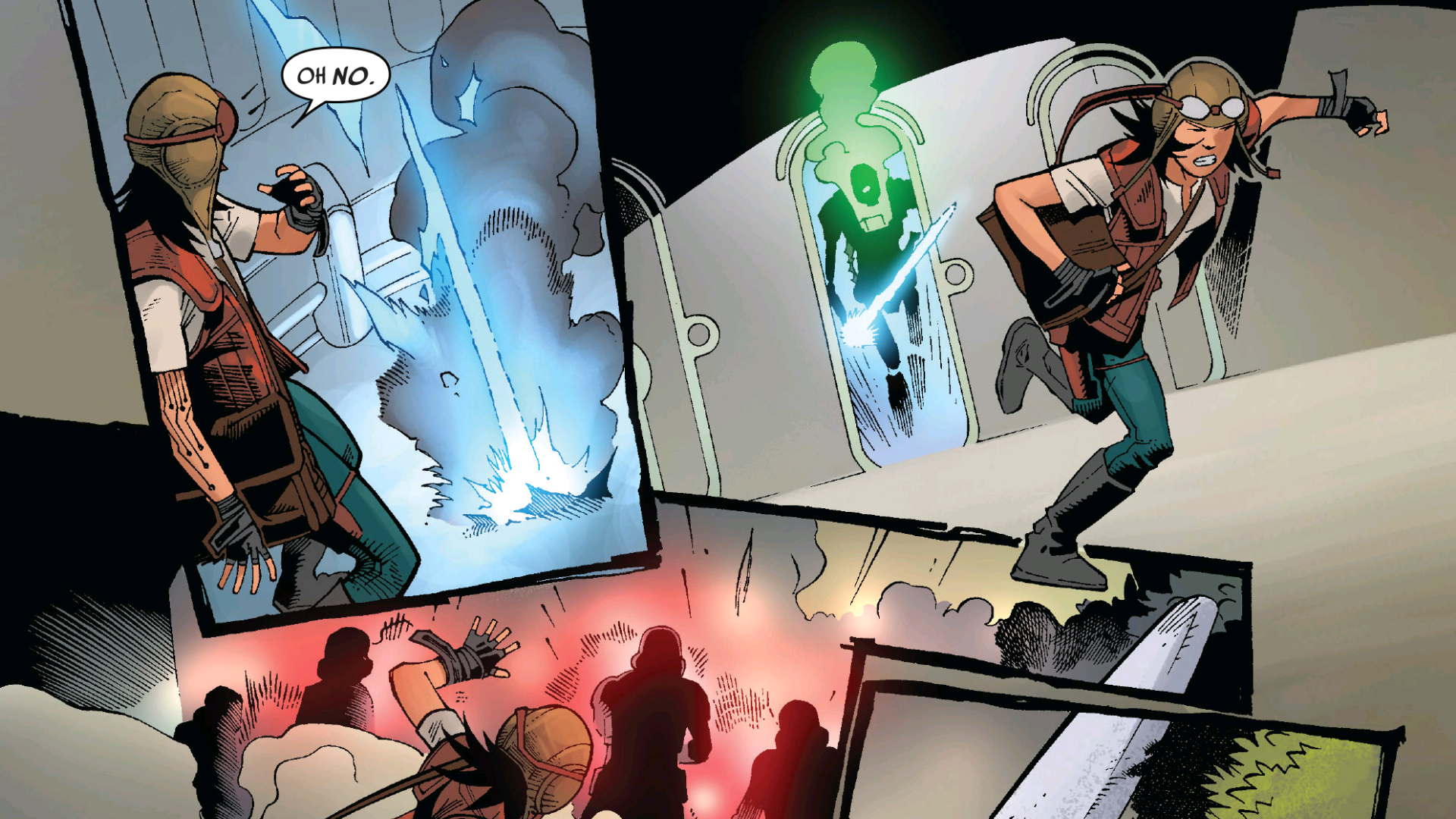 As this storyline draws to its conclusion, writer Kieron Gillen ramps up the action along with the stakes, giving us a very fast-paced issue that didn't allow much room to breathe, which is exactly what I wanted after the less action-packed issues that have built up to this point in the story. I'm very interested to see where he takes the droids as they are now liberated and on their own (this can't be a good thing for the galaxy), as well as Krrsantan, who has left Aphra behind to fulfill his weird life debt obligations to the Xonti Brothers (see Doctor Aphra Annual #1).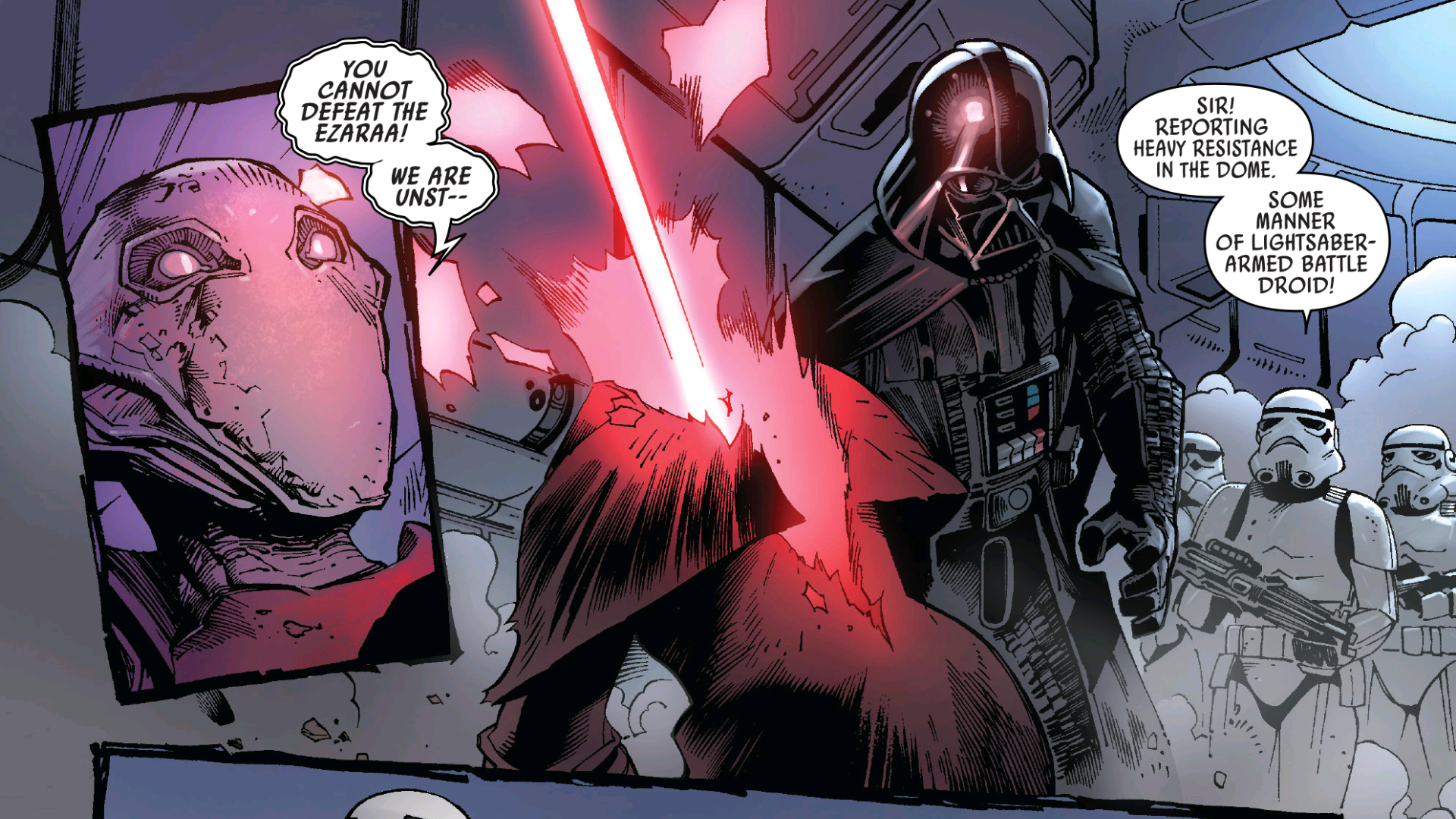 Hopefully, Aphra gets away from Vader unnoticed, as his knowledge of her still being alive can only be a bad thing for her (seeing as how she had to fake her death just to avoid being killed by him the last time they met). Aphra is a loose end in Vader's mind, and she has outlived her value to him. If she is captured, let's hope she can come up with a really good reason on the fly for the dark Lord to keep her alive.
As always, Kev Walker's dynamic and energetic art brings an exciting vibe to this issue, as well as an aesthetic that continues to complement this series in the best possible way. Whether you are a fan of Aphra or not, it's hard to deny the synergy between Gillen and Walker on this series. This unique collaboration is what keeps me coming back to this series each issue with a level of excitement that rivals that for any other title currently in my comic book pull list.
Score: 8.5/10
Star Wars: Doctor Aphra #12 is available now in a comic shop near you or online at Comixology. Happy reading comic fans!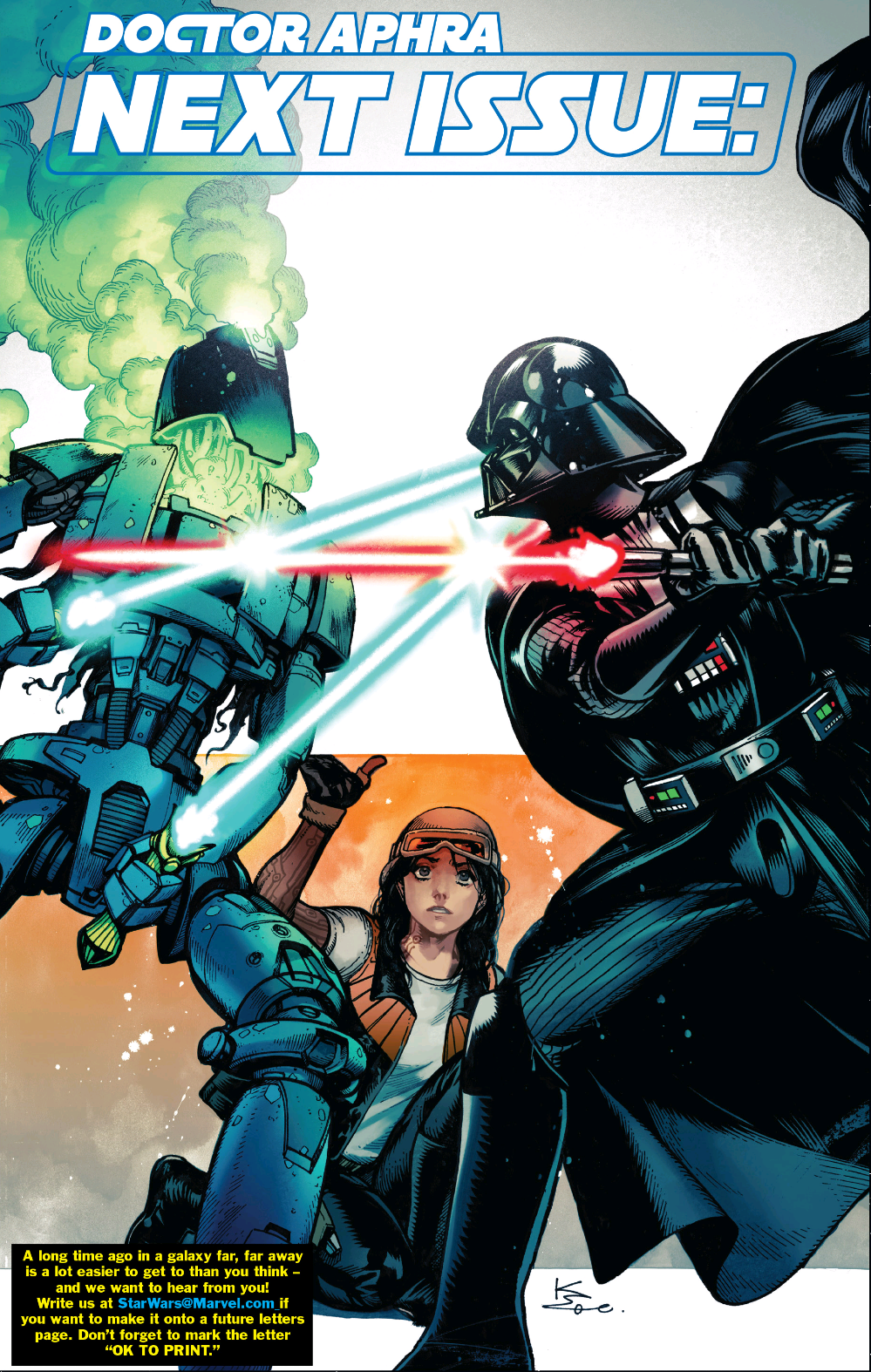 Jordan Pate is Co-Lead Editor and Senior Writer for Star Wars News Net, of which he is also a member of the book and comic review team. He loves all things Star Wars, but when he's not spending time in the galaxy far far away, he might be found in our own galaxy hanging out in Gotham City or at 1407 Graymalkin Lane, Salem Center, NY.