Are You Not Entertained?! Black Krrsantan's Gladiator Past is Revealed in Marvel's Star Wars: Doctor Aphra Annual #1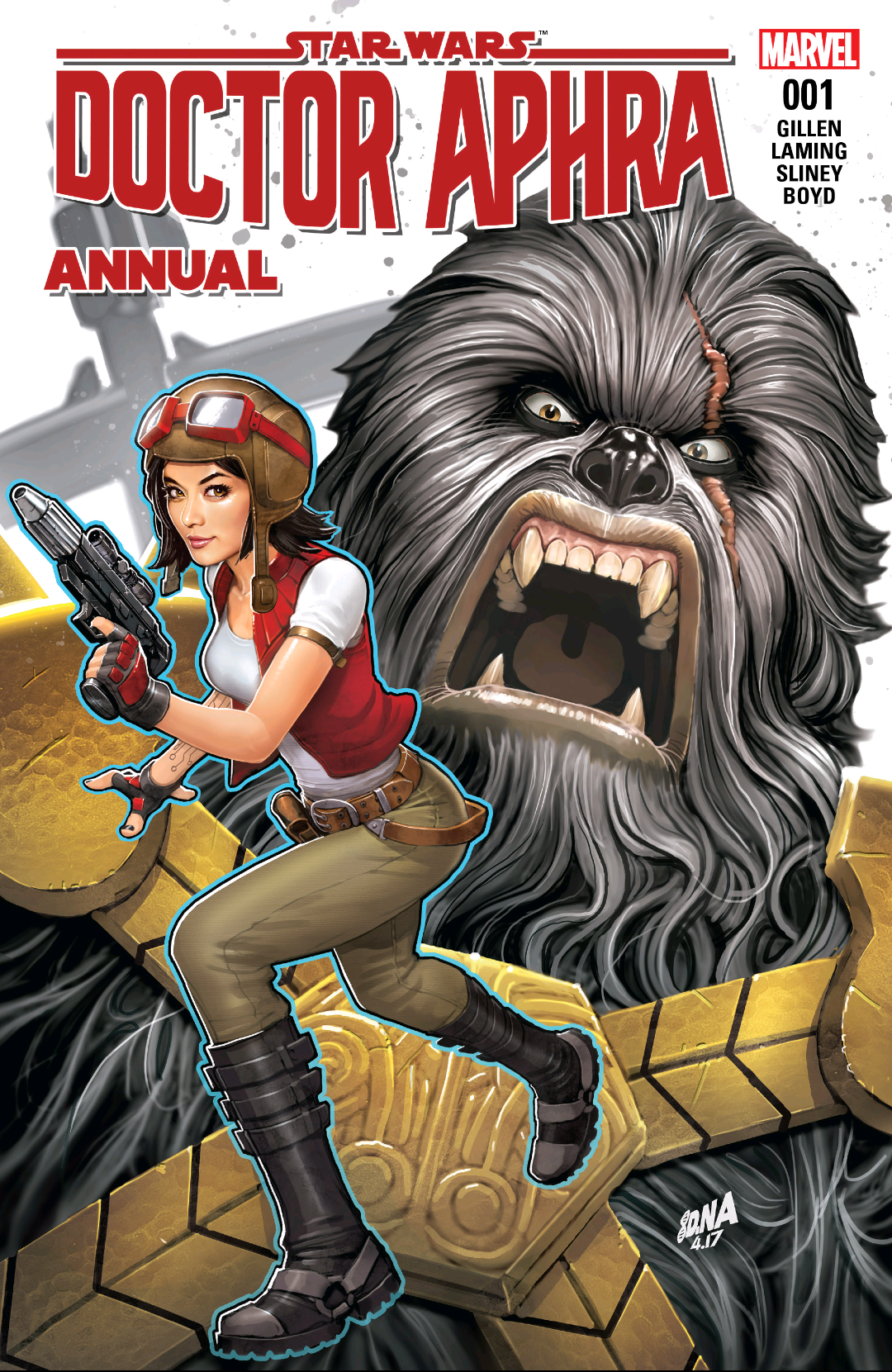 It's hard to believe that Kieron Gillen's Doctor Aphra series is already getting its first annual issue, but with eleven issues already under our belt, here we are this week with Doctor Aphra Annual #1! Bridging the gap between The Screaming Citadel (issue #8) and The Enormous Profit (issue #9), this issue reveals how Aphra was able to set up her auction to sell off the crystal of Rur. But the real meat of this issue lies in the backstory of Black Krrsantan, her Wookiee partner-in-crime, that is revealed in segments throughout the 33-page issue. Read on for the full review. Spoilers ahead…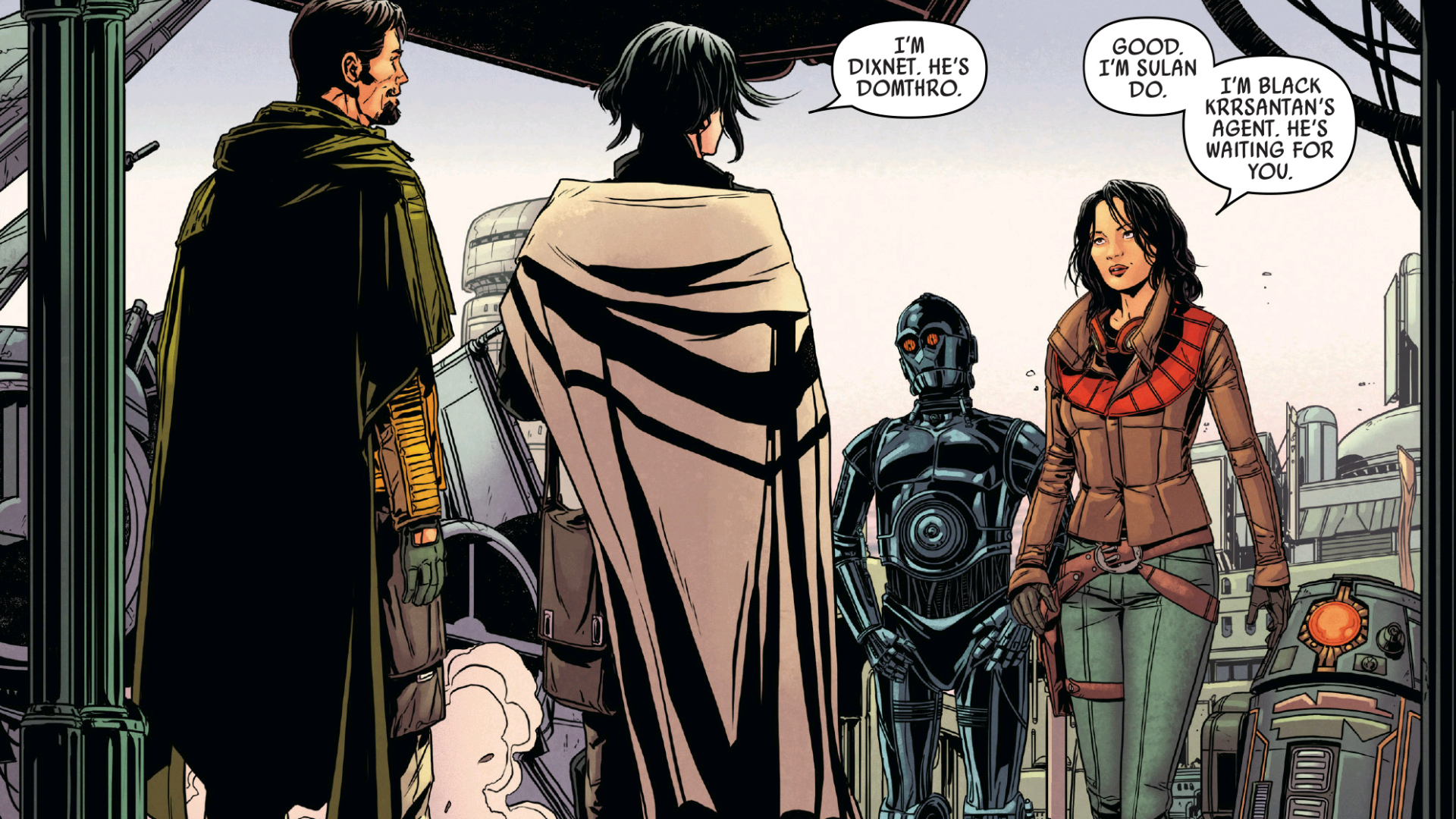 Doctor Aphra sets up a meeting between Black Krrsantan and a couple of "journalists" that operate on the unsanctioned undervine, an alternate to the mainstream holonet (basically the GFFA equivalent to the tabloids). Black Krrsantan tells his interesting backstory to the pair of journalists, while Aphra sneaks aboard their ship to broadcast hundreds of messages using the undervine to advertise her auction.
We find out some interesting things about the Wookiee bounty hunter in this little tale – nothing really surprising – but nonetheless, it was a fun break from the current arc as we prepare ourselves for Vader's vengeful return in the next issue.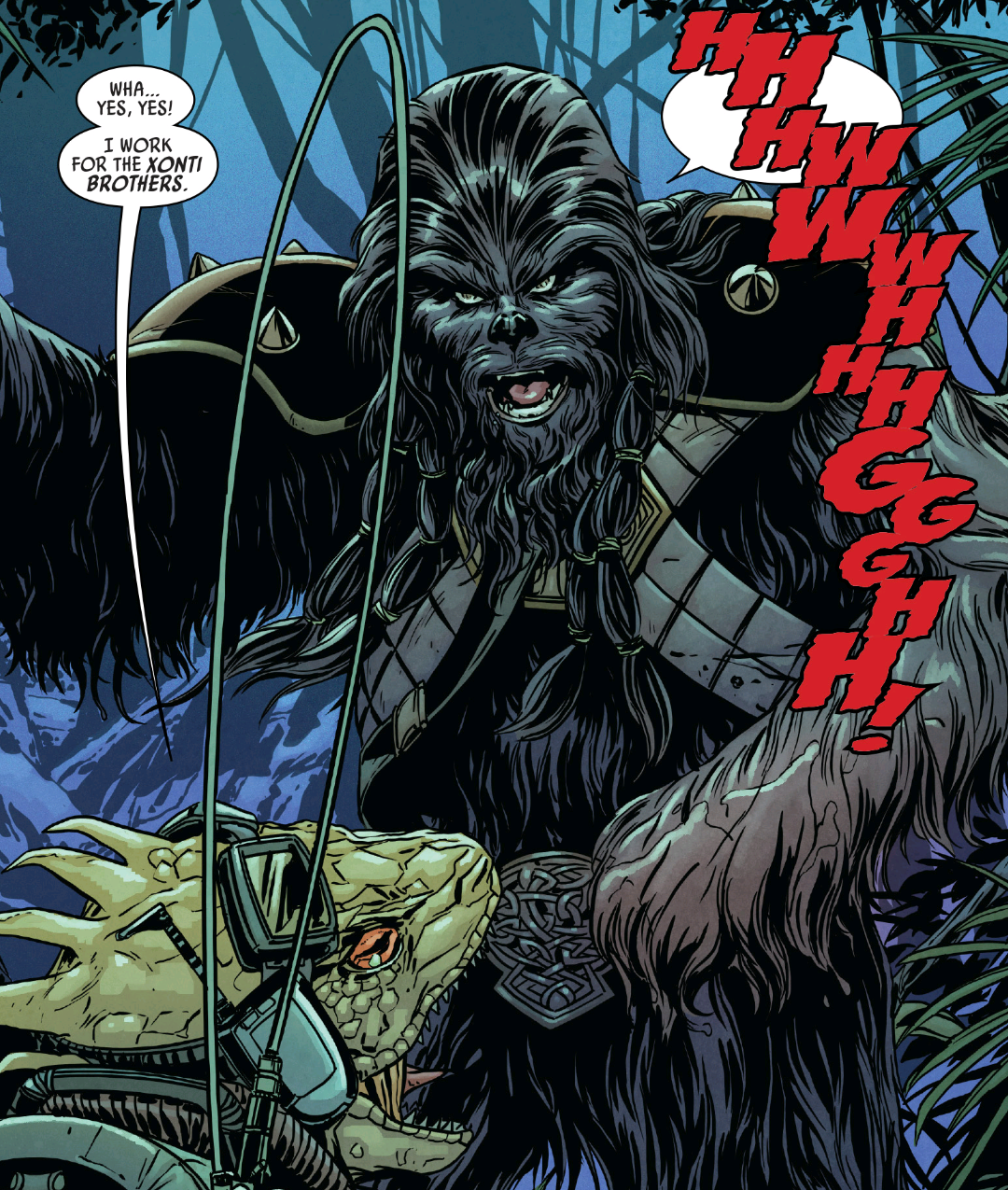 The story begins years ago on Kashyyyk, where Krrsantan sets a trap for a group of slavers working for the Xonti brothers, who are notorious for their gladiatorial enterprise. Krrsantan succeeds in subduing his reptilian attackers, and leaves one alive to take him to the Xonti brothers.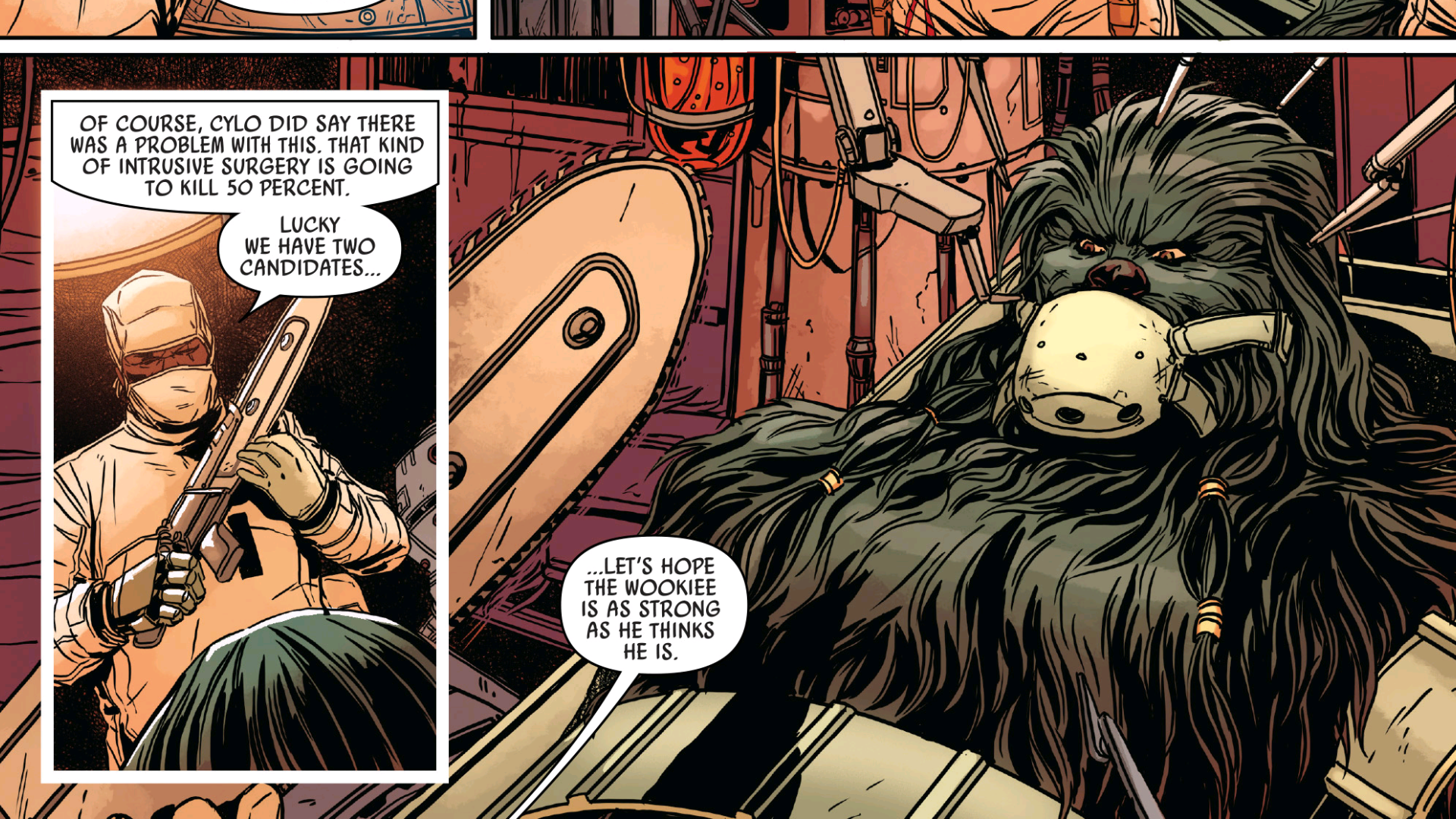 The interesting part of the Wookiee's story, is that he actually volunteered to be trained as a gladiator by the brothers, who augmented his body with cybernetic enhancements using tech created by Cylo, a prominent villain in the Darth Vader series who was also the doctor to save the Sith lord's life with his cybernetics after his defeat on Mustafar.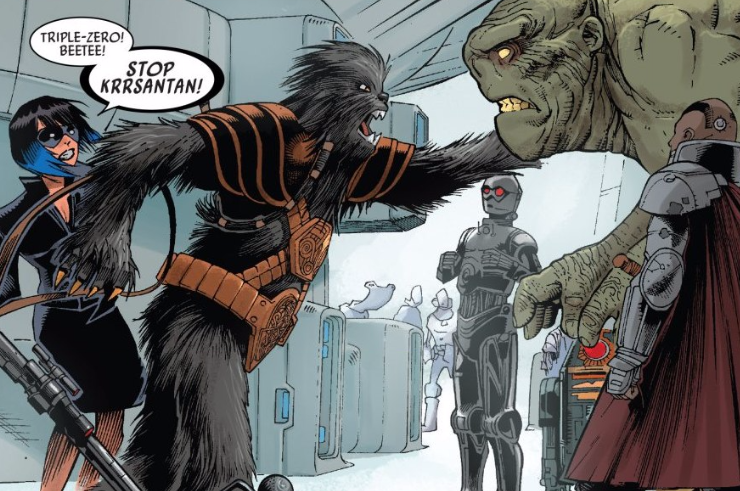 It is revealed that Krrsantan does not really seek revenge on the brothers, but rather to repay them in kind for the gifts that they had given him. Afterall, if we know anything about Wookiees, it's that they always pay their debts. This revelation brings new light to the Wookiee's outburst in issue #10 (above) where it seemed that Krrsantan was angry at the brothers who had mistreated him. In retrospect, it appears his anger instead lies only with the giant Kthoo-Ra who was at the auction with the brothers.
I enjoyed this issue, as I have the majority of the series. It was a nice break from the ongoing arc and gets me even more excited to see how the story will wrap up once Vader is on the scene. This was not an exemplary issue, as it is fairly run-of-the-mill on its own. However, it stands with the rest as part of a larger tale that has been satisfying on the whole. If you're a fan of Krrsantan or have been following this series, definitely check this one out.
Score: 6.5/10
Star Wars: Doctor Aphra Annual #1 is available now in a comic shop near you or online at Comixology. Happy reading comic fans!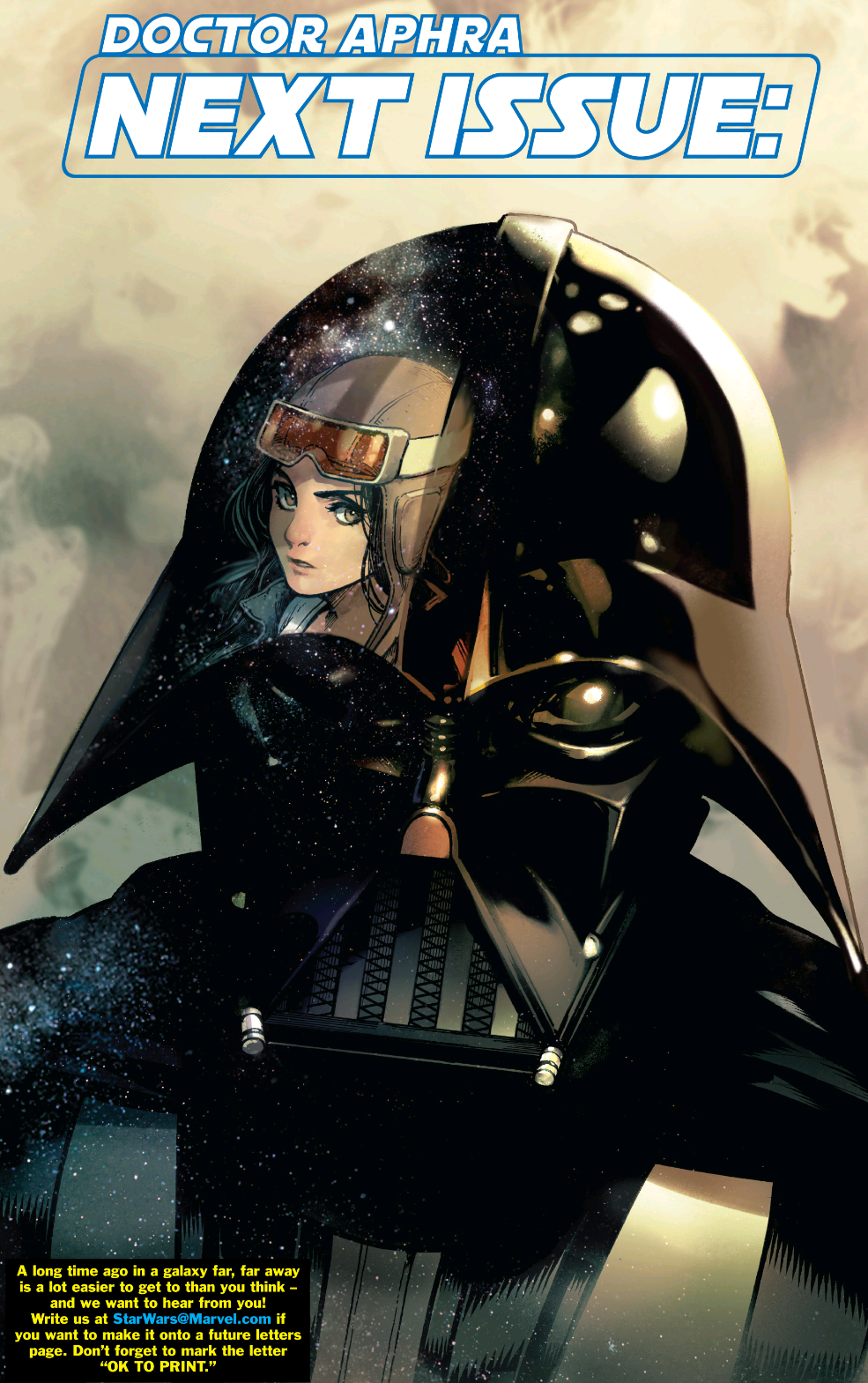 Jordan Pate is Co-Lead Editor and Senior Writer for Star Wars News Net, of which he is also a member of the book and comic review team. He loves all things Star Wars, but when he's not spending time in the galaxy far far away, he might be found in our own galaxy hanging out in Gotham City or at 1407 Graymalkin Lane, Salem Center, NY.