Michael K. Williams Reveals Emilia Clarke's Character Name and More from Han Solo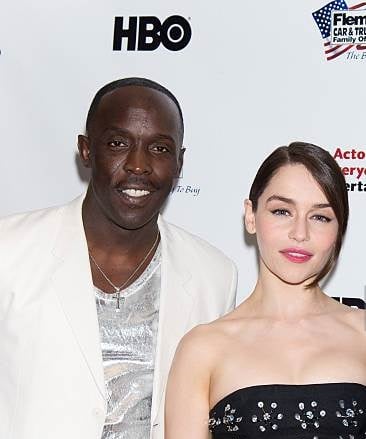 Yesterday we learned that Michael K. Williams would be cut from the upcoming Han Solo film, and now it appears the actor has revealed a couple of bits from the project he has since departed.
In speaking with Vanity Fair, Williams touched on his entry into the Star Wars galaxy, and ultimately his exit. As most actors of all fame and fortune, he was still star struck by a seven foot walking carpet:
"I was surprised I got the project in the first place," Williams confesses. "I fanned out a little bit when Chewbacca walked on set. I kind of freaked out and hugged him at the waist. All you can grab is the waist because he's so tall."
The article proceeds to skim over a brief quote that to the average reader doesn't really mean much at all, but not to a die-hard Star Wars fan, as it would appear we have a name for Emilia Clarke's character:
Williams had already filmed all of his scenes as a new character to the universe—"a link between Han Solo and Emilia's character, Kira"—when Lucasfilm suddenly announced in June that it was replacing directors Phil Lord and Chris Miller with Ron Howard.
Some of you may recall that "Kira" was a working title name used for Rey in The Force Awakens. But before you start calling Khaleesi Rey's Mom, remember Lucasfilm is known for borrowing names/working titles/and concepts and placing them elsewhere in projects.
Williams goes on to confirm that his character is being cut from the film, solely due to scheduling conflicts that have since stemmed from the replacement of Lord and Miller, as his scenes had been completed before the change in hierarchy.
"I would have had to be in London right now reshooting," Williams says of Star Wars. "The only option was to cut my character from the film. But I feel very confident that I'll be back in the galaxy, just not in the Han Solo project."
In regards to who his character was, it sounds like someone of significance, and not just some side character, which makes the cut harder to fathom, and leads us to speculate that this movie may be going through way more drastic plot/story changes under Ron Howard than we anticipated.
"He wore this beautiful white kimono, was very regal. He had class, money strength, charisma . . . and he knew how to fight. He was a warrior. He had a lot of prestige. If he lived in our world he would probably hang out with Jay Z and Beyoncé."
It sounds like Williams' character might be in line with Clarke's "Kira", as there was a photo leaked to TMZ showing Clarke in attire similar to the description Williams gives of his character's wardrobe: Regal, white, kimono. Perhaps dignitaries from a specific place where similar attire to one another? We've seen thematic wardrobes before in Star Wars and other fantasy films.
So what do you make of Williams' character's description? It certainly sounds like he was a bit more than a small role, and by his attire he may very well have a close tie to Emilia Clarke's character, which we'll call Kira until confirmed otherwise.
Perhaps the Han Solo film is undergoing more content changes than we initially anticipated. How far off the path did Lord and Miller go? Is Ron Howard bringing the film back to Larry Kasdan's script or are the two working to reshape this thing?
Source: Vanity Fair via SWU
"For my ally in the Force, and a powerful ally it is."
You can find me on Twitter at @JohnnyHoey and be sure to listen to The Resistance Broadcast @RBatSWNN, as we'll be covering this in the next episode!
John Hoey is the Lead Editor and Senior Writer for Star Wars News Net and the host of The Resistance Broadcast podcast
"For my ally is the Force, and a powerful ally it is."