Star Wars: The Last Jedi Behind the Scenes Reel Breakdown!
As most of you saw yesterday, Lucasfilm released a new behind the scenes reel for The Last Jedi at D23. Here is our breakdown and analysis of the reel with screenshots and every quote!
First off, if you haven't seen the reel yet, here it is again:
Together with the reel, Disney sent us the following official synopsis of The Last Jedi:
In Lucasfilm's Star Wars: The Last Jedi, the Skywalker saga continues as the heroes of The Force Awakens join the galactic legends in an epic adventure that unlocks age-old mysteries of the Force and shocking revelations of the past.
Some of you might recognize the word "shocking" from this synopsis that was also discussed here when this Japanese promo leaflet was leaked a few weeks ago. It was definitely legit. The wording of this synopsis is very intriguing, especially with the age-old mysteries and the mentioned shocking revelations. At this point we can only guess what they are.
Now back to the breakdown. The reel begins with shots of the set and props, with accompanying sound effects of lightsabers and the Falcon, followed by Rian Johnson saying "Action!"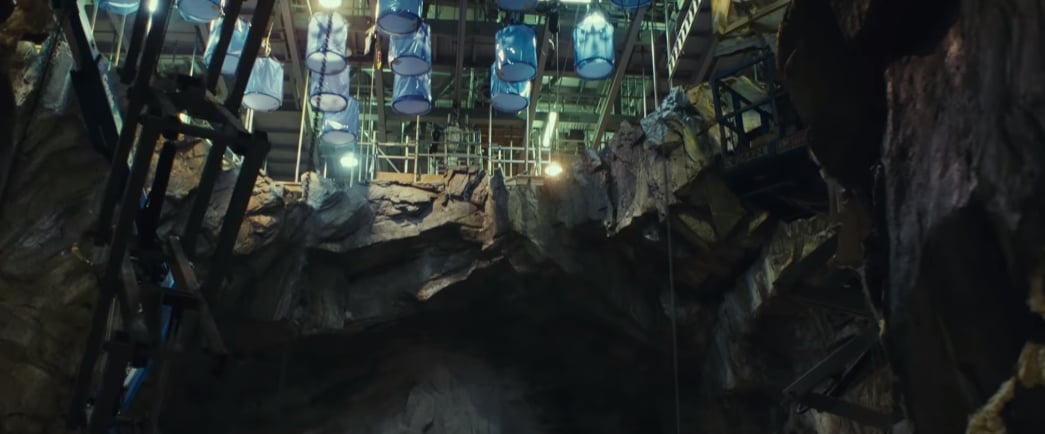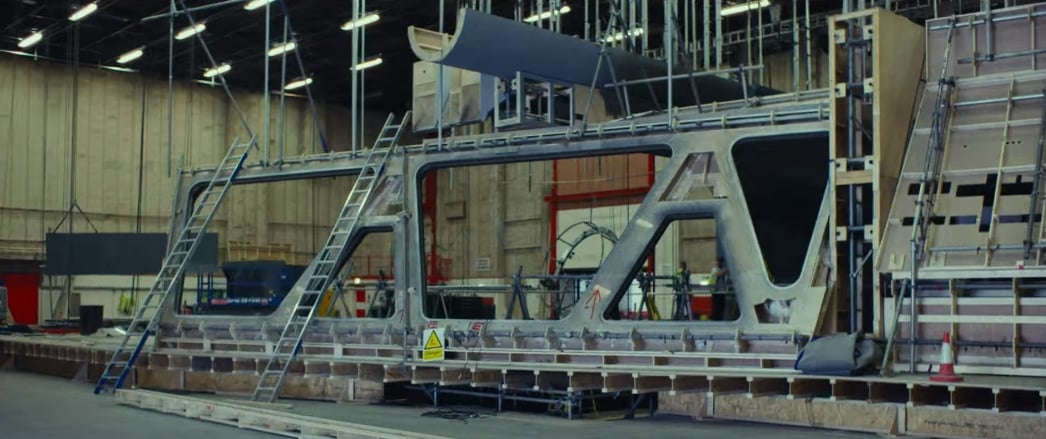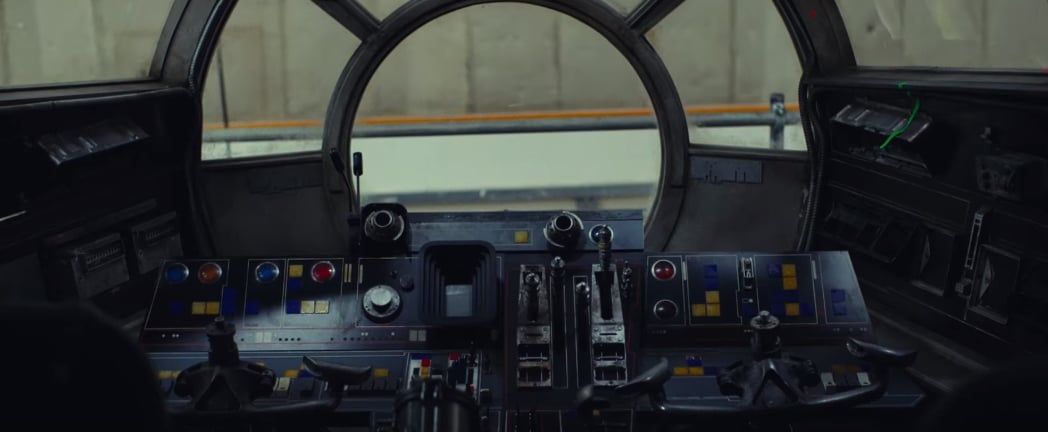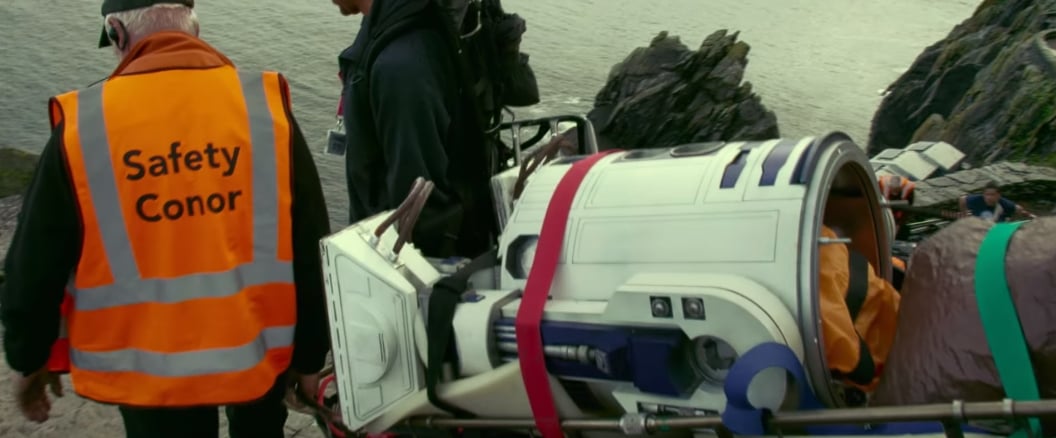 Next we have several land speeders that perhaps will be used in the Canto Bight sequence that was shot in Dubrovnik. Still the setting looks more like the UK than Dubrovnik, so this is probably a stand in location for Dubrovnik.
Anthony Daniels is reflecting, almost in awe that they are at Episode VIII.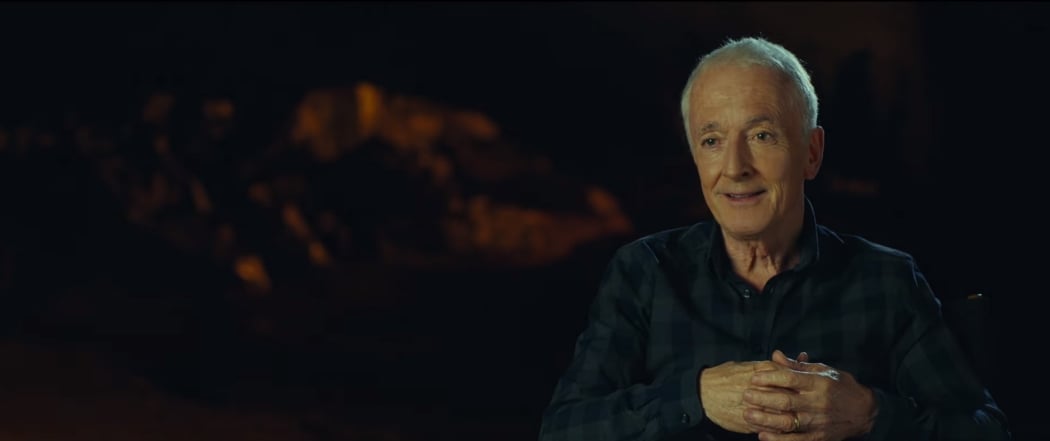 "The first one didn't even have a number."
A camera man capturing an explosion of red, which would appear to be the surface of the new planet Crait that we saw being churned up by the new Resistance fighters heading towards the walkers in the first teaser from Celebration Orlando.
Chewbacca outside of the Millennium Falcon alone by a fire, perhaps a solemn scene of reflection, seemingly right where they parked at the end of The Force Awakens.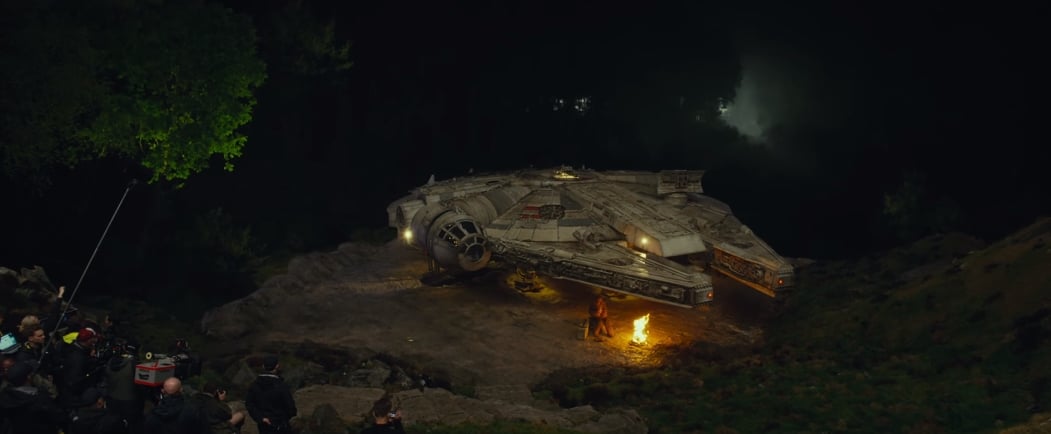 "Rian has written a story that is unexpected, but right.  Some of the stuff that happens….people are going to be like, 'Oh my God'…and even though everybody knows it's the second in a trilogy, it feels like it's own thing." – Daisy Ridley
Rian is looking at an interesting object or a character in the photo above. It looks like a statue or another creature. Could this be the sea creature we were describing in the past?
Next we get a brief glimpse of Finn wearing a Resistance pilot uniform. Interesting.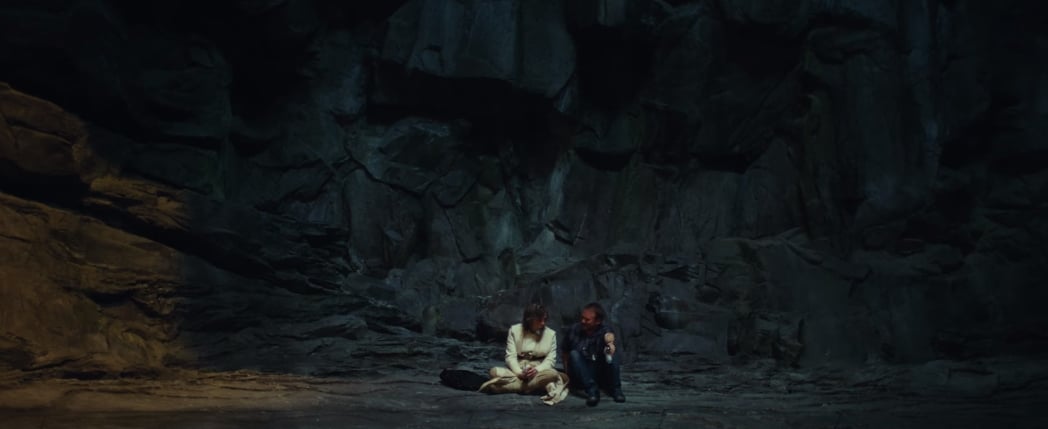 We see a shot of Rian with Mark in his light Jedi attire in a cavernous place of some sort (again most likely on Ahch-To), a shot of Carrie as Leia lifting her head with what appears to be concern on her face with a white snowy/dusty or mountainous background, Luke finally holding the lightsaber that was once his, that was once his father's, in what looks like one of the first scenes to occur after Rey finds him at the end of The Force Awakens.
"Even though I think I know it all, they throw things at me story-wise that I never could have imagined." – Mark Hamill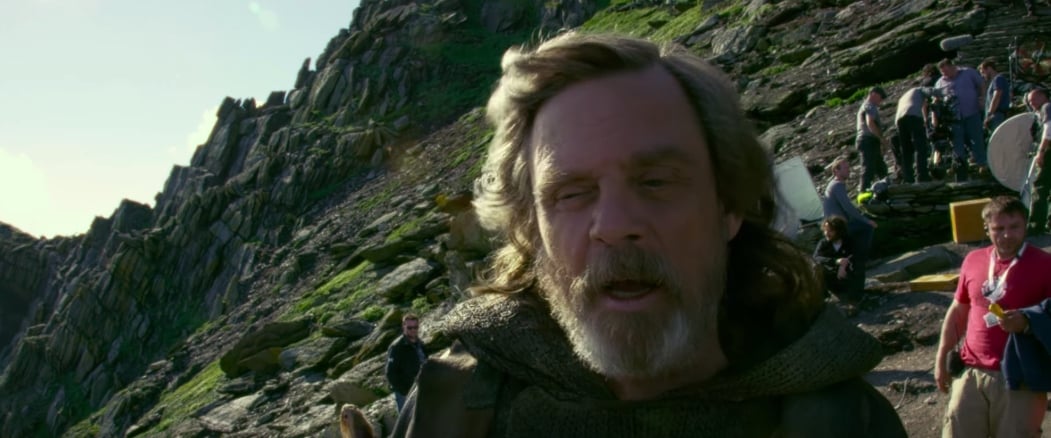 Filming at Dubrovnik the Canto Bight sequence:
Kylo Ren, with his mask, but now a cape as well.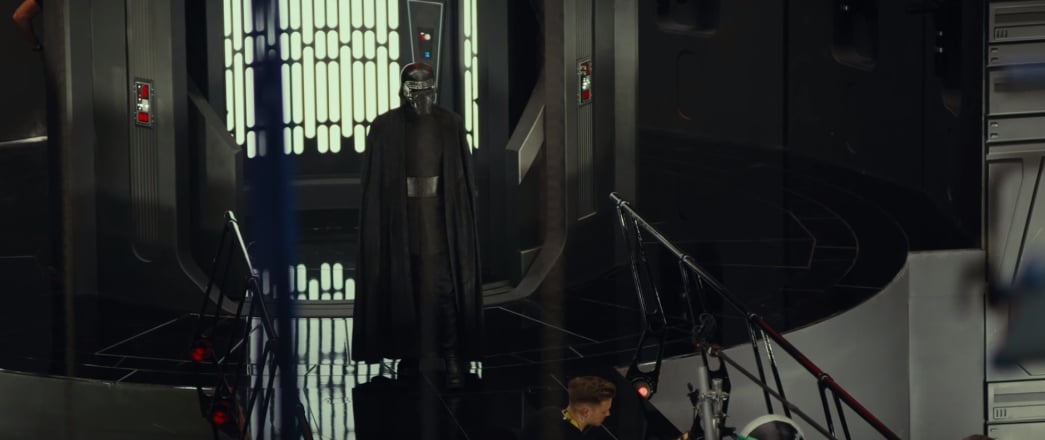 It seems that red is really an important color for this movie.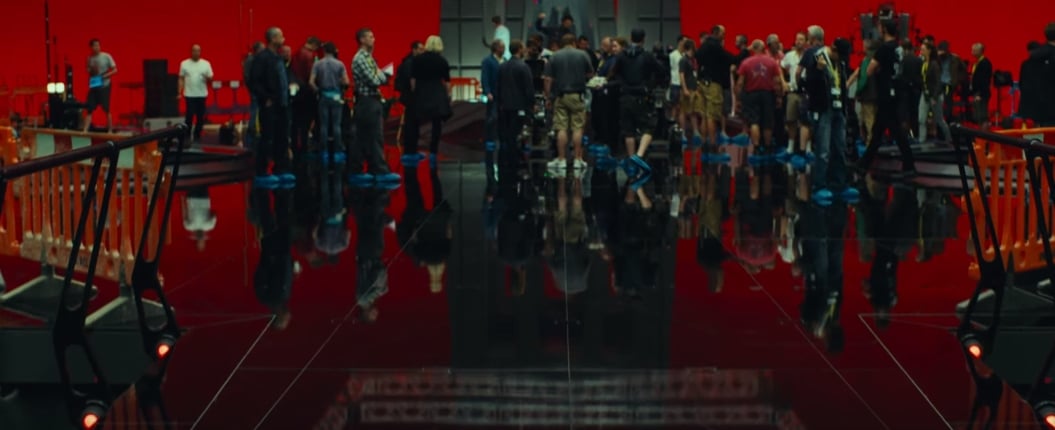 In the center of the photo above, where the action is taking place, you see someone that raises his hands as if like he is balancing. We know that Snoke has red guards in this movie. Could this be his throne room or something?  This is probably the most interesting shot from the whole BTS reel. What do you think?
A special effects explosion near Poe's X-Wing that may be the same as the one we saw in the first teaser.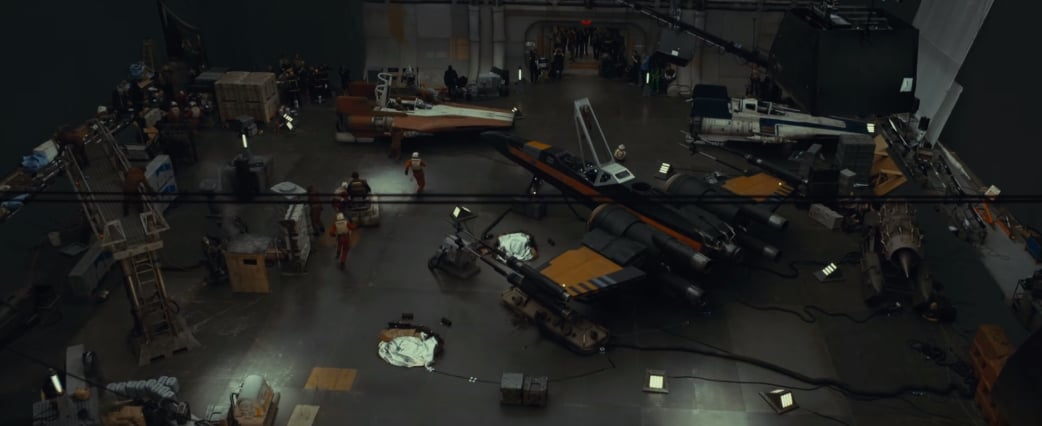 Next we see Carrie Fisher talking with Rian Johnson at what appears to be the Resistance base of operations. We saw that again from a different angle in the teaser.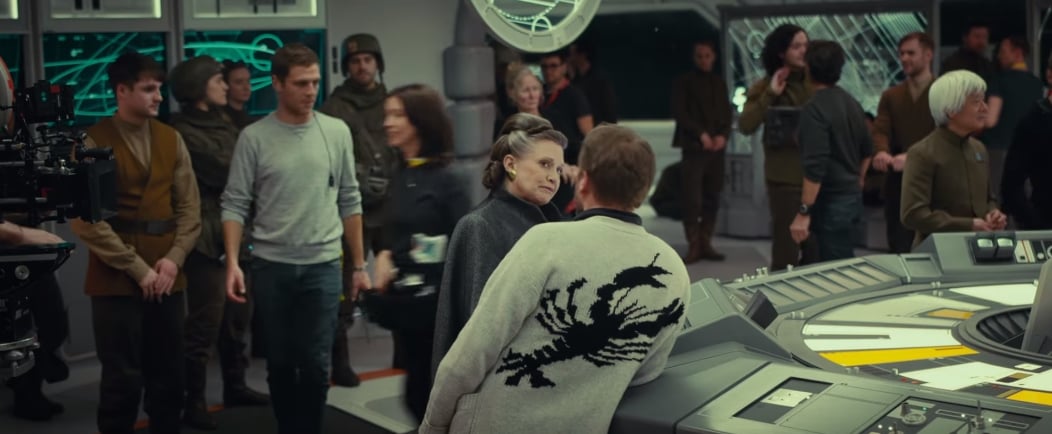 Daisy Ridley arrives on Skellig Michael for the Ahch-To shooting: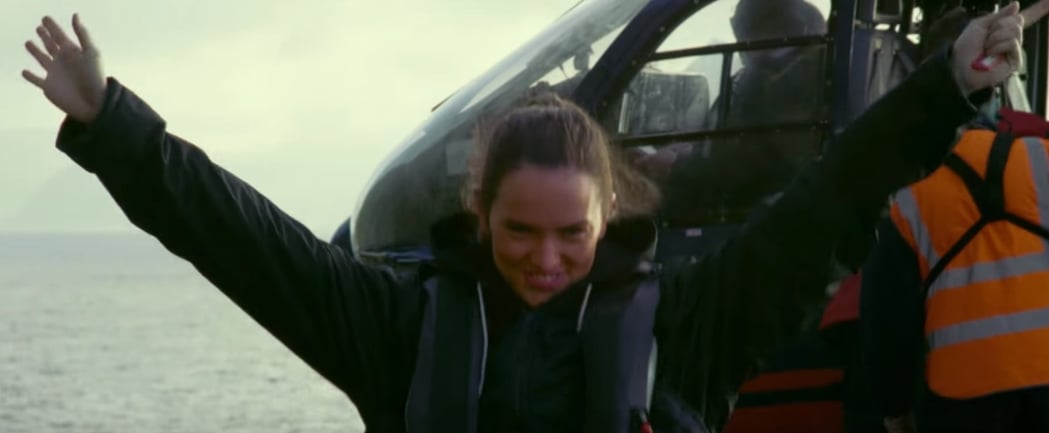 The main cast reunited in the movie and having fun. At least several shots from the BTS reel suggest that we will see the main characters (Poe, Finn, Rose and Rey) together in The Last Jedi.
Rey training with her staff on Ahch-To:
Testing the new First Order Stormtrooper weapons.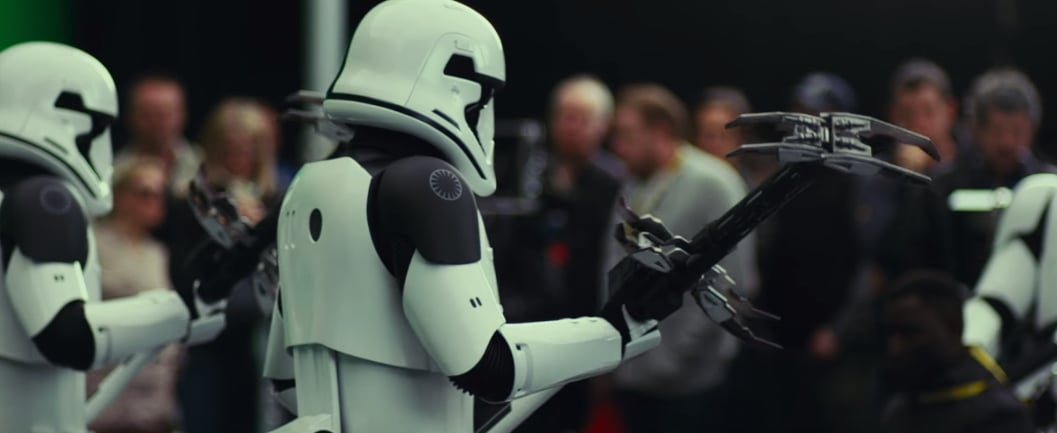 "Star Wars is cool because there's all these creatures, and amazing visual effects, but all the characters are so complex." – Kelly Marie Tran
We see a long-eared creature in what looks like a horse stable. This is the same creature that Finn and Rose eventually ride in Canto Bight that we have seen in previous reports (see photo below).
And another cool animatronic of a crystal wolf creature: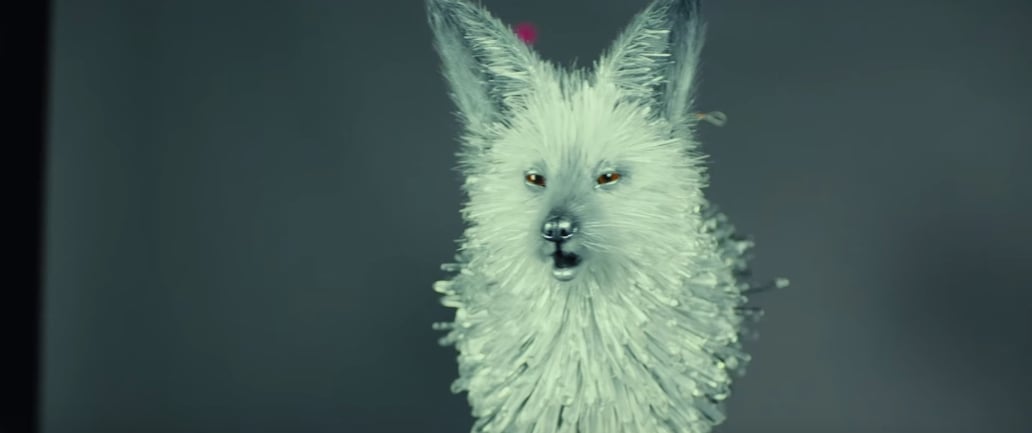 Next we have a few shots from the underwater sequence in the movie. Yesterday we told you that there is an X-Wing underwater on Ahch-To. From the photos below it is visible though that this sequence happens in a cave. Could this sequence be connected somehow with the sea creature we described before HERE?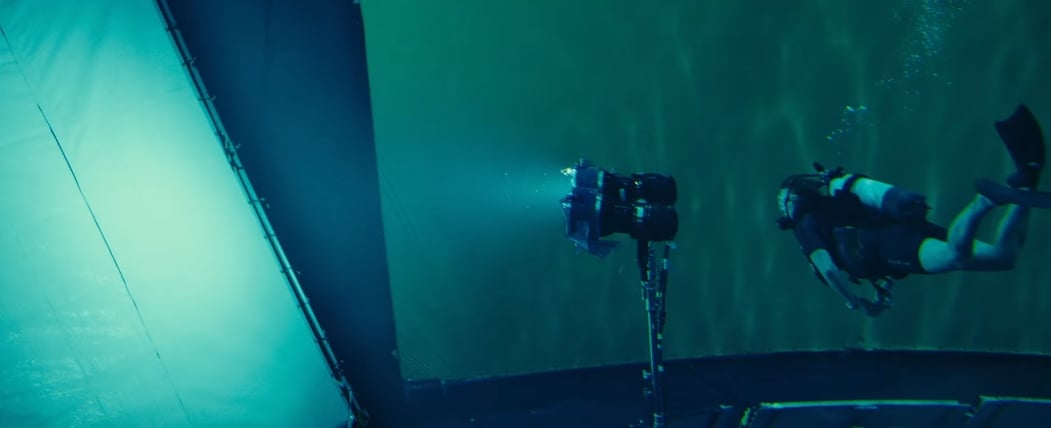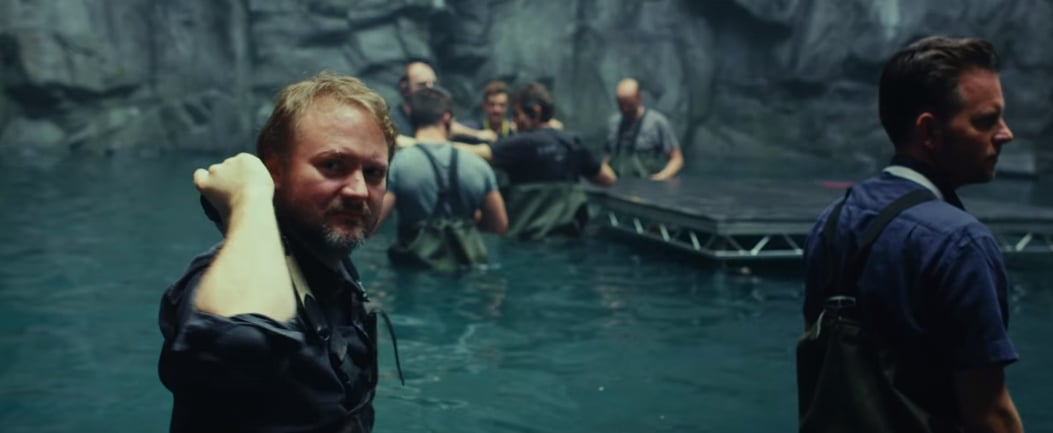 Check out this cool looking croupier from the casino at Canto Bight:
All The Clone Wars fans will immediately recognize that this is a creature known as Zilkin
Many of you probably remember TCW character Meebur Gascon who served as a colonel in the Republic army during the Clone Wars (photo below).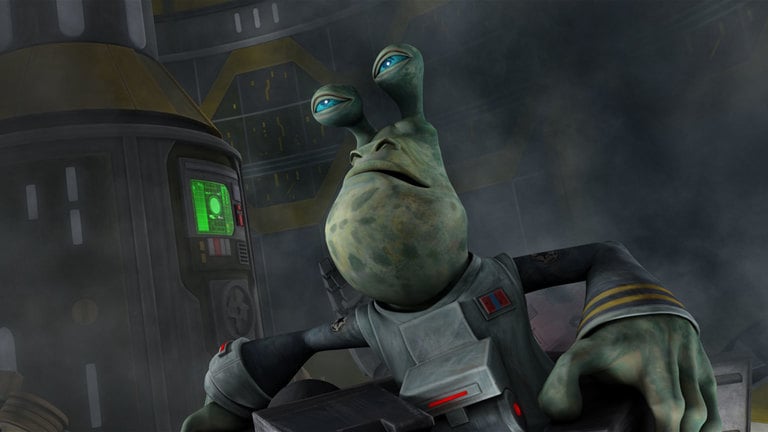 UPDATE: It appears that these two creatures are not from the same species. Pablo Hidalgo confirmed it:
All I'll say is if you saw his whole body you'll see they're not the same species. And preemptively, neither are Snoke.

— Pablo Hidalgo (@pablohidalgo) July 15, 2017

Maz Kanata is back. We've seen very little from her so far, so perhaps her role in The Last Jedi will be much smaller compared to The Force Awakens.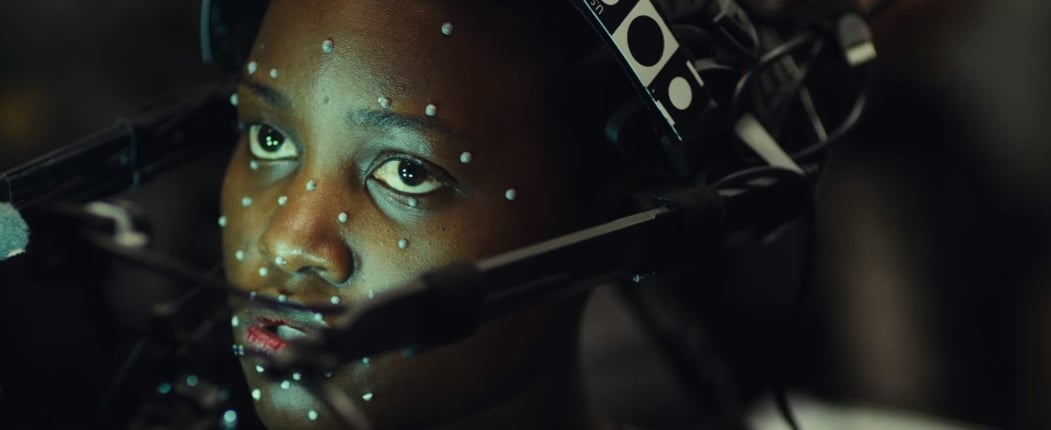 Admiral Hondo greets General Leia:
Poe strapping into a new ship, which looks like it might be one of those new Resistance fighters we see in the first teaser churning up the red planet surface of Crait. It is definitely not an X-Wing so I imagine this happens after his X-Wing is blown up by Phasma and her troops. It is probably one of the speeders that we've seen on the planet Crait in the teaser trailer.
Creepy and pale looking Hux gets prepped.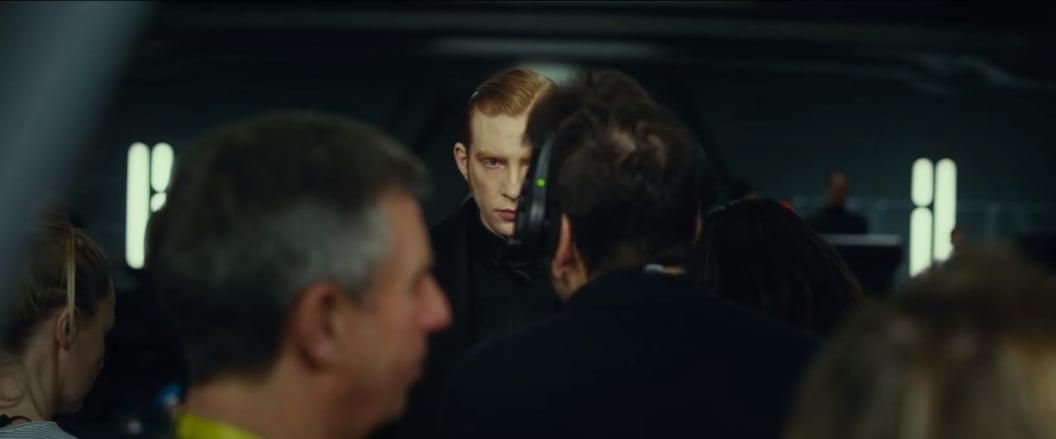 A fun moment of levity between Rian Johnson and John Boyega shows Rian attempting (poorly) to make Chewbacca sounds, and Boyega joking they'll need a new director because he isn't good at making wookiee noises.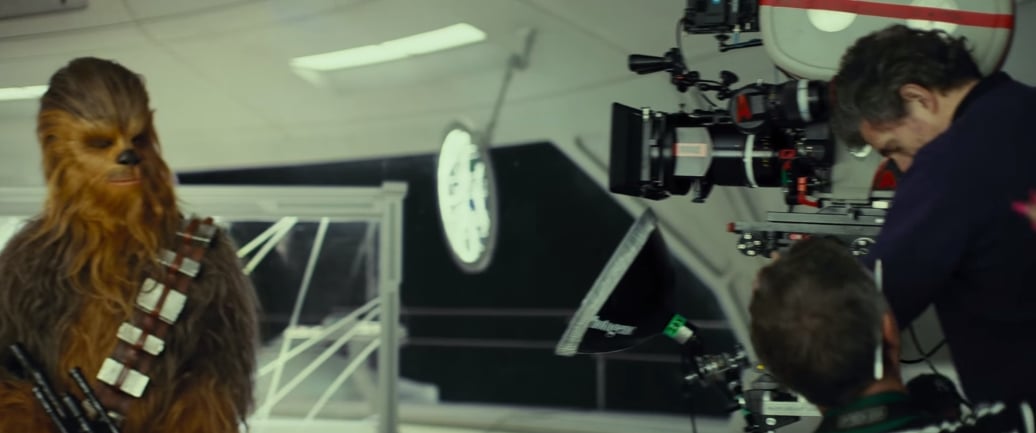 "It feels like the storylines are getting more established. We're really getting to know these new characters, also with the characters we know and love, we're seeing their lives change." – Gwendoline Christie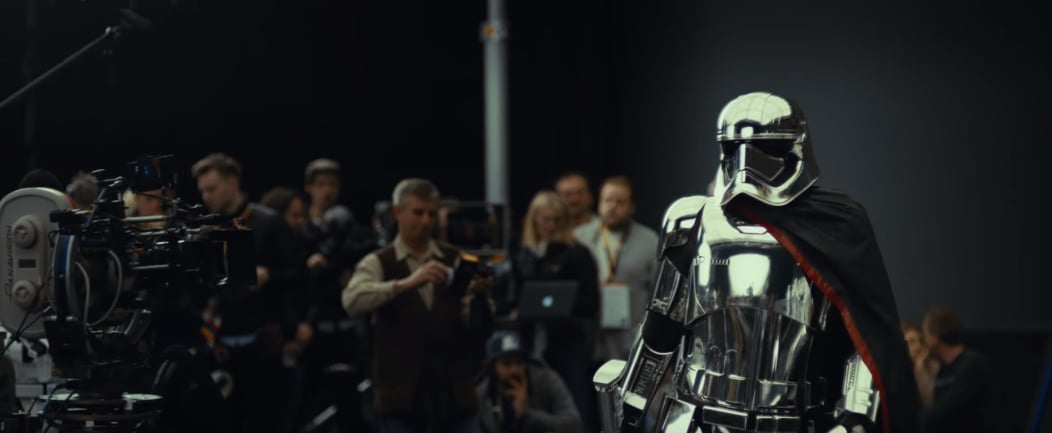 Shots of Phasma, Rey training, Kylo Ren with his scar, Luke on a mountain's edge, C3PO, R2D2, Chewy, Leia, Phasma with her troops, and what appears to be Finn being released from that healing tank we saw him in, in the first teaser.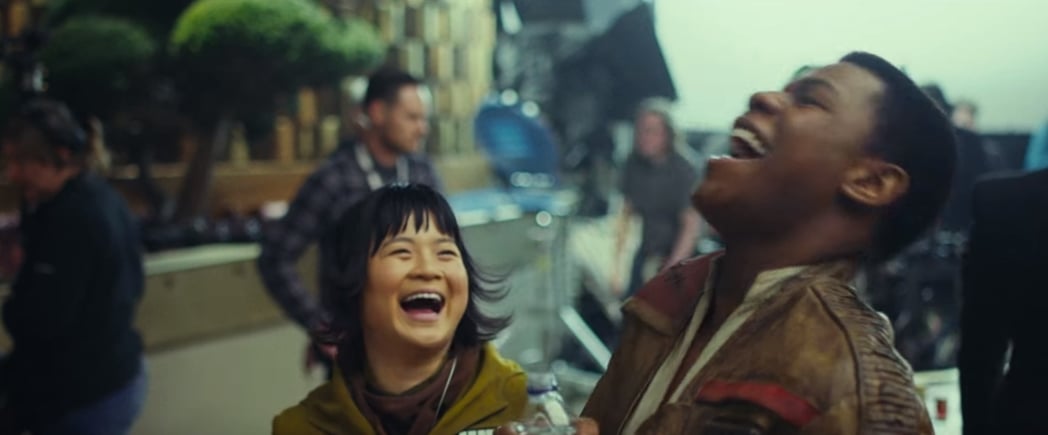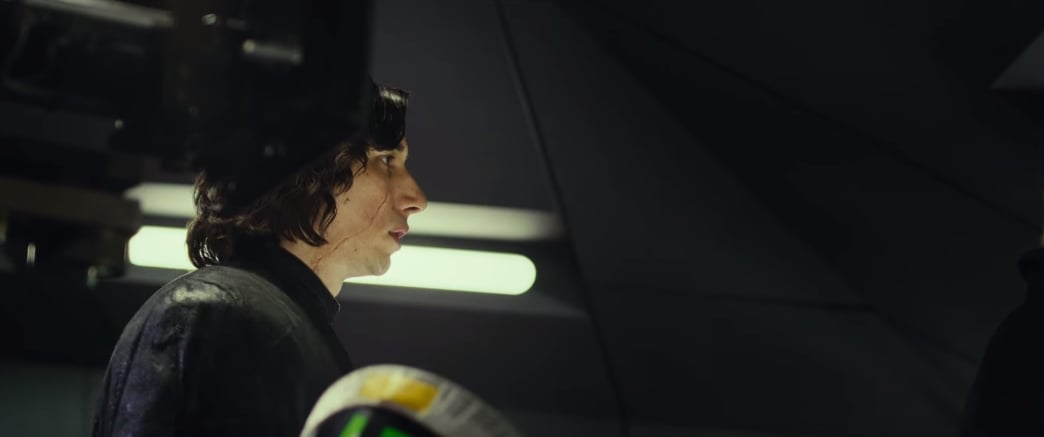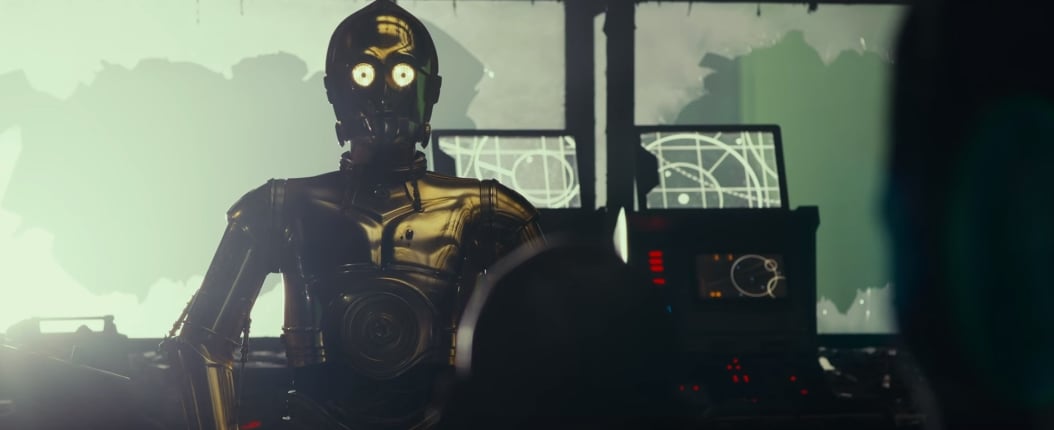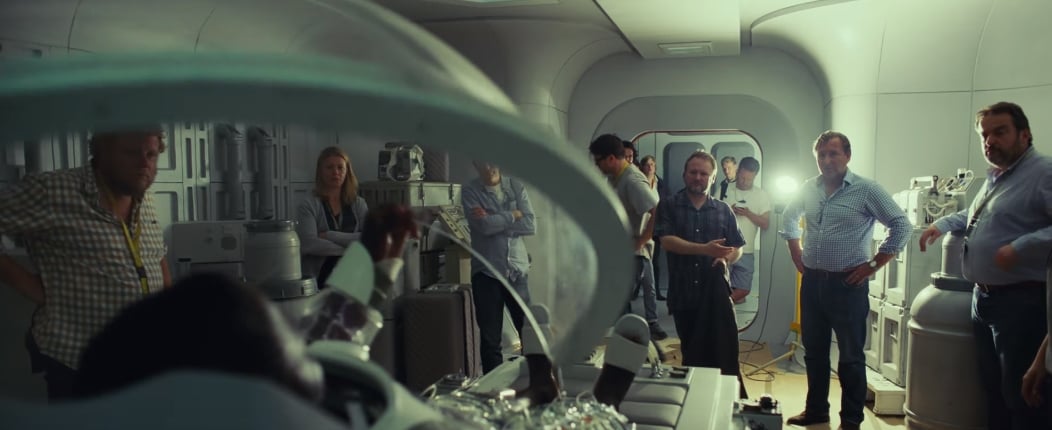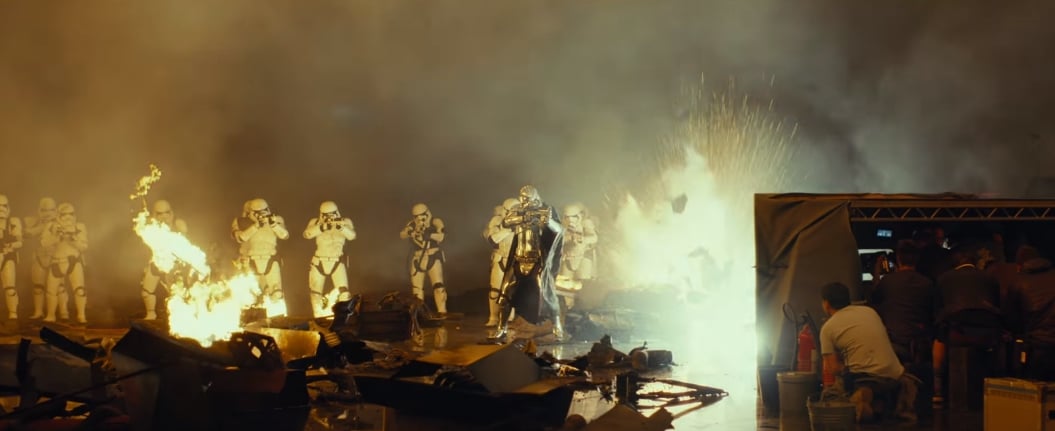 Poe sliding towards a large crevice, a Canto Bight casino croupier flying through the air.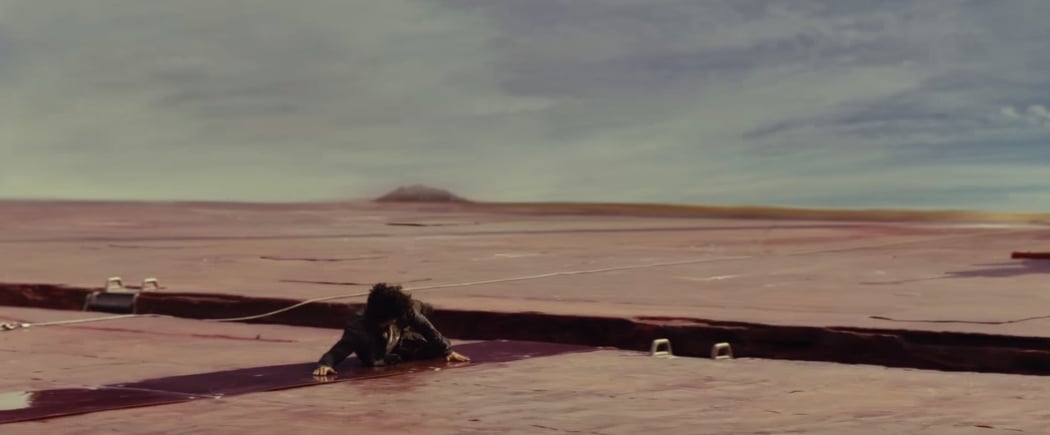 This is definitely happening on Crait, although we don't see the typical white dust/sand. Later in the video we see Rian Johnson climbing up one of the ladders in the trench as seen above. Also matches with the red explosion in the beginning of the video.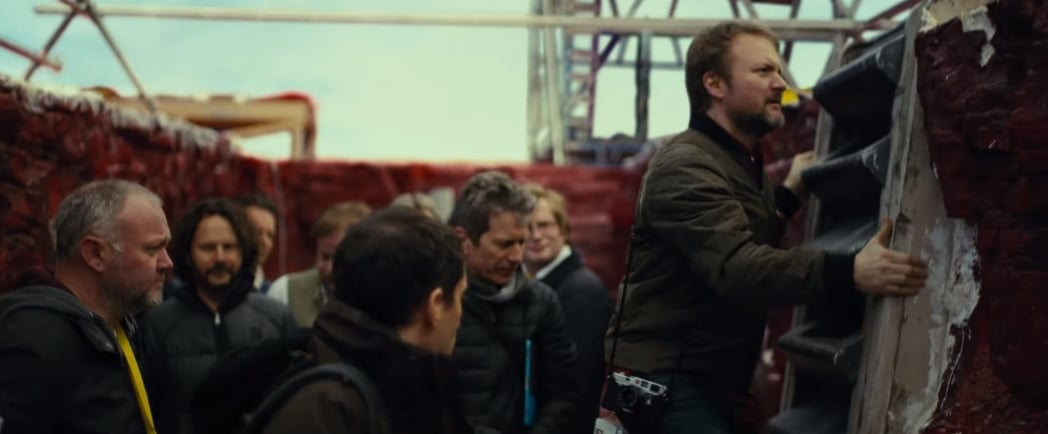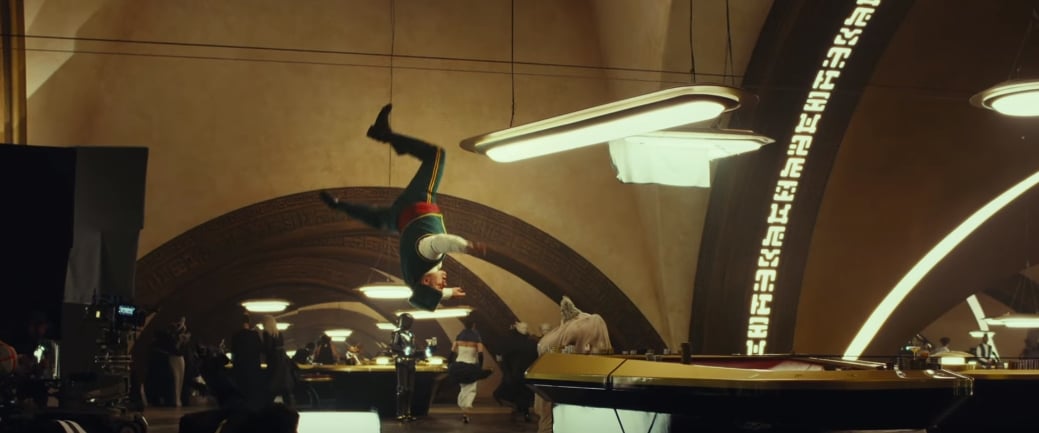 "Everything is being shifted in an opposite way to what the audience expected after VII. Rian's made Star Wars fresh and new." – John Boyega
A shot of Benicio Del Toro's character, wearing a hat of some sort. Notice that BB-8 is in the same scene.
A Resistance gunner, which we surmise to be Rose's sister Paige.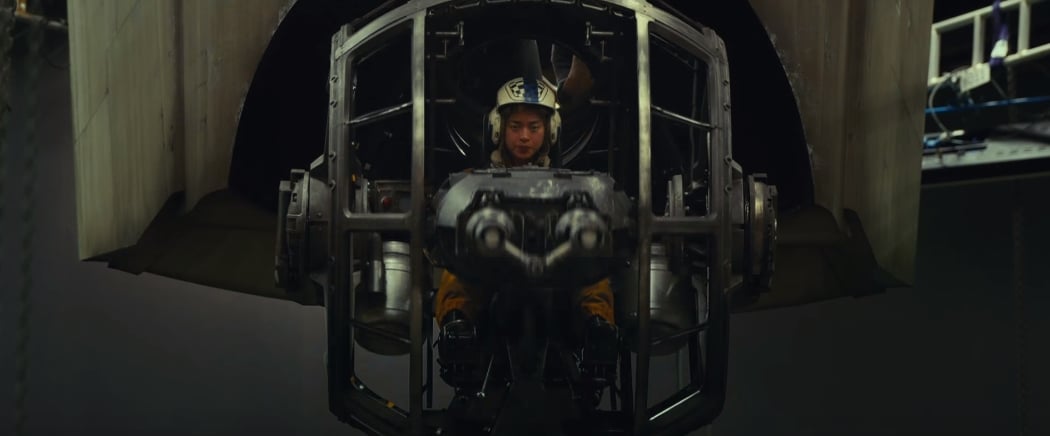 Adam Driver training with his trademark Kylo Ren lightsaber against two stuntmen, both holding long staffs. Could this be Kylo Ren turning on the Knights of Ren or against Snoke's guards? Of them turning on him?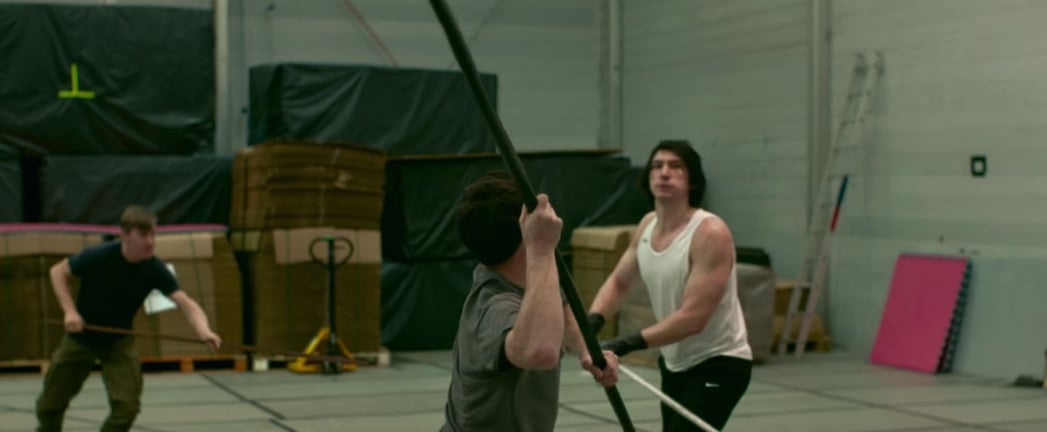 Daisy practicing Rey fight scenes with three adversaries crashing staffs down upon her single lightsaber blade. This could be Rey fighting the Knights of Ren!
Poe and BB-8 running down a corridor. Also seen in the teaser trailer.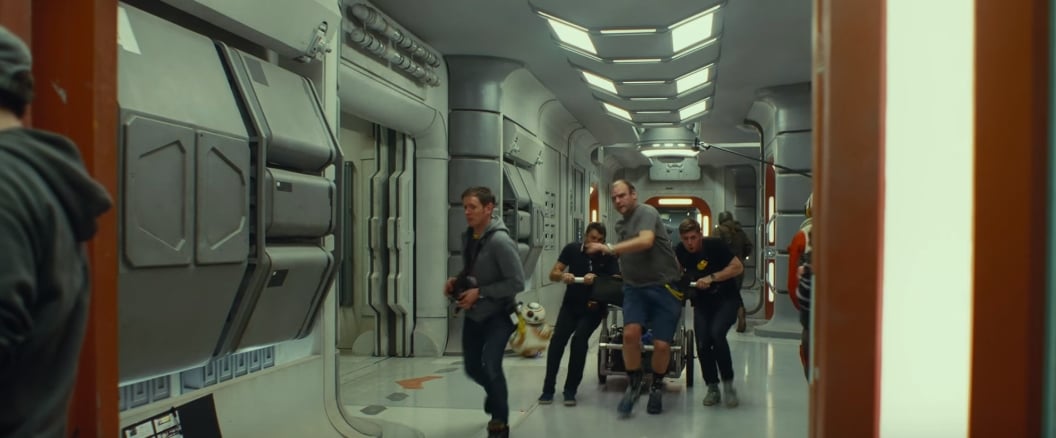 Finn shows us the casino on Canto Bight.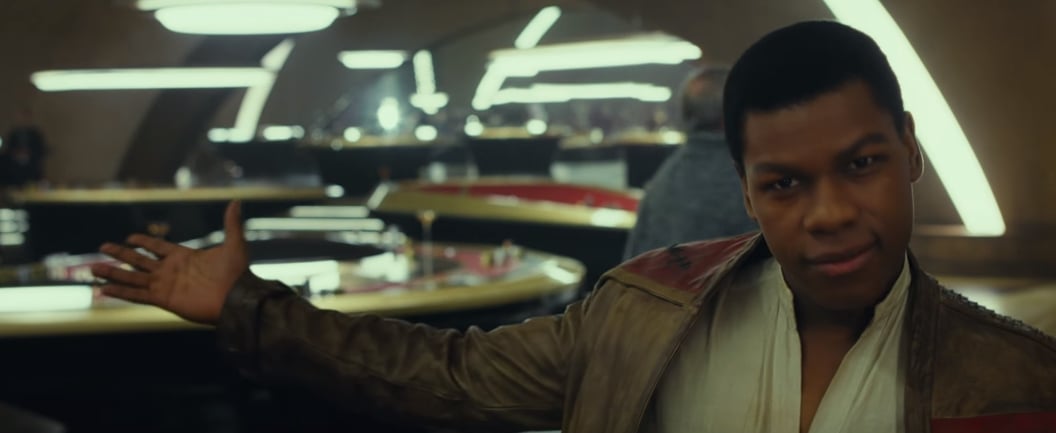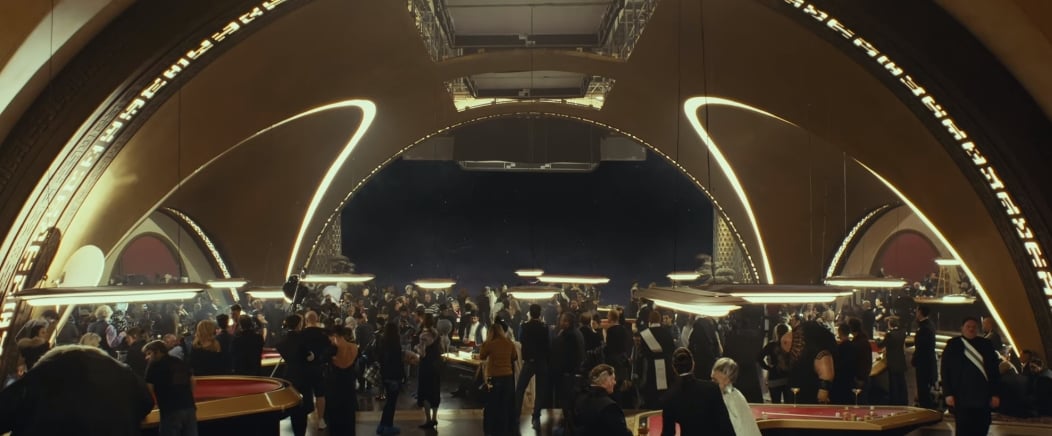 And greets some local Canto Bight residents of the lower class: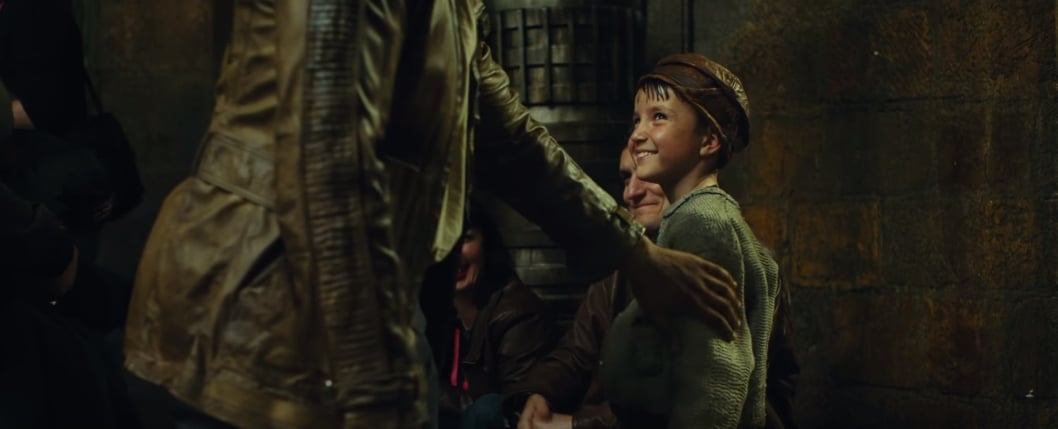 General Hux driving a cool looking speeder. Very Nazi looking.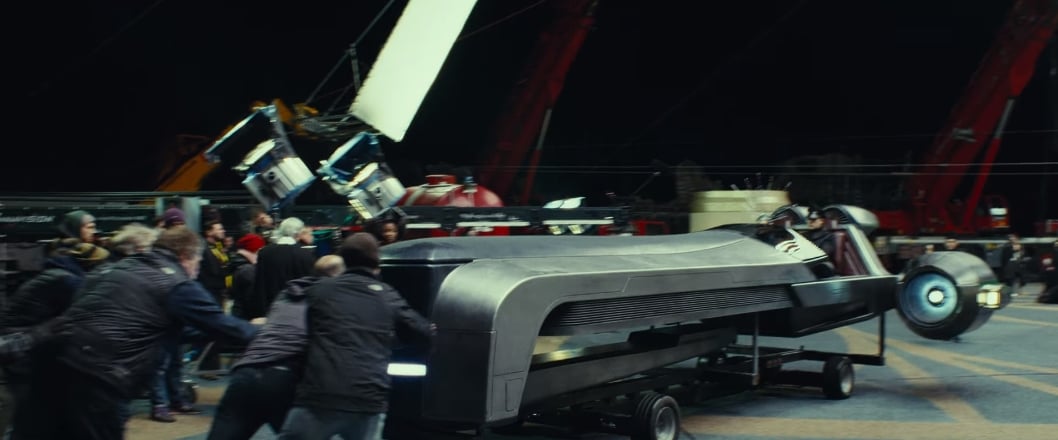 Some new creatures, including the adorable Porgs from Ahch-To.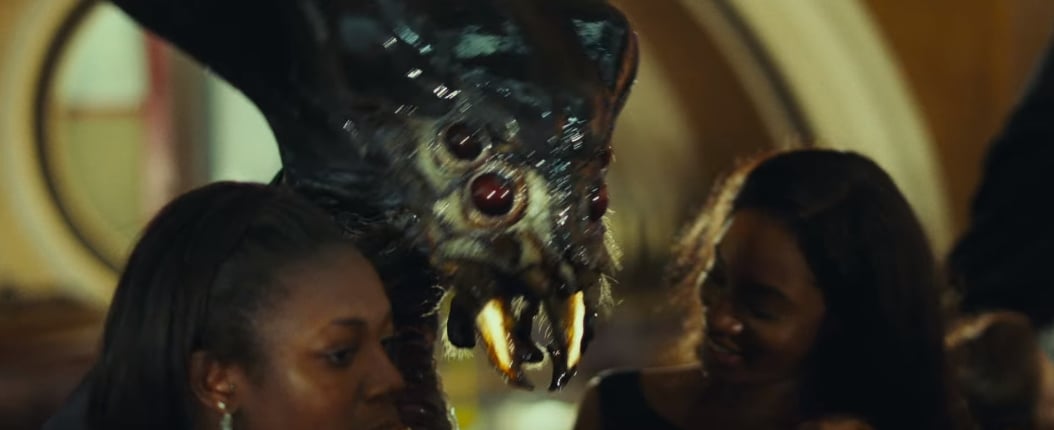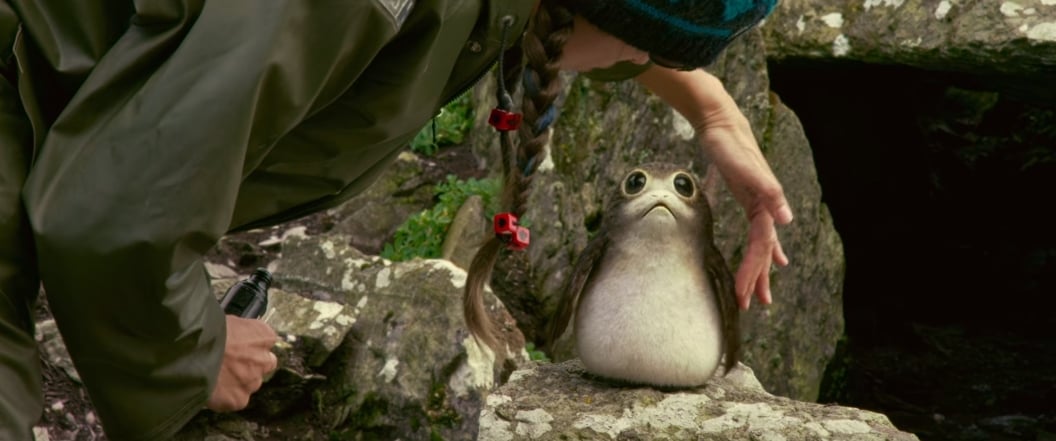 Finn in a cell of some sort, followed by Rose and Finn disguised as First Order officers. It looks like they'll be taking a page out of the rebellion handbook and going undercover!
"I'm hoping it'll be a little shocking, but I'm hoping it will feel real, and honest." – Rian Johnson
Shots of Kylo Ren's helmets, a resistance A-Wing taking on flames, a resistance fighter falling in some sort of hall of devices (bombs?).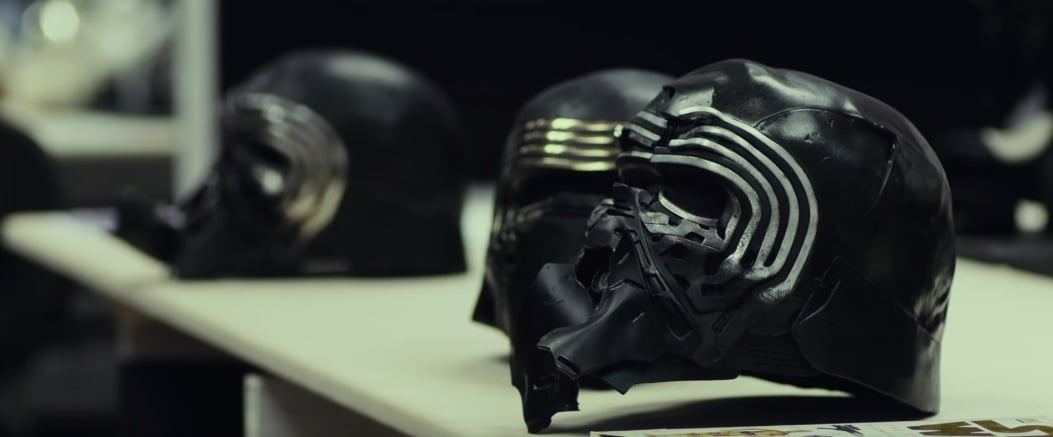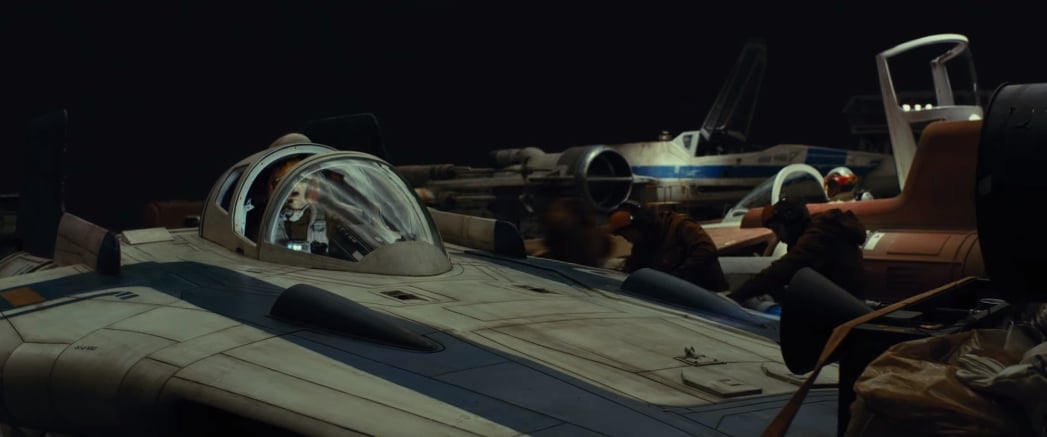 Daisy shown training once again with a staff this time, alongside a stuntman.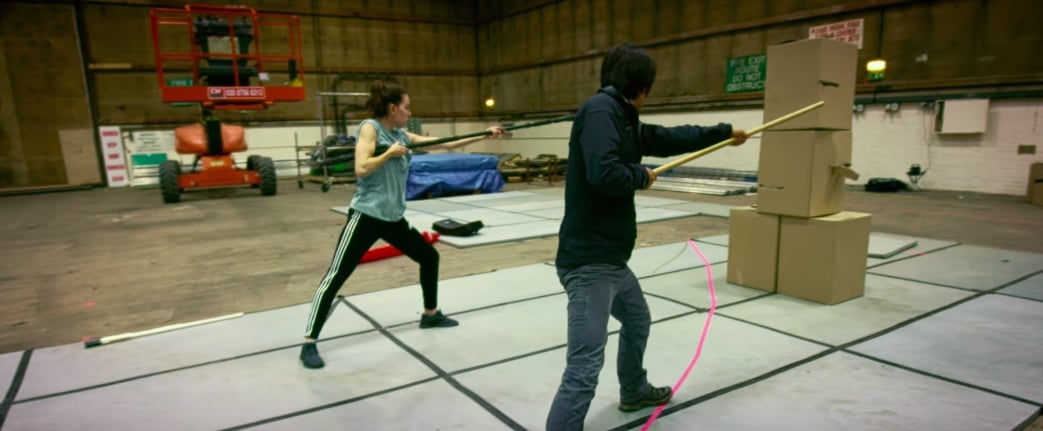 Carrie and Mark joking and bobbing together on set, so simple but so touching, knowing how close they were till the end.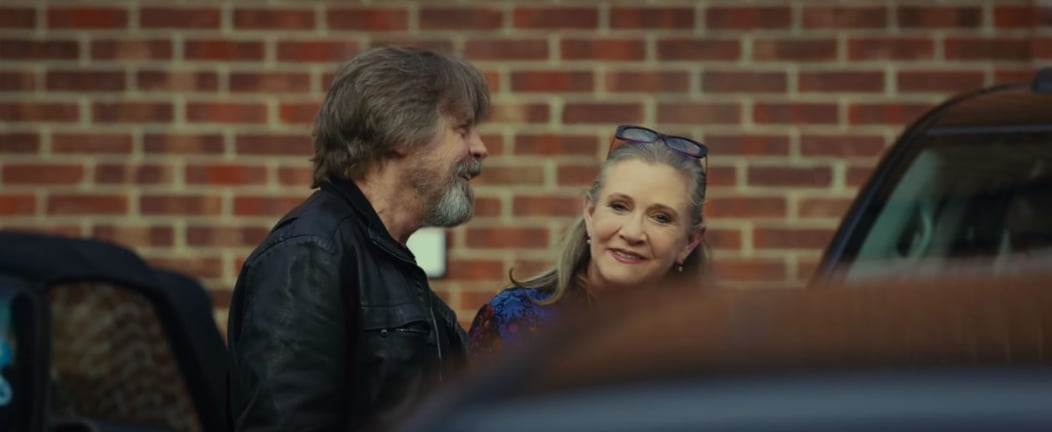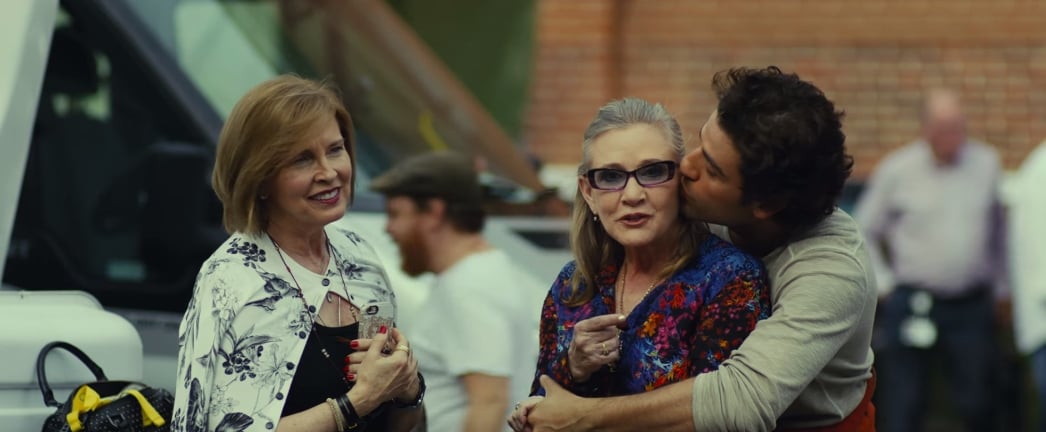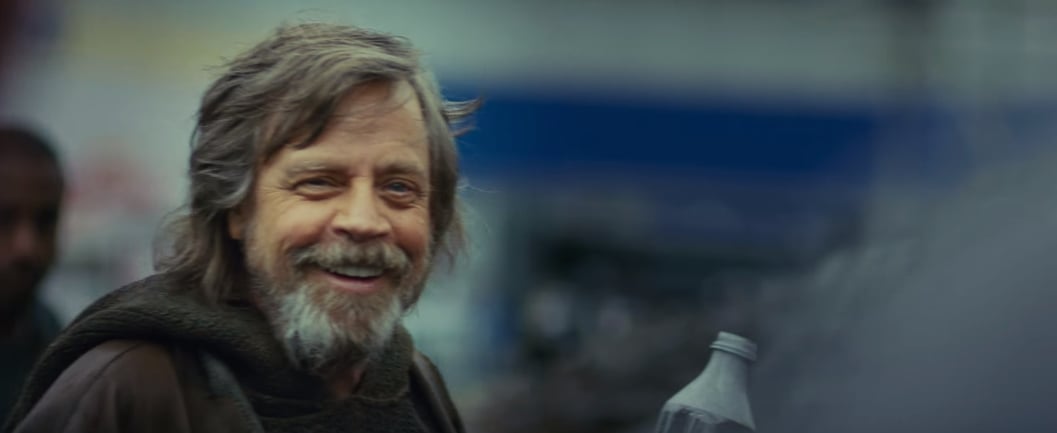 Billie Lourd.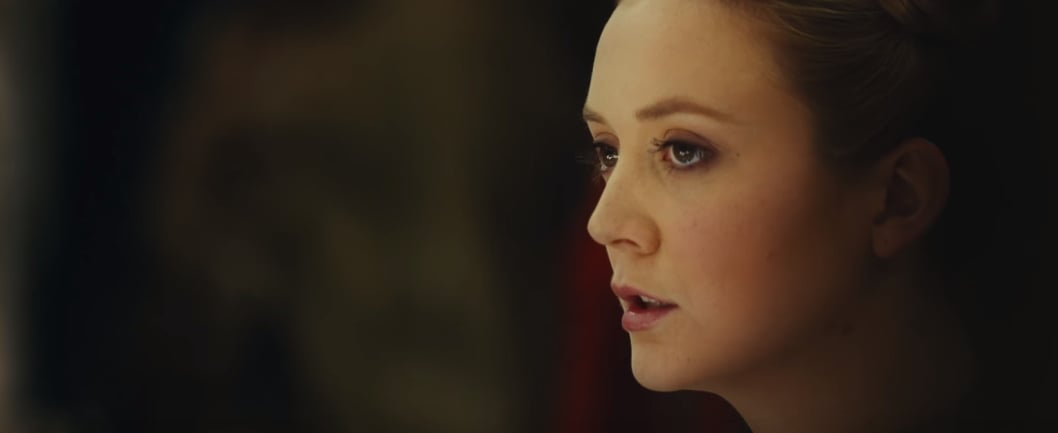 Another Star Destroyer deck explodes.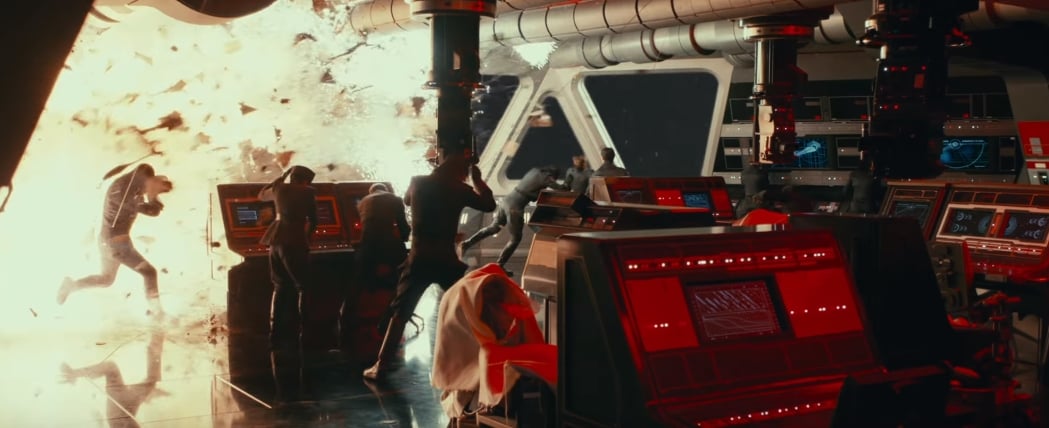 Finn and Rey between takes on Crait.
Poe, Rose, and Finn together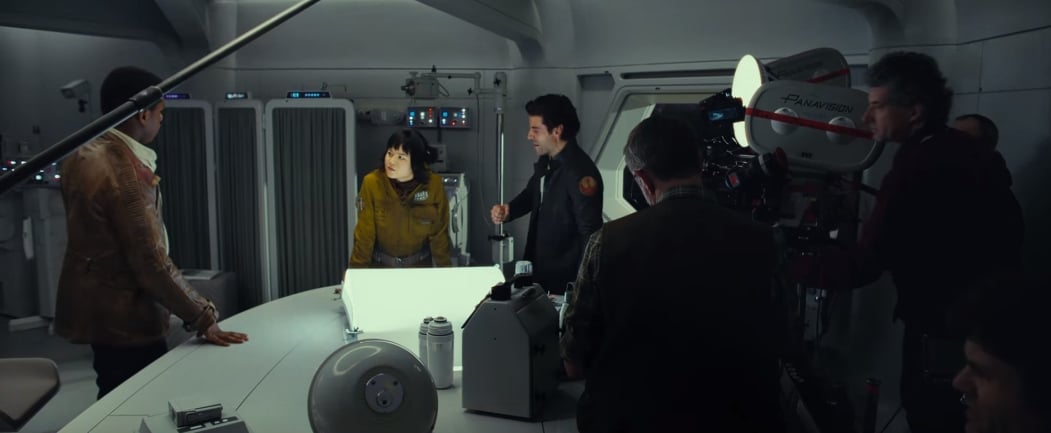 A mask-less Ren who seems caught off guard or surprised.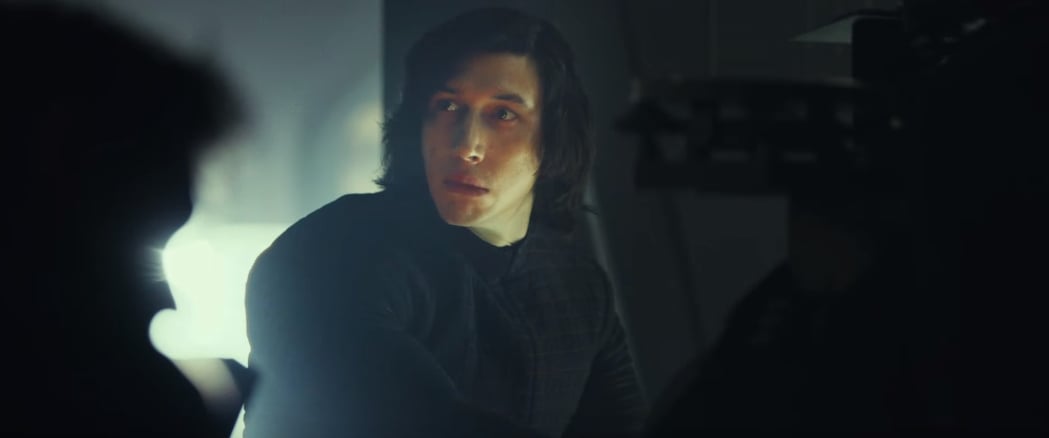 Rey holding her lightsaber over her head.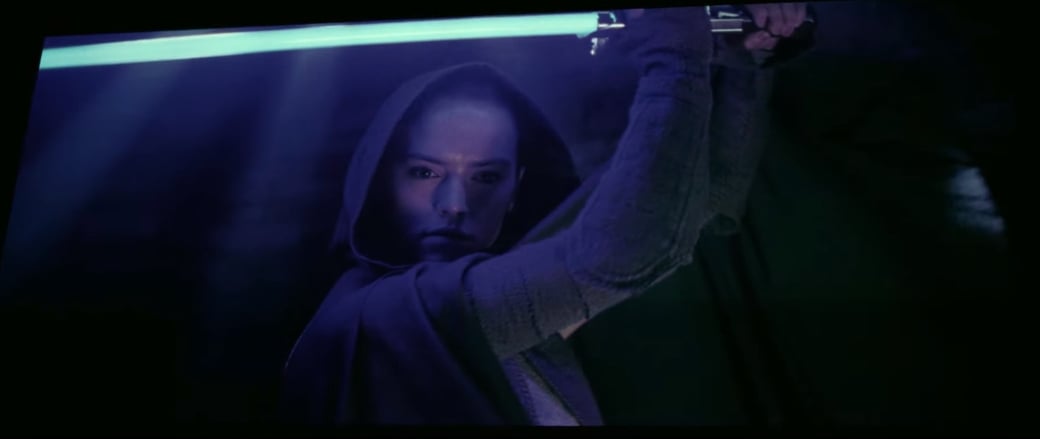 "It's our most ancient story of good against evil, told in the most fascinating way, but it has a real spiritual depth to it." – Gwendoline Christie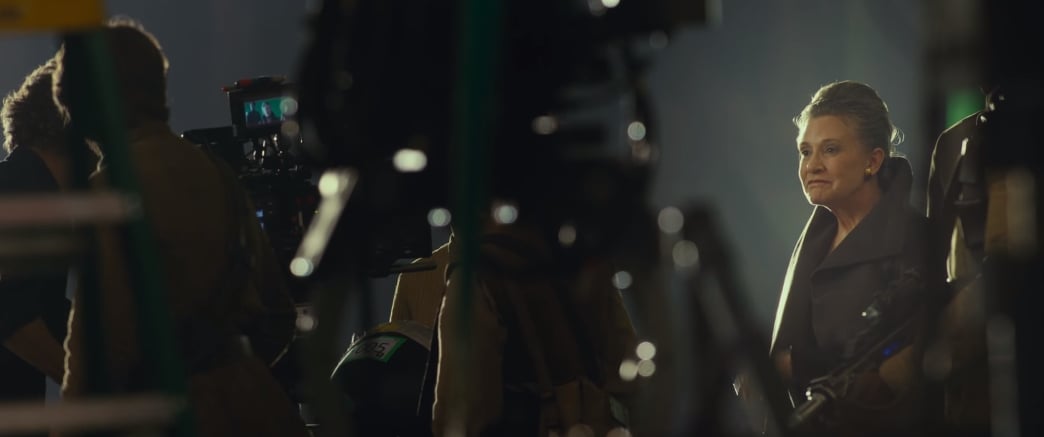 "It's about family…and that's what's so powerful about it." – Carrie Fisher
STAR WARS: THE LAST JEDI
It's a WRAP!!!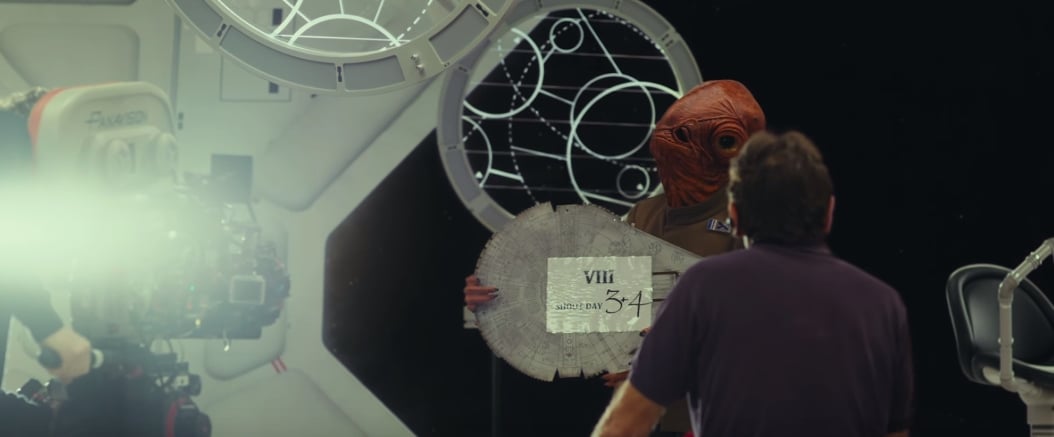 John Hoey is the Lead Editor and Senior Writer for Star Wars News Net and the host of The Resistance Broadcast podcast
"For my ally is the Force, and a powerful ally it is."