Update! Japanese Star Wars: The Last Jedi Promotional Leaflet Teases "Shocking Truth".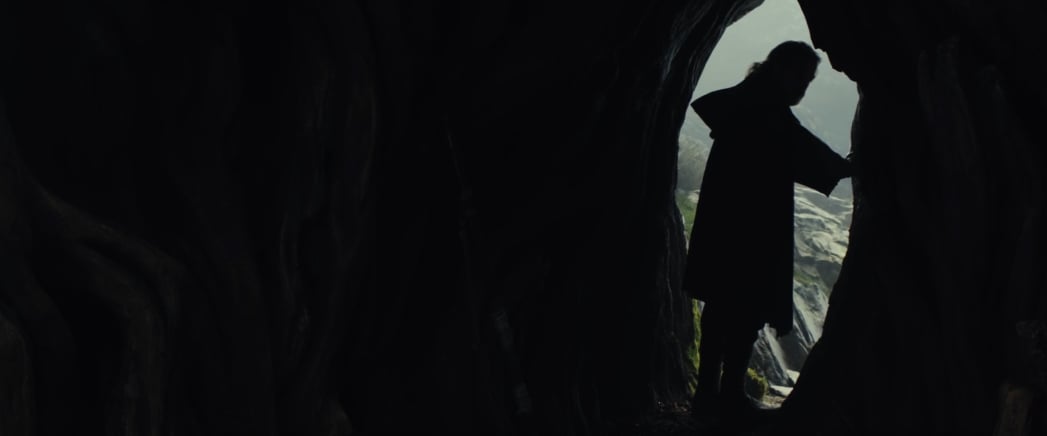 A Japanese leaflet promoting Star Wars Episode VIII: The Last Jedi was released a few days ago, and the promotion featured description suggesting that the movie is going to have a major surprise in it that will change everything – possibly giving Darth Vader's unexpected parental reveal a run for its money. The description also hints at where some of the characters are headed.
Since we have so little to work with right now, it's worth looking at any believable lead for story details – and a promotional ad seems like as good a place to start as any. The leaflet appears as follows (special thanks to The Cantina user Niamor for the scan/translation):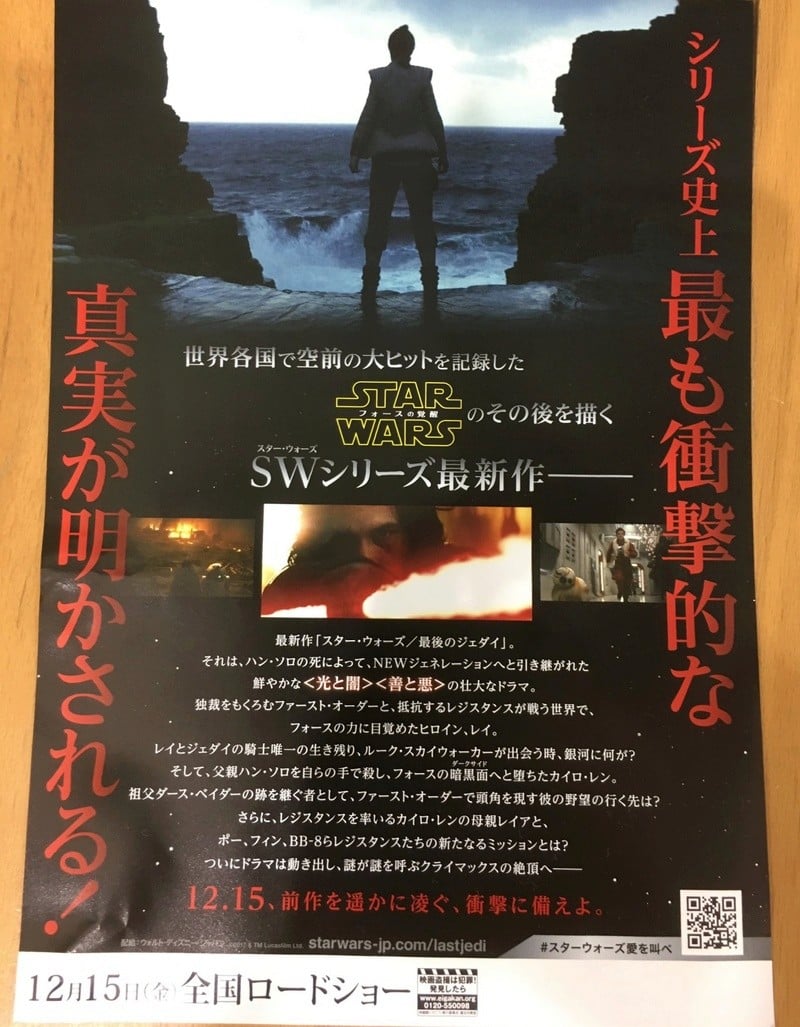 The text roughly translates to the following:
The Most Shocking Truth In Star Wars History Will Soon Be Revealed!

A new generation's tale of the struggles of light and dark, virtue and evil has begun with the death of Han Solo.

In a Galaxy where First Order and the Resistance are fighting against each other in a war, the heroine, Rey, had the Force awaken within her.

What will happen to the galaxy when Rey and the only remaining Jedi knight, Luke Skywalker, meet?

Kylo Ren has fallen to the Dark Side of the Force and killed his father, Han Solo. As a successor of his grandfather, Darth Vader, and a high ranking enforcer in the First Order, where will his ambition lead him to?

Furthermore, Kylo Ren's mother, the leader of the Resistance, Leia, Poe, Finn, and BB-8, will embark on a new mission!

The story has finally begun and it will lead to a mysterious climax!

December 15. Be ready for the shocking truth surpassing the previous stories!
I find it interesting that the word used to describe Kylo Ren's portion of The Last Jedi is "ambition" – from what we've seen of him so far, Kylo Ren seems like a character driven more by the misguided belief that what he's doing is right than someone who seeks to gain more power beyond mastering his abilities in the Force. Also interesting is that the description suggests that Poe, Leia, Finn, and BB-8 as being part of the same mission when the story details that have leaked out about suggest that Poe and BB-8 stick around with Leia and that Finn goes on a mission with Rose. Perhaps these two stories are more connected than they initially appear.
But what's really interesting is that the poster teases that we're going to get a mind-blowing twist thrown in somewhere. That's not entirely unexpected if the movie takes a few thematic cues from The Empire Strikes Back, but it's hard to imagine Rian Johnson's movie topping "I am your father" – and while such a feat isn't impossible, it seems like that's a really tough act to follow. There's a lot of stuff that could make for big reveals in the movie – Rey's parentage, Snoke's identity, the reason that Luke went missing in the first place – but it almost seems like some (or all) of that is low-hanging fruit compared to what this is describing. Perhaps the big twist is going to be something that won't be hinted at all in the ad campaign and we'll only learn about it in the movie itself, much like the reveal that Kylo Ren was Han and Leia's son in The Force Awakens.
Even with this information, don't get too excited just yet. There's a chance that this leaflet might not be 100% reflective of the content in the movie itself, as we're far enough from the movie's release that Lucasfilm would still likely continue to hold off on more plot details, so the person behind this ad's copy might be writing a bit speculatively. After all, Lucasfilm hasn't really said too much on the front of what many of these characters are up to in this movie, and it seems like this would be a really weird place to actually reveal all of that. In addition, Lucasfilm's logo isn't plastered anywhere on this poster – although there is a usual trademark near the bottom – and that's something I find a little odd. Also odd is that the logo in the center is for The Force Awakens, but based on positioning of the font, I think the ad is emphasizing that this is the sequel to The Force Awakens as opposed to officially promoting it. (I only have a basic knowledge of the Japanese language, so I can't tell what it actually says.)
Still, this at least gives us a bit of a potential lead as to where this story might be headed in future installments. We only have seven more months to wait until The Last Jedi comes out, so until then, we'll keep our eyes peeled for more easy-to-miss stories like this one.
UPDATE
D. Hackerson has managed to track down a complete copy of the official Japanese "The Last Jedi" teaser pamphlet. Thanks "D"! Check it out below!
Finally got my hands on the #Japanese #TheLastJedi pamphlet. Asked the staff at my local theater and they brought some out for me. pic.twitter.com/M34A2MCrVV

— D. Hackerson (@NorskAkiruno) June 3, 2017
Grant has been a fan of Star Wars for as long as he can remember, having seen every movie on the big screen. When he's not hard at work with his college studies, he keeps himself busy by reporting on all kinds of Star Wars news for SWNN and general movie news on the sister site, Movie News Net. He served as a frequent commentator on SWNN's The Resistance Broadcast.