Dave Filoni Shares Another Untold Star Wars: Rebels Story Featuring Ahsoka and Kanan!
Dave Filoni took to Twitter to reveal yet another untold story from Star Wars: Rebels. I am sure many of you have been wondering in the past whether Ahsoka and Kanan had ever met as younglings at the Jedi Temple. Now Filoni has provided the answer to this question, sharing even more details about it, which for different reasons never got explained on the show.
From Dave Filoni's Twitter:
— Dave Filoni (@dave_filoni) July 22, 2017
Filoni revealed that Ahsoka and Kanan did some lightsaber training together and later when they met again, Ahsoka wanted to test him if he is prepared  for the difficult path that lies ahead. Filoni also shared the following dialogue between the two: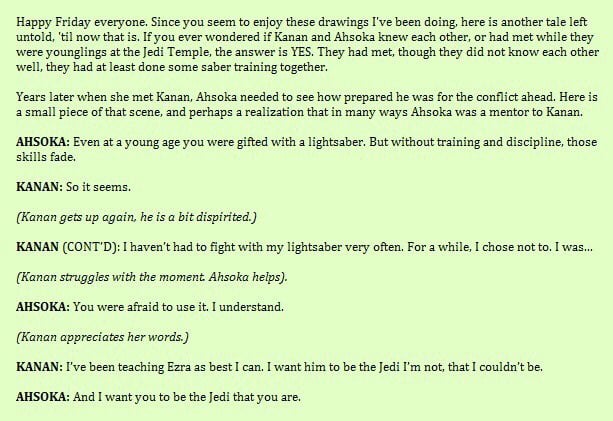 A few weeks ago Filoni also revealed a discussion between Ahsoka and the Bendu that got cut from Rebels as well. For that article, click here.