Kyle's Review: Escape from Jedha and a Reluctant Assassin in Marvel's Rogue One #3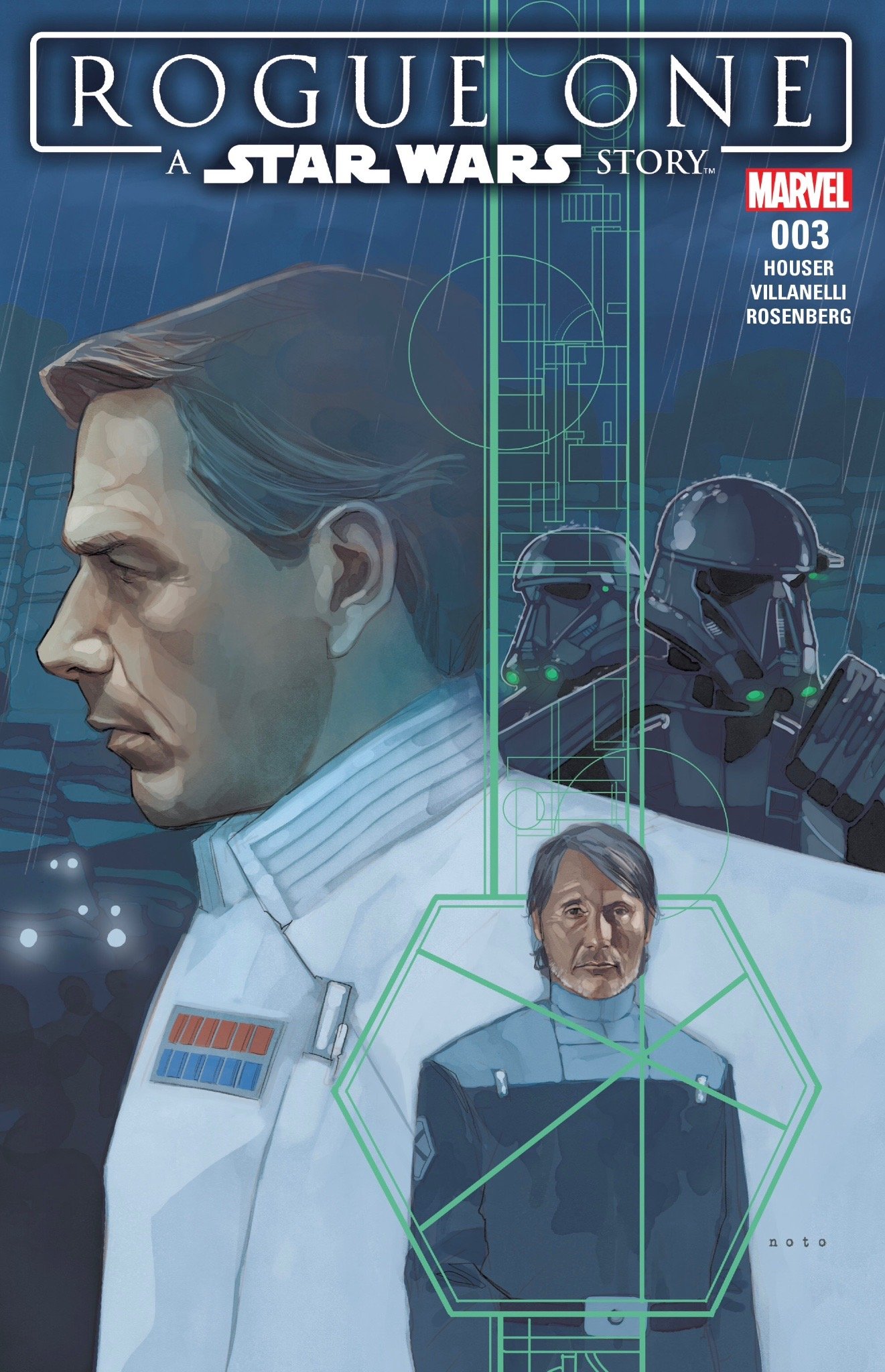 No doubt that we Star Wars fans are certainly in The Last Jedi anticipation mode, but if you enjoyed Rogue One as much as I did – I urge you to pick up the issues of Marvel's adaptation. This is not a rehash of each frame or sentence of dialogue from the film. This is a completely fresh look at a wonderful Star Wars story. If for some reason you have not seen Rogue One, there are spoilers ahead.
The issue opens with Orson Krennic's macabre presentation of the Death Star's lethal ability to obliterate life in an instant. There's not much new for Krennic in this issue. The scenes between he and Tarkin play out just as they did in the film. Krennic is drawn in a much more sinister way than Ben Mendelsohn appeared. That's not to criticize Mendelsohn's great performance, just a compliment to the artwork by Paolo Villanelli and colorist Rachelle Rosenberg. Krennic is as despicable in these scenes as you remember in the film.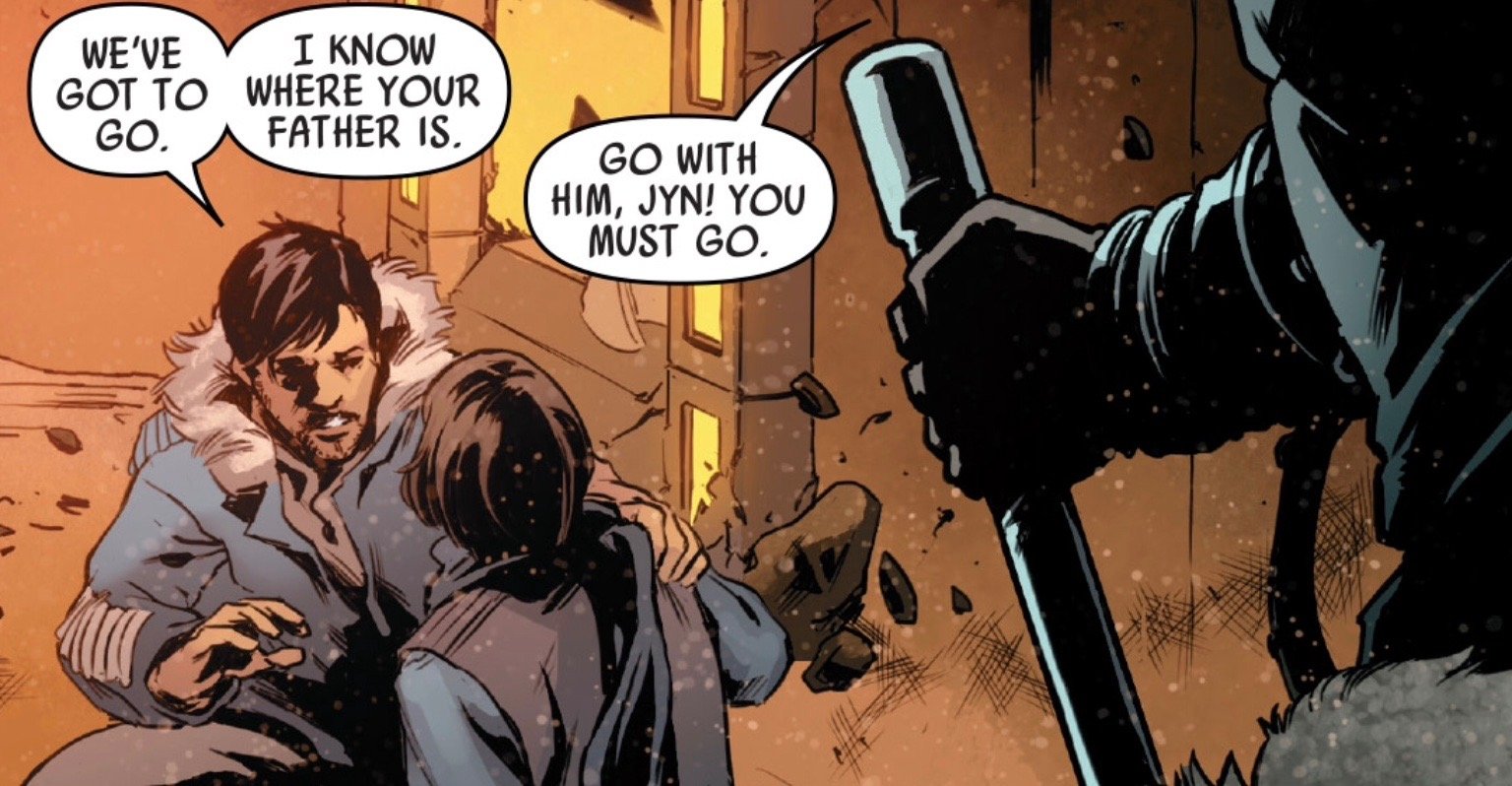 Cassian Andor comes across much more frantic in this issue than I remember on film. Diego Luna did such a good job of making Cassian whatever he needed to be in the situation. Whether he was a cold blooded killer; or just a silent, observant alliance officer trying to ascertain Jyn Erso's intentions, Luna's performance exuded Cassian's confidence. Cassian walks on the edge of panic. Not to say he's out of control, just that the adrenaline seems to be moving a lot faster through the veins of Marvel's Cassian. Once again, that's me tipping my hat to the superb artwork of this adaptation.
Then there are moments like these. Obviously, Saw's memory of his sister, Steela, on their home world Onderon, couldn't be brought to life on screen. This is Saw's last memory as he awaits the shockwave of the Death Star's blast to come take him. I love these supplemental appearances by other characters in the canon. All you Clone Wars fans no doubt remember Steela, who fought beside her brother and was killed. That was a huge turning point for Saw and no doubt made him the broken, destructive man we meet in Rogue One. I was very pleased the issue included this frame.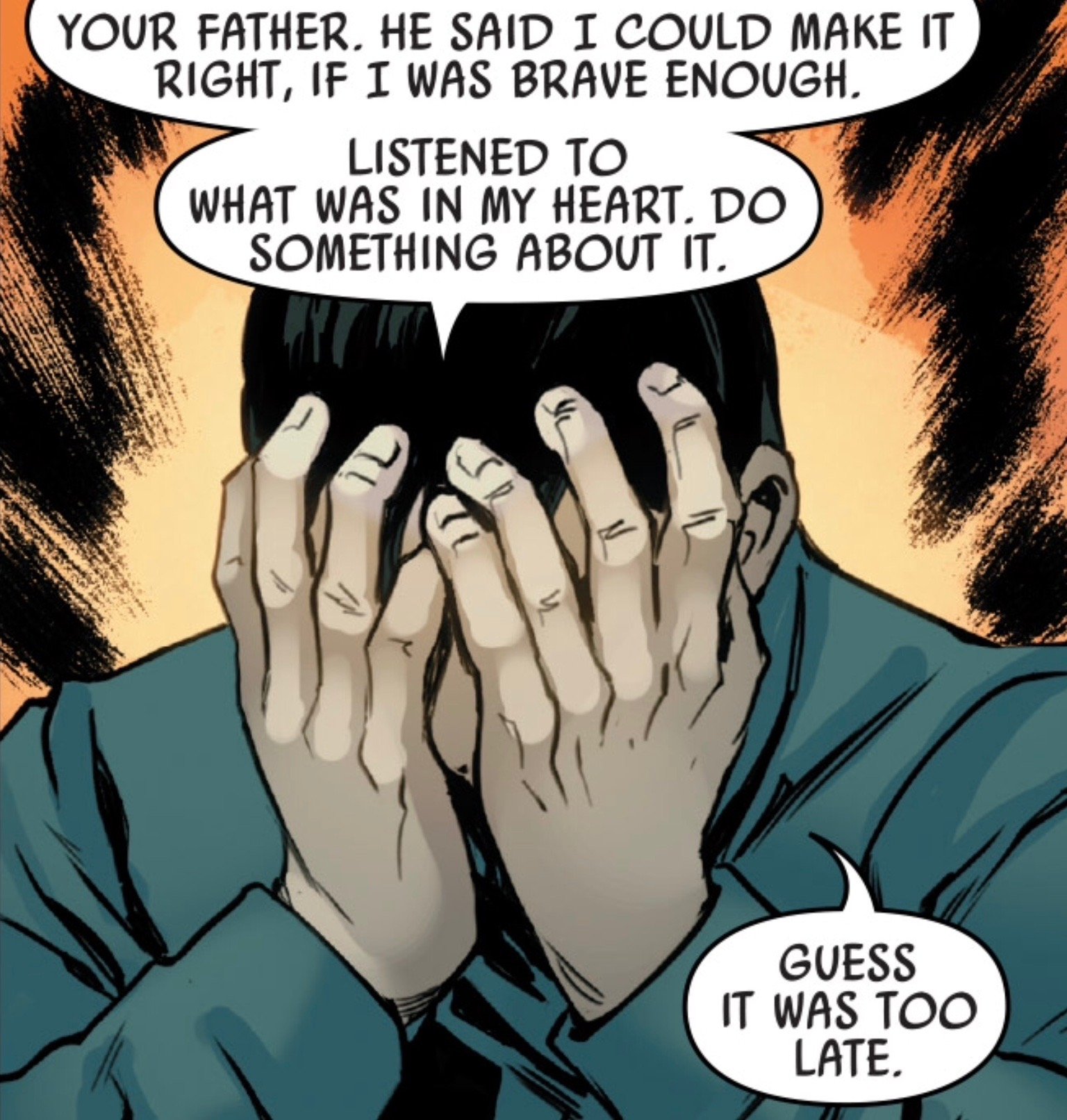 Since the common theme of this review seems to be the emotional contrast of the comic versus the film, I'll weigh in that Bodhi is much more damaged in his appearances here. Yes, of course he was in the film, but I sense more madness from him, at least in this issue. Too bad for poor Bodhi.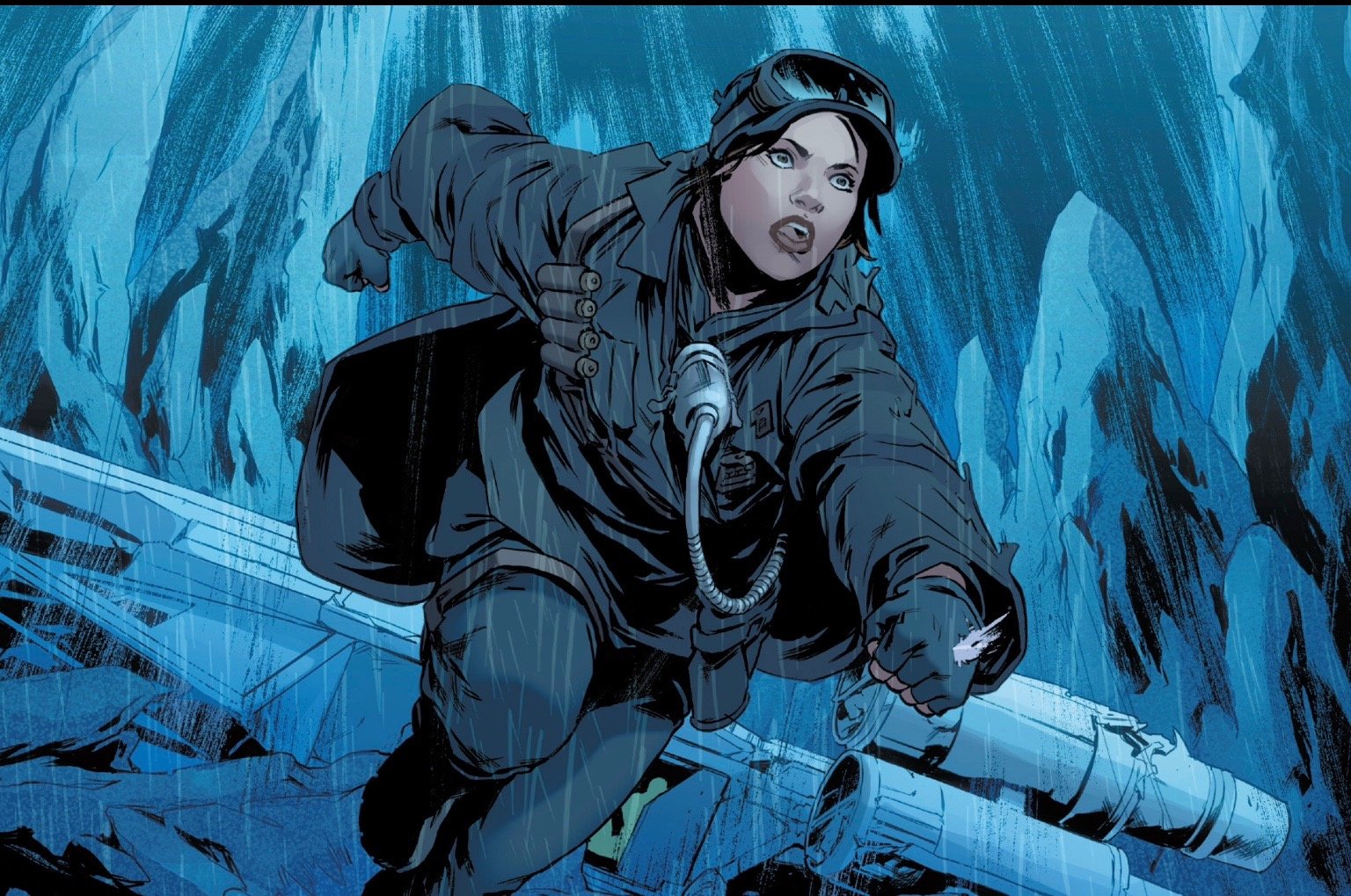 I'm also loving the stoic determination on our heroes' faces as they rush to aid their cause. Jyn has realized what Cassian is really up to on Eadu, just as the Rebel Alliance realizes their team is in serious trouble. The arrival on Eadu plays out from a bit of a different perspective than what we saw on film.
We get a quick look inside the Imperial research facility. We also get to see Galen interact with the other scientists working on the Death Star. I don't think it's too big a leap to say that these scientists all suffered circumstances similar to Galen's that got them there. Galen is clearly running the show and that's another underlining reason why their execution in front of him is so terrible. Galen no doubt feels those scientists lost their lives because of him. Who knows what kind of friendships or trust he fostered with his brilliant peers. Whatever their relationship, it's a tragedy to which Galen is forced to bear witness.

This issue ends just as the big fight begins. We get another glimpse into the mind of someone about to meet their end. Galen missed seeing Jyn grow into the woman who proclaims to be his daughter under the falling rain and blaster fire. It only takes one look for Galen to know it's Jyn and he remembers the last time he saw her. It's very touching to see Galen realize that his daughter is not only alive, but that she is a survivor. He can die knowing his daughter lived and fought for the good in the galaxy.
Again, I know that Rogue One came and went, and as excellent as it was, we Star Wars fans have turned our focus back to the next installment of the Skywalker Saga….BUT these issues are totally worth your time. Writer Jody Houser and the rest of the staff working on this series have done a great job of re-imagining this story, while keeping the spirit of the film alive. Take a few minutes and sit down with these issues, get lost again in one of the best Star Wars stories we fans have been treated to. I promise you will have one hell of a time.
Oh yeah, and look who's about to show up. I can't be the only one who is anticipating how Vader's Mustafar retreat will look in ink.
Kyle Larson lives in Portland, Oregon. When he's not running trails, he's reading and writing.