Donald Glover Shows Off His Lando Moustache as Filming for "Han Solo" Nears its End at Fuerteventura!
As you know the still untitled Han Solo movie is currently filming on the Spanish island of Fuerteventura. The preparation for this shoot began in early April, but reportedly, the actual filming will span over just one week, as filming is expected to wrap during the weekend. However a new share by Woody Harrelson on Instagram yesterday, gave us a very good idea on how young Lando Calrissian, played by Donald Glover, will look in the movie. Read on for the details.
Our friends from LaFosaDelRancor alerted us about a new article posted by the local newspaper LaProvincia, according to which filming of the Han Solo stand-alone film on Fuerteventura is in its final stages.
The shooting of the Han Solo movie, which is being developed in the desert area of ​​Cañada de la Barca, in the southern municipality of Pájara, is in the final stretch. It is expected that the team led by Phil Lord and Christopher Miller will complete the filming process this weekend.

In fact, the Antonov AN12 freighter is scheduled to land at the international airport of Fuerteventura on Saturday to transfer to England the material it brought to the island on 27 May. It is also expected that the technical team will leave the island on that same date on two passenger flights through separate aircraft from the company Titan Airways bound for Gatwick and Stansted aerodromes.

Although we know that filming on Fuerteventura started early this week and the whole filming process took only one week to finish, we can't make any conclusions about the importance and the length of this sequence in the movie. As you know, apart from the location filming, there is always an additional filming that takes place at Pinewood Studios, where sets are being build to replicate the real life locations. That's pretty much what happened with The Force Awakens and the Jakku sequence, which was shot at Abu-Dhabi (for about two weeks) and Pinewood.
In other interesting news about the Han Solo film, Woody Harrelson shared on Instagram a photo of him and Donald Glover chilling out after an exhausting day of filming at Fuerteventura.
What's interesting is that Donald Glover's look seems very different from what we've seen from him a few days ago when he was in Italy and on route to Spain (photo below).
And here's a better look at him during the filming: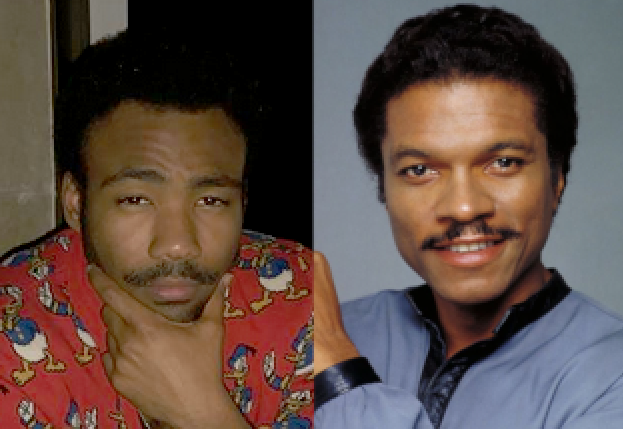 It's interesting that Lando will have a beard in addition to his famous moustache. That of course is pretty normal. 🙂
What do you think? I think Glover is the perfect person to play young Lando. Tell us your thoughts below in the comments.