Rian Johnson and Ram Bergman Discuss the New Star Wars Trilogy with THR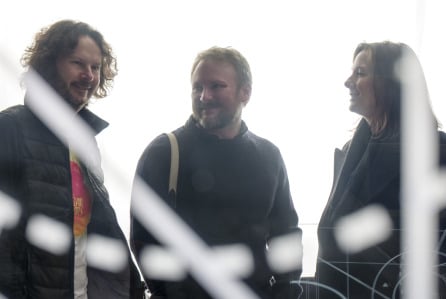 Whether you liked The Last Jedi or not, you have to agree that the movie had a very specific aesthetic look and feel, making it (at least for me) the most beautiful Star Wars movie to date. Of course we have to thank director Rian Johnson for that. Now that The Last Jedi has been finally released, Rian will get a well deserved rest, but not for too long. Back in November LFL announced that Johnson will be creating a whole new Star Wars trilogy with completely new characters and locations. For now it was confirmed that he will be directing the first movie from the new trilogy. THR caught up with Rian and his friend and producer Ram Bergman who briefly talked about this upcoming mysterious project.
The first thing Rian made sure to mention is that there is still no story and he is still not sure who is it going to follow.
From THR:
What have you learned on The Last Jedi that will help you going forward with the new trilogy?

Rian Johnson: There were so many things that were new to me, in terms of process with this. Everything from working with pre-vis for the first time to working with the heads of departments. It was a smooth process. It felt oddly comfortable, but a lot of it was new, so there was a learning curve. It will be nice coming into the next one, knowing a little bit better how a machine this big works. It was such an unknown to me, whether the size of this and the scope of it would make it a different thing than I previously knew how to do. Now that I know that's not the case, I feel like I can come into it a little bit more without the trepidation of, "Am I going to know how to do this?" Which feels good.
Are you going to to take any time off once the launch of this movie is out of the way, or do you know when you're going to hunker down and focus on this full time?

Johnson: We're going to figure out the timing of the next one. We haven't figured it out yet. I'll say, I don't feel like, "Oh my God, I'm exhausted, I need to sit on a beach for a month." I feel creatively energized right now. I feel like I want to jump right into work. This whole process has left me feeling ready to jump in and do it again right away. I don't know why. I don't know if that's a good sign.

Ram Bergman: Also, on most of big movies, you work and you deliver the movie literally last minute. We pretty much finished the movie in early August, so we've not been working really hard, except doing press here and there. We had the luxury of delivering the movie a few months earlier than usual.

Have you given thought to where in the Star Wars timeline this trilogy will fit? For instance, would it takes place before the Skywalker Saga or after?

Johnson: I'm at the very beginning of trying to come up with it, and honestly, timeline-wise, I'm not sure yet. In a way it's interesting, but in a way it's the least interesting part of it to me. I'm more thinking of what's the story going to be, who is it going to follow? What elements is it going to have? What kind of drama is in it? My head right now is more in that place. I haven't really, really gotten into it. Right now I'm mostly excited by the potential and just starting to form little clusters of ideas of what it might become.
As you can see, there is not much info here, but it's cool to know that Rian is already willing to dive right back in the galaxy far, far away. I couldn't agree more with him that the time period during which the new trilogy will take place is not as important as the actual story. And Rian is a great storyteller. Looking forward to this.