Vanity Fair Presents The Ultimate Sneak Peek at The Last Jedi with New Characters and Locations Revealed!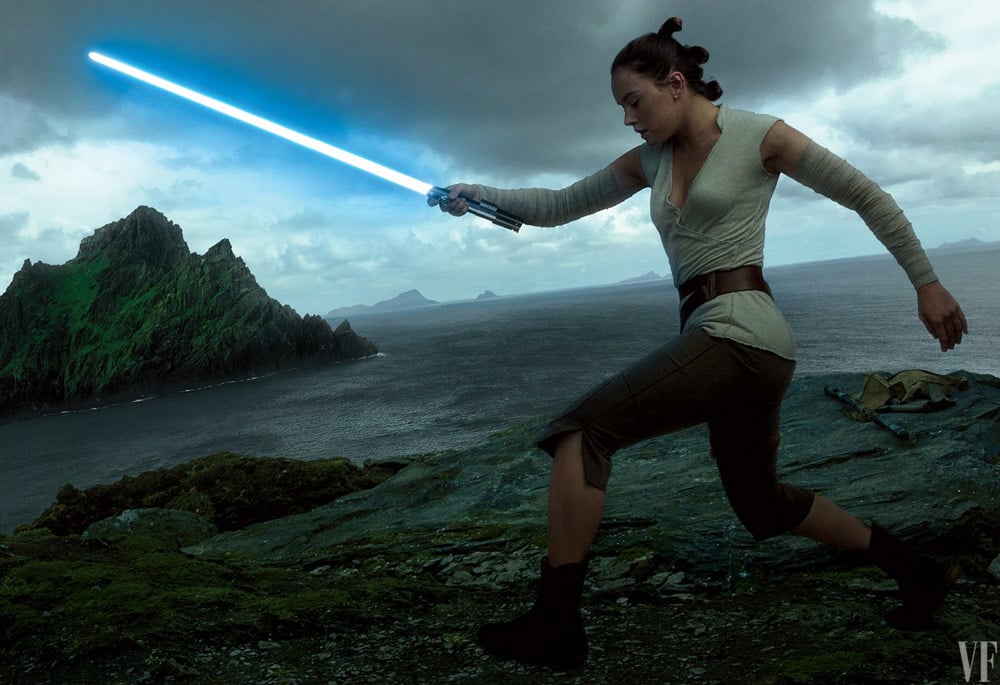 The excitement continues after yesterday's cover reveal, as Vanity Fair brings us exclusive interviews with the cast, a first look at Laura Dern and Benicio Del Toro in costume (as well as their character names), the aristocratic hodge podge of aliens and humans at the Canto Bight Casino and more!
Vanity Fair's David Kamp sat down with the cast as they shared insight to filming The Last Jedi from their own unique points of view. There is so much juicy Star Wars goodness in the original article that I strongly recommend you check it out (here). But, as a quick guide to what we have learned from VF's article, let's take a look at each of the interviews and hit the highlights…
First, take a look at this really cool behind the scenes video from Annie Leibovitz's photo shoot on the set of The Last Jedi…
(quoted text from Vanity Fair):
Mark Hamill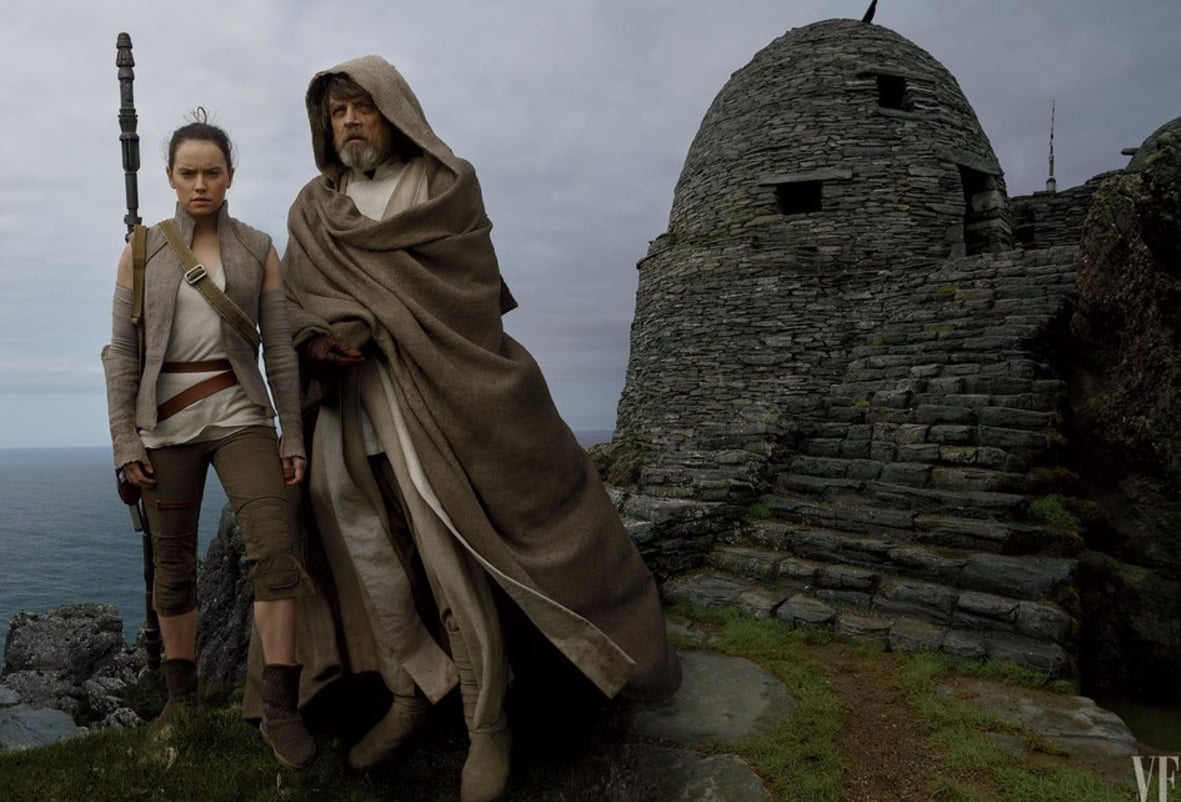 Hamill describes the difficulty of tackling a film of this scale in his mid-sixties and the strict dietary regimen that was involved to maintain his "youthful" shape. He also discussed his initial misgivings about J.J. Abrams' decision to bring Luke in the way he did, acquiescing in the end that the director made the right decision for his movie.
"Now, remember, one of the plots in the earlier films was the telepathic communication between my sister and me," Hamill said. "So I thought, Carrie will sense that Han is in danger and try to contact me. And she won't succeed, and, in frustration, she'll go herself. Then we're in the situation where all three of us are together, which is one of my favorite things in the original film, when we were on the Death Star. It's just got a fun dynamic to it. So I thought it would have been more effective, and I still feel this way, though it's just my opinion, that Leia would make it as far as she can, and, right when she is apprehended, maybe even facing death—Ba-boom! I come in and blow the guy away and the two of us go to where Han is facing off with his son, but we're too late. The reason that's important is that we witness his death, which carries enormous personal resonance into the next picture. As it is, Chewie's there, and how much can you get out of [passable Chewbacca wail] 'Nyaaarghhh!' and two people who have known Han for, what, 20 minutes?"

Still, Hamill recognizes that the popular response to The Force Awakens—its stirring ending in particular—was overwhelmingly positive, his misgivings be damned. "As I said to J.J.," he recalled, "I've never been more happy to be wrong."
Rian Johnson
Johnson discusses the writing and filming process as well as his relationship to Carrie Fisher, whom he considered a close friend. He also talks about his initial surprise about the leeway given to him by Lucasfilm to make the film he wanted to make. We also discover that Luke and Rey are not alone on the island…
Luke, it transpires, has been living in this village among an indigenous race of caretaker creatures whom Johnson is loath to describe in any more detail, except to say that they are "not Ewoks."
He went on with some vague information about the nature of Luke and Rey's relationship…
That Luke is so changed a person presented Johnson with rich narrative opportunities. The Last Jedi is to a large extent about the relationship between Luke and Rey, but Johnson cautions against any "one-to-one correlation" between, say, Yoda's tutelage of young Luke in The Empire Strikes Back and old Luke's tutelage of Rey. "There's a training element to it," he said, "but it's not exactly what you would expect." This being the spoiler-averse world of Lucasfilm, the production company behind the Star Wars movies, that's about as specific as the director is willing to get. (No, he won't tell you if Luke is related to Rey, or, for that matter, what species the super-villain Supreme Leader Snoke happens to be, or which character the title The Last Jedi refers to.)
On the Lucasfilm Story Group and their involvement…
The story group, which numbers 11 people, maintains the narrative continuity and integrity of all the Star Wars properties that exist across various platforms: animation, video games, novels, comic books, and, most important, movies. "The whole team reads each draft of the screenplay as it evolves," Hart explained to me, "and we try, as much as we can, to smooth out anything that isn't connecting."

What the story group does not do, Hart said, is impose plot-point mandates on the filmmakers. Johnson told me he was surprised at how much leeway he was given to cook up the action of Episode VIII from scratch. "The pre-set was Episode VII, and that was kind of it," he said. If anything, Johnson wanted more give-and-take with the Lucasfilm team, so he moved up to San Francisco for about six weeks during his writing process, taking an office two doors down from Hart's and meeting with the full group twice a week.
Johnson also revealed some information about the new additions to the cast. Poe is mentor to a Resistance gunner named Paige (Veronica Ngo), who is the on-screen sister to the newcomer with the most screen time of the bunch – Kelly Marie Tran's "Rose" – who goes off on an adventure in the movie with John Boyega's "Finn".
We also learned the name of Laura Dern's character – a Resistance officer named Vice Admiral Holdo – as well as a first look at her costume…
While Del Toro's character goes unnamed in the film, the filmmakers have taken to calling him "DJ". Check out his look in the movie…
On Carrie Fisher…
For his part, Johnson quickly formed a deep bond with Fisher as a fellow writer, spending long hours with her at the eccentric compound she shared with her mother, Debbie Reynolds, in the Coldwater Canyon section of Beverly Hills. "After I had a draft, I would sit down with her when I was working on re-writing," he said. "Sitting with her on her bed, in her insane bedroom with all this crazy modern art around us, TCM on the TV, a constant stream of Coca-Cola, and Gary the dog slobbering at her feet."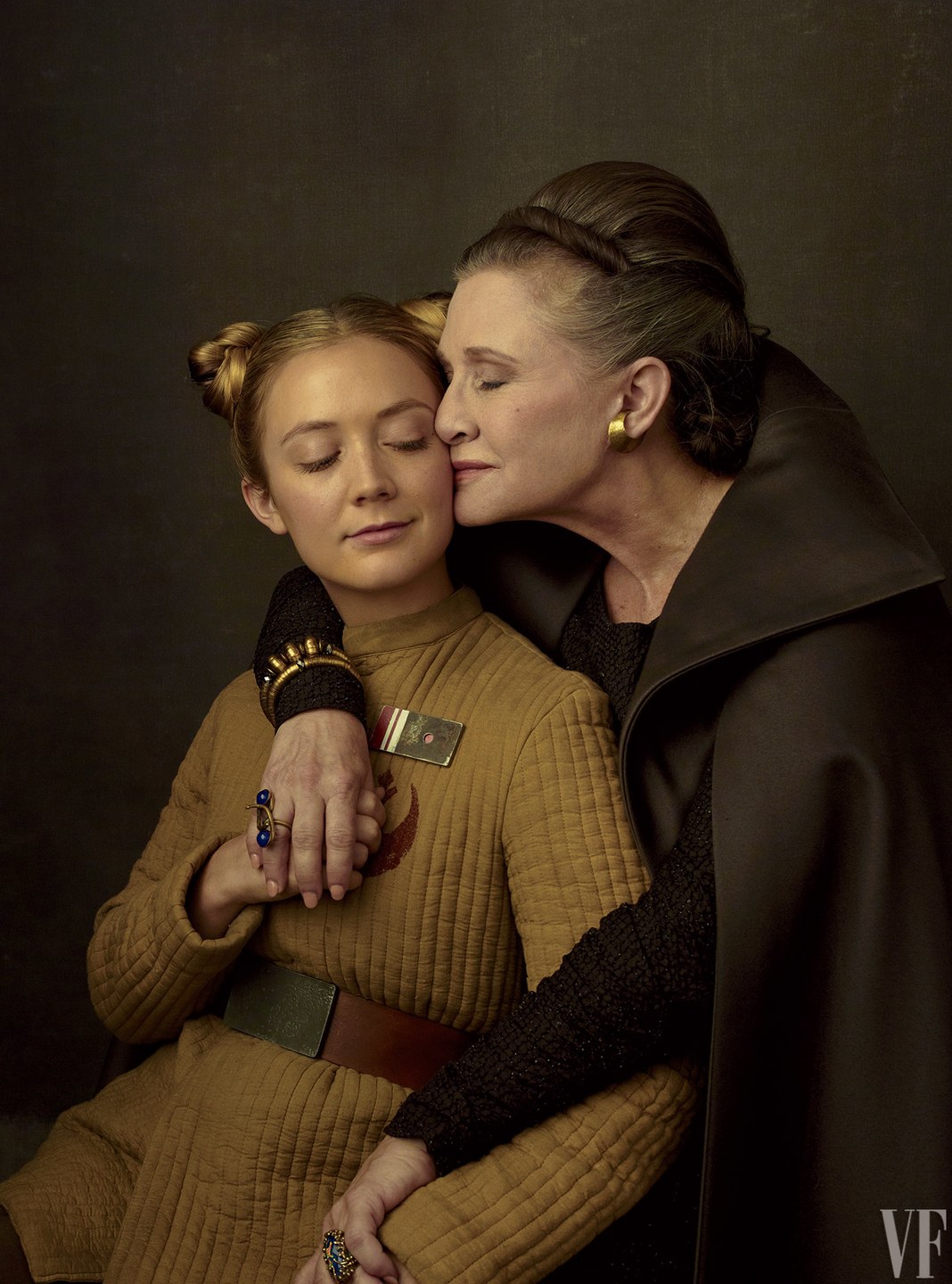 Fisher completed her part in Episode VIII late last summer, when principal photography on the film wrapped. "She was having a blast," said Kennedy. "The minute she finished, she grabbed me and said, 'I'd better be at the forefront of IX!' Because Harrison was front and center on VII, and Mark is front and center on VIII. She thought IX would be her movie. And it would have been."

"Out of everyone, Carrie was the one I really became friends with and expected to have in my life for years and years," said Johnson. "I last saw her in November, at the birthday party that she threw at her house. In a way, it was the perfect final, encapsulating image of Carrie—receiving all her friends in the bedroom, with Debbie holding court in the living room."
Lucasfilm also reaffirms that they have no intention of bringing Fisher back to life as a digital character in Episode IX (which is scheduled to start shooting in January)…
Fisher's death doesn't change anything about The Last Jedi except make it more poignant: the film farewell of both the actress and the character. But it does change Episode IX, for which, as Fisher hoped, a central role for Leia had been planned. Kennedy, Trevorrow, and the Lucasfilm team have been compelled to swing from grieving into pragmatic mode, working out how to reconceive the next film in the saga, which is scheduled to start shooting in January.

One option that is not on the table is to reanimate Fisher's Leia via C.G.I., as was briefly done in Rogue One, last year's stand-alone, non-trilogy Star Wars film, created when she was alive. More extensively in that film, Grand Moff Tarkin, a character played by the late Peter Cushing in the first Star Wars movie, was brought back to life using C.G.I. jiggery-pokery and motion-capture technology that involved the use of an actor who physically resembles Cushing. Plus, Lucasfilm had the Cushing family's consent. However, said Kennedy, "we don't have any intention of beginning a trend of re-creating actors who are gone."
Daisy Ridley and John Boyega
Ridley and Boyega also discuss the impact that Carrie Fisher had on them as actors, as well as on a personal level…
"Carrie lived her life the way she wanted to, never apologizing for anything, which is something I'm still learning," Ridley said. " 'Embarrassed' is the wrong word, but there were times through it all when I felt like I was … shrinking. And she told me never to shrink away from it—that it should be enjoyed." – Ridley

Boyega recalled that when there was a backlash against his appearance in the first Force Awakens teaser trailer, released in November 2014—the sight of a black man in stormtrooper armor drew ire from racists and doctrinaire Star Wars traditionalists—Fisher counseled him not to take it to heart. "I remember—and forgive me, I'm going to drop the f-bomb, but that's just Carrie—she said, 'Ah, boohoo, who f****n' cares? You just do you,' " he said. "Words like that give you strength. I bore witness in a million ways to her sharing her wisdom with Daisy too." – Boyega
Oscar Isaac
Isaac talks about how surreal it was to see one of his childhood heroes back in action…
"So to be there, and to watch Mark revisit Luke, particularly in these scenes we were shooting towards the end of the film, was bizarre and jaw-dropping," he told me. "It's like when you see an old band re-unite and go on the road, and they don't quite hit those high notes anymore—though in this situation it's completely the opposite. It's the fulfillment of where your imagination would take you when you imagine where Luke would go, or what he's become."
Here are even more photos from Vanity Fair…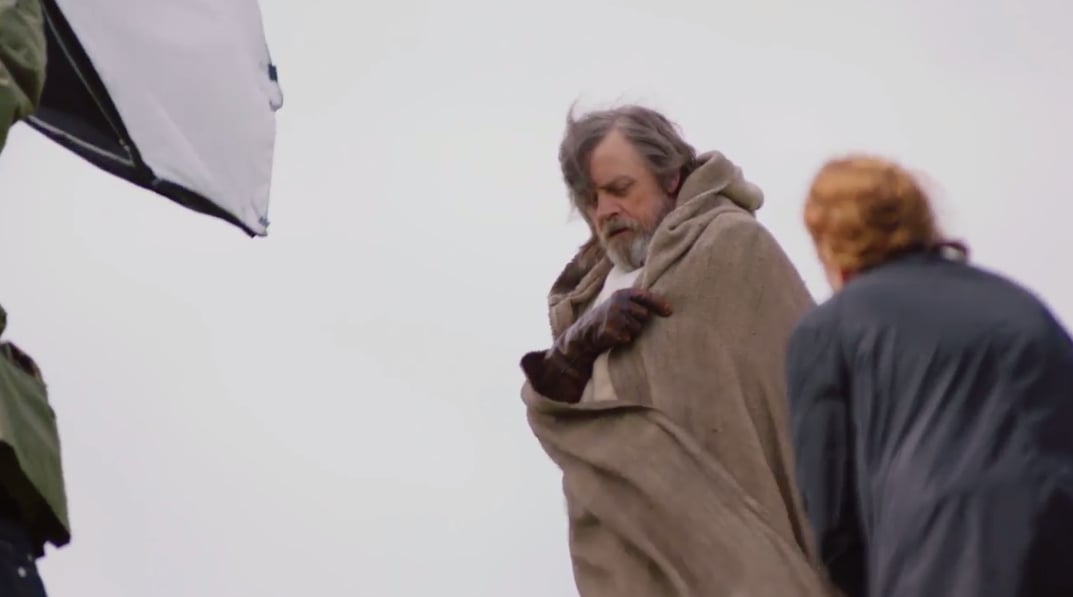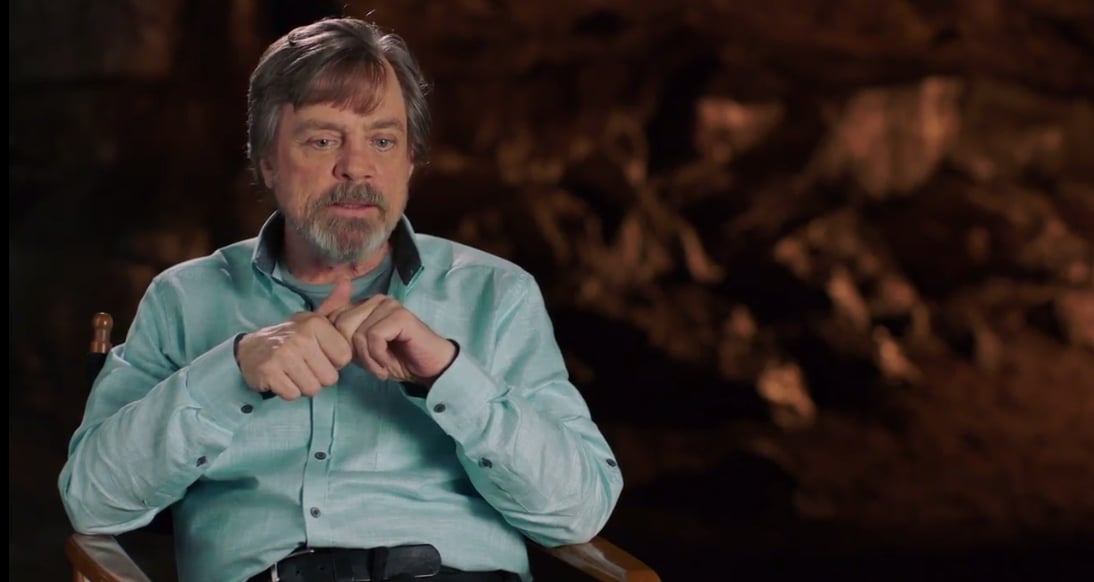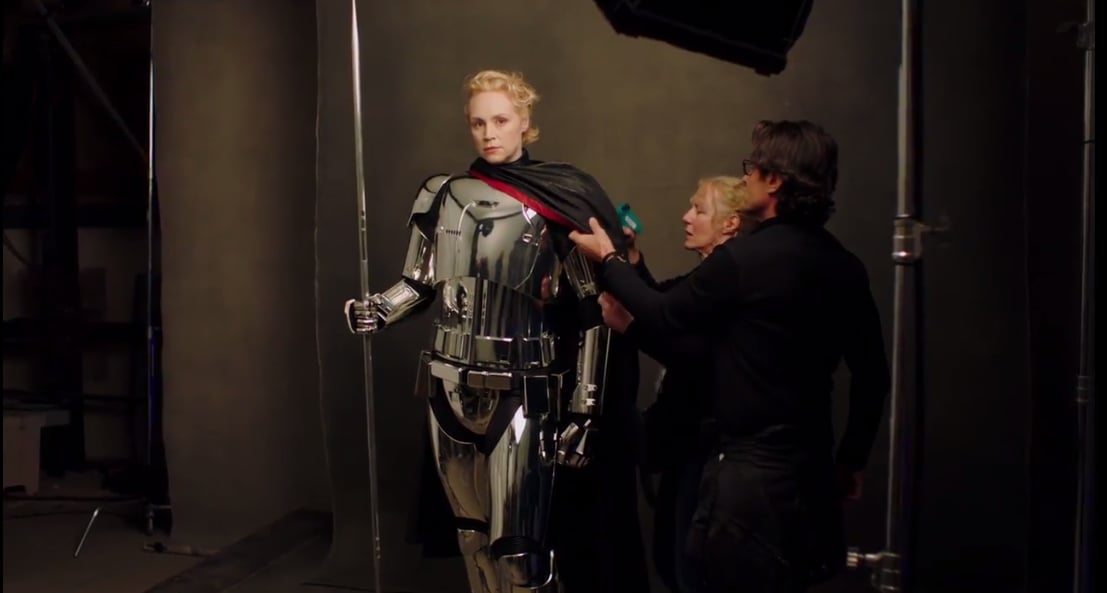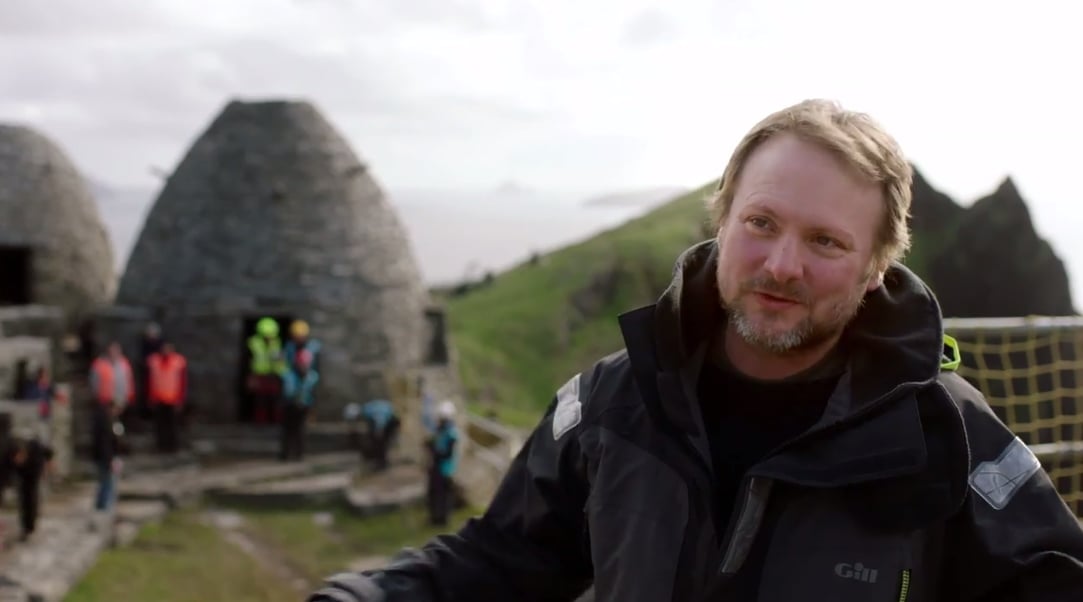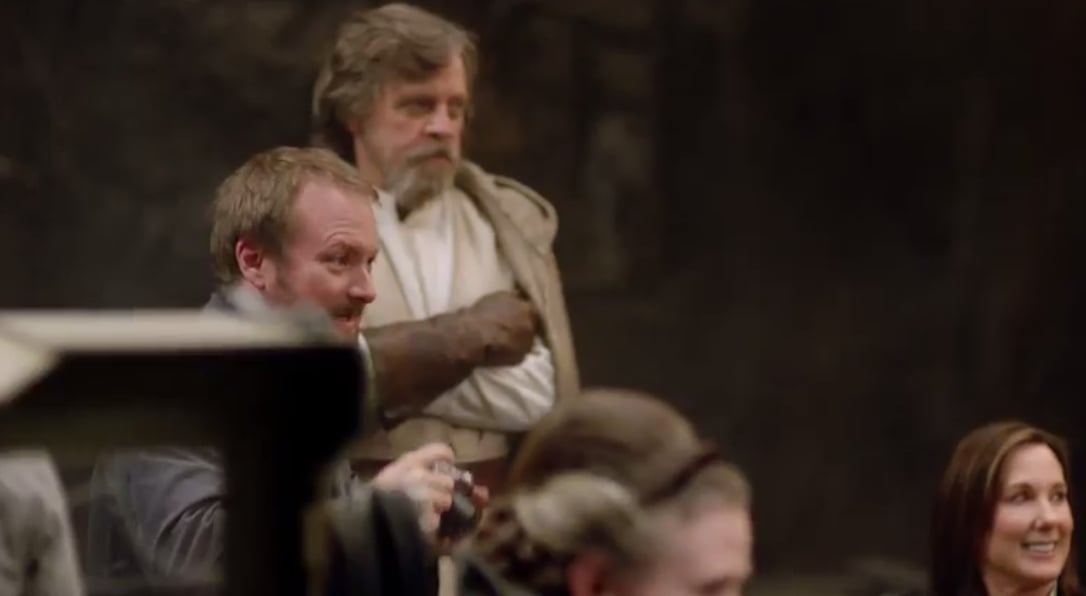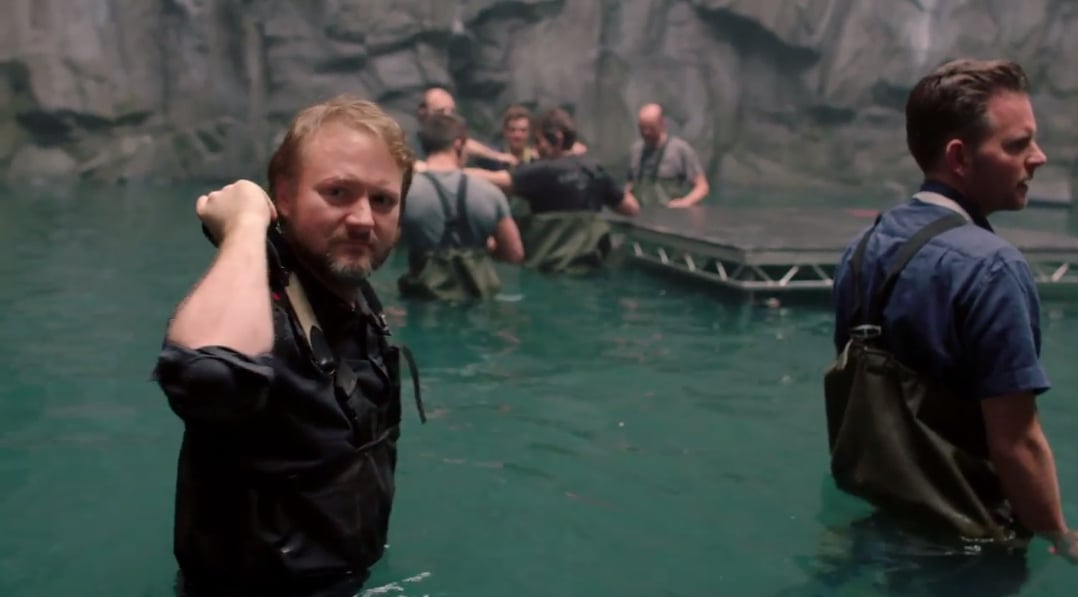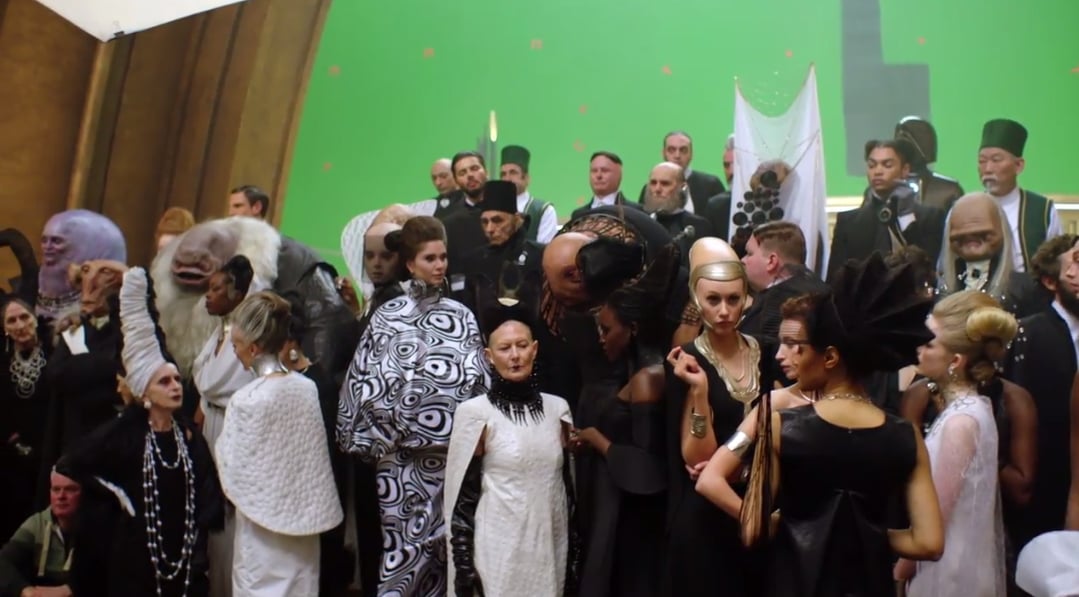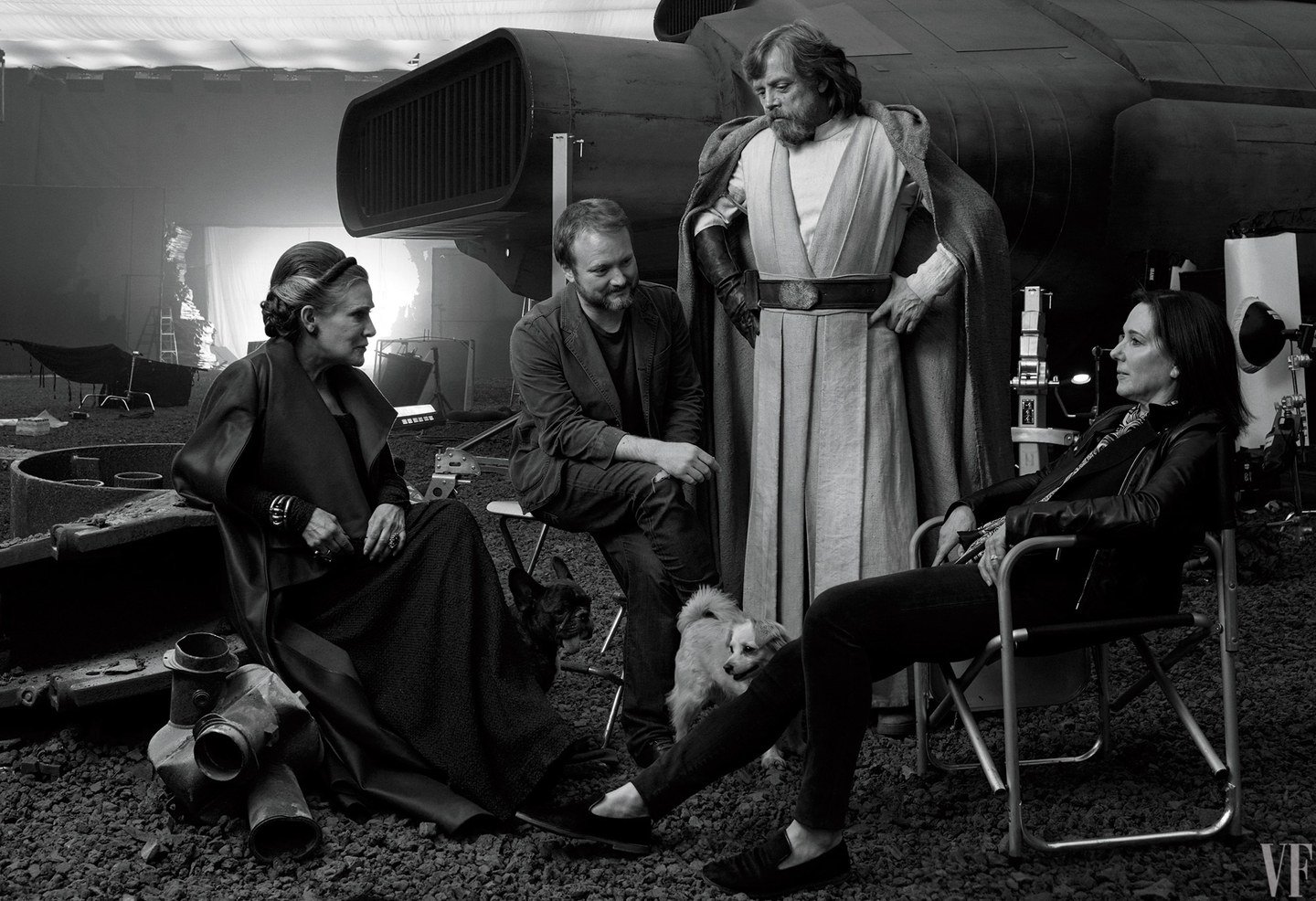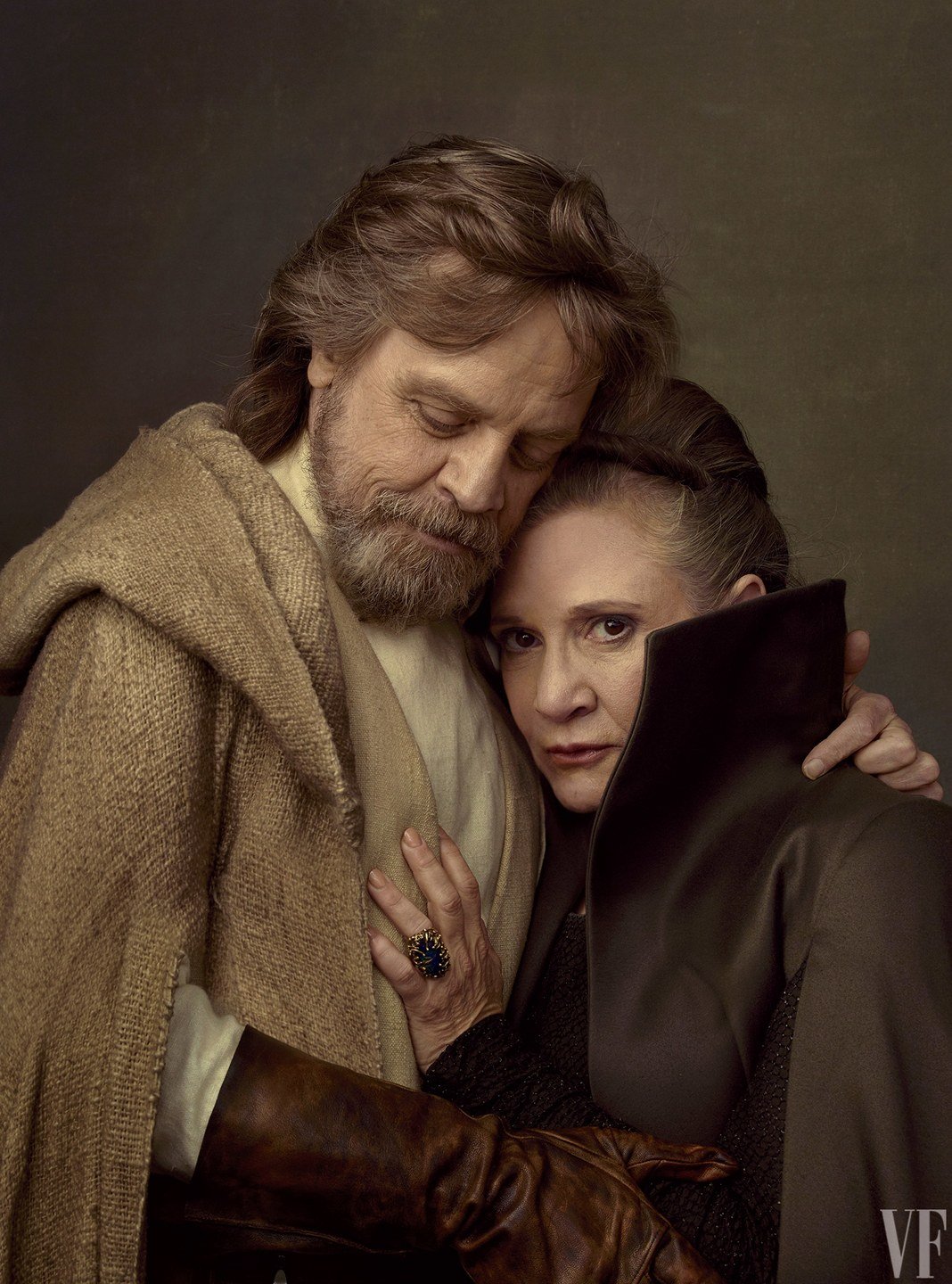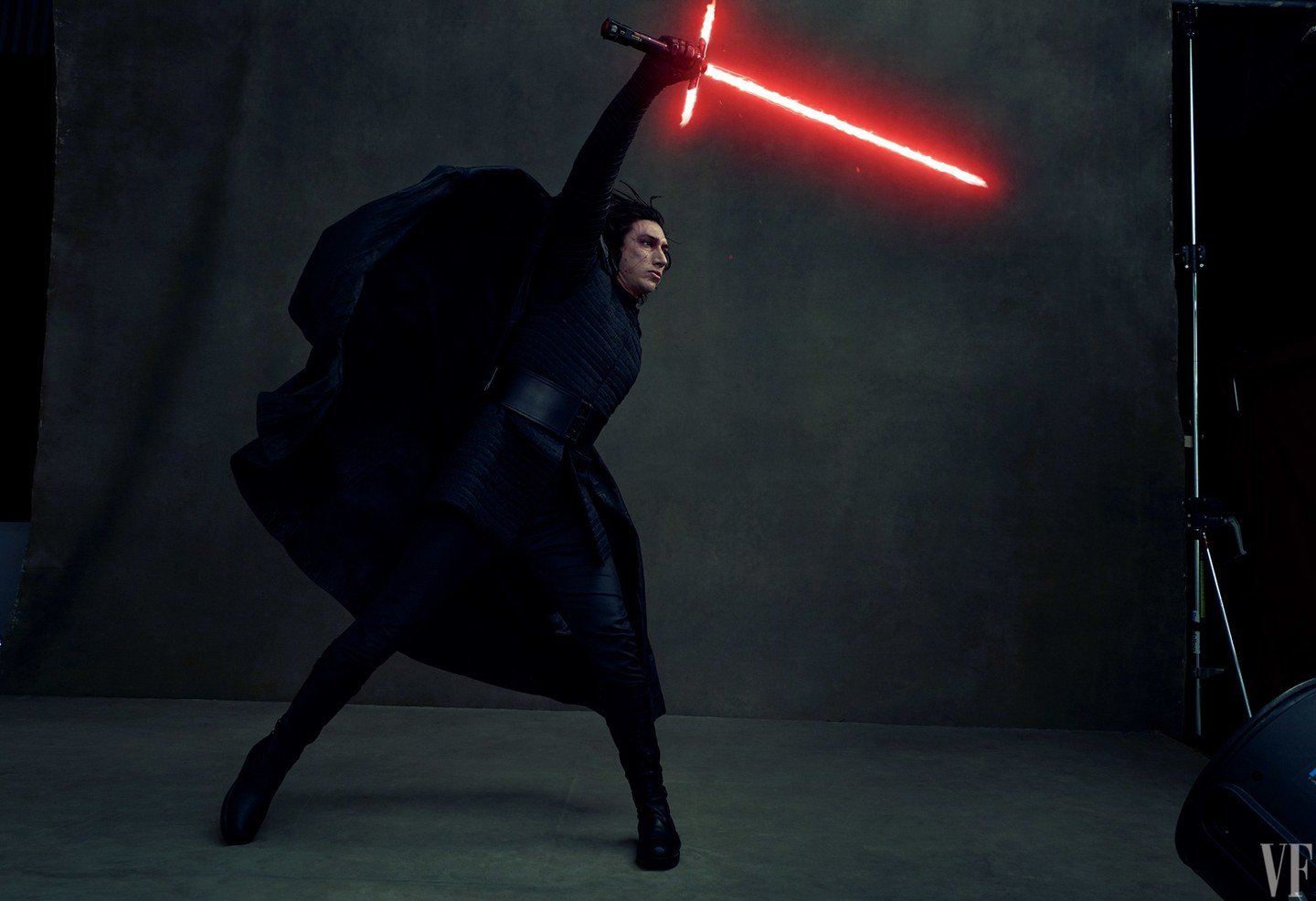 Again, for the full article check out Vanity Fair's piece (here), and stay tuned tomorrow as the magazine is promising even more tomorrow for the 40th Anniversary of Star Wars!
Jordan Pate is Co-Lead Editor and Senior Writer for Star Wars News Net, of which he is also a member of the book and comic review team. He loves all things Star Wars, but when he's not spending time in the galaxy far far away, he might be found in our own galaxy hanging out in Gotham City or at 1407 Graymalkin Lane, Salem Center, NY.