A New Closer Look at Poe, Rose, Finn and the Fathiers in The Last Jedi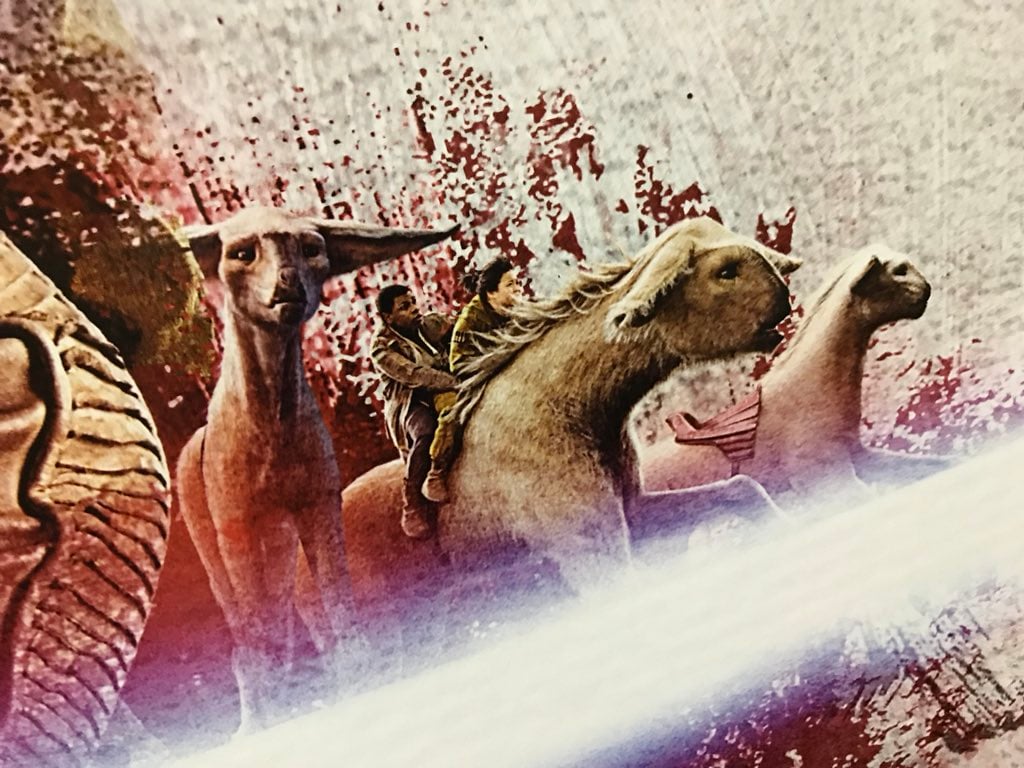 Yesterday we showed you two new The Last Jedi standees showing Luke Skywalker on both the light and the dark side (similar to the IMAX standee revealed a few days earlier). Our friend James Baney from The Resistance Broadcast podcast recently spotted the standee in a local theater and took some close-up photos, giving us a much better look at the fathiers (aka Space Horses) and Poe Dameron's necklace.
If you're not familiar with the fathiers, I suggest you first read this article, in which the majestic alien creatures are described as extremely fast, and thanks to that grace and speed they are exploited by Canto Bight casinos in races for gambling purposes.
Here are the close-up photos of the standees: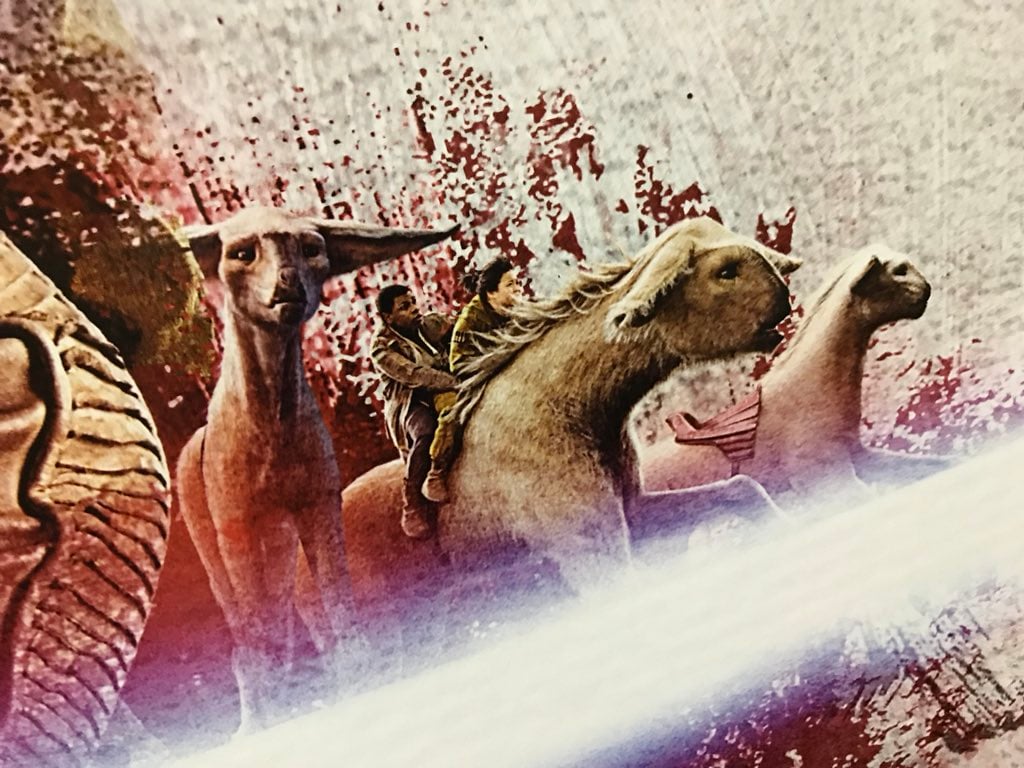 The shot with the fathiers perfectly matches the set photo we've seen from Dubrovnik (Canto Bight) during filming. As a refresher, you can read this article of ours where we discuss this. It seems as though Finn and Rose might find themselves in some trouble with Canto Bight police, running away on one of these fathiers in what develops into a street chase. Perhaps The First Order has installed spies on Canto Bight searching for any members of the Resistance, especially a "traitor" such as Finn. The standee shows additional fathiers as well, so perhaps they let them all loose before they flee to add an element of confusion to their escape. I am really looking forward to the Canto Bight sequence in The Last Jedi, especially since the trailer didn't reveal a single shot, leaving the sequence in the film as fresh as possible for us when we finally see the movie.
The second close-up photo shows Poe Dameron wearing a necklace of sorts. It looks like a stone or a crystal, or perhaps even a ring? Whether this necklace will be important to Poe's story arc is unknown, but it seems rather deliberately displayed. We certainly would like to know more about it, as we don't recall him wearing anything like that in The Force Awakens or other previously released The Last Jedi shots and stills.
What do you think of the Space Horses (a.k.a. fathiers)? Are you as excited about the Canto Bight sequence as we are? Also, what's your take on that curious necklace we see around Poe's neck? Is it meaningless, or something more?