Highlights from David Kamp's Reddit AMA About His Vanity Fair Coverage of The Last Jedi
Today we were treated to Vanity Fair's incredible coverage of The Last Jedi. Author and writer David Kamp and legendary portrait photographer Annie Leibovitz once again did an incredible job beautifully providing so much fantastic content and information! In addition to this, David Kamp was kind enough to do a Reddit AMA, continue on to see the best highlights from his AMA in addition to our thoughts on his answers, as well as Lucasfilm Story Group's own Pablo Hidalgo's follow up to some of the information released today!
When asked if there was any production overlap between The Last Jedi and either of the standalone films:
I spent some time with Kiri Hart, who is the head of Lucasfilm's story group, up in San Francisco, and she said that Rian Johnson was working on TLJ at more or less the same time that Gareth Edwards was working on Rogue One. I don't know that there was creative overlap, but I think that, for the story group, it led to some especially productive weeks and months. The two projects fed off of each other in that regard, energy-wise. As for the young Han Solo movie, I think Rian was too busy with TLJ to cross over into their process. By the way, Kathleen Kennedy told me that we should expect an announcement fairly soon about what the next one-off Star Wars story film will be—the one that will come out (they hope) in 2020.
On the cast chemistry and whether the older more experienced actors provided any tips for the younger castmembers:
In some of the web extras going up on Vanity Fair's site tomorrow, there's a little more on this subject. One leitmotif is that everyone who is not Adam Driver says that Adam Driver is uncommonly intense on set. He's really all-in on becoming Kylo Ren. John Boyega told me that he likes to try to break the Kylo spell by running up to driver and giving him unexpected hugs. But evidently, it doesn't shake Driver.

We'll begin posting web extras tomorrow at 6 AM EST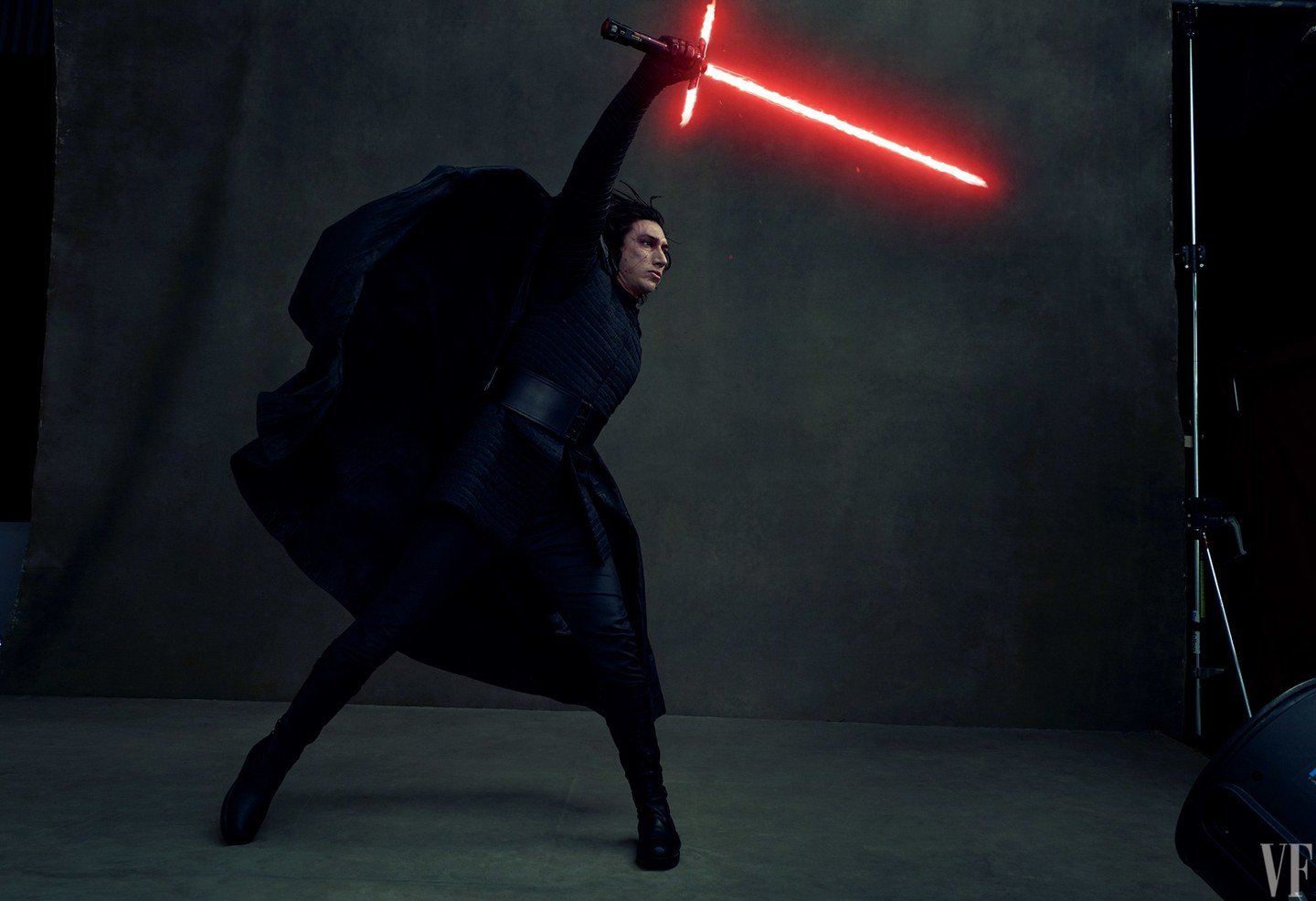 On what he has heard about Benicio Del Toro's unnamed character (DJ among the production staff):
I can't speak to the size of Del Toro's part. Johnson kept describing him as "shady," and Del Toro told Annie Leibovitz and her crew that he borrowed some mannerisms for his character from Tom Waits. The character's name is never made explicit in TLJ (at least that's what Johnson says), but the filmmakers refer to him as DJ, and Johnson promises that we as viewers will understand why he is known as DJ.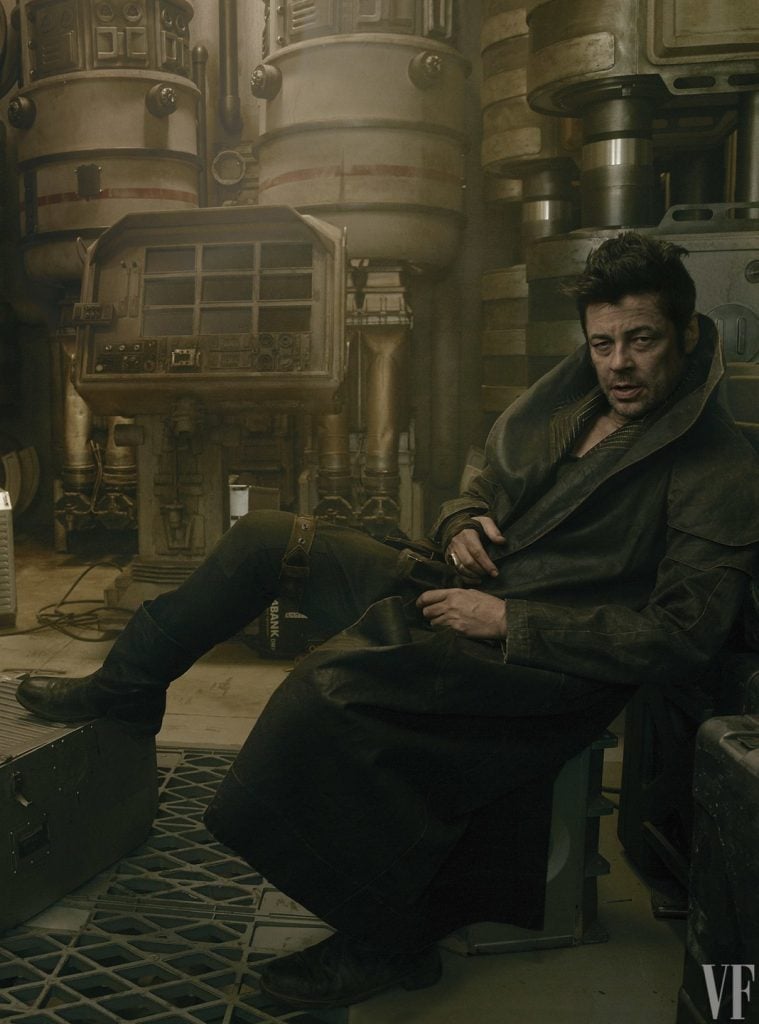 What did he find out about Snoke?
I asked Rian Johnson about Snoke—Who/what is he?—and Rian was fairly up front in saying that Snoke is not a character he particularly gets into in TLJ. Hmmm.
His biggest surprise from speaking with the cast and crew, specifically Rian Johnson:
Biggest surprise to me is how much creative leeway Lucasfilm is giving Rian Johnson and Colin Trevorrow to write their films and make up plot and characters from scratch. I had presumed (wrongly) that JJ Abrams and Larry Kasdan might have sketched out an arc for the entirety of the current trilogy. But as Rian Johnson told me, it really was a creative handoff—"Over to you, Rian." And Rian is handing off to Colin Trevorrow in the same way. He said he's made a mess that Colin will somehow have to clean up.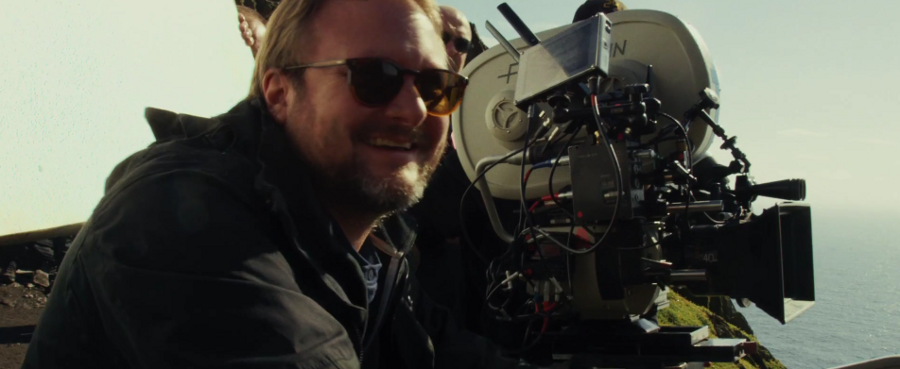 On how he thinks Lucasfilm will deal with the absence of Carrie Fisher after her untimely passing:
When I was doing these interviews, it was still Feb, March, April, and bear in mind that Carrie Fisher died only on Dec 27—still not that long ago. So it was a little heavy, dealing with people who are grieving but have to get back to work. The original plan was, as Kathleen Kennedy put it, for Episode IX to be "Carrie's film," in the sense that VII was Harrison Ford's film and VIII is Mark Hamill's film. As I was speaking with Kennedy, she said that Colin Trevorrow and the Lucasfilm Story Group were working on reconceiving the Episode IX script. I don't think that they would consider recasting the role, and Kennedy seemed emphatic in asserting that they wouldn't use the tech they used in Rogue One to reanimate Peter Cushing's Grand Moff Tarkin. I suspect, though I don't know for sure, that Leia will not appear in Episode IX, and her absence/death will be alluded to in some elegant way.
Regarding the tone and feeling of The Last Jedi:
It's definitely darker. Kathleen Kennedy described the natural arc of each trilogy as "Setup; Conflict; Resolution." That makes TLJ the "Conflict" chapter. And if you look at two of Johnson's movies, Brick and Looper, they have a dark, dystopian quality to them. But also a lot of humor. Johnson is aware that his movie by its very nature is dark—he used the word "operatic" with me—but he is also conscious of not wanting it to be a "dirge." So he has gone out of his way to leaven the movie with humor. I don't know exactly how, but he says there's a lot of humor in the film.

I should add that Johnson really wanted to create something that was visually new for a Star Wars film: a fancy place where the swells of the galaxy hang out. If you think about it, the Star Wars visual vocabulary is full of desolate deserts and frozen tundra and scrapyards full of disused and broken droids. He thought, "Let's go upscale, let's go Monte Carlo!" The result is the casino city of Canto Bight, which you can catch a glimpse of in some of our photos in the new issue.
In a closing remark, David reminded us that he too is a fan himself and what is the fun is spoiling everything before seeing it?
Hey gang, it's been such a pleasure answering your questions. Like you, I don't want to know too much about TLJ because the joy is experiencing it in the theater. I already know too much for my own tastes. But I really hope you'll enjoy all the stuff we've laid out for you in the magazine and on VF's web site. Ciao. —David
You can find the complete AMA session here.
So what do we all think? Are we finally getting the Obi-Wan announcement we've all been hoping for? Will Snoke be missing in action for much of The Last Jedi? What will Lucasfilm do with Leia going forward? What do you think Del Toro's character will wind up bringing to the table?
Remember, Kamp revealed there is more to come 6am US EST tomorrow so keep it right here, we'll be sure to cover all of the best bits and pieces for you, and be sure to go to Vanity Fair via the links posted in this piece for their complete and full coverage.
PABLO HIDALGO'S FOLLOW UP
Pablo Hidalgo, the Lucasfilm Story Group man himself added some interesting bits of information here. Highlights are:
On Laura Dern's character:
Hidalgo confirms that Dern's character, a high-ranking officer in the Resistance, is human. The magenta hair, he says, has to do with her "cultural background."
On the Canto Bight residents:
What we're going to see in The Last Jedi," Hidalgo explains, "are some people who have managed to carve out a life for themselves where they can live apart from the galactic struggle. They found a way to live above it or beyond it. There's a class of wealthy that have helped build all sorts of loopholes in society that will always ensure that they'll survive or even thrive no matter what else is happening out there."
On Phasma and her new weapon:
Phasma's accessory is a retractable pole arm that collapses into a smaller, easy to carry form should she ever find herself shoved down a trash compactor again. This weapon, Hidalgo says, has a strong connection to Phasma's history, which will be explored in a comic-book series out in September. "Her background," Hidalgo hints, "is more low-tech than many would assume."
And in case you were wondering, nope, that's not a Bothan:
None of these things are Bothans. pic.twitter.com/1ymOqtJXv6

— Matt Martin (@missingwords) May 24, 2017
Just easier to change my handle for the day.

— that's not a Bothan (@pablohidalgo) May 24, 2017

"For my ally is the Force, and a powerful ally it is."
You can find me on twitter @JohnnyHoey
John Hoey is the Lead Editor and Senior Writer for Star Wars News Net and the host of The Resistance Broadcast podcast
"For my ally is the Force, and a powerful ally it is."