No Such Thing as Easy Money in Darth Maul #3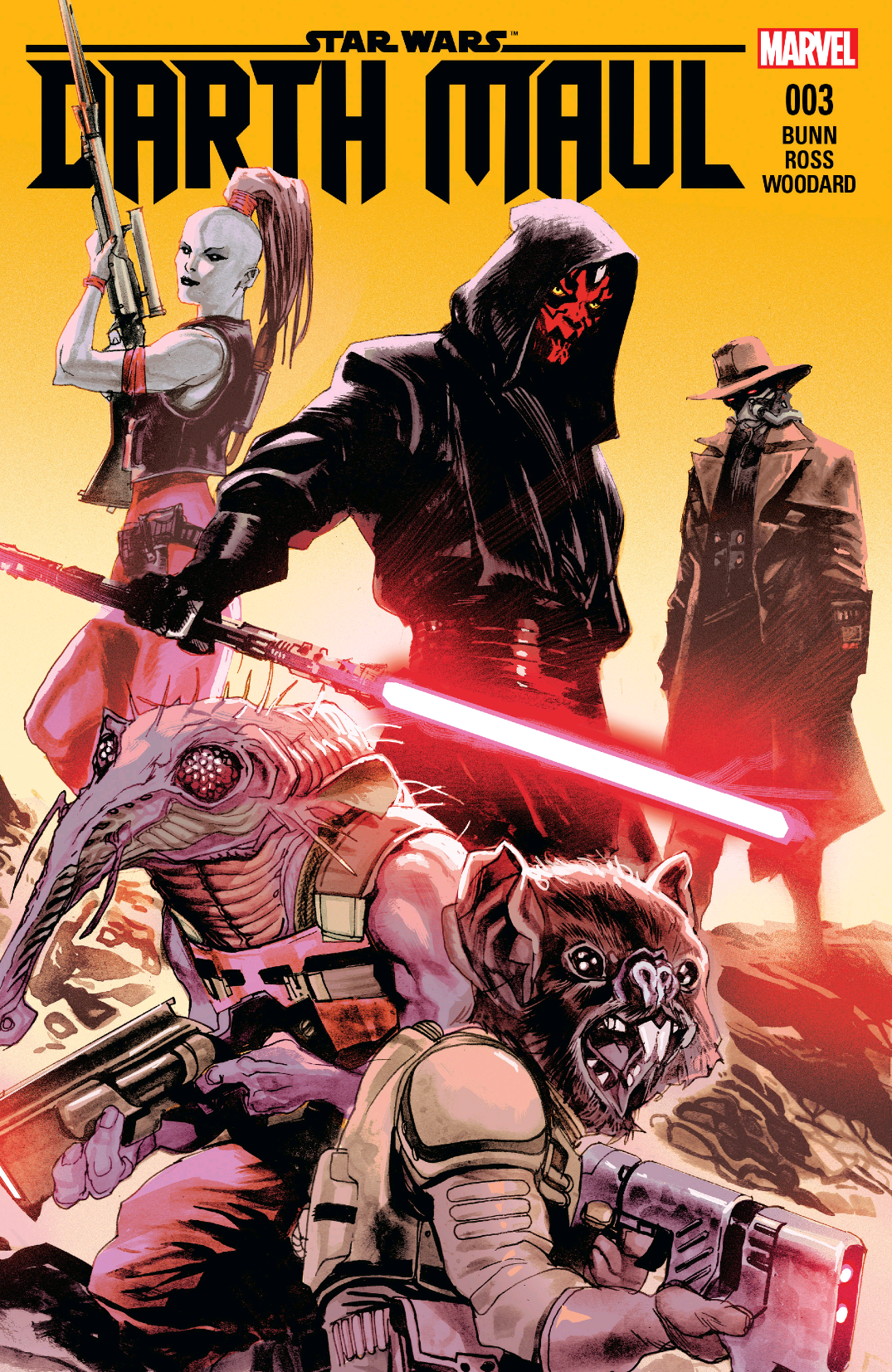 After a pretty solid couple of issues, the limited Darth Maul series continues with its middle chapter – Darth Maul #3 by writer Cullen Bunn (Uncanny X-Men) and artists Luke Ross (Gen¹³) and Nolan Woodard. Spoilers ahead…
Having been forbidden by his master, Darth Sidious, from interacting with the Jedi, Darth Maul has set out on his own secret mission to satiate his revenge against the Jedi. After discovering that a Jedi Padawan has become a prisoner of profiteering gangster Xev Xrexus and is soon to be put up for auction, the Sith apprentice teams up with bounty hunters Cad Bane and Aurra Sing to join the fray of the galaxy's most dangerous crime bosses at the auction.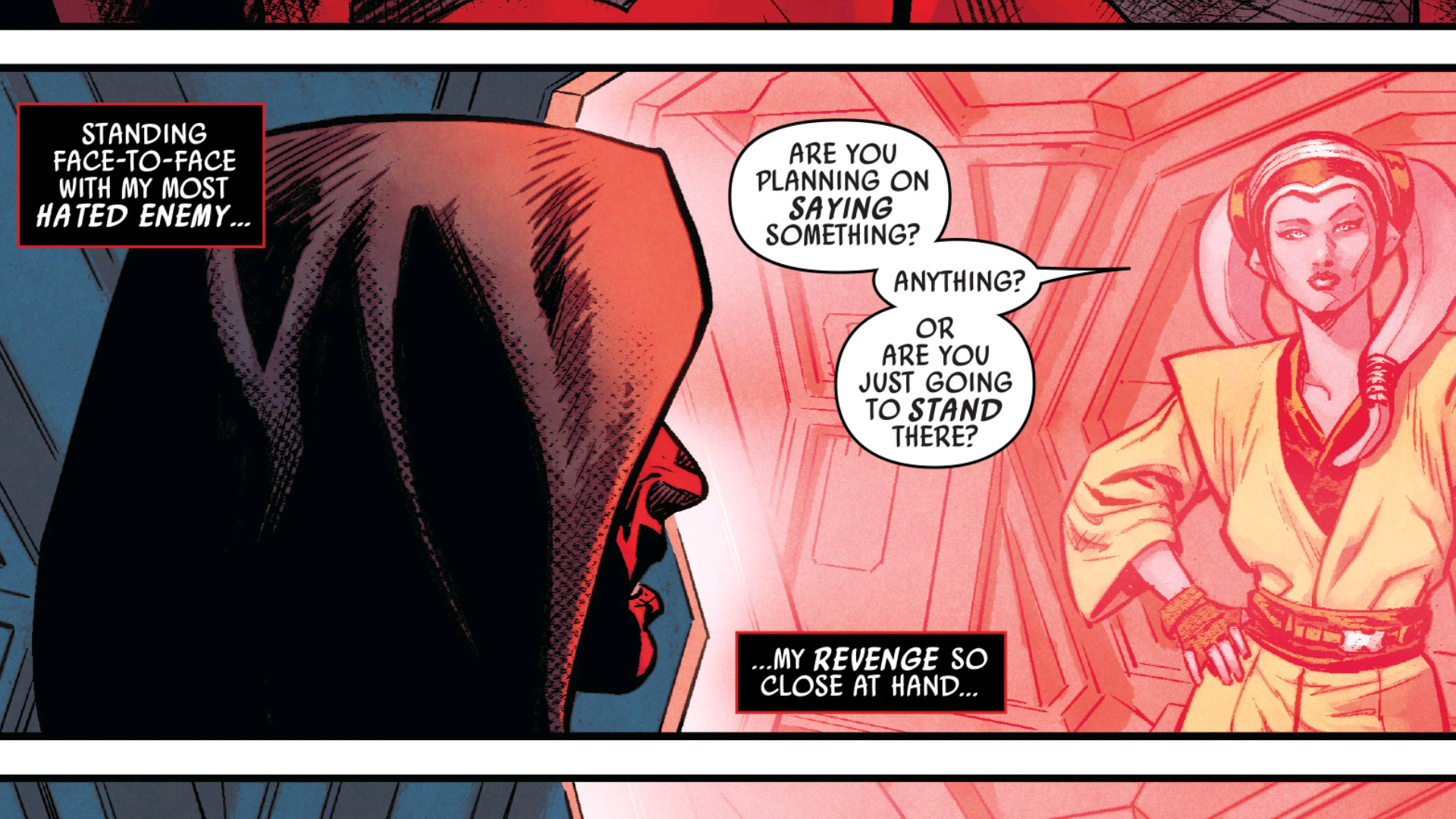 Darth Maul, however, has no plans to purchase the Padawan. Instead, he infiltrates Xrexus' detention area to "rescue" the Jedi. Upon arriving at the cell block, he discovers his quarry – Eldra Kaitis, a female Twi'lek Padawan.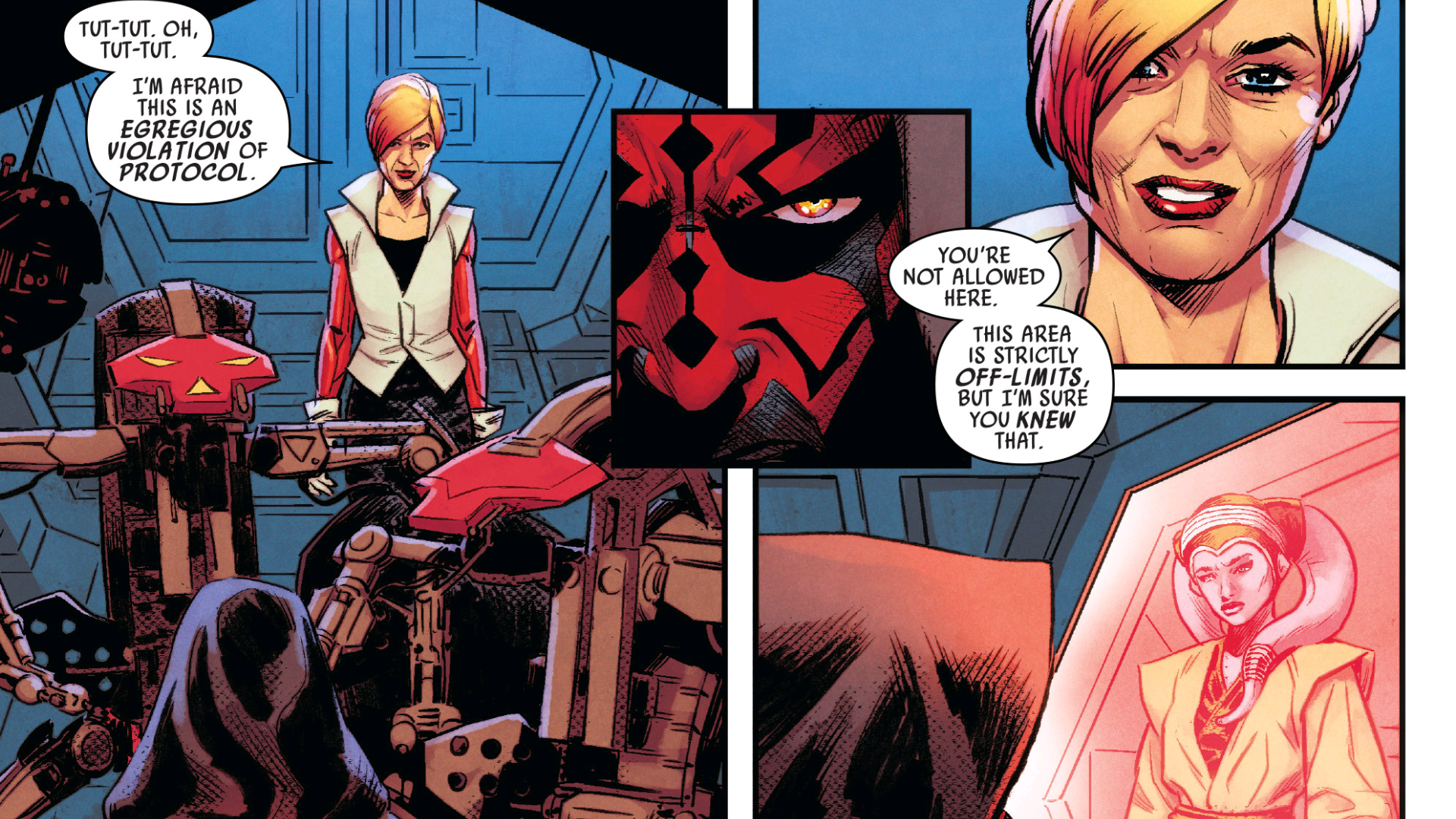 This issue begins at this point with Darth Maul just outside Kaitis' cell. Unfortunately for Maul, Xev Xrexus has discovered his presence and surprises him accompanied by a couple of droidekas. Maul claims that he was just wanting a look at the prize before the auction began and Xrexus lets him off with a warning, admiring his rashness.
His initial plan having been thwarted, Maul now resorts to Plan B – find out whose pockets are the deepest, thus being the most likely to purchase the Padawan, and ambush them at their ship after the purchase. Maul sends Bane and Sing on ahead with the other two bounty hunters to secure the ship of the Moogan crime boss Jee Kra as he stays behind to make sure that Kra indeed secures the purchase.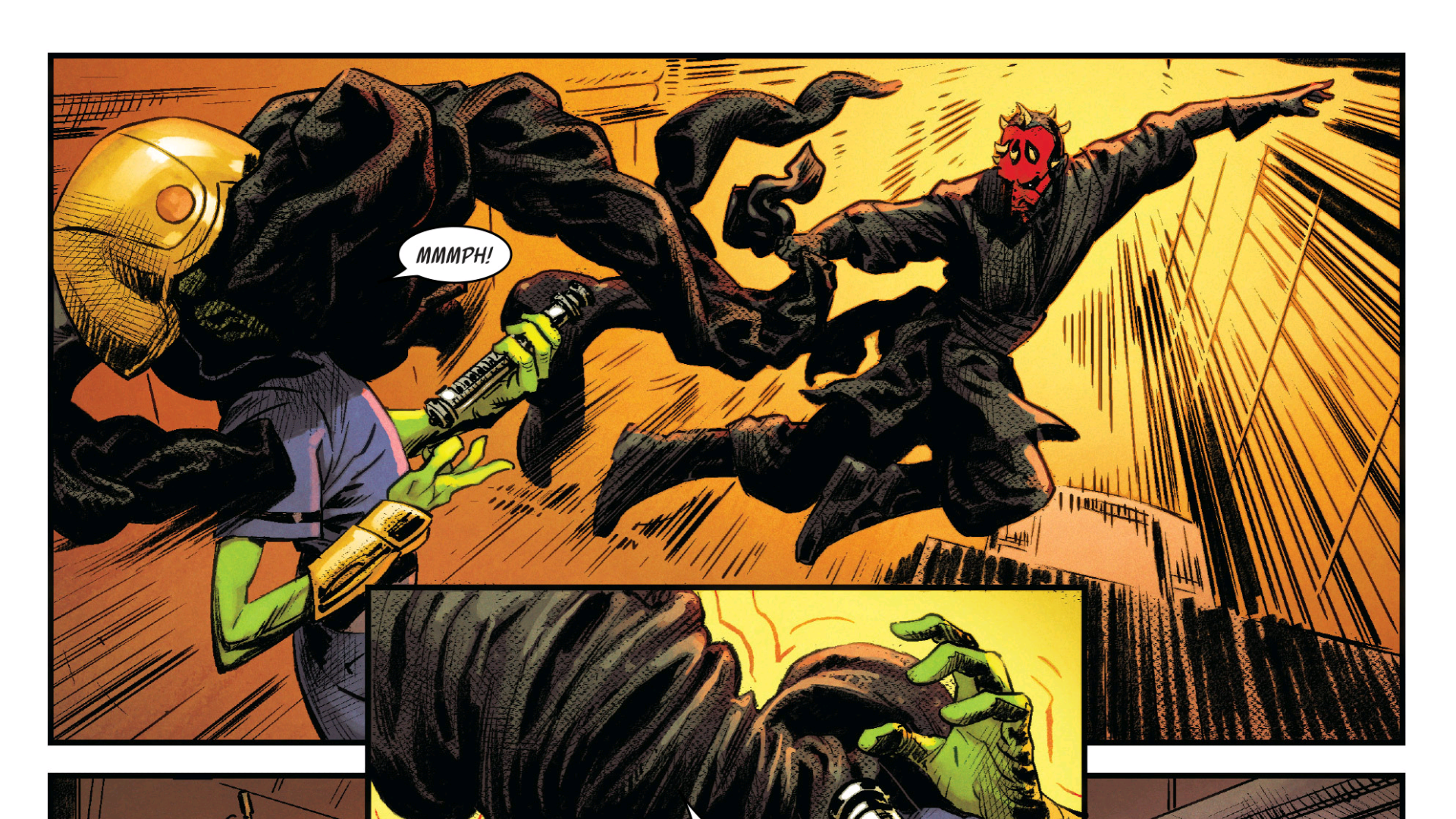 After acquiring the Padawan, the Moogans head back to their ship, only to be ambushed by Maul and his crew of bounty hunters. Maul employs fierce hand-to-hand combat to disable the alien gang, knowing that to ignite his lightsaber would identify his true nature as a Sith to the rest of his crew.
Eldra Kaitis is not fooled however, as she witnesses Maul sling his robe at Jee Kra, using the Force to constrict around his face and suffocate him as he brings down the rest of his gang with physical attacks.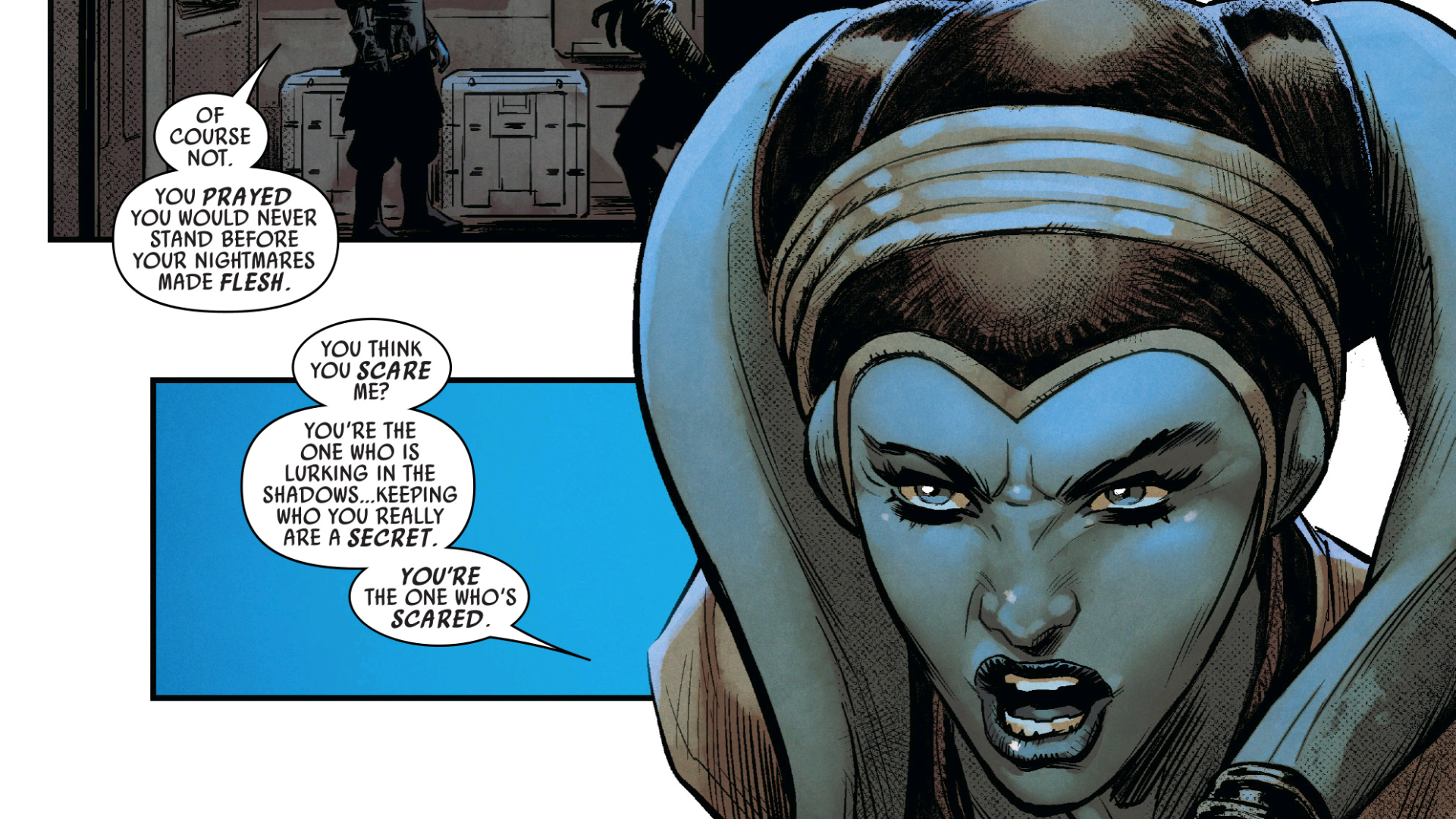 Eldra seems to realize Maul's intentions, and a confrontation arises between the young Jedi and her captor. She accuses Maul of being afraid and challenges him to remove her binders, give her back her lightsaber, and see how his abilities stack up against an equal.
Maul barks that she is in no way his "equal" and promises to meet her challenge when the time is right. The issue concludes with a plot twist as Xev Xrexus reveals her true intentions, disabling Maul's stolen ship and causing it to crash down to the surface of the planet below, proving Bane's assessment correct – "No such thing as easy money."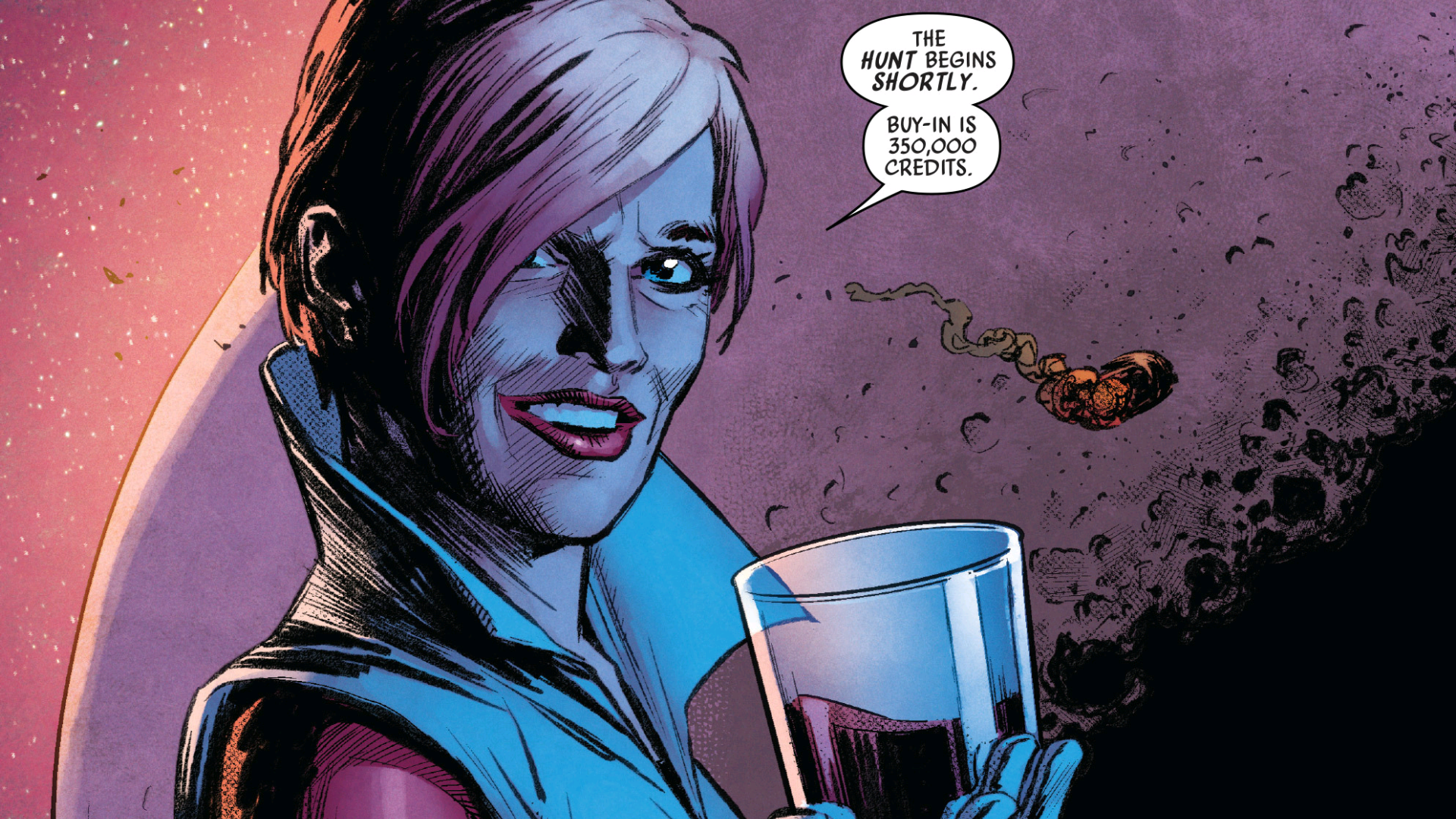 After having sold the Padawan slave for a couple million credits to the Moogans, she now takes advantage of this new golden opportunity, alerting her criminal guests that the hunt for the Padawan has now begun – and the buy-in is 350,000 credits…
I am really enjoying this Darth Maul series – a lot more so than I thought I would. Bunn has worked hard to build anticipation throughout this story arc and has even managed to have a few minor pay-offs along the way to keep the story from growing stale and being all build-up.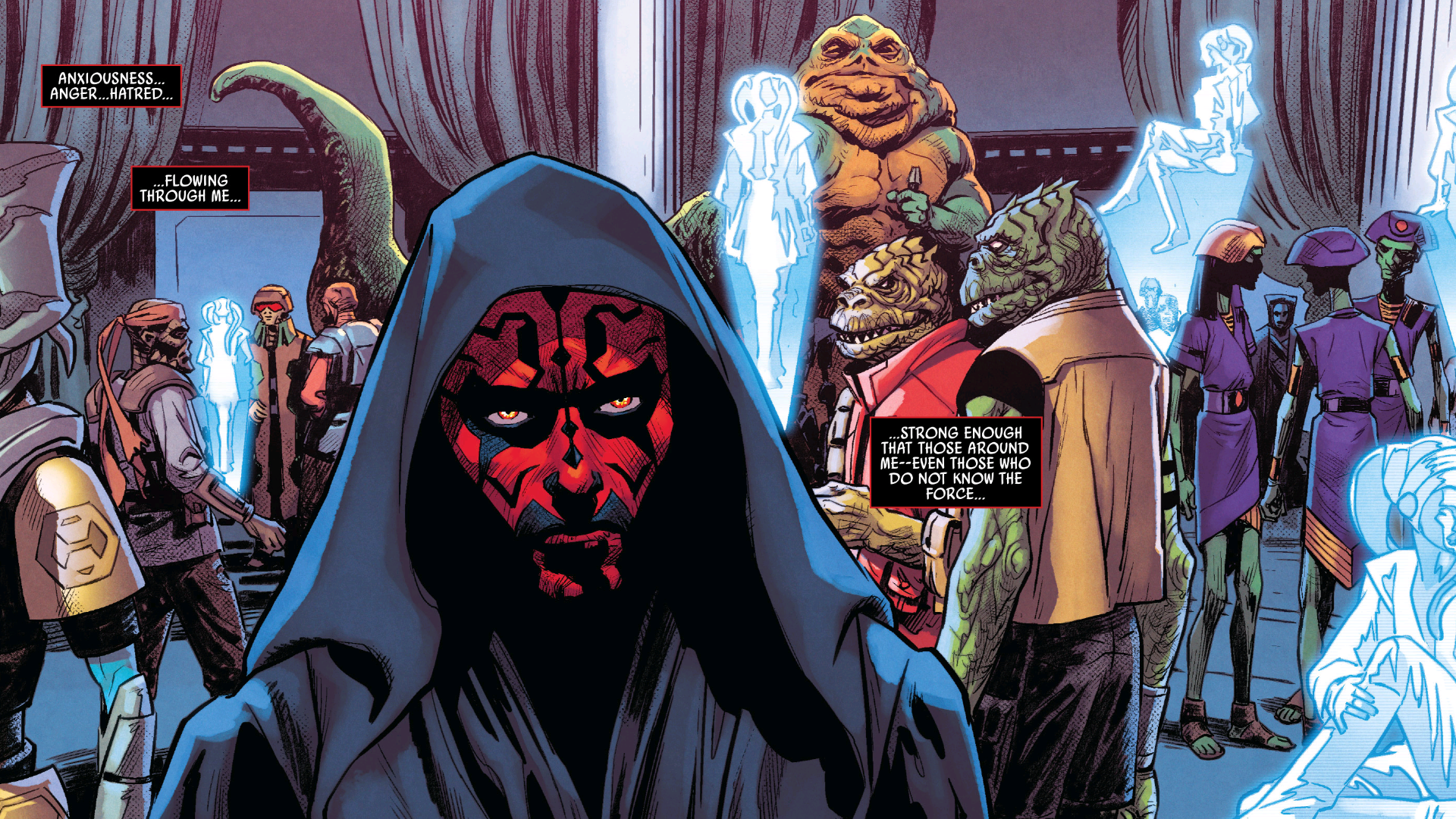 It would have been so easy to write a Maul story that focuses on his athletic and martial prowess with no real substance of character, but that is the exact opposite of what Bunn has done so far with this story. There has been enough action to keep it interesting, but by just giving us brief moments of Maul in action – focusing instead on his motivations and character development – Bunn has created a scenario that should prove truly satisfying in the next couple of issues when all the anticipation comes to a head and the lightsaber ignites once again.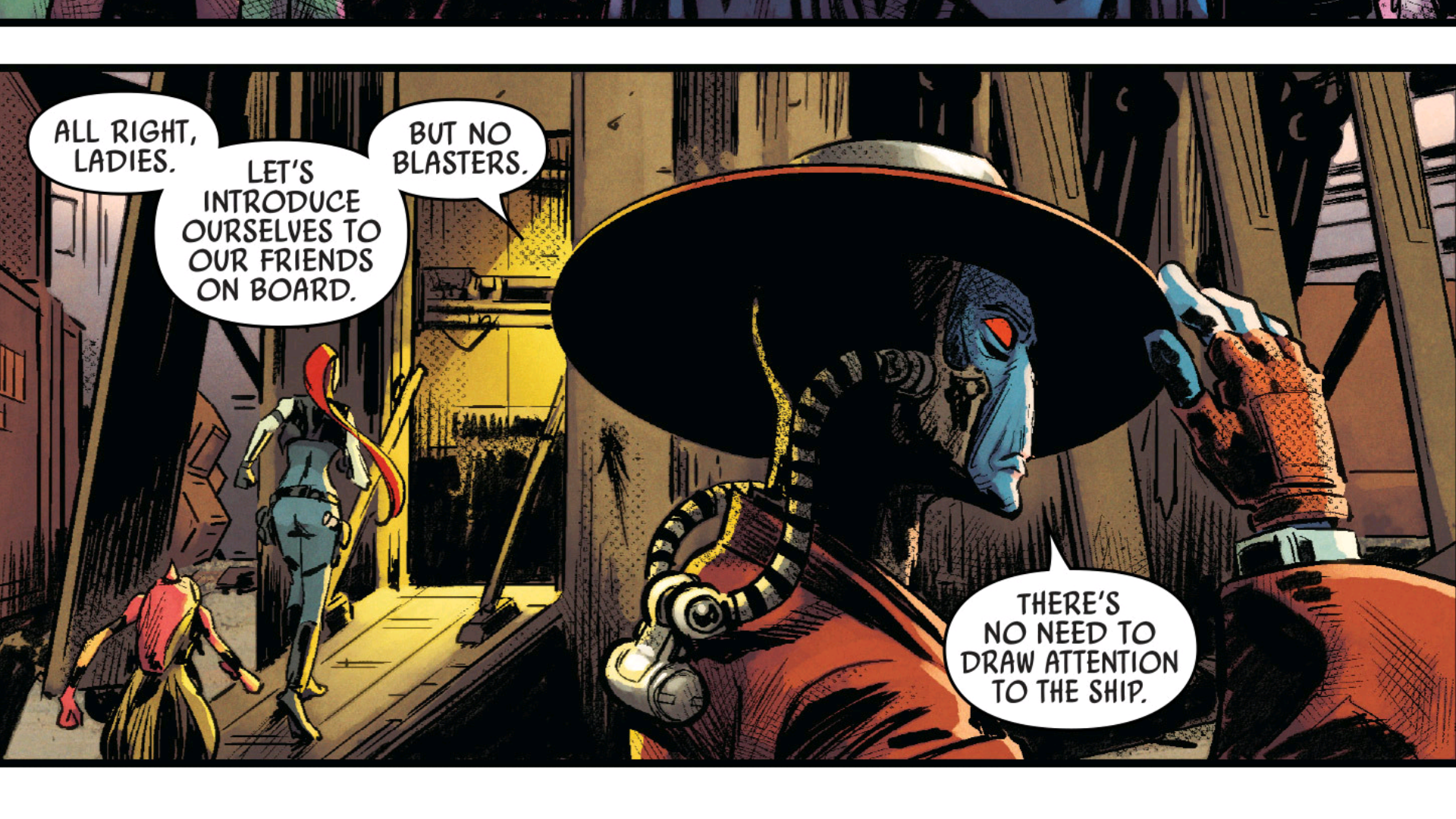 Ross' art continues to compliment the tone of the story quite nicely and Woodard's vibrant coloring is a good fit for this era in Star Wars. I can't wait to read the next two issues to see how it all plays out. There is still an opportunity here to have Maul team up with the Padawan for a time, especially now that they will be fighting for their lives against the onslaught of criminal overlords.
I predict that they will work together, with each gaining some level of respect for the other. But in the end, let's be honest, it's not looking good for the Padawan. There's no way she's making it out alive. In The Phantom Menace, the Jedi were still ignorant of the return of the Sith. So unless she goes dark and joins forces with Maul, I don't see her making it out of this story. But that scenario would bring up even more questions as readers would no doubt wonder about her ultimate fate before Episode I or the Clone Wars.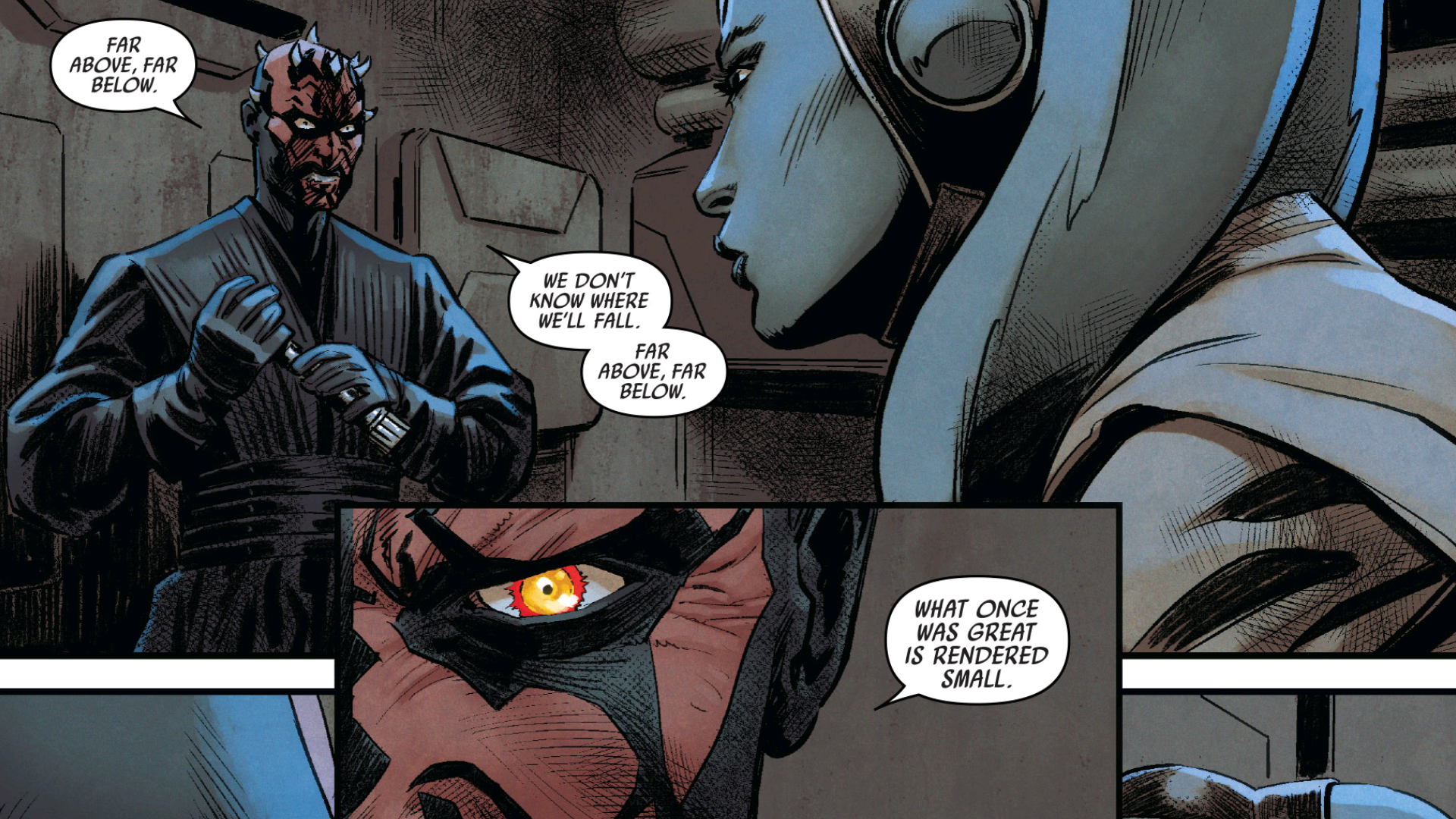 I said all that to say that I don't see the conclusion of this story surprising me much in the end, but that's not to say that I'm not still looking forward to the ride. Darth Maul #3 is available now at your local comic shop or digitally at Comixology.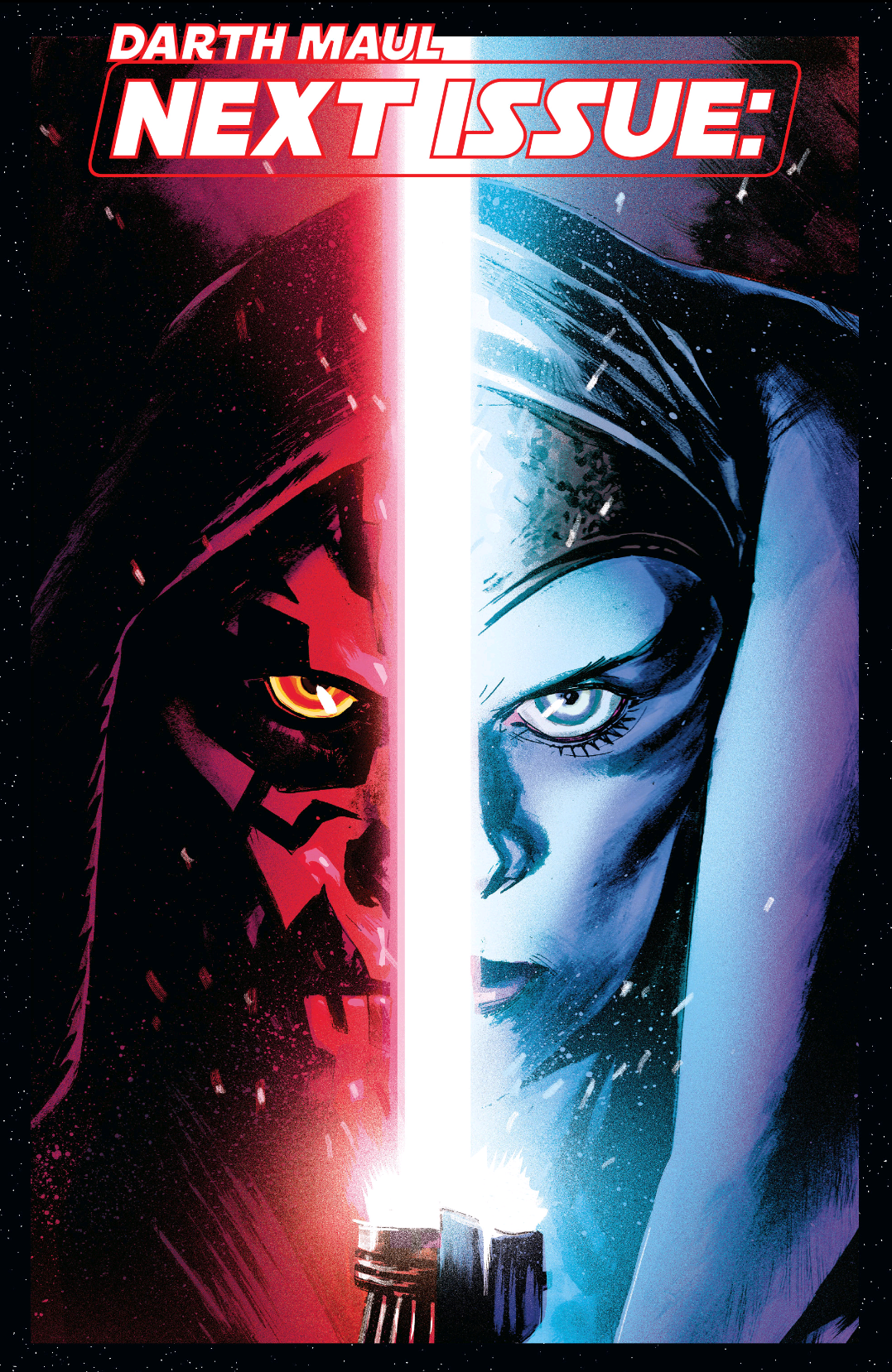 Jordan Pate is Co-Lead Editor and Senior Writer for Star Wars News Net, of which he is also a member of the book and comic review team. He loves all things Star Wars, but when he's not spending time in the galaxy far far away, he might be found in our own galaxy hanging out in Gotham City or at 1407 Graymalkin Lane, Salem Center, NY.