Could Luke Really Have Vader's Saber Crystal in The Last Jedi?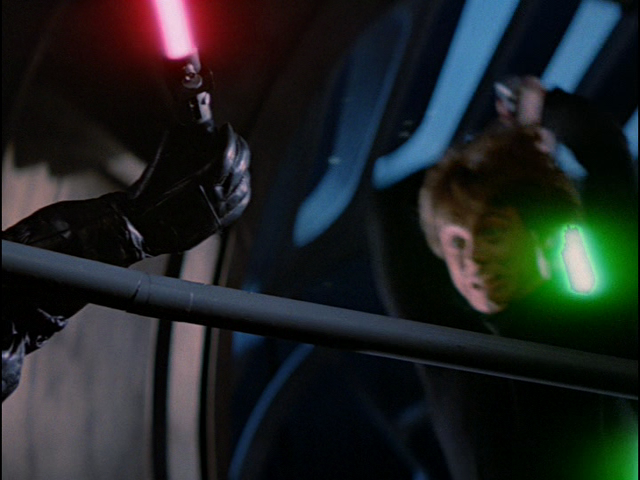 A recent rumor has been going around like wildfire that Luke Skywalker might wear the red kyber crystal from Darth Vader's lightsaber on a necklace in The Last Jedi. I am of the opinion that this is not the case, and so I will try to explain my reasons why in the following paragraphs. It is indeed possible Luke has a red kyber crystal; it is also possible it once belonged to someone powerful, but I am personally confident in saying that it did not come from Darth Vader's lightsaber…
VADER HAS HAD THE SAME RED LIGHTSABER SINCE HE BUILT IT
According to the canon entry on Wookieepedia, Vader built his lightsaber to replace the one Obi-Wan took after defeating him on Mustafar. He then made some exterior (key word – "exterior") modifications to it along the way, up until it's destruction at the end of Return of the Jedi.
"He built the weapon some time after his fall to the Dark side of the Force at the end of the Clone Wars. It replaced the one he lost during his duel with Obi-Wan Kenobi on Mustafar.

Because of the modifications Vader made to his lightsaber over the years, its exterior also changed, somewhat, in appearance. After his accession to Sith Lord, Vader was known to draw his lightsaber when facing Jedi, but also against other opponents, even though he sometimes preferred to use the Force to dispatch lesser victims.

The lightsaber would go on to destroy Obi-Wan Kenobi and cut off the hand of his son, Luke Skywalker. During their confrontation on the second Death Star, Luke would return the favor, cutting off the hand of Darth Vader. The lightsaber then fell into the same energy well in which Palpatine perished."
Now some people will make the argument about how Anakin's lightsaber was destroyed on Geonosis and he built another so why couldn't he have done the same as Vader? You know why? Because the amount of retcon (retroactive continuity) they would need to explain that in The Last Jedi is ridiculous, and I haven't read anything regarding Vader ever losing or destroying his red saber and having to build a new one.
VADER'S LIGHTSABER WAS DESTROYED ON THE DEATH STAR II IN RETURN OF THE JEDI
In the screenplay for Return of the Jedi, it is clearly states that Vader's lightsaber falls uselessly away down the bottomless shaft below.
VADER

Sister! So…you have a twin sister. Your feelings have now betrayed her, too. Obi-Wan was wise to hide her from me. Now his failure is complete. If you will not turn to the dark side, then perhaps she will.

LUKE

Never-r-r!

Luke ignites his lightsaber and screams in anger, rushing at his father with a frenzy we have not seen before. Sparks fly as Luke and Vader fight in the cramped area. Luke's hatred forces Vader to retreat out of the low area and across a bridge overlooking a vast elevator shaft. Each stroke of Luke's sword drives his father further toward defeat. The Dark Lord is knocked to his knees, and as he raises his sword to block another onslaught, Luke slashes Vader's right hand off at the wrist, causing metal and electronic parts to fly from the mechanical stump. Vader's sword clatters uselessly away, over the edge of the platform and into the bottomless shaft below. Luke moves over Vader and holds the blade of his sword to the Dark Lord's throat.
Vader's lightsaber was then destroyed when the Rebel Alliance blew up the second Death Star, making it impossible for anyone to have the crystal or even a piece of the saber.
I am not saying Luke doesn't have a necklace, and I am not saying he doesn't have a red kyber crystal that once belonged to someone powerful, but I am saying that it is not from Darth Vader's lightsaber.
Make sure to check out MSW's article on Luke's necklace here.
What do you think about all of this? Sound off in the comments below and feel free to reach out to me on twitter. You don't need a map, you can find me: @JohnnyHoey
"For my ally is the Force, and a powerful ally it is."
John Hoey is the Lead Editor and Senior Writer for Star Wars News Net and the host of The Resistance Broadcast podcast
"For my ally is the Force, and a powerful ally it is."