UPDATE! Jyn Erso's Backstory to be Told in Upcoming Young Adult Novel 'Star Wars: Rebel Rising' + 'Guardians of the Whills' – New Novel About Chirrut and Baze
Yesterday, Disney Books announced (prematurely it seems as the book information has since been taken down) the upcoming release of the young adult novel Star Wars: Rebel Rising which will chronicle the backstory of Rogue One heroine Jyn Erso. Today, StarWars.com revealed another new novel about the adventures of Chirrut and Base on Jedha before the events from Rogue One. Read on for the synopses and an excerpt from the books.
(from Jedi Bibliothek via Making Star Wars):
"When Jyn Erso was five years old, her mother was murdered and her father taken from her to serve the Empire. But despite the loss of her parents she is not completely alone—Saw Gerrera, a man willing to go to any extremes necessary in order to resist Imperial tyranny, takes her in as his own, and gives her not only a home but all the abilities and resources she needs to become a rebel herself.

Jyn dedicates herself to the cause—and the man. But fighting alongside Saw and his people brings with it danger and the question of just how far Jyn is willing to go as one of Saw's soldiers. When she faces an unthinkable betrayal that shatters her world, Jyn will have to pull the pieces of herself back together and figure out what she truly believes in…and who she can really trust."
Hawk-eyed fans will probably notice that there is a discrepancy in Jyn's age in the above synopsis.  In the movie she was 8 years old when her mother was killed.  This was clarified by LFL Story Group's Pablo Hidalgo on Twitter…
@Vorgon6 No, she was around 8.

— Pablo Hidalgo (@pablohidalgo) January 25, 2017
@StompinSteveB @Vorgon6 Beats me.

— Pablo Hidalgo (@pablohidalgo) January 25, 2017
@sapphy_hime @Vorgon6 Figured. We only read the stuff in between the covers.

— Pablo Hidalgo (@pablohidalgo) January 25, 2017
Also, it should be noted that the cover above seems to be a mock-up rather than the final cover…
Apparently the cover posted yesterday was only a mockup. The right cover is the final version, it seems. https://t.co/1GmgJQlDGz

— Florian B (@germanjedi) January 26, 2017
Click here to read an excerpt from the novel.
The book is set to be released on May 2nd of this year and is written by New York Times bestelling author Beth Revis, best known for her young adult science fiction trilogy Across the Universe.
UPDATE!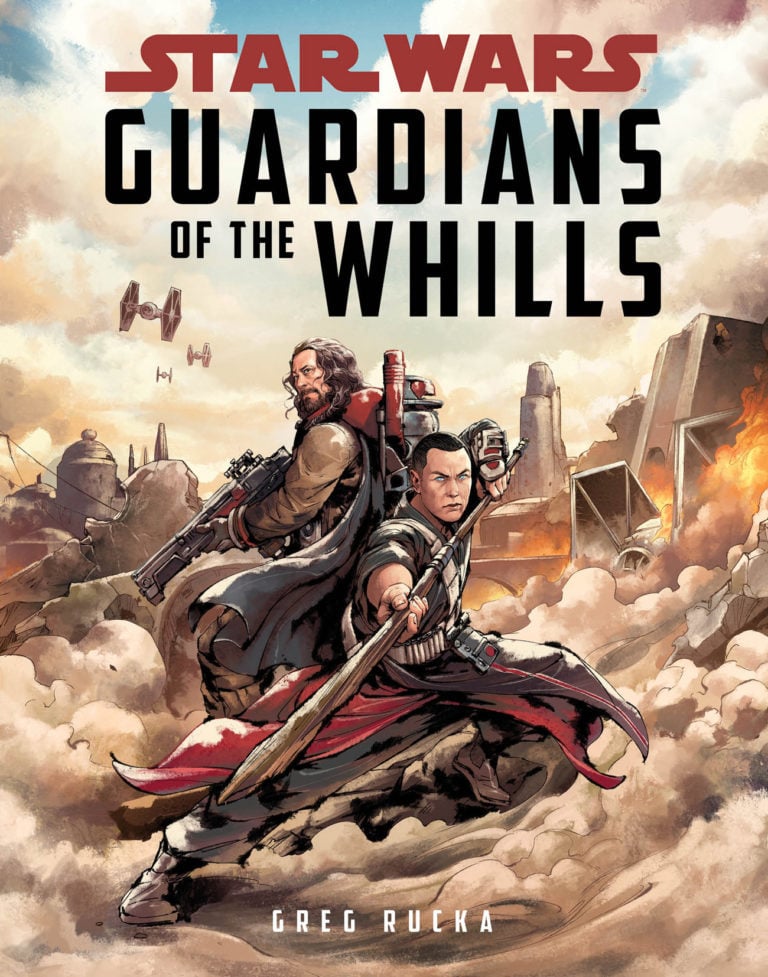 StarWars.com revealed a new middle-grade novel written by New York Times Bestselling author and Eisner-winner Greg Rucka. The novel is titled "Guardians of the Whills", and it will tell the story of Chirrut and Baze after the Empire has taken over Jedha and the arrival of Saw Gerrera.
Here's the official novel description:
Baze and Chirrut used to be Guardians of the Whills, who looked after the Kyber Temple on Jedha and all those who worshipped there. Then the Empire came and took over the planet. The temple was destroyed and the people scattered. Now Baze and Chirrut do what they can to resist the Empire and protect the people of Jedha, but it never seems to be enough. When a man named Saw Gerrera arrives with grand plans to take down the Empire, it seems like the perfect way for Baze and Chirrut to make a real difference and help the people of Jedha. But will it come at too great a cost?
Jordan Pate is Co-Lead Editor and Senior Writer for Star Wars News Net, of which he is also a member of the book and comic review team. He loves all things Star Wars, but when he's not spending time in the galaxy far far away, he might be found in our own galaxy hanging out in Gotham City or at 1407 Graymalkin Lane, Salem Center, NY.