Updated With New Clip and TV Spot! SW Daily Buzz: Jyn Erso Featurette; Two New TV Spots; First Reactions to the RogueOne Footage, Battlefront Scarif and More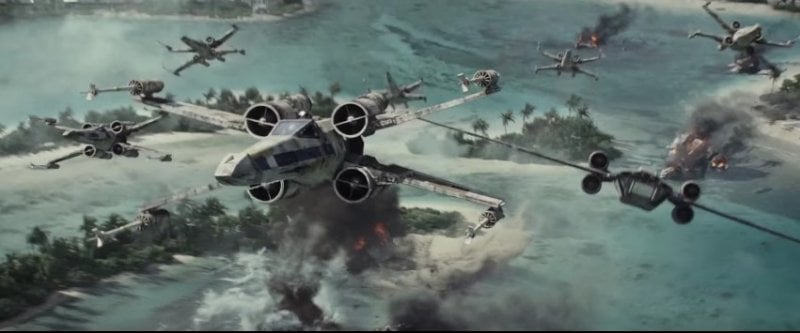 Today on the SW Buzz we have the first reactions to the Rogue One footage screened at Skywalker Ranch, two new TV spots, the Jyn Erso featurette, shown yesterday during the Facebook Q&A and more.
UPDATE!
Here's a new clip and a TV spot with lots of new shots from Rogue One:
First we start with the Jyn Erso featurette that was screened yesterday at the end of the Rogue One live Q&A on Facebook.
As you can see the footage pretty much confirms that camels exist in the galaxy far, far away.
You probably remember that a few weeks ago (here) Felicity Jones briefly spoke about a scene from the movie where "a stormtrooper was sitting on a camel". Back then we speculated that perhaps the camel will be replaced with another alien creature in post production, and yesterday Alan Tudyk pretty much confirmed that during the Q&A event on Facebook, so don't worry about that.
Also we have 2 new TV spots with several brief new shots from the movie. The second one focuses on Chirrut Imwe.
Next we have several reactions posted on Twitter about the 28 minute Rogue One footage that was screened at Skywalker Ranch yesterday. Here's a very good recap of all of them:
😊👍🏻 pic.twitter.com/KTa5Mi1YlN

— Andrew Lupi (@ALupi15) December 3, 2016
Also here's a pretty cool video by Collider's Steve Weintraub from Skywalker Ranch. Don't worry, there are no spoilers in the video.
New Battlefront footage confirms what Jyn Erso was carrying while running from the AT-ACTs from the first trailer:
#RogueOne #StarWars video game footage from SW Battlefront confirms Death Star data tape in Jyn's possession https://t.co/3mTmCnnkh4 pic.twitter.com/SJXGHQaoKM

— SW Rogue One (SWNN) (@SW_ROGUE_ONE) December 3, 2016
Our friends at Star Wars Alert have another great trailer video they compiled on Rogue One. Check it out:
And here are some more Star Wars tweets that are pretty self explanatory. Enjoy:
Original costumes from Rogue One: A Star Wars™ story are now on display in our flagship 311 Oxford Street store! #RogueOneXUniqlo pic.twitter.com/CKjQB3lEJV

— UNIQLO UK (@UNIQLO_UK) December 1, 2016
Diego Luna talks being proud of being a Mexican starring in 'Rogue One: A Star Wars Story' @TheEllenShow! WATCH: https://t.co/UjXLEojN1Z pic.twitter.com/lAvGg1R0oD

— JustJared.com (@JustJared) December 2, 2016
Os figurinos originais de #RogueOne estão aqui na @ccxpoficial! #CCXP2016 #VivaOÉpico #MissãoRebelde pic.twitter.com/A4qtPhm8yg

— Star Wars Brasil (@StarWarsBR) December 2, 2016
Sign up now to see Spaceship Earth become the Death Star at our next Disney Parks blog meet-up! #RogueOne #starwars https://t.co/G1LkB7aZKF pic.twitter.com/gMbSeU3pkO

— Disney Parks (@DisneyParks) December 2, 2016
Our new #StarWars Death Trooper helmet replica is now available and begins shipping before Dec.16th! https://t.co/5VpQhw8KgX #RogueOne pic.twitter.com/gQaLGbta4N

— ANOVOS (@ANOVOS) December 2, 2016
This is what happens when you to to spill secrets at LIM. pic.twitter.com/t8TyDtVXu4

— alan tudyk (@AlanTudyk) December 2, 2016
At ILM. Just saw the movie. Spoiler alert… you know what I should probably shut it. pic.twitter.com/0q1Hz9s2fZ

— alan tudyk (@AlanTudyk) December 2, 2016
Watch #RogueOne Sunday 12/18 at 1:50PM and get these exclusive @RealD3D glasses! Tickets on sale now! https://t.co/PFH9HKynel #regallalive pic.twitter.com/ANEqyM42gP

— Regal L.A. LIVE (@RegalLALIVE) December 2, 2016
Tune in Live at 10am PST right here to watch a livestream with the cast of #RogueOne + this little guy at https://t.co/bLeDCIezuu pic.twitter.com/qOldDNszXW

— Riz Ahmed (@rizmc) December 2, 2016
#RogueOne live: @EW's report on today's Q&A for the new Star Wars film: https://t.co/MwHk2jO4XV pic.twitter.com/qMUpb6tTnp

— Anthony Breznican (@Breznican) December 2, 2016
Wow thank you for everyone's support! #donnieyen #甄子丹 #Hollywood pic.twitter.com/HPnerDbV7R

— Donnie Yen 甄子丹 (@DonnieYenCT) December 3, 2016
Boom. Lay your eyes on the jackets inspired by the characters in #RogueOne: A Star Wars Story: https://t.co/xvCiiW3GAj pic.twitter.com/NlTB5MAgC3

— #TestedTough (@Columbia1938) December 2, 2016
Oscars: #RogueOne, #SuicideSquad, #FantasticBeasts advance in visual effects race https://t.co/TICnEWf8uJ pic.twitter.com/2u6Bmx8v9S

— Variety (@Variety) December 2, 2016
Disney will transform its Epcot landmark into the Death Star to celebrate #RogueOne, which is kind of perfect https://t.co/BbUGKEyqYv pic.twitter.com/ocsAoMDOpd

— CNET (@CNET) December 2, 2016
#RogueOne #StarWars Felicity rates Rogue One as top three in line with the other SW saga films https://t.co/FbrulEJDlC pic.twitter.com/X4zQeIAB0R

— SW Rogue One (SWNN) (@SW_ROGUE_ONE) December 3, 2016
Contributed by @SW_ROGUE_ONE