Kyle's Review: Marvel's Star Wars Annual #2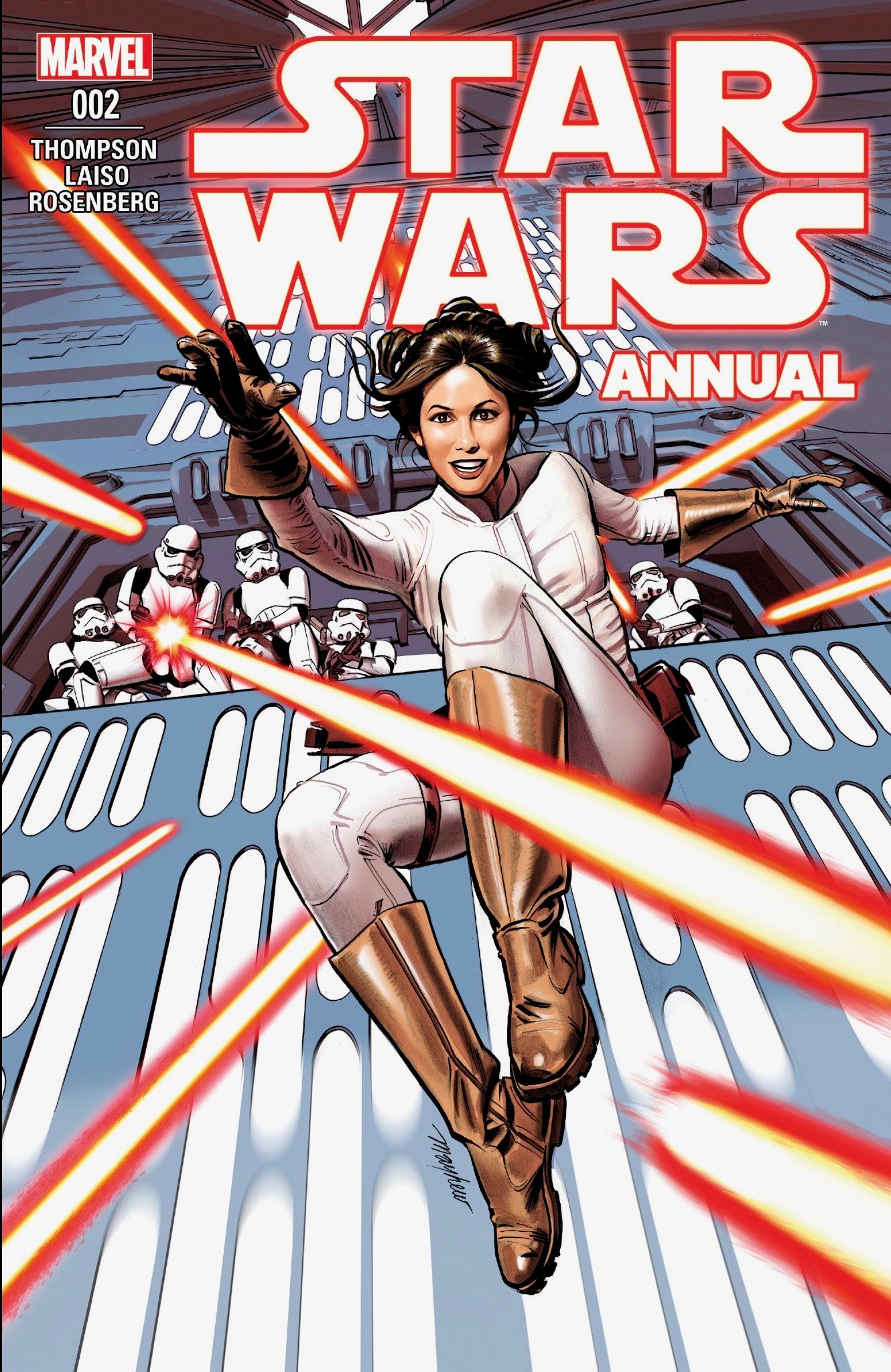 Greetings!  This week Marvel starts it's wrap up of 2016 with our second Star Wars Annual.  This annual features Princess Leia in a tricky situation on a planet we have not yet seen.  Marvel did a great job with last year's annual and the bar was set pretty high for this one.  SPOILERS AHEAD…
Welcome to Skorii-Lei, the planet where our story takes place.  This issue opens shortly after a large battle between the Rebel Alliance and the Empire.  We are never given specifics, other than the planet itself had a primary industry the Empire was invested in, and the Rebels managed to destroy the industry.  By the looks of this wrecked Star Destroyer, I'm guessing the battle did not go so well for the Empire.  If there's a couple complaints I have it's the few details we are given about this battle and a very intriguing planet.  We don't see a lot of coastal cities in the Star Wars Universe, and the striking opening page you see above makes me want to dig deeper into the story behind what looks to have been a pretty intense battle.
Meet Pash Davane, more commonly referred to by the locals as "Bash", because of the physical conflicts she's been drawn into and won.  Pash was once an engineer in whatever the primary industry of Skorii-Lei was.  Now, she's something of a janitor, cleaning up the wreckage of a battle she had little stake in, other than it took place on her home planet.  Right away we are given a look at what many inhabitants of various theaters in the war of the Rebel Alliance versus the Empire must have been thinking; they see little distinction between the two, and they just wish the galaxy would stop fighting.  Pash shares this sentiment, but not in a pacifist way, more of the practicality of wanting to continue her life as it was before a Star Destroyer crashed on the edge of her town.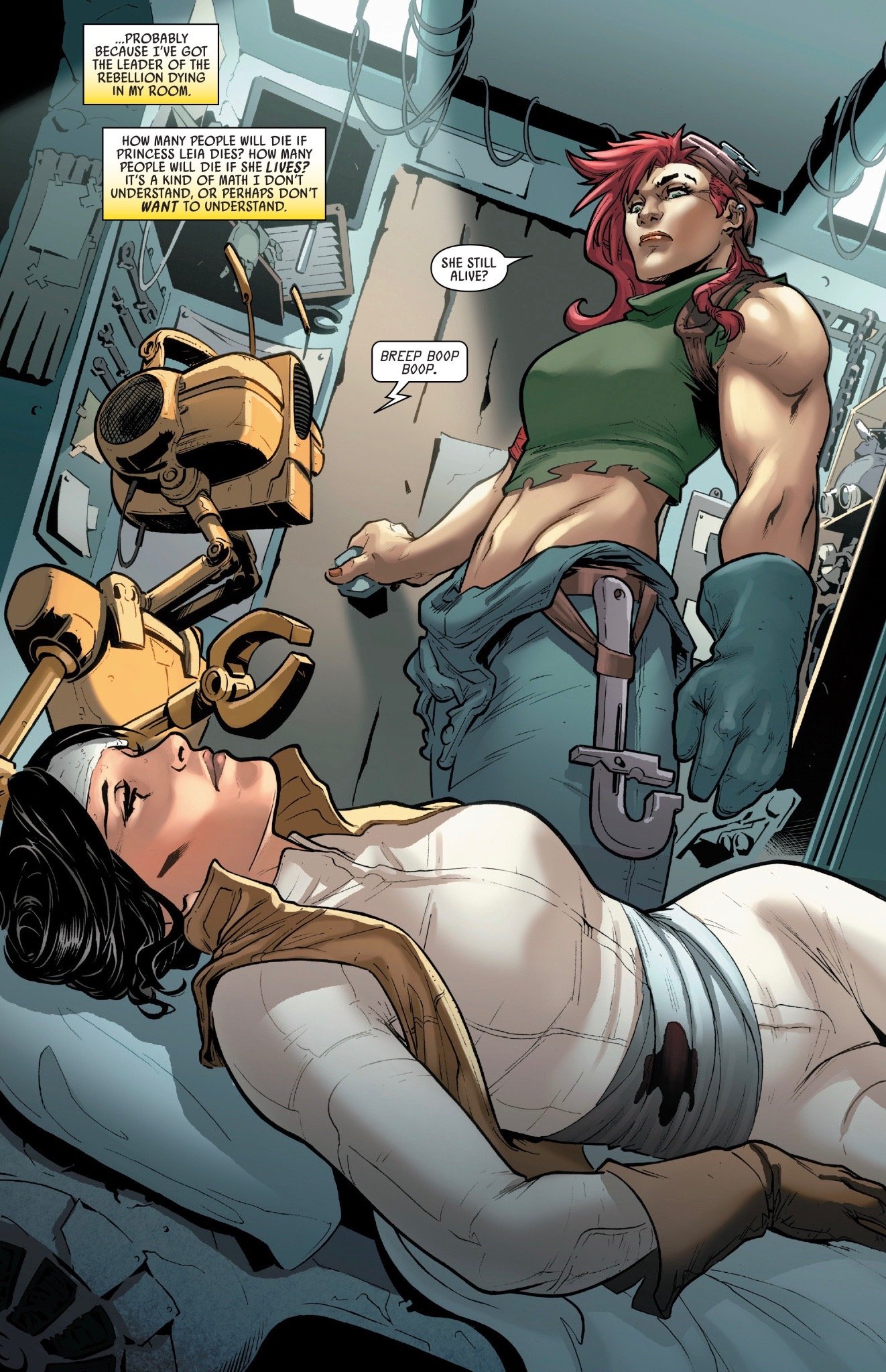 Only Pash is in a lot deeper than other inhabitants of Skorii-Lei.  She found something in the wreckage of the battle other than debris, she found a nearly drowned Leia Organa.  Pash knows exactly who Leia is and how she is currently the most wanted Rebel in the galaxy.  That makes me think this story takes place not too long after the Battle of Yavin, when Leia was the only Rebel in the galaxy the Empire pinned the destruction of the Death Star on.  Pash has kept Leia alive, not quite sure what to do with her, and makes more preparations of what to do with the potential corpse of the princess.

As Leia gets closer to death's door, Pash makes a decision to try and keep Leia alive rather than let her slip away.  She ventures out for medicine to see that not only are Storm Troopers swarming her planet in search of the fugitive princess, bounty hunters have also joined the game.  Pash realizes her nursing of Leia could cost her imprisonment or death and that those two consequences are coming much faster for her than perhaps she initially planned.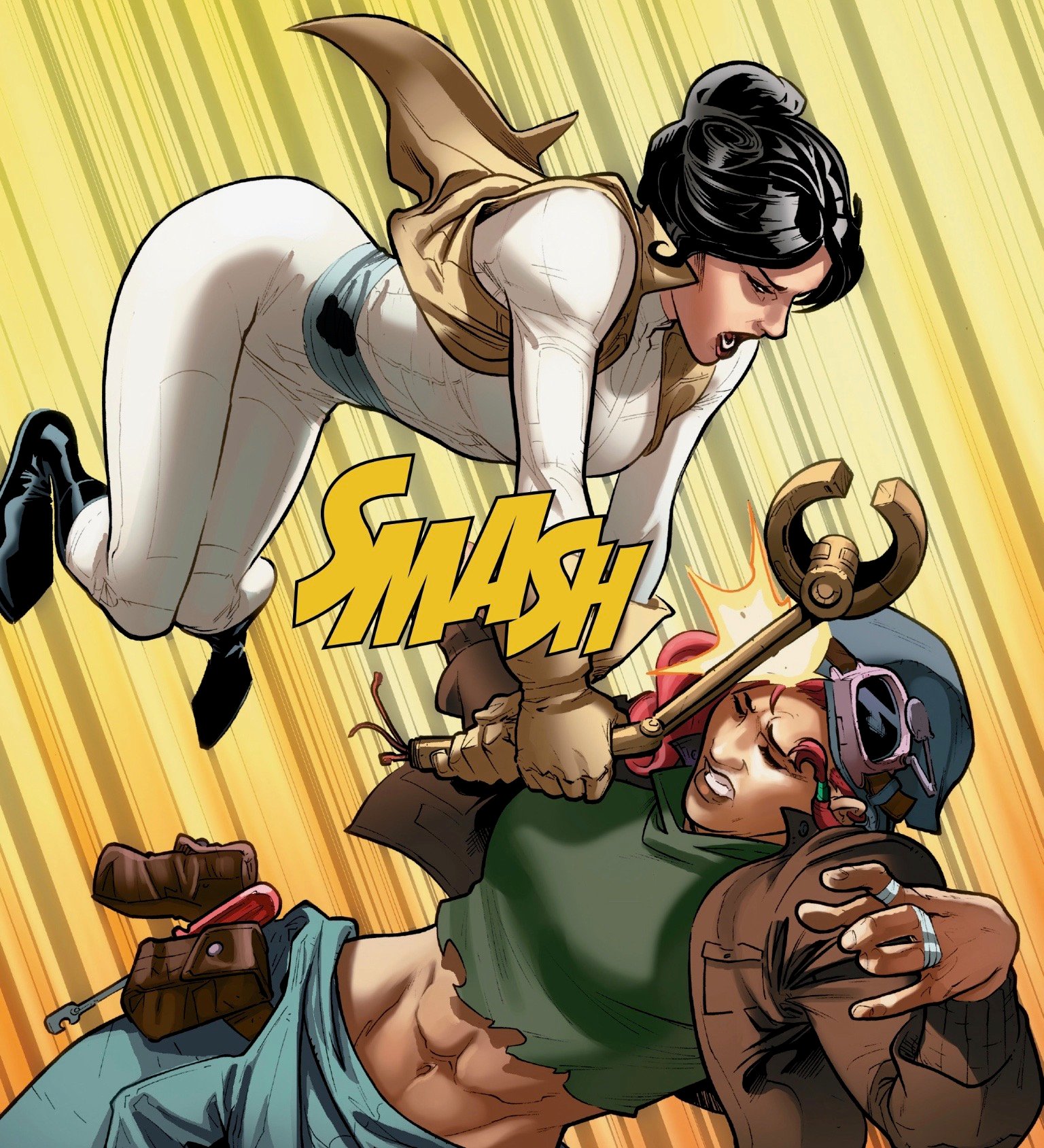 As soon as Pash returns to her home she discovers Leia is awake.  Leia is certainly nowhere near recovered from her injuries, but she manages to take out Pash and gain the upper hand.  In their first introduction, Leia and Pash do not like each other at all.  Leia did not appreciate overhearing the aloof discussion Pash and her droid, Bruce, had about how they go about disposing her corpse.  It doesn't take long for the two of them to realize the mess they are both in.
As the two of them discuss what to do next, we learn that Pash was an underwater miner and that's how she rescued Leia.  Leia reveals that she is on the wrong side of the bay we see the Star Destroyer crashed on.  The princess needs to reach the other side of the bay for her extraction, which will ensure the delivery of vital information to the Rebel Alliance.  The underwater miner has an idea about a discreet way to get Leia to her extraction point.
Just as Leia and Pash get their underwater gear ready, the bucketheads come a knockin'.  This is the last chance for Pash to turn Leia over to the Empire.  Pash has maintained a neutral moral outlook on the Empire versus the Alliance.  The only reason she wants to help Leia, up until this point, is to get rid of her.  Pash certainly didn't want Leia to die on her watch and recognized keeping the princess alive up until this point was a responsibility she accepted when she rescued her from the wreckage.  Pash realizes there is a chance she could still get out of this mess if she turned the fugitive Leia over to the Empire.
The moral dilemma of whether to turn Leia over to the Empire does not last long for Pash at all.  She quickly demonstrates how she got her nickname after she beats the holy hell out of both Stormtroopers.  From this point forward, Pash goes all in on helping Leia escape.  The issue really gets going from this point forward.  The first half of the book is good, but I love the chase that ensues after Pash and Leia start working as a team to get Leia across the bay to her extraction point.
The chase is on, and I would like to take a moment to admire the great art in this issue.  The collaboration of artist Emilio Laiso and colorist Rachelle Rosenberg is on point with some of my favorite art of the Marvel SW titles.  Laiso's only previous SW work was on the Shattered Empire series and this is Rosenberg's first title.  Bravo to both of them on their fine work in this issue.  I particularly admire Rosenberg's choice of color scheme on the exteriors of Skorii-Lei, as I think a prime example is in the above frame.  The sunset as the backdrop of this grand escape is stunning and I think this annual really delivered on the artwork.  I hope to see Laiso and Rosenberg in future titles.
As we reach the pitch of the action, we get a brief interlude of Leia's thoughts on her home planet's recent destruction, as well as the conflicts she has regarding her own role in the Rebel Alliance.  With the great artwork of this issue, we also get some great writing from Kelly Thompson.  Thompson does a great job fleshing out the grief that still weighs on Leia about the sacrifice she lead the people of Alderaan to and what she feels she must do to make sure it's not in vain.  As much as I hope Laiso and Rosenberg will be back at work in future Star Wars titles, Kelly Thompson would be great at the helm as well.  I know we've heard Leia's conflicted thoughts in her role as a leader in the Rebel Alliance, but Thompson's words are by far my favorite of what's come before.

As promised, Pash takes Leia on an underwater swim across the bay.  It's another environment on Skorii-Lei we just get a glimpse of and it left me wanting a bit more.  The chase itself continues when some bounty hunters track them down and do some underwater swimming.  Pash is used to the precarious environment, so she manages to deal with them rather quickly.  I only wish we could have seen some sort of badass, Imperial submarine in pursuit of the duo.  The underwater portion of this chase is over far too soon, in my opinion.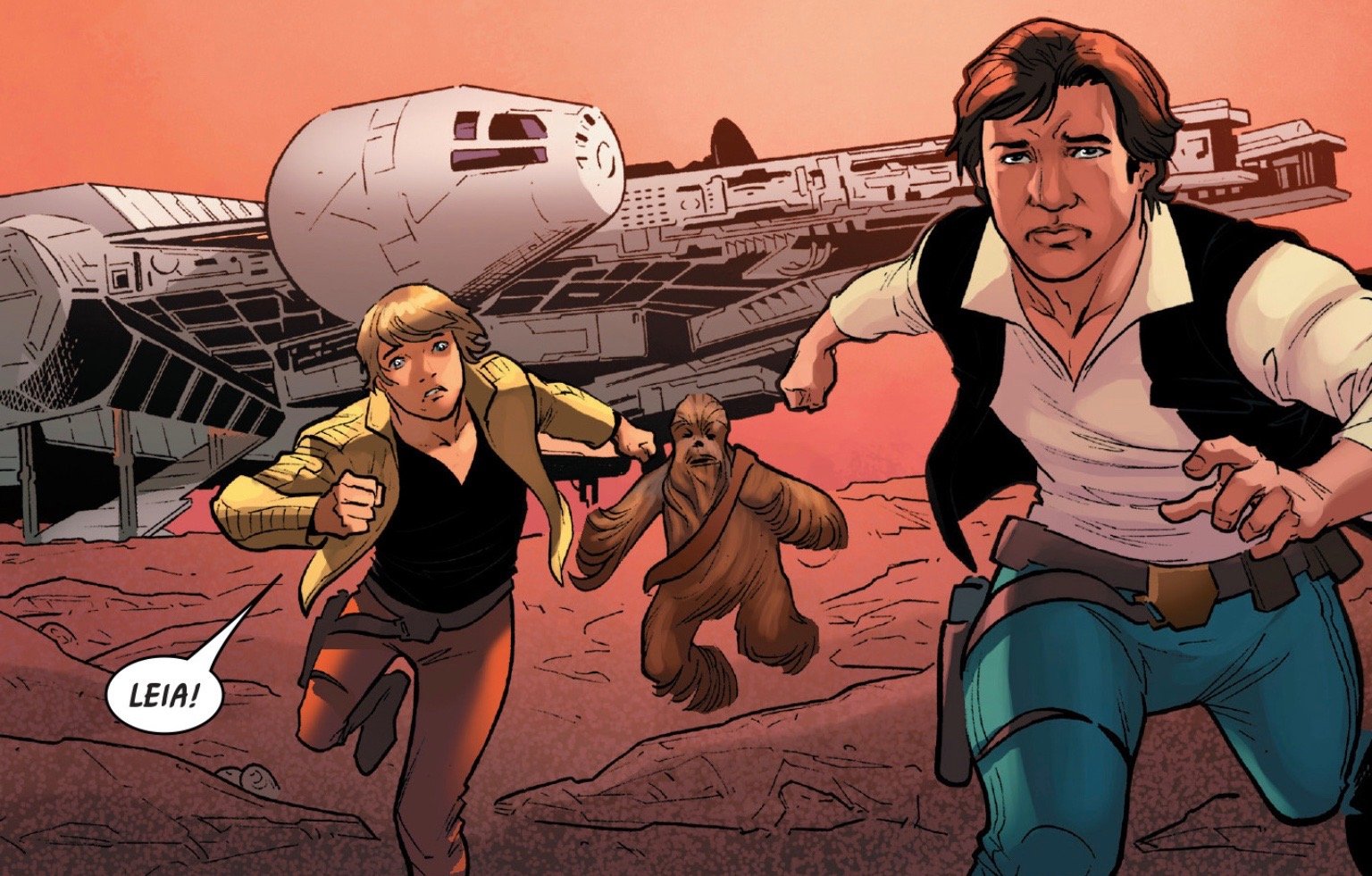 There's no other ship and crew I'd expect to extract Leia than these three and the fastest hunk of junk in the galaxy.  Despite Han, Luke, and Chewie showing up, the spotlight barely shifts from the dynamics of Pash and Leia.
Right here, these are the kind of moments between Han and Leia that have sorely been lacking from Marvel's SW titles.  I want to see that they are not adversaries, but that there is a friendship that lead to that kiss in the bowels of the Millennium Falcon.  These kind of moments that set-up the moment Leia professes her love for Han as he's about to meet a very uncertain and ominous fate in Cloud City.  This frame is something I hope we see more of in future titles.  We all get it that Han and Leia have a tempestuous relationship that is at most times adversarial, but I think it adds so much to the love and loss we see them face throughout the saga when we get a glimpse of more moments that built the foundation their love rested upon.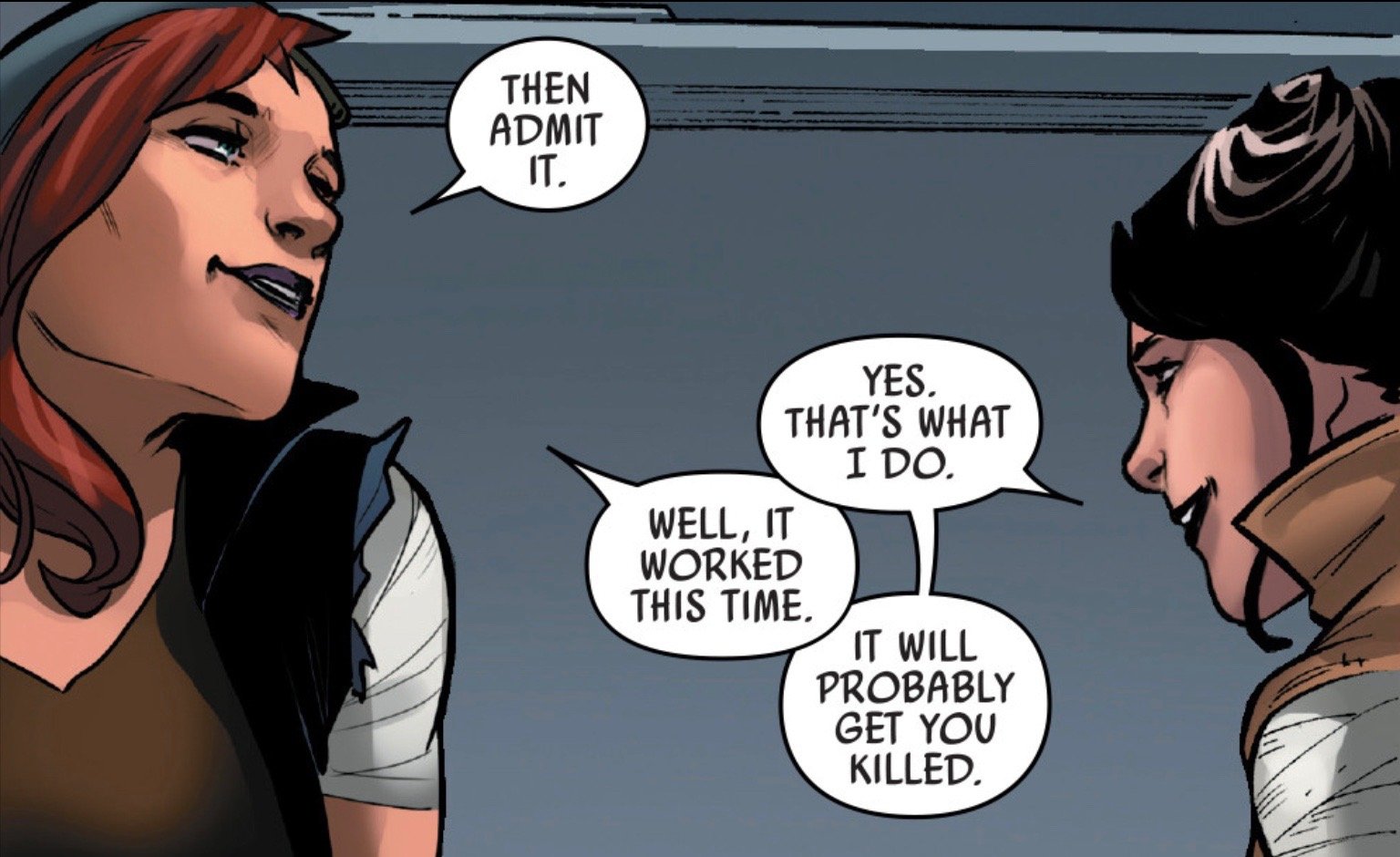 Once aboard the Millennium Falcon, Pash Davane is at a crossroads.  Yes, there is no going back for the former engineer, but she doesn't HAVE to join the Rebel Alliance.  I'll let you find out her decision for yourself.
If the Star Wars annuals have done one thing consistently so far it's their introduction of great characters.  Sure, Pash isn't quite as mysterious and grand as last year's introduction of spy Eneb Ray, but she's just as interesting.  Pash Davane would be a great character to pop-up in future titles, whether they be comics or novels, even films.  Now that I know she's out there in the Star Wars Universe, I want more.  She's got the brains and the muscle to be a formidable asset to whomever she fights for, so let's hope this is not the last we see of her.  If you're listening, Lucasfilm Story Group, give us some more Pash Davane, please.
This annual is well worth your time and money.  As I mentioned before, the artwork and writing are great, and you get an individual story pertaining to Leia Organa that has a clear beginning and end that are satisfying.  The only reason I point that out is because Marvel's Princess Leia series started out so strong only to go completely off the rails by the end of it's run.  This issue feels like it's the story we should have gotten to begin with, and who knows, maybe this was Marvel's way of making that right.  If any of you remember how good those first issues of Princess Leia were, this is right up there and if you enjoyed them you will love this.
Another year of Star Wars comics, another great annual to put a cap on a great 2016 for Marvel's contribution to the Star Wars Universe.  We still have a few more issues and a little film called Rogue One, but I think it's safe to say 2016 was another great year in Star Wars storytelling.
This issue is available at your local comic shop or digitally through comiXology.
Kyle Larson lives in Portland, Oregon. When he's not running trails, he's reading and writing.