UPDATE! EW Reveals Details on Wheel-Shaped Space Station Over Scarif + New Magazine Covers and 15 Photos for Rogue One!
Have you been wondering about that big wheel in the sky that the X-wings are seen attacking in the Rogue One trailer?  Well, you're not alone.  Entertainment Weekly's Anthony Breznican gives us the scoop on the name of the installation as well as its purpose.  Also, check out the new covers for EW's special Rogue One issue that hits the stands on Tuesday! Also EW revealed 15 new photos from the movie…
(from Entertainment Weekly):
What you're looking at is the Shield Gate, and the world below is Scarif, a tropical planet that is one of the Empire's key military bases. Think of it as a galactic Los Alamos, the top-secret desert town where scientists and engineers built the first nuclear bomb during World War II.

Scarif is a gigantic version of that — a remote weapons development facility that is so precious to the Emperor that the entire planet is covered by an impenetrable force field.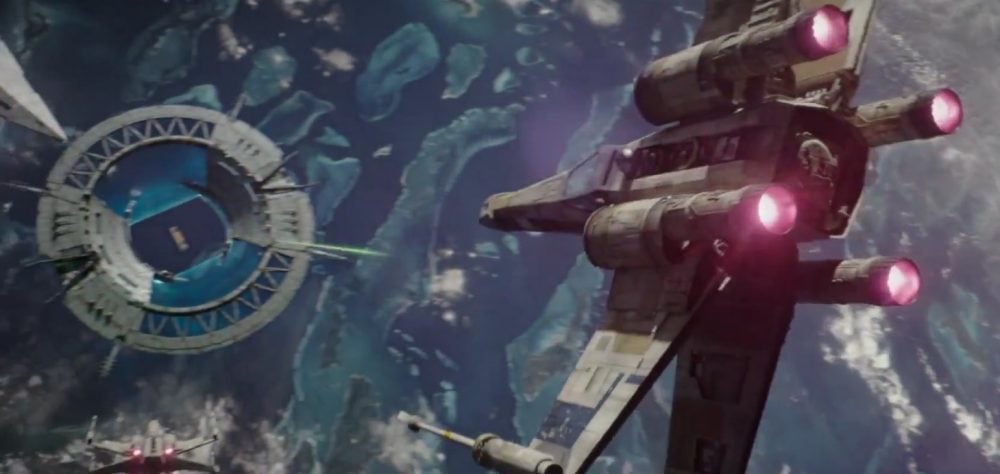 "You can see the blue sheen surrounding the entire planet," Rogue One co-producer John Swartz says. "The shield gate is the security. As Imperial ships and cargo comes through, it punches a hole in the shield so they can pass. The gate officer gives clearances as they give out their call signs."

Scarif is a key part of what the filmmakers call "the Imperial security complex," he added, making it the home base of Ben Mendelsohn's Director Orson Krennic, head of the Empire's special weapons division.

"It's part of their military industrial complex. It's not necessarily where the Death Star was constructed, but a lot of military research goes on there," Swartz says. "That's why Krennic spends time there. It's the site of research, structural engineering, munitions and manufacturing, all rolled into one facility."
And now for the covers: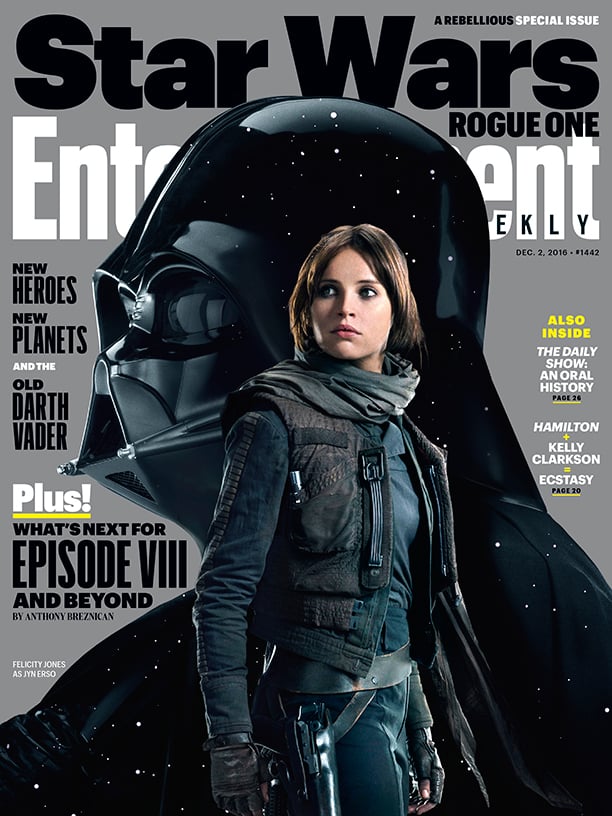 EW's cover story will feature a conversation with the movie planning team about a meeting in January to mark out the future of the franchise beyond Episode IX. They also spoke with Rogue One's composer, Michael Giacchino (Doctor Strange, Up), wherein he described his musical contribution as "the galactic version of World War II music".
EW's Rogue One special hits the shelves tomorrow.  Also, be sure to check back later as they promised to drop some more exclusive photos from the movie.
UPDATE!
EW also shared 15 new photos from Rogue One with some interesting new details about the movie.
Senator Jebel (Jonathan Aris, of Sherlock) in red and grey; Senator Vaspar (Fares Fares, of Tyrant and Zero Dark Thirty) in blue; and Senator Pamlo (Sharon Duncan-Brewster, EastEnders and Bad Girls) in gold. In the foreground with her back to the camera is the leader of these leaders: Mon Mothma, played by Genevieve O'Reilly (Glitch) who is reprising the role from the prequels.
Andor is like a CIA field agent, and this man, Tivik, played by Daniel Mays (The Infiltrator, Atonement) is one of his underworld connections to the insurgent group led by Saw Gerrera (Forest Whitaker). "He is one of Cassian's contacts on the moon of Jedha," says co-producer John Swartz.
With the Empire at peak strength, so is Darth Vader (again voiced by James Earl Jones.) But this time he is a threat not just to the Rebels but to Imperial special weapons director Orson Krennic (played by Ben Mendelsohn.) "There are military men who are interested in a really effective piece of military hardware, and Darth Vader is a little bit beyond that, right?" says Kiri Hart, Lucasfilm's head of story development. "He's tapped into something on another level, on a spiritual level. So, that's part of the fun of Vader in the context of the Imperial Military. He's got a broader perspective."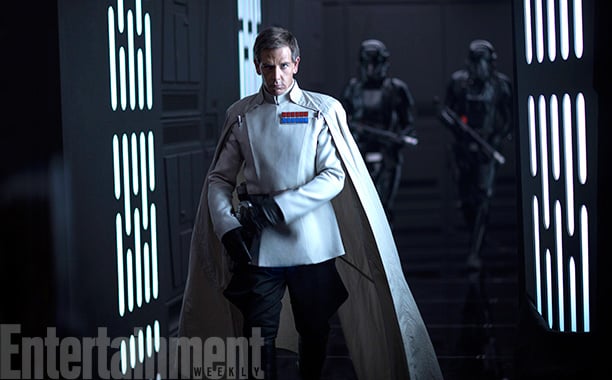 Krennic has a lot to prove. The Emperor has invested a great deal in the Death Star, and it has taken much longer than expected to develop. Vader is the enforcer, responsible for spurring it along, but he harbors doubts — not just about the planet-destroying laser, but about the man who is responsible for perfecting it. "Here is the thing about Krennic: his perspective obviously is that of a person who doesn't understand the Force," says Hart. "And Darth Vader comes at everything from the perspective of understanding the Force. So that I think is the thing that you see sort of separating Darth Vader from other characters with regards to a super weapon like this."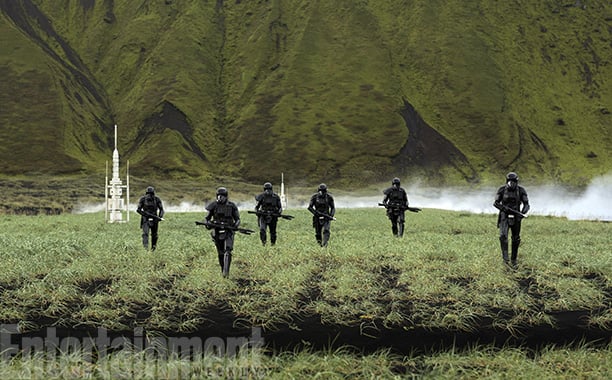 Krennic has a long history with Jyn Erso's father, Galen (played by Mads Mikkelsen), a scientist who is an expert at manipulating kyber crystals — which are the key element in the making of a lightsaber blade. They were once friends, and Krennic sponsored his research and protected his family. But the Imperial weapons chief sent his Deathtrooper commandos to capture Galen when he fled to avoid working on their weapon of planetary destruction. This is the world the Ersos retreated to: Lah'mu.

"It's meant to be a fairly secluded world," says Swartz. "We shot it in Iceland, at a place where there's beautiful black sand and green mountains poking through. The family went into hiding to a world where you wouldn't normally have a farm, but that's as far as they could get from Galen's past life."

It's named after Laamu, one of the real-life tropical locations in the Maldives where Rogue One shot scenes for the planet Scarif. The filmmakers liked it so much, they named another world after it.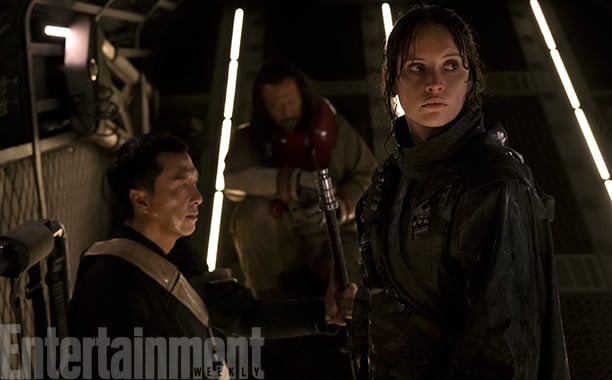 After an encounter on the storm-stricken world of Eadu, Jyn Erso rides aboard a starship with two key members of her commando squad: the blind, Force-faithful warrior monk Chirrut Imwe (Donnie Yen) and his pal and protector, the machine-gunner Baze Malbus (Jiang Wen). Rogue One is crafted as an extreme underdog story, with the Rebels outgunned, outmanned, outnumbered and outplanned.

"In many ways, the Rebels don't have a leg to stand on," Jones tells EW. "They're a motley crew, they all have had difficult backgrounds. They're all outsiders in some way, and they're coming together to fight something far bigger than them, more efficient. The Empire is wealthier, and it has everything the Rebels don't, so the odds are definitely stacked against them."
Donnie Yen's Chirrut Imwe is not a Jedi, not Force-sensitive in the way they were, but he does believe in the lost faith they followed. "Something that's a very obvious departure on this picture is that we really have no Jedi," Knoll says. "This takes place in a time that's after the Jedi purge in Episode III and before Obi-Wan reemerges and starts training Luke, and before Yoda gets involved. So this is a dark time when things are very bleak and the Jedi have not come back."
The rest of the photos have been seen before but we strongly advise you to check them out at EW, since they have some more interesing tidbits about the movie.
Jordan Pate is Co-Lead Editor and Senior Writer for Star Wars News Net, of which he is also a member of the book and comic review team. He loves all things Star Wars, but when he's not spending time in the galaxy far far away, he might be found in our own galaxy hanging out in Gotham City or at 1407 Graymalkin Lane, Salem Center, NY.