Jordan's Review: Marvel's Darth Vader #23
This week's release of Darth Vader #23 brings us one step closer to the upcoming conclusion of the 25-issue series from writer Kieron Gillen, artist Salvador Larroca and colorist Edgar Delgado. Read on for the full review. Spoilers ahead…
With his recent successes having put him back in the good graces of the Emperor, Vader has been sent on a vital mission to capture the traitorous scientist, Cylo – a former rival of Vader and as we recently learned – the mastermind behind his cybernetic suit that has kept him alive since his near death at the hands of Obi-Wan Kenobi 20 years ago.
This issue picks up with Vader, having survived everything Cylo could throw at him in the past couple of issues, boarding the Super Star Destroyer Executor to exact his revenge on the mad scientist.  Meanwhile, Dr. Aphra – also aboard the ship – is rescued by her begrudgingly faithful droids Triple-Zero and Beetee along with the Wookiee bounty hunter, Black Krrsantan.
However, knowing even if she flees that Vader will ultimately track her down anyway, Aphra decides to stay aboard a while longer, seemingly to lend a helping hand to Vader and the Emperor before making her escape.
As Vader boards the Executor, he disables the ship's engines and contacts Cylo on the bridge with a message that would have all the rebels floating in orbit around Vrogas Vas rolling over in their black empty graves – "I am coming for you."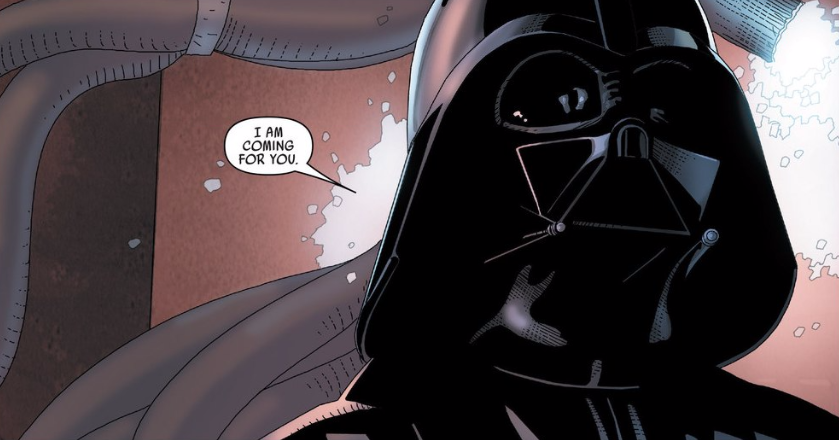 As he makes his way to the bridge, Cylo sends Morit, his last remaining cyborg, to intercept Vader. The two meet outside of the confines of the ship on the hull of the massive Super Star Destroyer. A battle ensues with an overconfident Morit thinking he actually has a chance against the dark lord, who proves that Morit's confidence was unwarranted as he force blasts him into oblivion.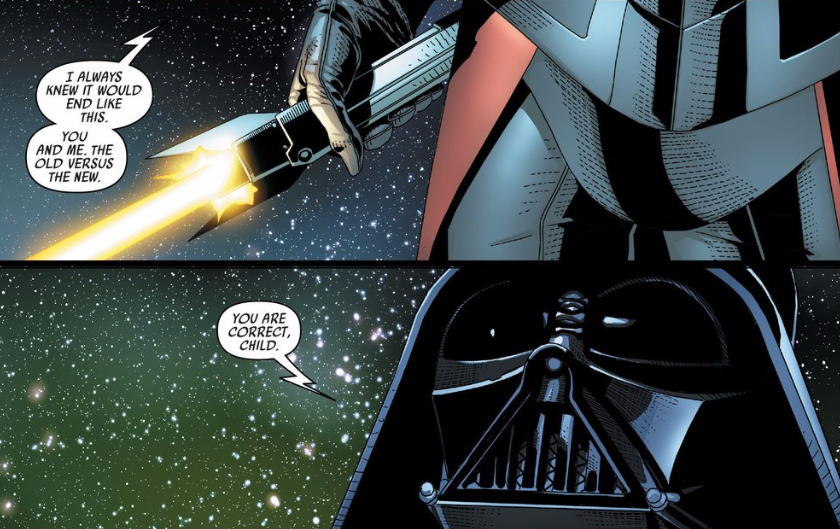 Now, with nothing in his way, Vader continues his journey to the bridge to put an end to his foe once and for all.  When Vader finally reaches Cylo, it seems that this contest will be over in just a few short moments as his quarry is a mere lightsaber slash away from his utter doom.  Amazingly, Cylo remains calm and collected as Vader approaches and taunts him about his machines being insufficient against the power of the dark side.  But let's not wave that victory flag just yet; it seems that Cylo has one more last trick up his sleeve.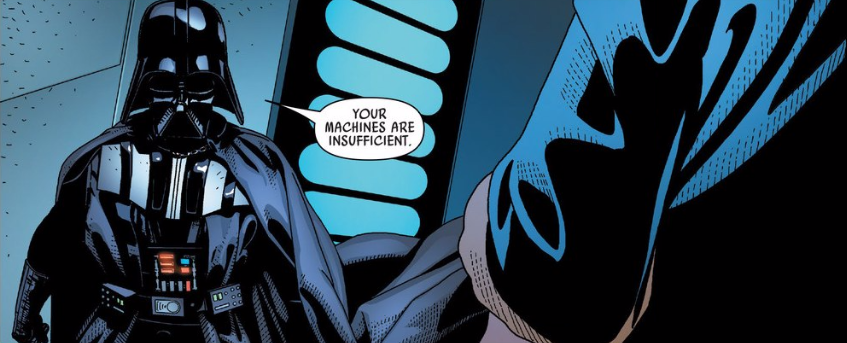 With all other attempts to stop Vader having failed, Cylo reveals his ultimate fail-safe, a remote that stops Vader in his tracks.  Apparently, Cylo's foresight 20 years ago led him to program Vader's suit with a mechanism that would allow him to control the dark lord should the need ever arise.  Unable to move, Vader is brought unwillingly to his knees before the traitor as the issue comes to an end.
Although this issue is nothing to write home about story-wise, it was well-paced and served to add stakes to Vader's thus far seemingly one-sided fight against Cylo and his goons.  I had been wondering what could possibly give Cylo an edge and a fighting chance against Vader, a usually unstoppable force, and this issue answered that in its final pages.
The artwork is on par with other issues of the series and the coloring is excellent as always.  With only a couple of issues to go in this series, I have to say I'm hoping for a huge payoff in the final two issues.  If you're following the series, this is a worthy addition, even though in the end it's not much more than a stepping stone to the promising 40-page over-sized conclusion coming at the end of August.  Will Vader prove he is still more man than machine and overcome Cylo's programming?  Or will he need a little help from Dr. Aphra or the Emperor to get out from under Cylo's hand?
Hopefully we'll find out in the series' penultimate issue #24.  If the cover is any indication, things might be getting more personal than ever in Vader's struggle against Cylo.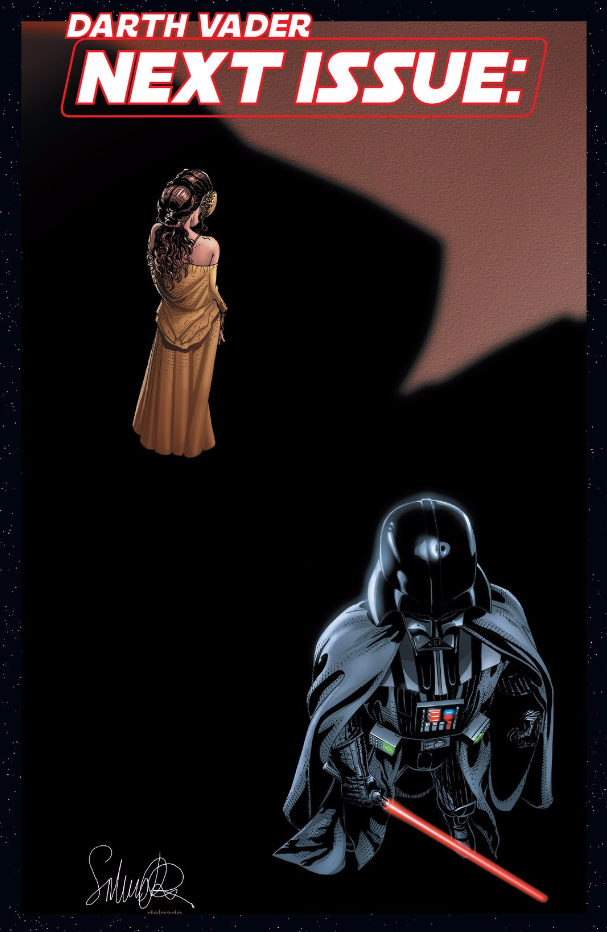 Jordan Pate is Co-Lead Editor and Senior Writer for Star Wars News Net, of which he is also a member of the book and comic review team. He loves all things Star Wars, but when he's not spending time in the galaxy far far away, he might be found in our own galaxy hanging out in Gotham City or at 1407 Graymalkin Lane, Salem Center, NY.