Gareth Edwards Talks About the Darth Vader Shot in the Rogue One Celebration Teaser + New Interviews With the Cast!

The cast of the upcoming Rogue One: A Star Wars Story, plus Director Gareth Edwards and Lucasfilm President Kathleen Kennedy sat down with ABC News at the recent "Star Wars Celebration" fan event in London and shared what it was like to work with Darth Vader on set of the next Star Wars film.
"Darth Vader is probably going to be the one of the key characters that we brought into this story because it leads up to 'A New Hope', and Vader was such a significant character" Kathleen Kennedy said.
Director Gareth Edwards went on to talk about seeing Vader on the set for the first time.
"We were in the middle of things and trying lots of things and suddenly, I remember in my schedule later today that there's a Darth Vader test today and I had forgotten all about it" He said. "I just waled out into the set and turned the corner and he just stood their, this silohette and they even had the sound effect playing just cause everyone couldn't help themselves" Edwards said.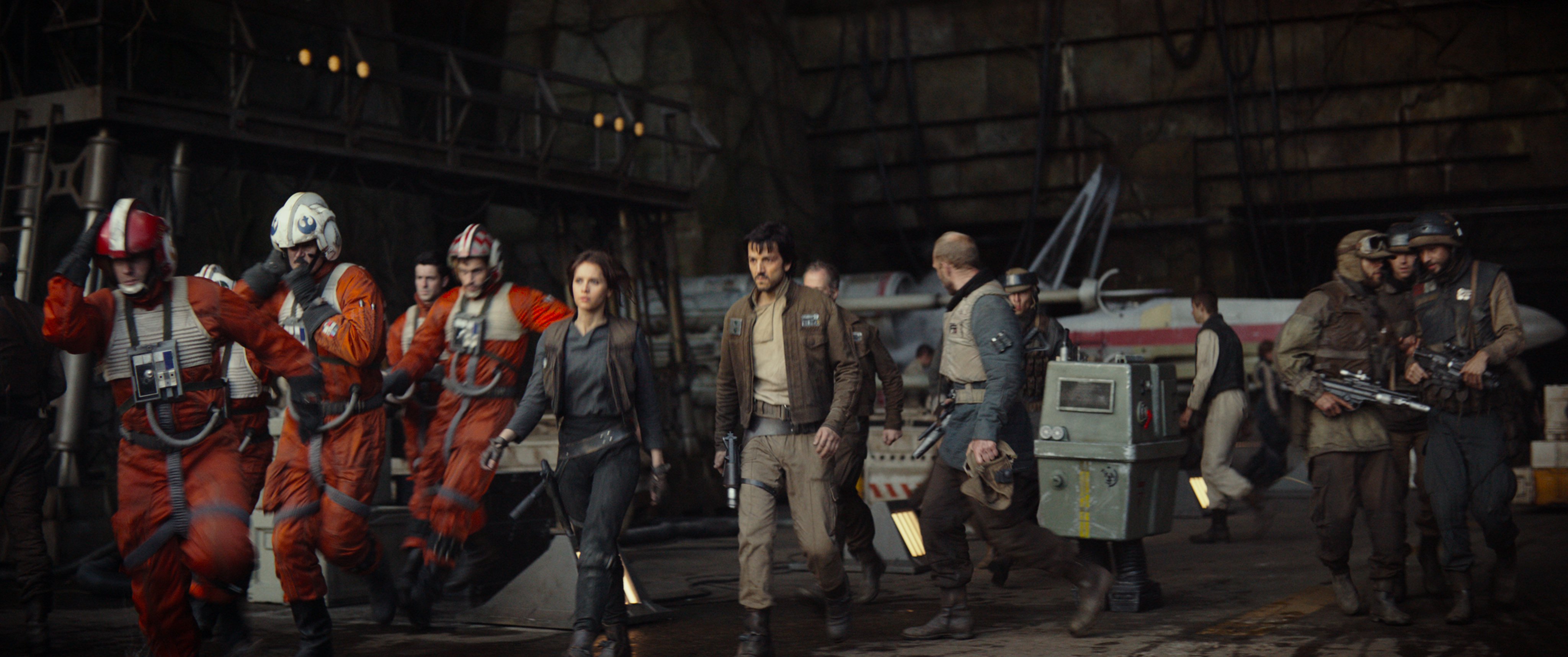 Kathleen Kennedy also shared some information regarding the fate of the main characters. She was asked if all of them make it out alive?
"Maybe not", Kennedy said."The characters in what is truly an action adventure story are going to run into some fairly complex obstacles. So they will confront things that may result in a little bit of sadness, but a lot of hope," She added. "There's always hope.""She's incredibly determined," Jones says of her character. "She's an absolute survivor and she is thrown into a situation that she isn't expecting in any way and it's a situation that demands great courage from her. At the same time, she has moments of great vulnerability and is not perfect."
During Celebration Europe fans who attended the Rogue One event were treated with the first look of Darth Vader from the movie. It was a shot with Vader's reflection on the floor. A very brief glimpse, but enough to make the fans even more excited.
Gareth Edwards said:
"I was just reduced to being a kid and I looked at the rest of the crew and everyone was just looking like they were four years old. Going up to direct him was like, 'Hi there, hi, my name's Gareth,'" Edwards says. "You suddenly realize, when you do a shot you look on the monitor and you get goosebumps again."
Even some of the Rogue One cast tried to offer a few small hints about the movie:
"I can tell you this: You will see me with people you know already," says Mendelsohn, who plays an imperial bad guy named Director Orson Krennic. "I've never told anyone what I just told you so there's that."

Ahmed adds, "I would say that the name Bodhi itself has some significance. You like that?"

"Whoa," Tudyk responds. "That's great. I want to know more now. K-2SO is into macramé. You're not going to find that anywhere but here. It's an exclusive."

"I want to tell you everything, except I really don't," Mendelsohn jokes.
Check out the video from ABCNews here:

In another interview with ComicBook.com, director Gareth Edwards talked even more about the brief shot of Vader from the Celebration teaser!
Comicbook.com learned from Edwards how he was able to find the amazing shot to the reveal that everyone was waiting for. The lighting came up slightly, showing what appeared to be a console of some sort, glowing red – and in the reflection of the console, the silhouette of Darth Vader appeared, and the crowd erupted in cheers and applause.
"That was born out of all the experimenting we were talking about. You don't go, 'I want this, this is the shot I want.' They built the whole set, they had a reflection, Vader went in there and we're looking at the reflection going, 'That's fucking cool!'" Edwards said with a laugh. "So as we're filming, we're like, go down, go down, and just playing around, and things happen that you wouldn't have asked for. That was a great example of it. I would've never picked that shot, but then it's in front of you and you get excited about something, and he's such an iconic – he's the most iconic character in all of cinema, potentially. To hear everyone cheer when they saw his silhouette, you feel like, 'that is worth everything." he added "it was a process to figure out how to pepper that in, in a way that feels right."

"Hopefully, the goal, is that you come to the film for all the reasons we love Star Wars, and you get sucked in, and care about the new people, and then as you're in the midst of all that, familiar things start to pass by," Edwards said.
Rogue One: A Star Wars Story hits the big screen on December 16, 2016.