From Concept to Reality: A Glimpse Into The Art of Star Wars: The Force Awakens by Phil Szostak
One cannot deny the important role that art, in its myriad different forms, has played in establishing the world of the Star Wars saga that we know and love.  Read on to take a little journey into the wonderful world of Star Wars, as envisioned through the eyes of the artists that created it.
In the past, such artists as Ralph McQuarrie, Joe Johnston, and Doug Chiang have infused the world of Star Wars with their ideas, their passion, and a little bit of magic.  In some cases, the genius of the art department, even prompted the films to go in new and different directions than originally intended, and the result became so much more than just one man's vision.  It was this type of collaborative effort that gave Star Wars its own unique look and voice, and today, with the dawning of a new era in the franchise, the impact of such artists is just as paramount as it's ever been.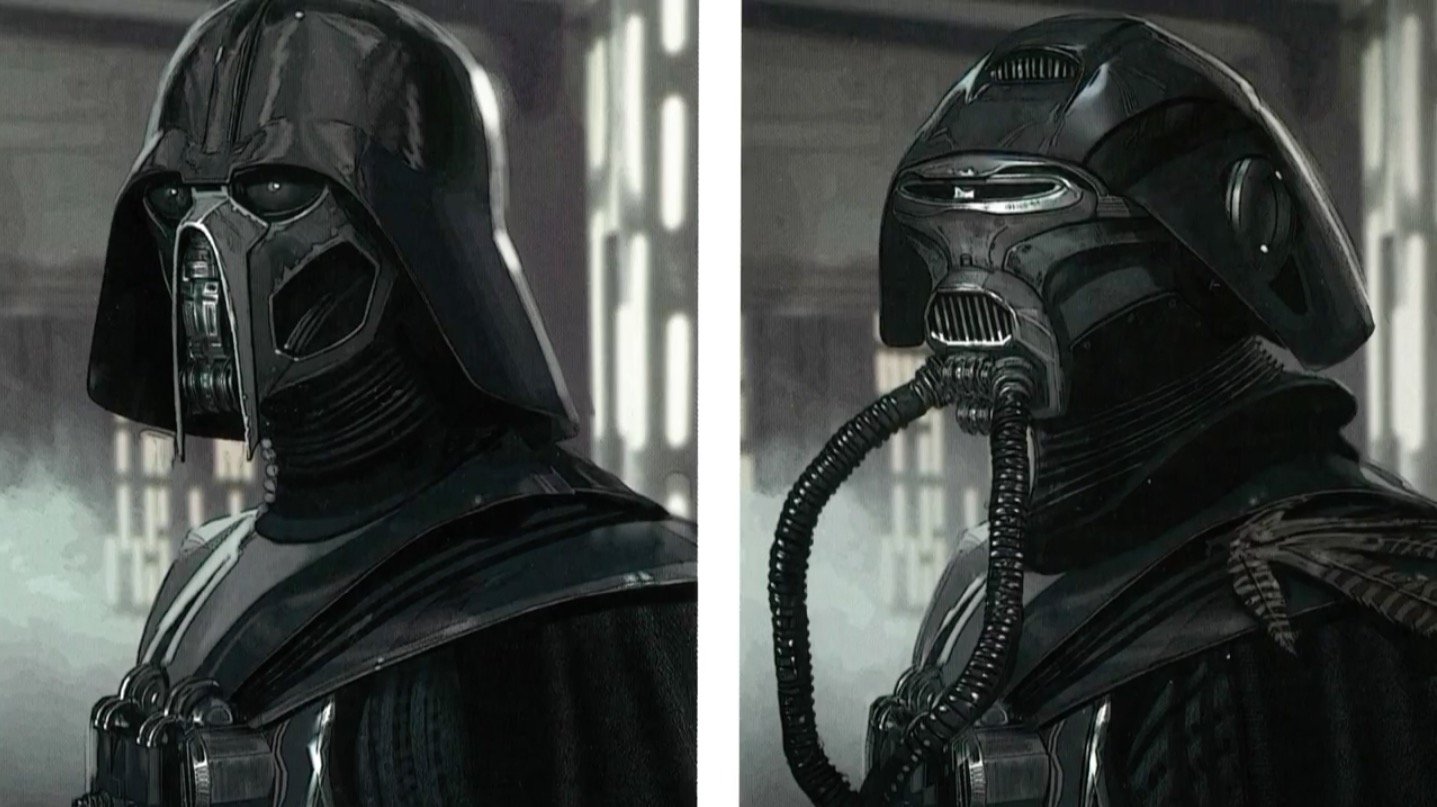 The Art of Star Wars: the Force Awakens by Phil Szostak is a truly incredible book that gives Star Wars fans a glimpse into what it took to bring that galaxy far far away back to life in the modern era.  This article makes no attempt to encapsulate all of the amazing art within the covers of this book, and to do so would be impossible.  Instead, we will take a quick look at a few of the unused concepts in the book as we take you briefly (which the book does in detail) through the different design phases of The Force Awakens.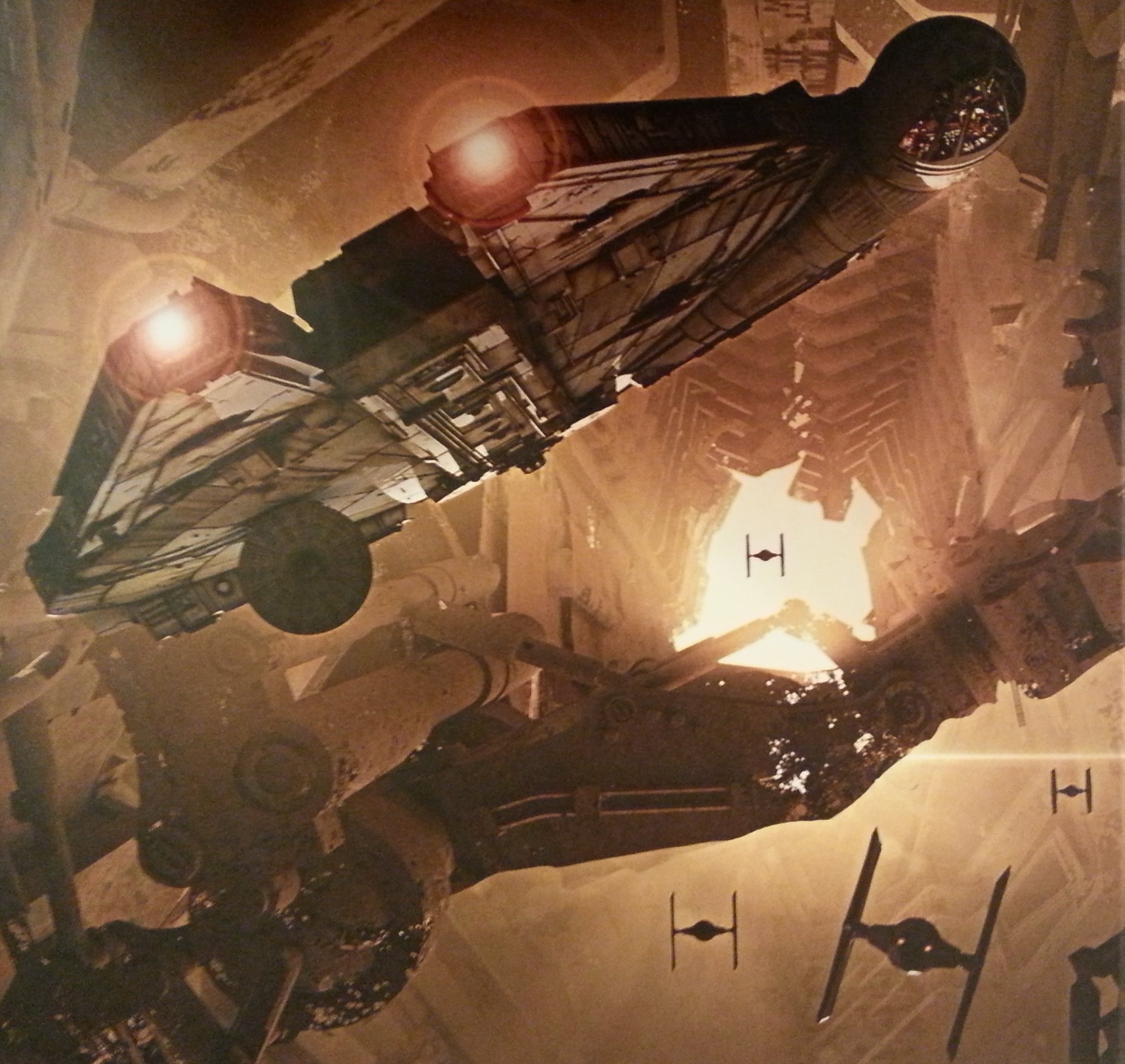 The Concept Phase
January 2013:
On January 9th, Rick Carter's concept art team had their first meeting to discuss what the film should look like.  To establish this essential re-entry point for the franchise, the team met with the likes of Dave Filoni (Rebels), Kiri Hart (LFL Storygroup), some veteran ILM concept artists like Doug Chiang and Ian McCaig, along with many others, to collaborate on the effort in their own version of King Arthur's  Knights of the Round Table. Work in January focused on who Luke Skywalker, Han Solo, and Princess Leia have become in the last thirty years.  Two new characters, Kira and Sam (later renamed Rey and Finn), were also first realized.  And on January 25, J.J. Abrams was officially announced to direct Episode VII.
Han Solo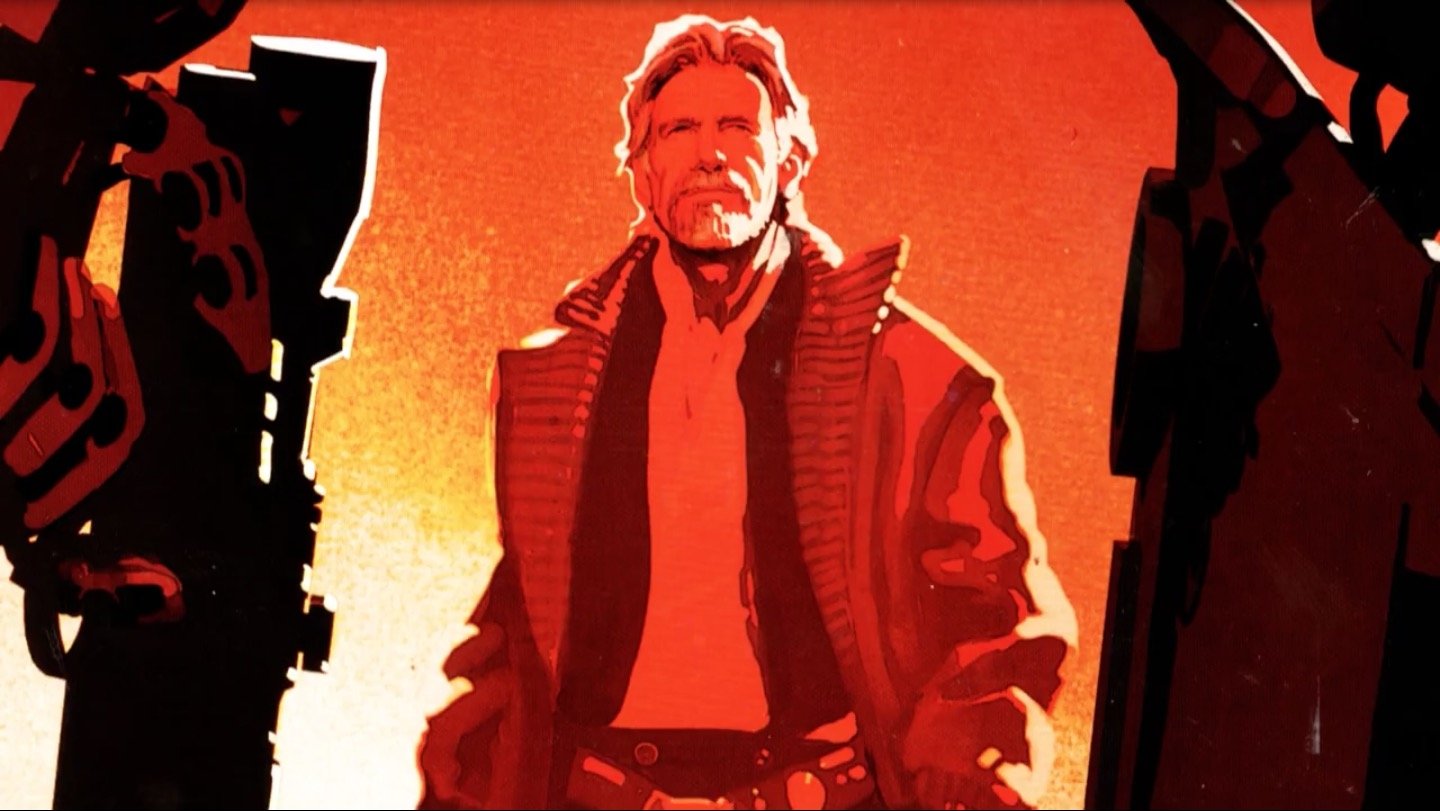 February 2013:
Abrams and his Bad Robot Productions team visited Lucasfilm on February 13 for an art presentation led by Kathleen Kennedy and Rick Carter. Darth Vader's castle (as illustrated by McQuarrie for The Empire Strikes Back) was mentioned.  The junk planet, Luke's hovel, and the nature of the Force were all discussed and continued to be developed.
Kira (Rey) on Junk Planet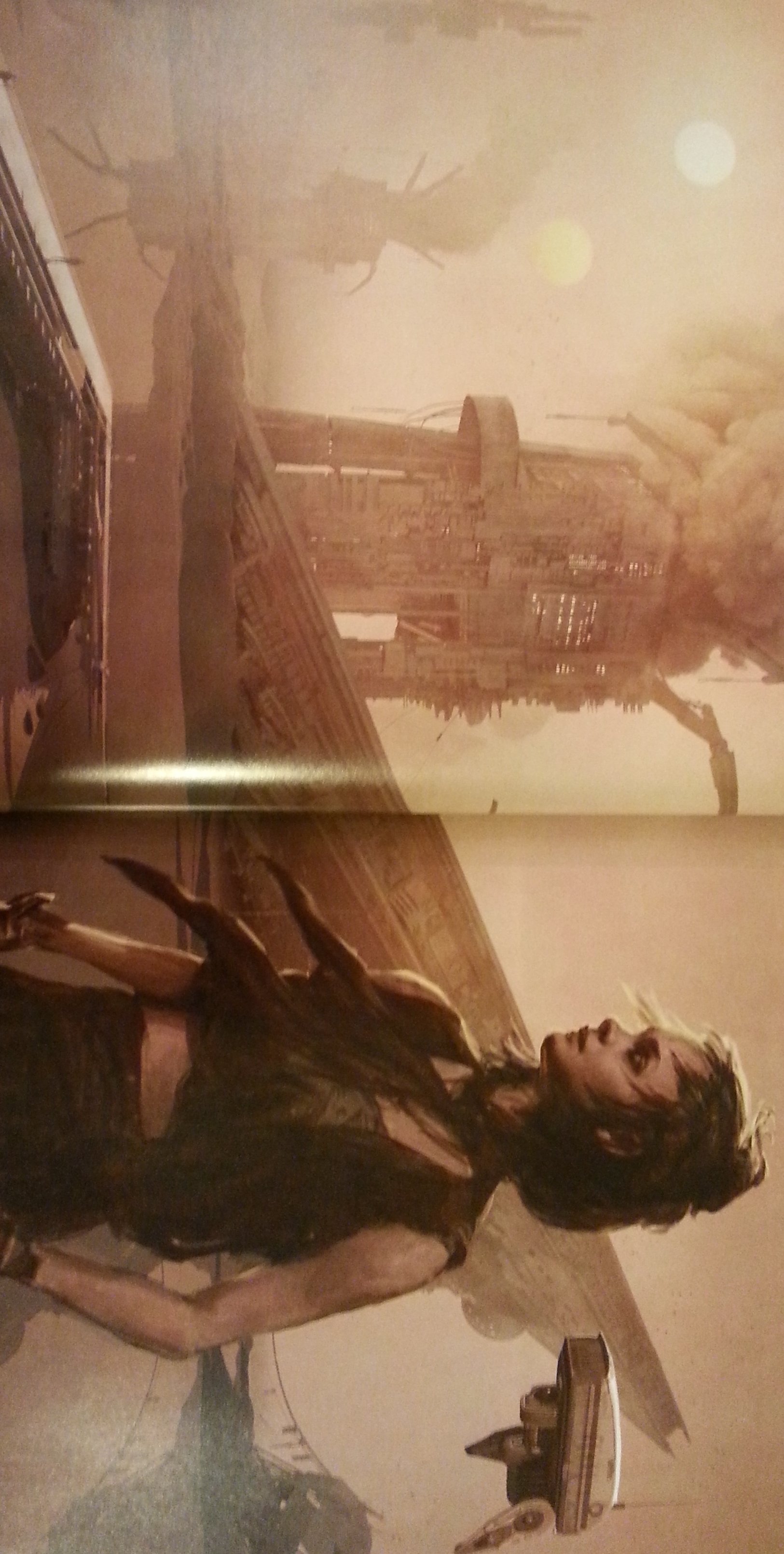 March 2013:
Michael Arndt's outline for the film continued to take shape.  Designs for the new "Jedi Killer" villain (who at this point had no realized origin), Luke's homestead, and Kira's home planet were developed further. New story ideas, like a daylight attack on the outpost by the Jedi Killer and his band (initially a group of pirate-mercenaries, then stormtroopers, cementing the Jedi Killer's alignment with the Neo-Imperial forces) were explored. A Neo-Imperial superweapon emanating from a planet was sketched out.  A climactic battle on an ice planet and a Yoda-like mentor for the young protagonists were also first realized. An enigmatic "John Doe", later named Poe, rounded out the trio of leads.
Luke Skywalker Concept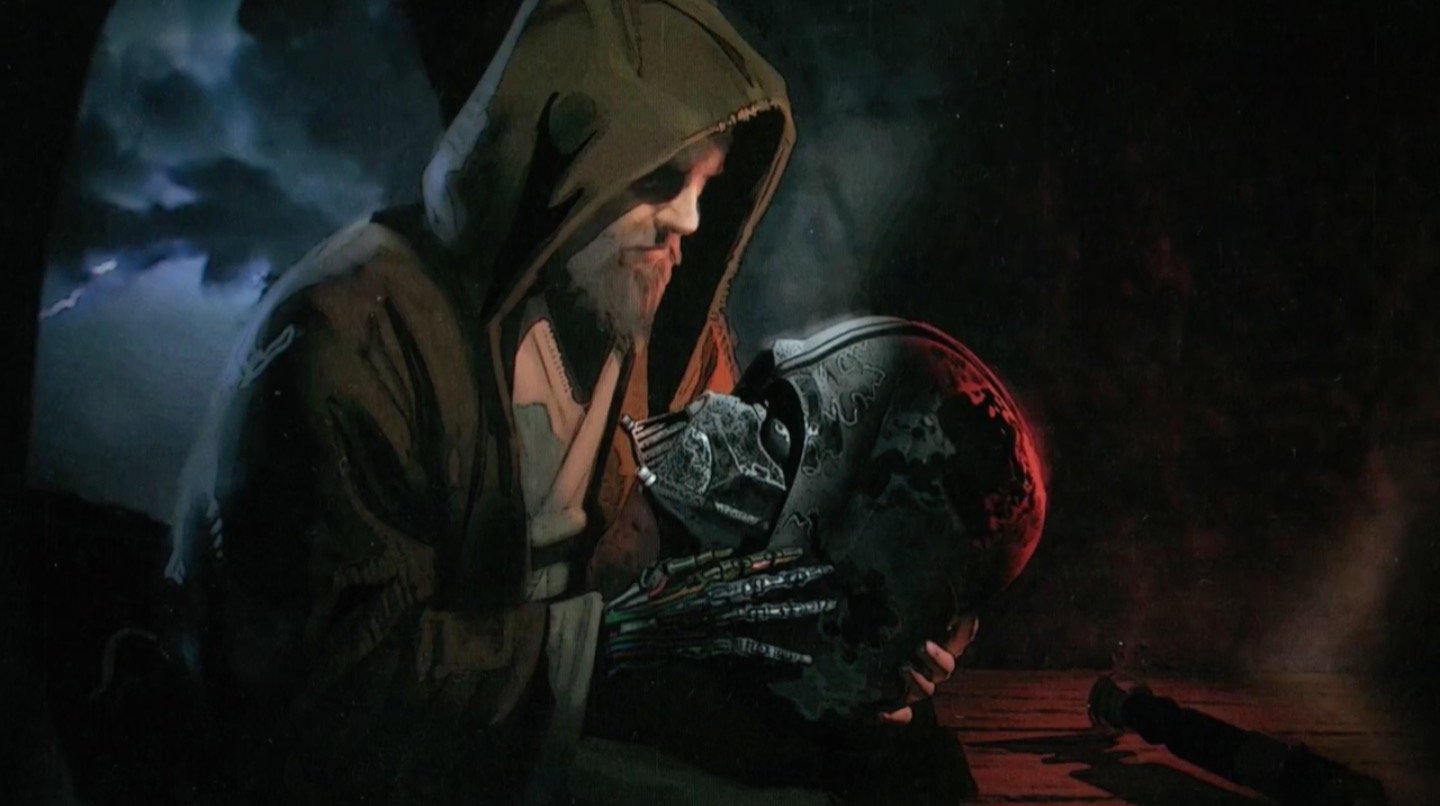 April 2013:
The first act of the plot started to come into focus as character backgrounds, like Sam (Finn) being a stormtrooper, John Doe (Poe) being a Republic military man with a droid companion carrying vital information, and Kira (Rey) being a scavenger on the junk planet were all decided upon. The concept artists (or "Visualists" as they are called) continued to generate story ideas for the rest of the film, particularly, the Neo-Imperial forces and base.
Emperor's Throne Room (Underwater)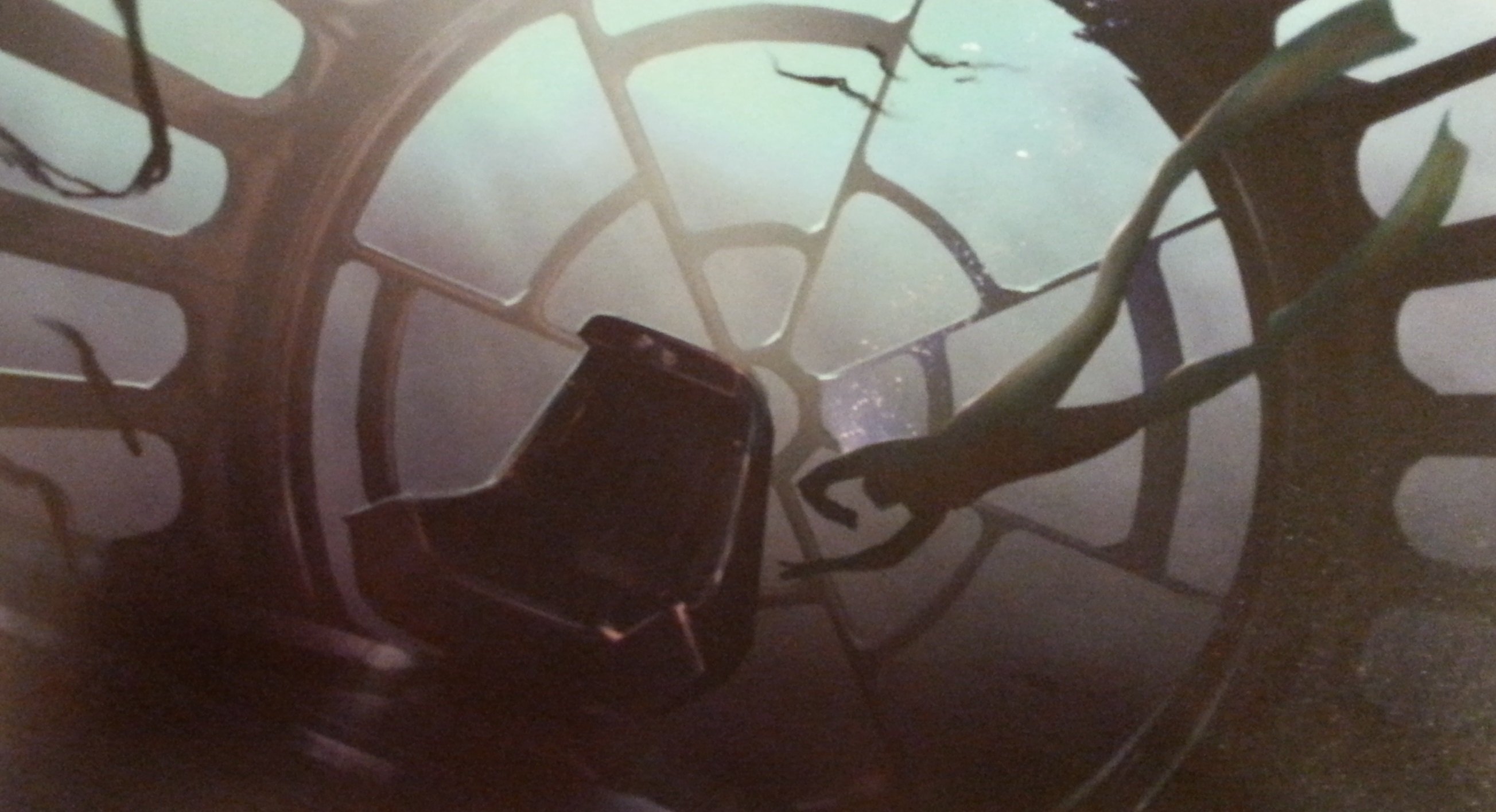 May 2013:
Following the end of his Star Trek: Into Darkness promotional world tour, Abrams turned his full attention to Episode VII.  Two new locations were proposed: a "Crime City" or "Exotic City", where the young heroes would first encounter a down-and-out Han Solo, and a new rebel base. Dennis Muren of ILM posed the question, "What if they [the Neo-Empire] had the ability to take the energy of a star?"  Thus the Starkiller "sun-crushing" superweapon concept was born.
Sam (Finn) and John Doe (Poe)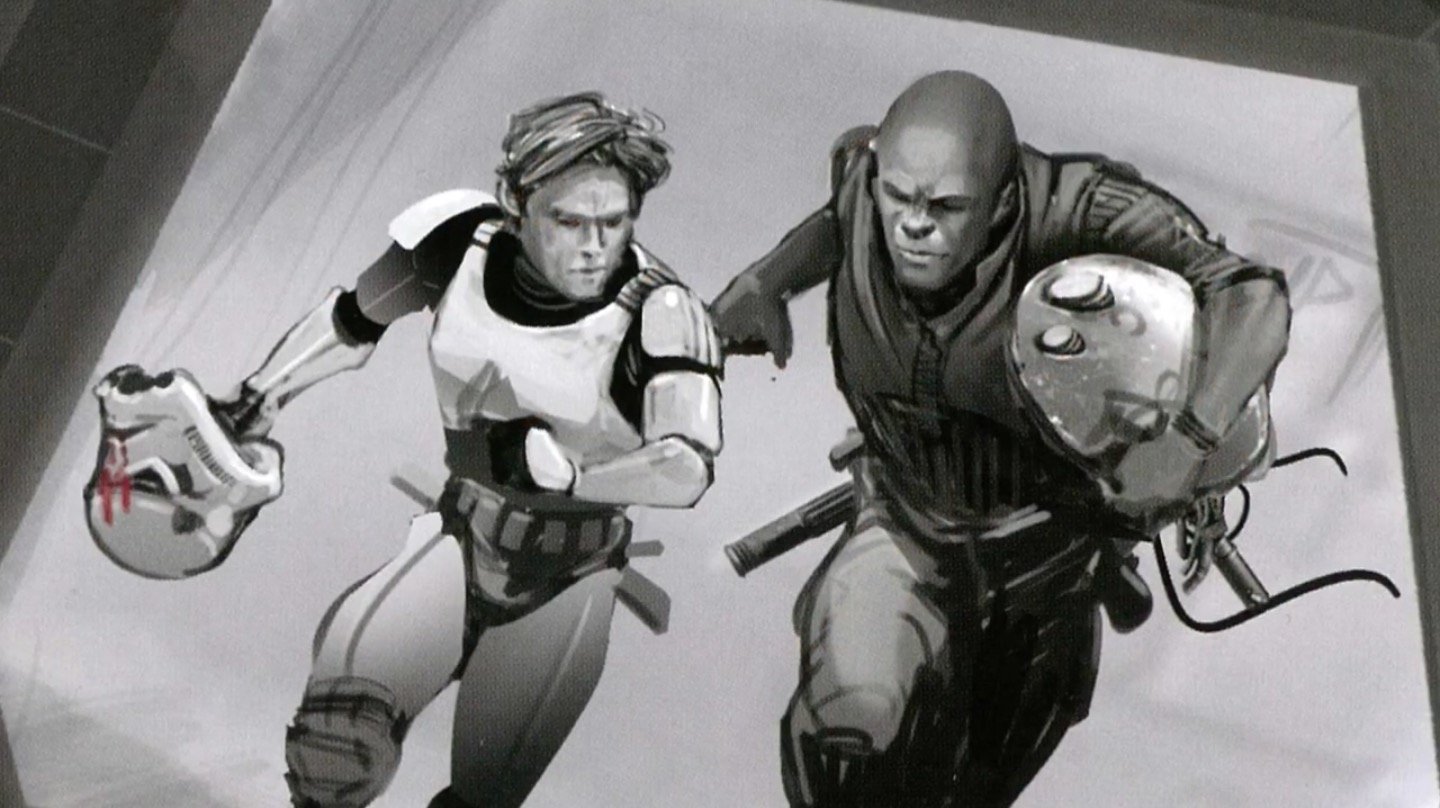 June 2013:
The interior of a decaying Star Destroyer, Kira's collapsed AT-AT home, a Neo-Imperial Star Destroyer, and the new archetypal mentor character of "Maz Kanata" were first tackled in June.  Development continued on the depot town, Exotic City, Starkiller planet or "Doom Star", and Leia's rebel base.
Kira (Rey) and Sam (Finn)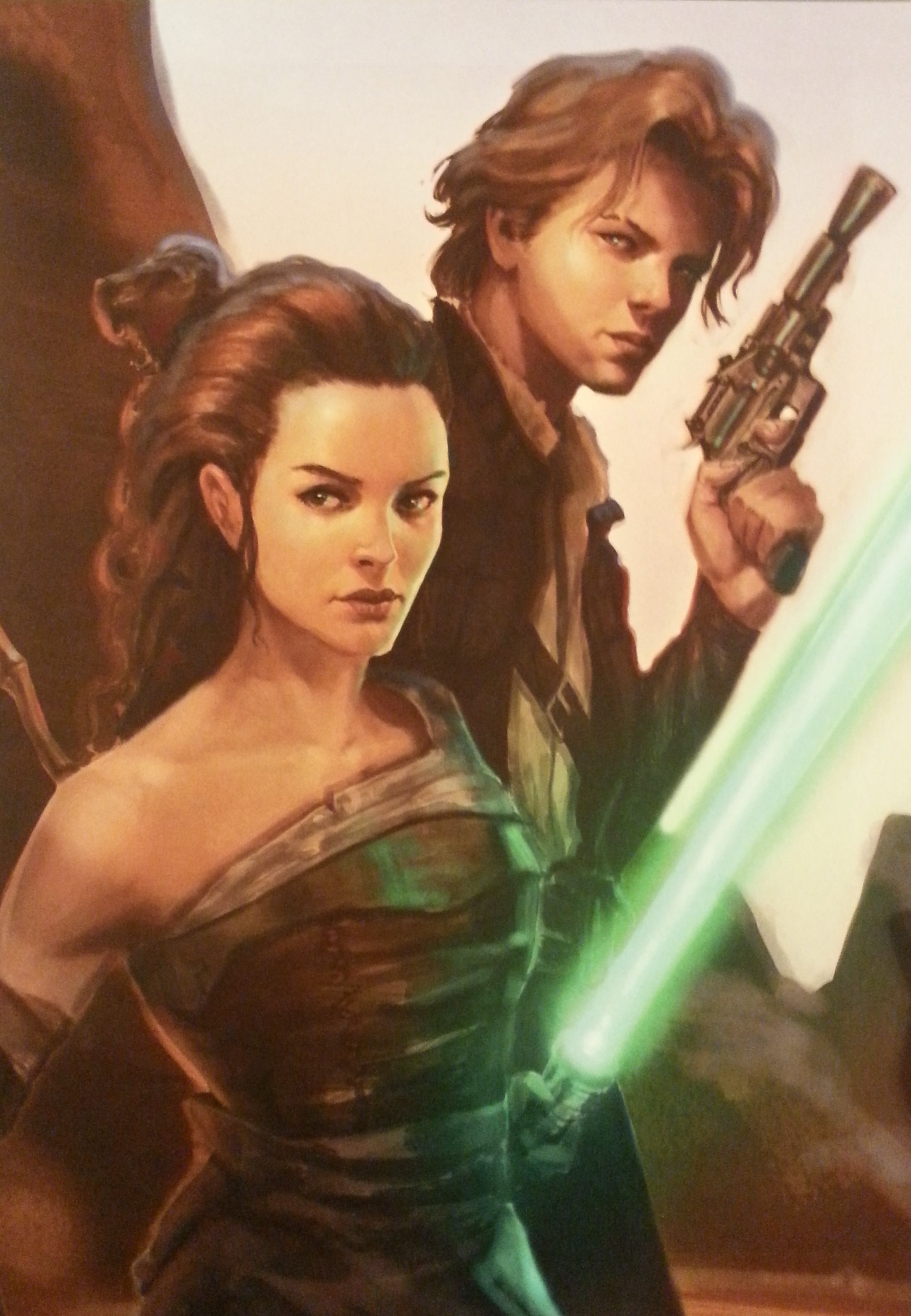 Pre-Production
July 2013:
Two action set pieces, the Neo-Empire's attack on a Jakku village and the "graveyard" chase between the TIEs and the Falcon started coming into focus.  Design work for the Starkiller planet, the new TIE fighter, Maz and her gambling den, and John Doe's droid pressed on.  Leia's rebel headquarters were temporarily relocated from their previous cliff face to a dense jungle setting. Abrams approved concepts for a Star Destroyer hanger and new stormtrooper transport vehicles.
"Steam Pod"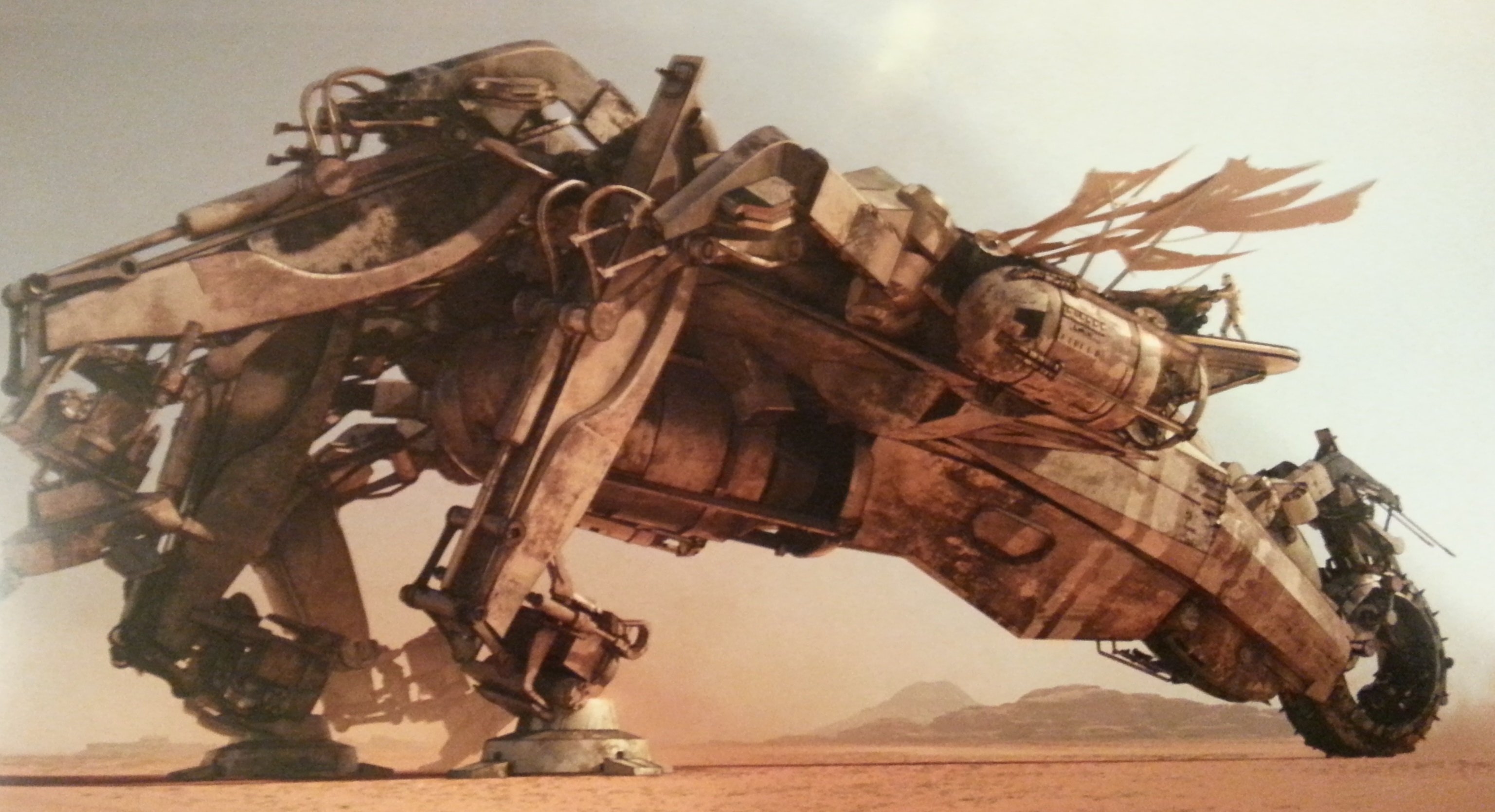 August 2013:
Michael Arndt turned in his outline for Episode VII, quickly followed by a work-in-progress script draft. Further development continued on the Star Destroyer's torture room and the "cobra-head" bridge overlooking the hanger, as well as the form and function of the ice planet base.  The team continued to fine-tune the junk world of Jakku, specifically the starship graveyard and the sacred village, and Exotic City began to pick up a lot of Ralph McQuarrie influences.  The creature shop began to see its first approvals for alien characters in the outpost and Maz's saloon.
An idea was proposed that involved Anakin Skywalker's ghost flowing back and forth between Darth Vader and Anakin (concept image below).  Along with this idea, Luke was presented as a whole new entity, being the first to acknowledge his own dark side – that it was not separate from him.  This is a very interesting idea as it would show us something we have never seen before in the films.  Luke would, in essence, have balanced the force within himself as he communes with both personas of his late father.
This could also open up some neat possibilities where Kylo Ren is concerned, giving him a chance to speak with the dark side incarnation of his idolized grandfather.  Obviously, this idea was scrapped for The Force Awakens, but this concept could very well be picked up by Johnson in the next two installments of the saga, as we learn more about who Luke is now after 30 plus years.  Who knows? Maybe those rumors about Hayden Christensen in Episode VIII will turn out to be true after all.
Anakin / Vader Force Ghost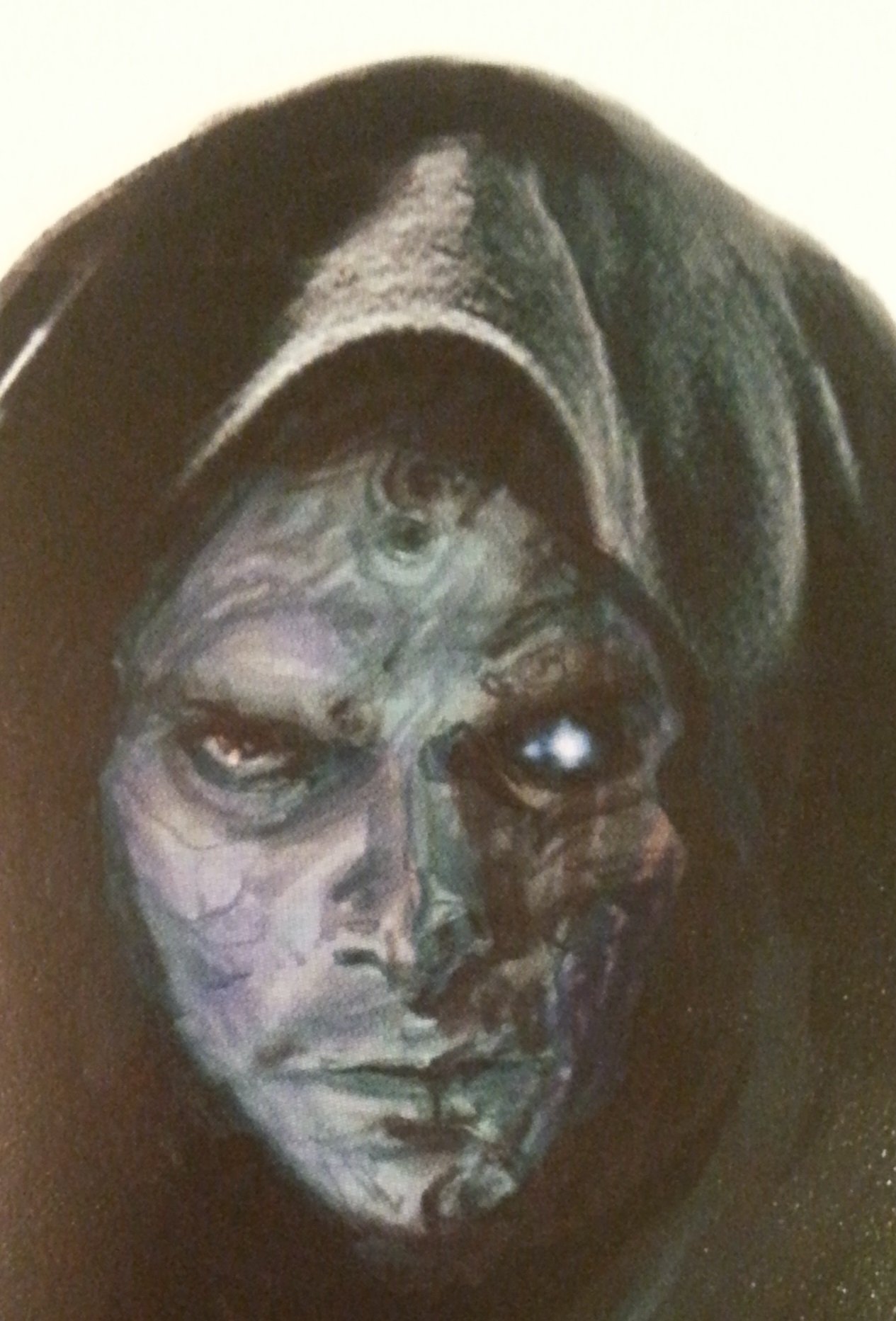 September 2013:
The costume department's stormtrooper, snowtrooper, and flametrooper armor and weapon designs got their initial director approvals.  Approved alien and droid concepts continued to pour out of the creature department.  Starkiller base and the crashed Star Destroyer continued to be refined.
Stormtrooper (final)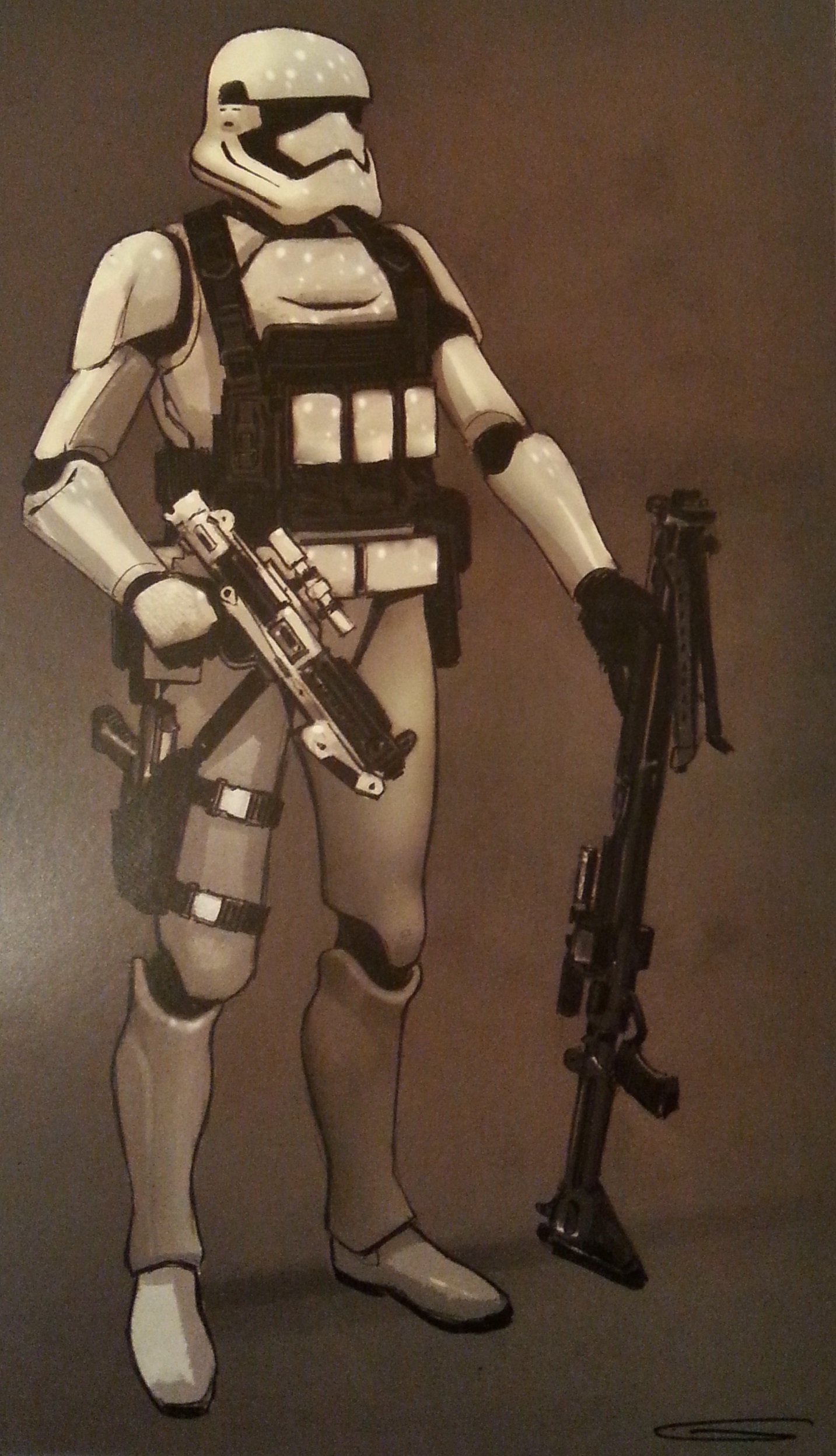 October 2013:
The Visualists began churning out drawings for a castle inspired by McQuarrie's preliminary drawings for Darth Vader's castle.  At first, it was to be Princess Leia's castle where the heroes would seek her after leaving Exotic City.  Michael Arndt departs from the project and Lawrence Kasdan & J.J. Abrams resume screenwriting duties in his stead.  The art departments (US and UK) concentrated on the Jakku village attack, Kira's fallen AT-AT home, vehicles, and the still unapproved Jedi Killer villain.
Jedi Killer Concept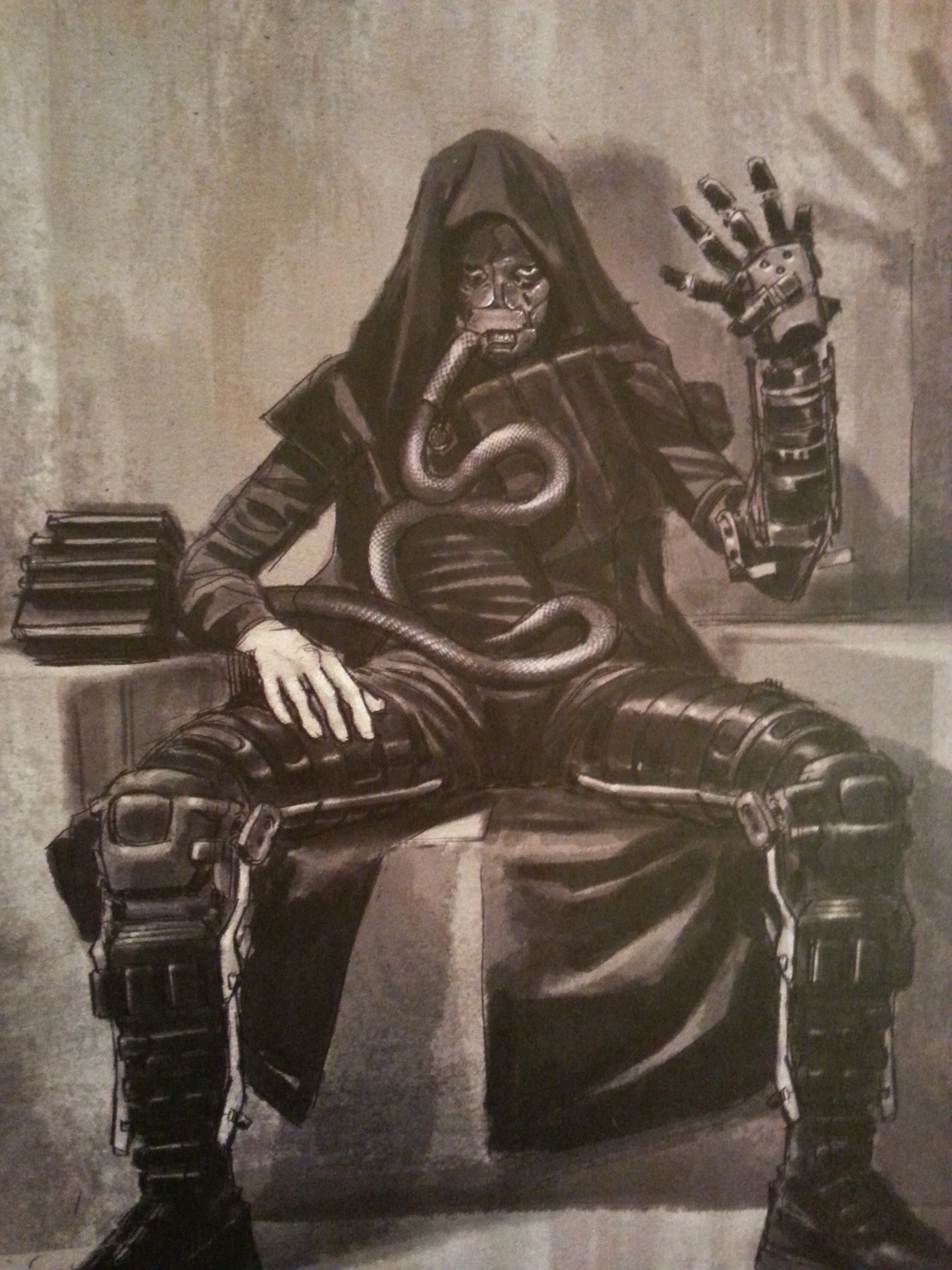 November 2013:
Design work on the Jedi Killer villain continued.  The costume department's first drawings of Kira emerged.  On November 28, the neo-stormtrooper designed by Michael Kaplan was fully approved.  The creature department continued churning out aliens and droids.  Both art departments carried on generating Act III ideas, while developing film-wide set and vehicle designs, including the first approved blueprint for an updated X-Wing.
Jedi Killer Concept (mask later used for Guavian Death Gang)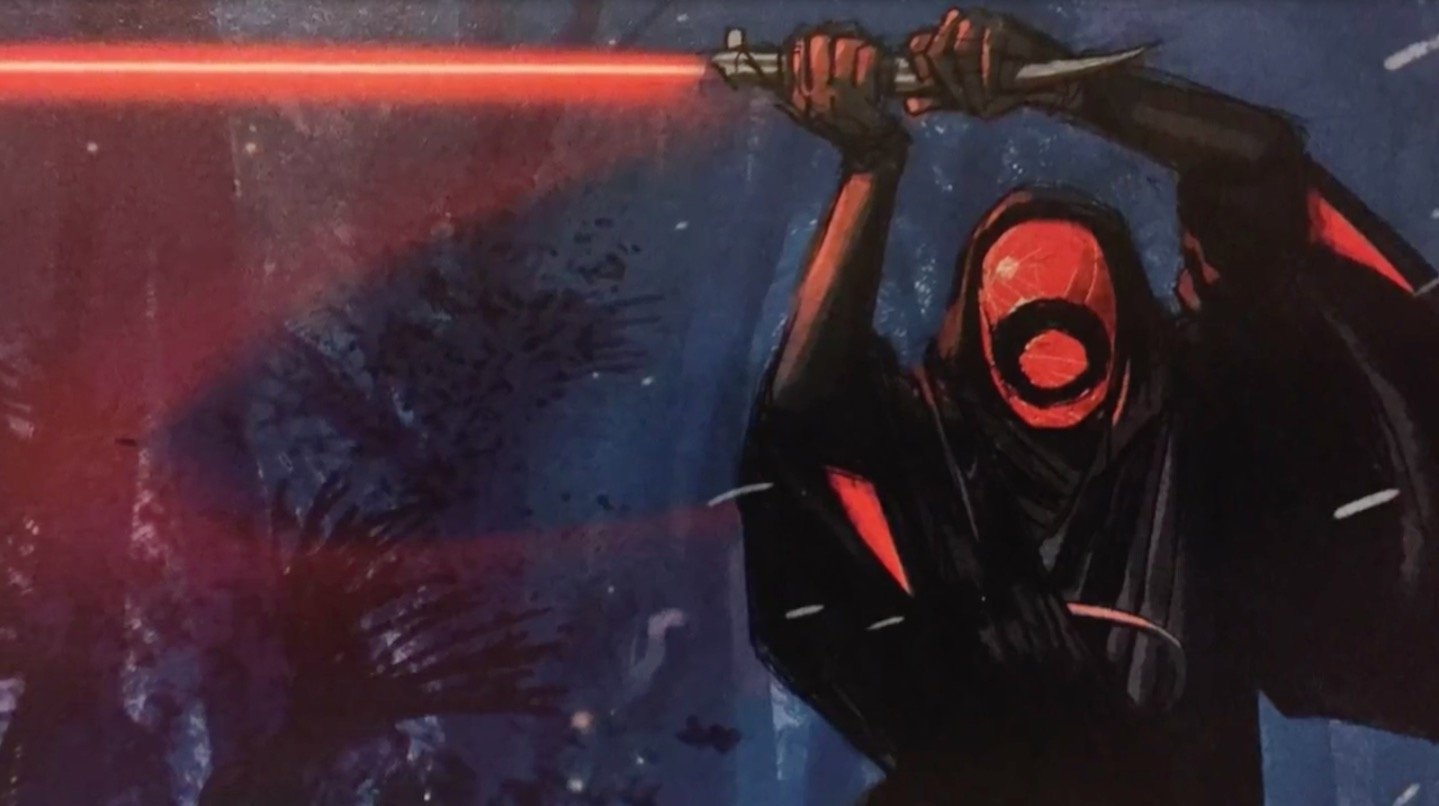 December 2013:
By this point, tens of thousands of concept pieces had been created.  With principal photography set to begin in early summer 2014, the art departments took a breather for the holidays, only to push even harder at the start of the new year.  In mid-December J.J. called a meeting to pitch the most recent version of the Episode VII story.  Days later, he and Kasdan turned in the first draft of the still-untitled script.
Early Jedi Killer Concept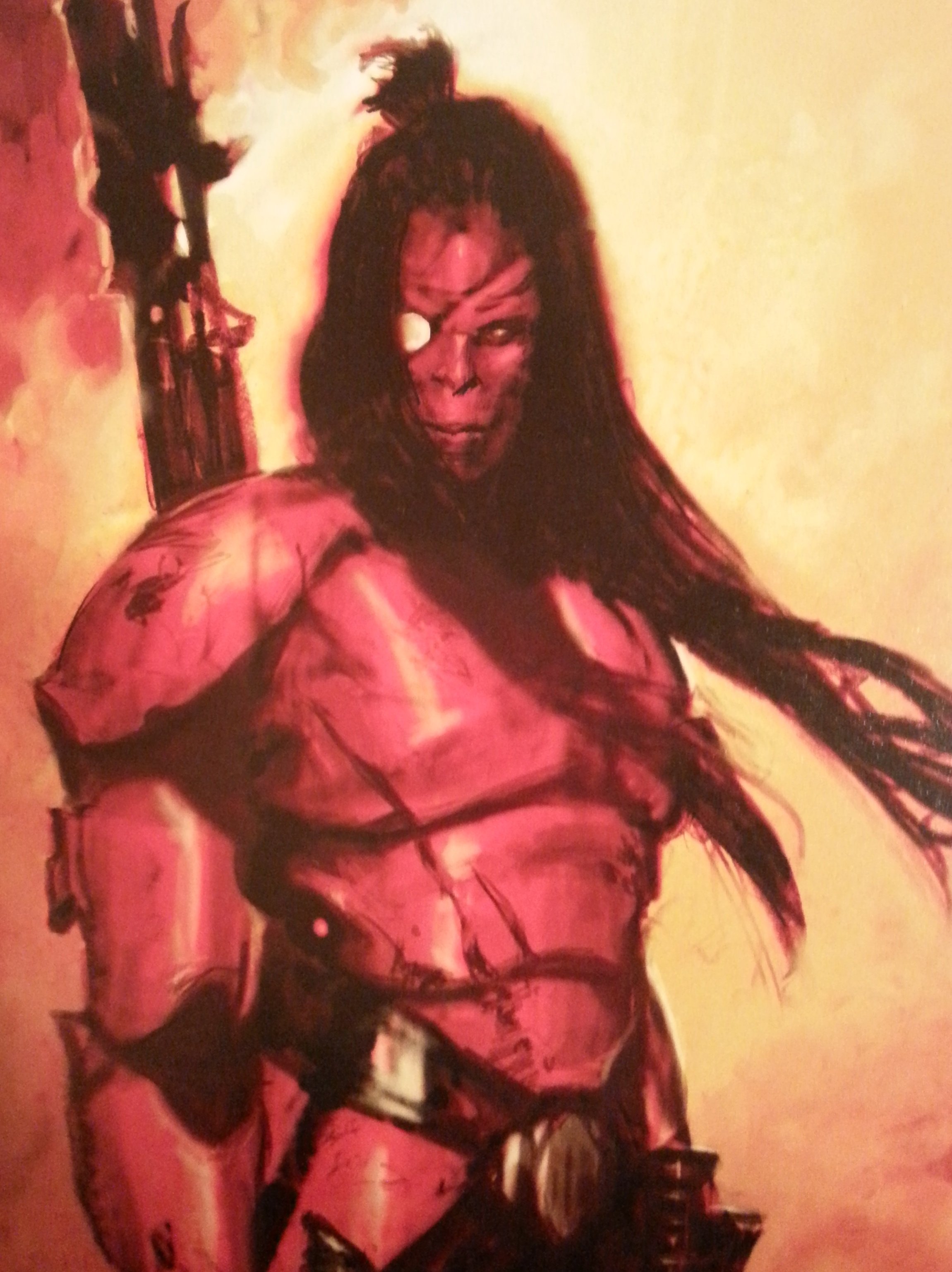 January 2014:
The look of Han Solo's cargo interior is refined, while the pirate gangs that would confront him continued to evolve.  Finishing touches were put on the X-Wing and a final design for Kira's speeder came from an unexpected source – the creature department.  The creature department polished off designs for Poe's (formerly John Doe's) astromech droid, BB-8.  The as-yet-unnamed Jedi Killer and the gang he fell in with as a young man slowly evolved.
Jedi Killer vs. X-wings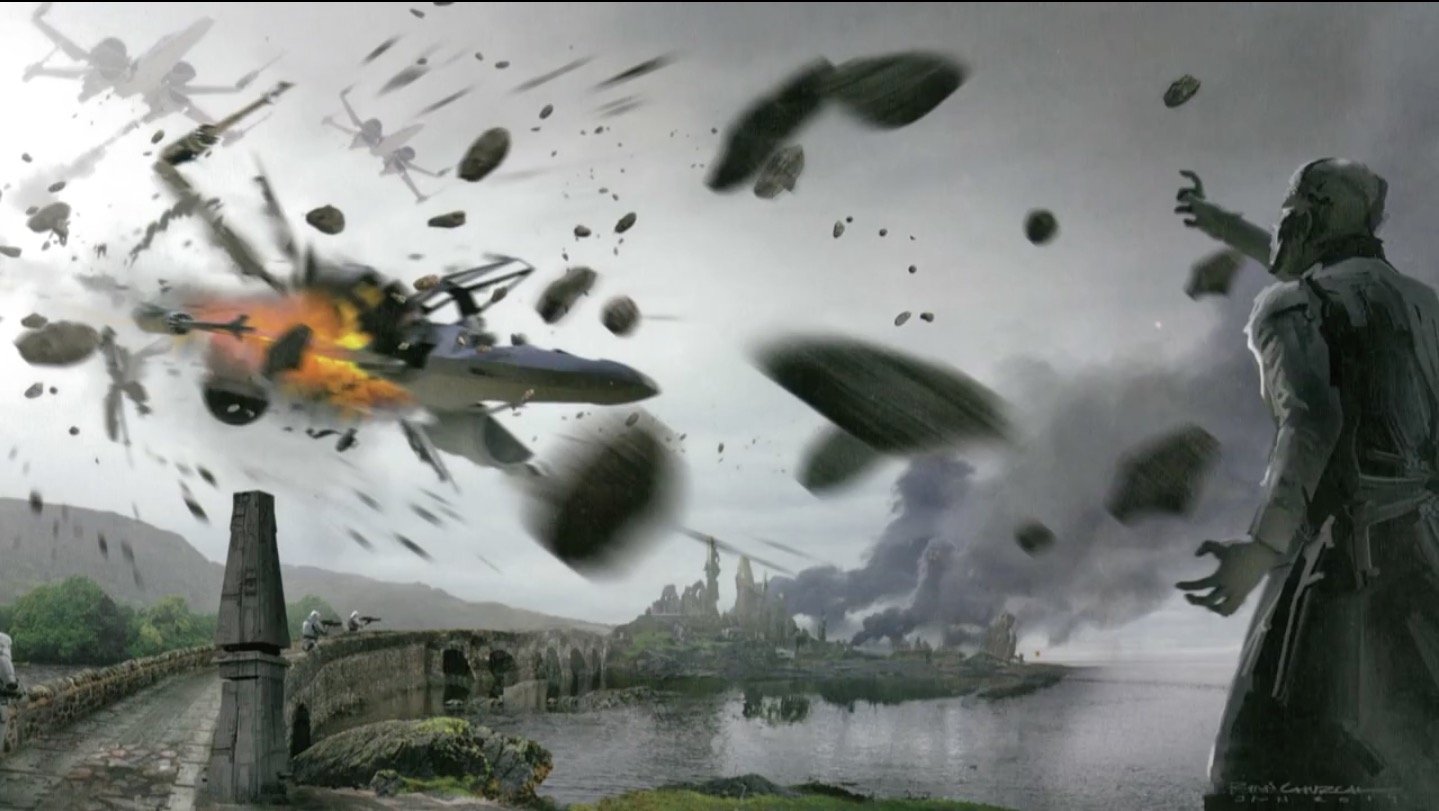 February 2014:
Ireland's Skellig Islands and the larger island's sixth-century monastery were chosen to stand in for Luke's homestead, giving the concept artists their first chance to integrate location photos into their designs.  The design teams pushed to finish designs for the interior of Maz's castle, as it was finally decided to blend the Exotic city and McQuarrie's early castle concepts.  This freed up the Greenham Common RAF base which became Leia's resistance base.  Initial construction on the Star Destroyer hanger began, along with the interrogation room, and the troop transports.  Approved designs for Kira and Unkar Plutt were locked in.
Early BB-8 Concept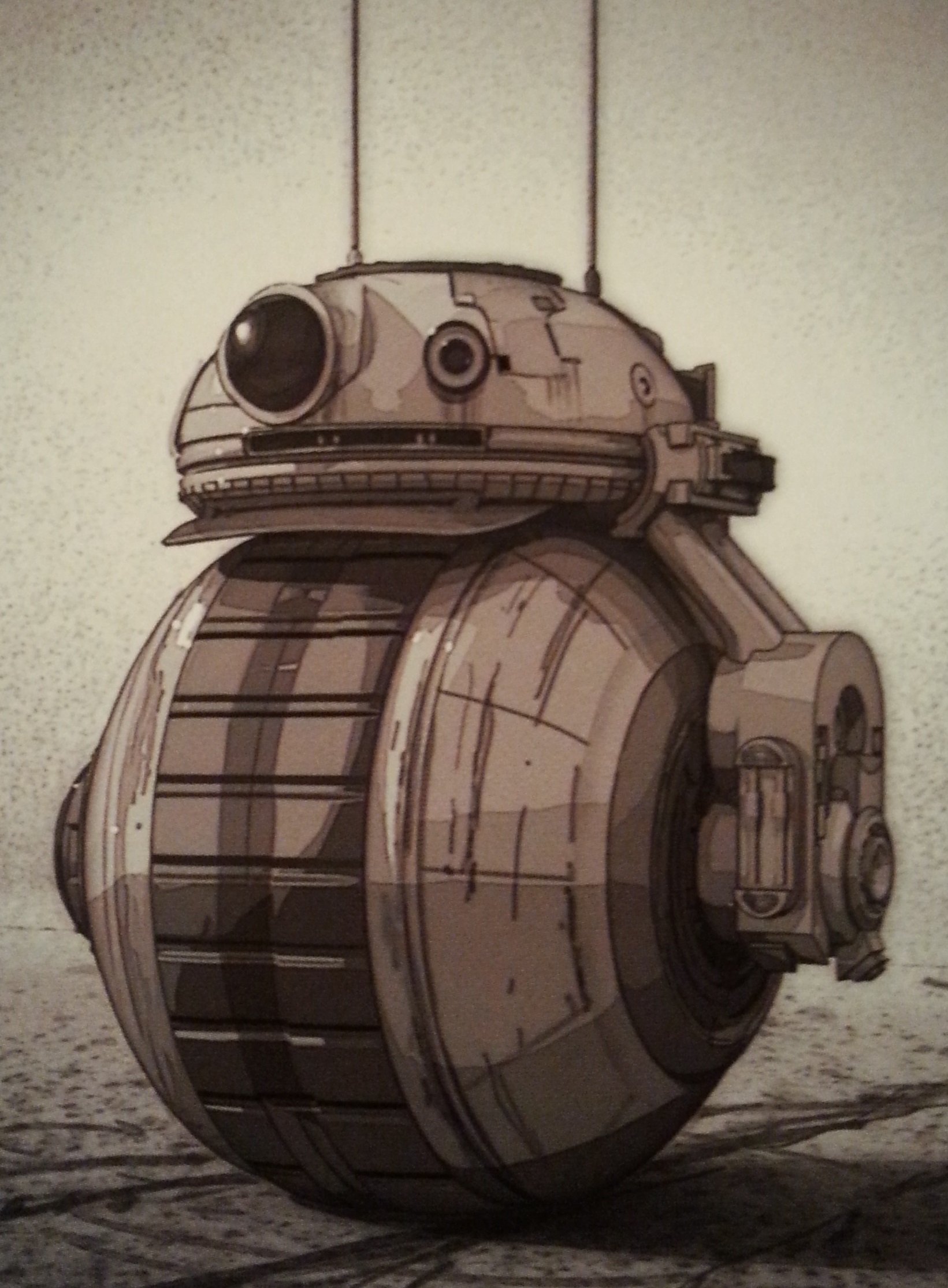 March 2014:
Glyn Dillon's design for the Jedi Killer (soon to be Kylo Ren) was finally approved.  Han Solo got an approved costume update and further development on vehicles, the castle, and the two bases continued.  A location in Abu Dhabi was decided upon for the Jakku outpost.
Han Solo in Cantina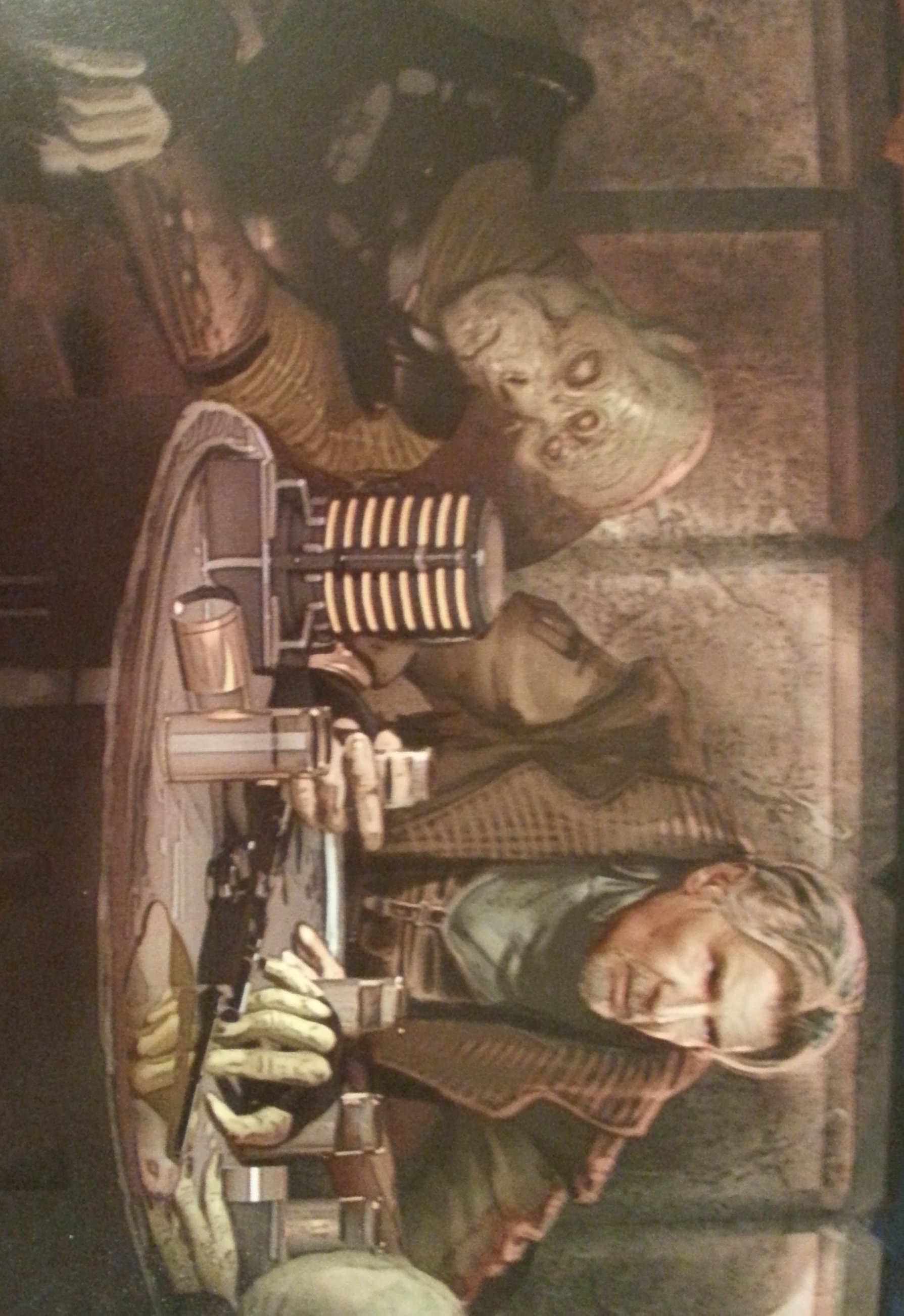 April 2014:
J.J. Abrams moved from Paris to Pinewood to take the helm. Art director Kevin Jenkins and Imperial design expert & concept artist James Clyne met to discuss the influence of Brutalist architecture on Imperial design and how to incorporate that same feel into the Neo-Imperial design.  The creature and costume departments combined to fill out Maz's castle with all manner of creatures.  The Pinewood crew began prep for the start of principal photography in Abu Dhabi.
Alternate Sam (Finn) Concept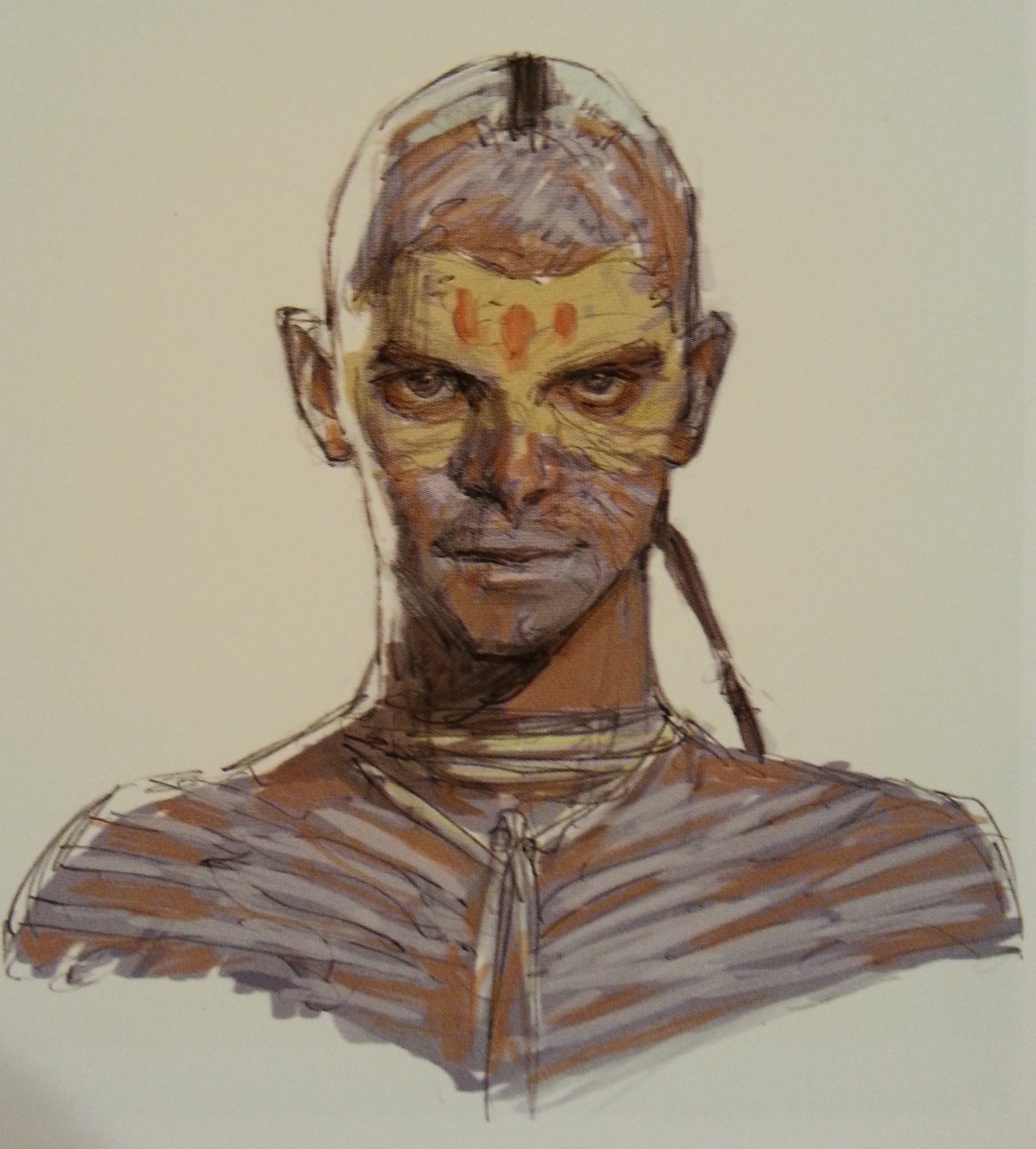 Production
May 2014:
Principal photography began on Saturday, May 17 in Abu Dhabi.  The following week of desert shooting covered the First Order attack on the outpost, the TIE fighter crash landing, and Rey's AT-AT home sequences.  Design work remained focused on Starkiller base sets and story points, placing final details on costumes, and filling out the resistance base and castle with creatures. The filming crew returned to Pinewood and resumed shooting on the Star Destroyer sets.
"Fire and Ice"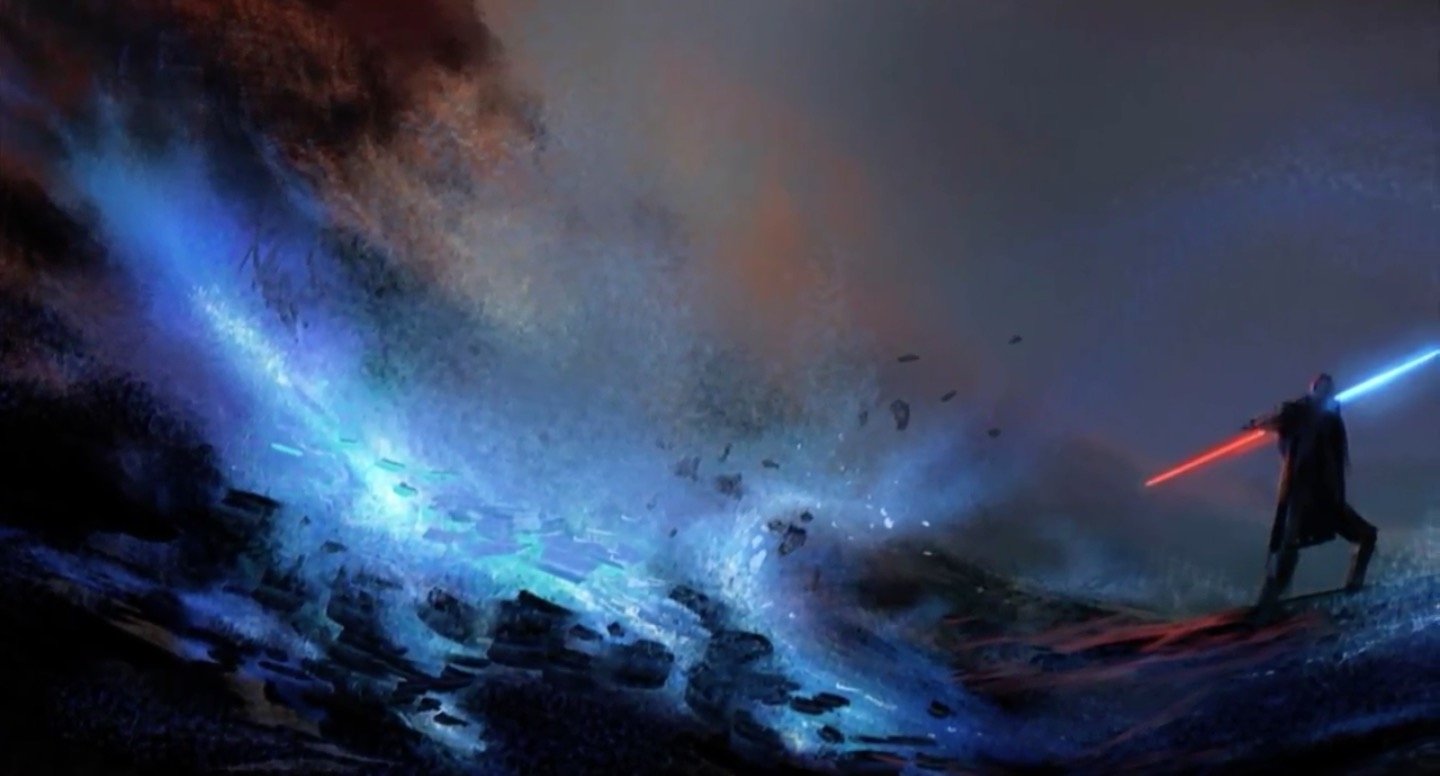 June 2014:
The filming crew transitioned from the Star Destroyer sets to the Millennium Falcon interior sets by day and the Jakku village backlot set by night.  On June 11, Harrison Ford was injured on the Falcon set only days after the start of filming.  The crew had to move schedules around to cope with Ford's absence.  Concept artists focused on Starkiller base and Maz's castle exterior at this time.  Design started at ILM on purely digital shots like the X-wings skimming the water and the Starkiller base starfighter battle.
Luke Skywalker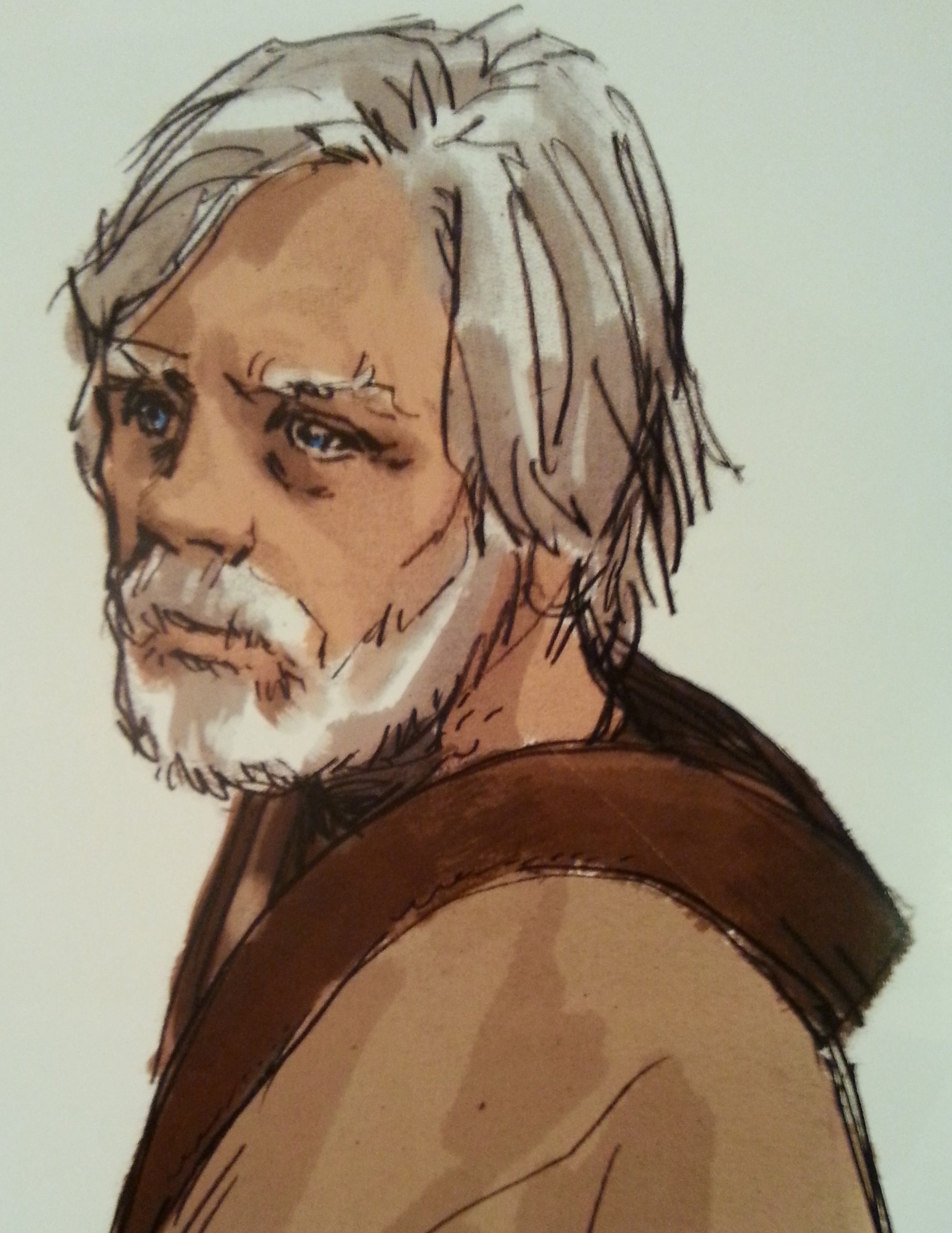 July 2014:
The main unit continued to shoot what cargo hauler and Maz's castle scenes that they could without Ford.  Designs for the digitally modeled Star Destroyer exterior and Luke's costume were approved.  Digital characters Supreme Leader Snoke and the rathtar monster were addressed but not yet approved.
Luke Skywalker Costume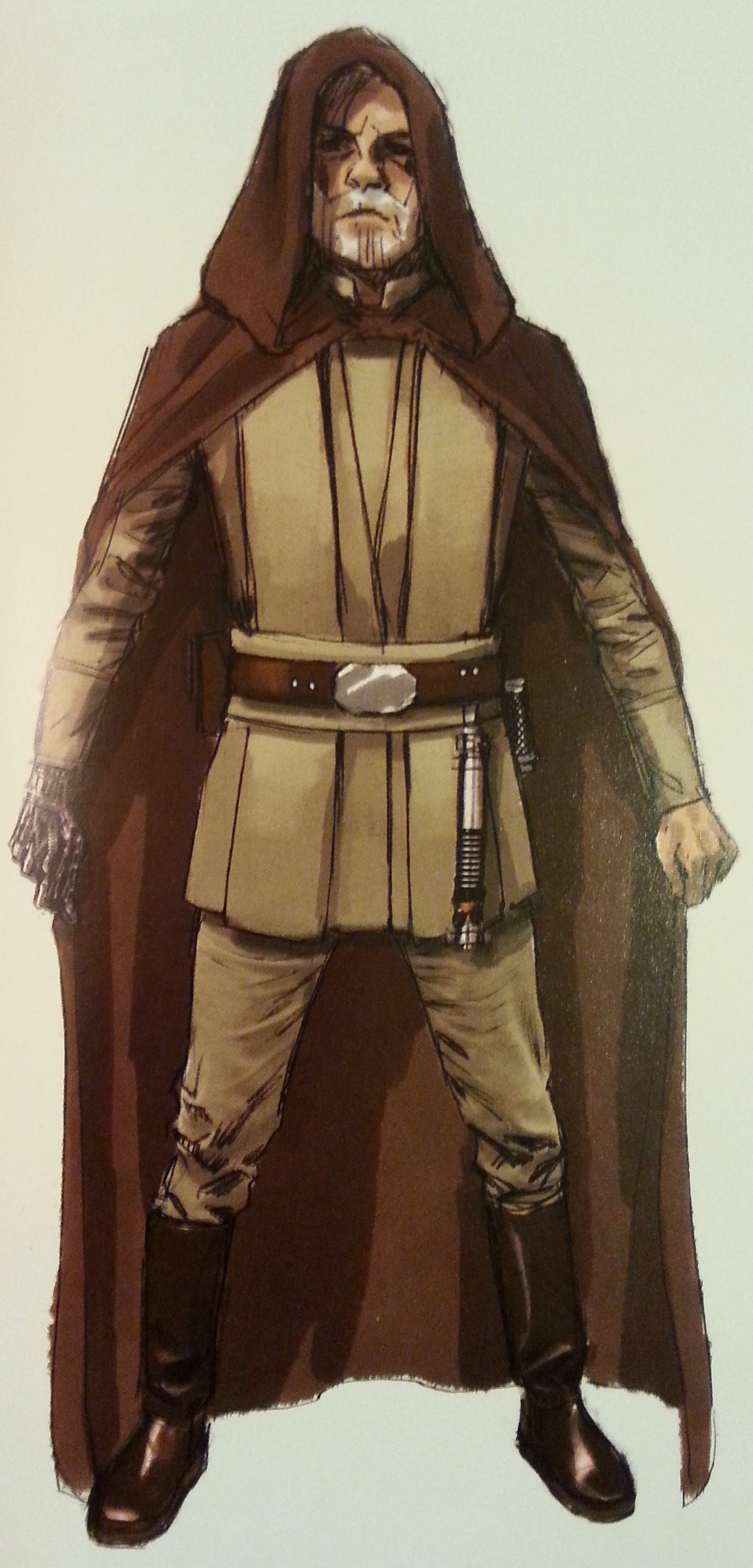 August 2014:
The entire The Force Awakens production took two weeks off to allow Ford time to recuperate.  After twenty months, the visual arts department at Lucasfilm turned in final pieces on August 27.  Several artists who had worked on the film began the transition to work on Star Wars Anthology: Rogue One.  Shooting resumed in Pinewood without Ford on August 26 with the Star Destroyer bridge and the climactic lightsaber battle on Q Stage, where the crew had constructed the snowy forest.
Alternate BB-8 Concept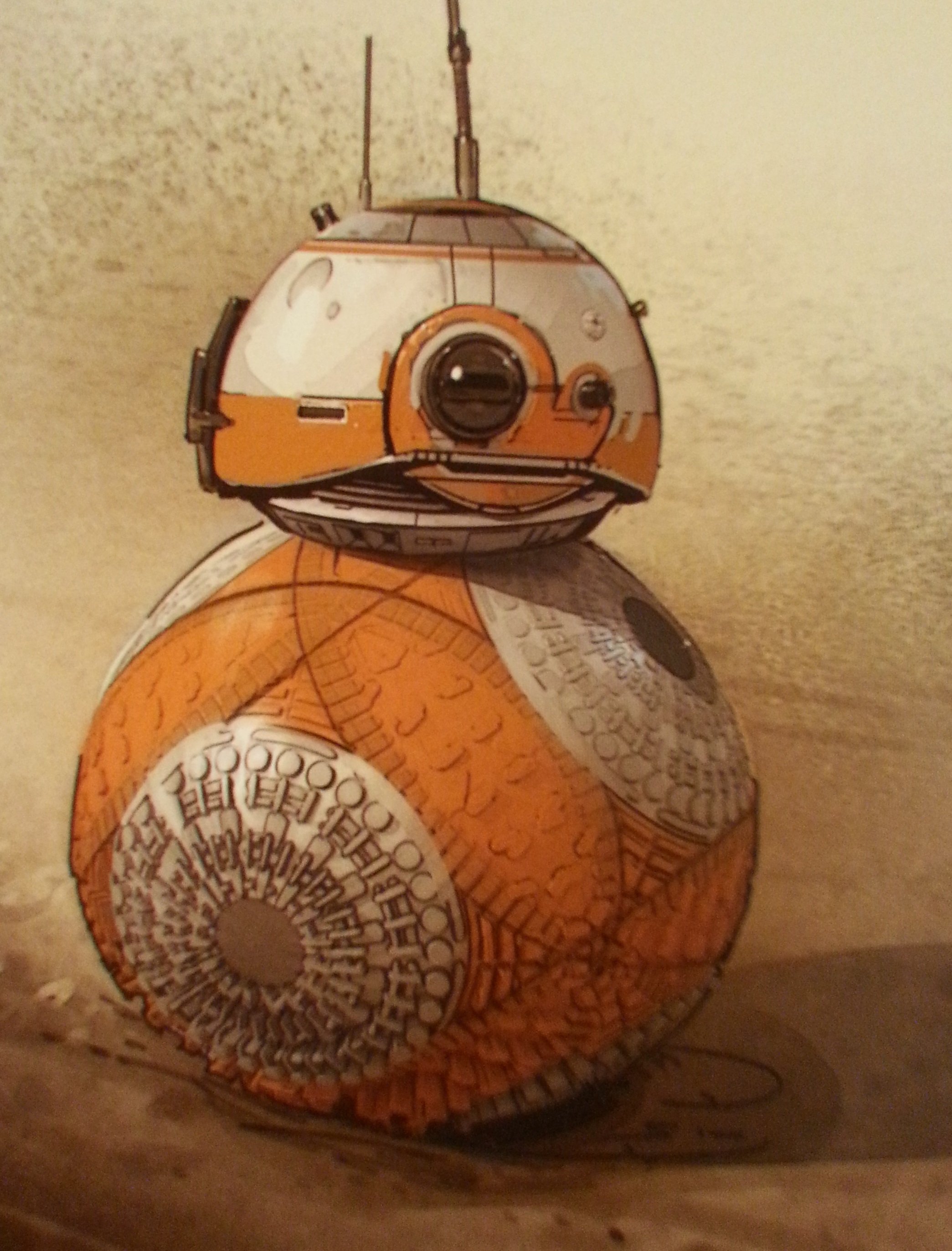 September 2014:
Principal photography continued on the Pinewood Studios lot with Ford rejoining the production on September 15.  ILM look-development, the visual effects equivalent of early concept development for CG models and shots, continued with the team working on the starship graveyard chase and Falcon crash sequences.  Starkiller base set and shot designs were the primary focus of the Pinewood art department at this time.  Creatures and costumes were being wrapped up for the doomed Republic City scenes, Maz's castle, and the "Force-back" flashback sequence.
Alternate Kira (Rey)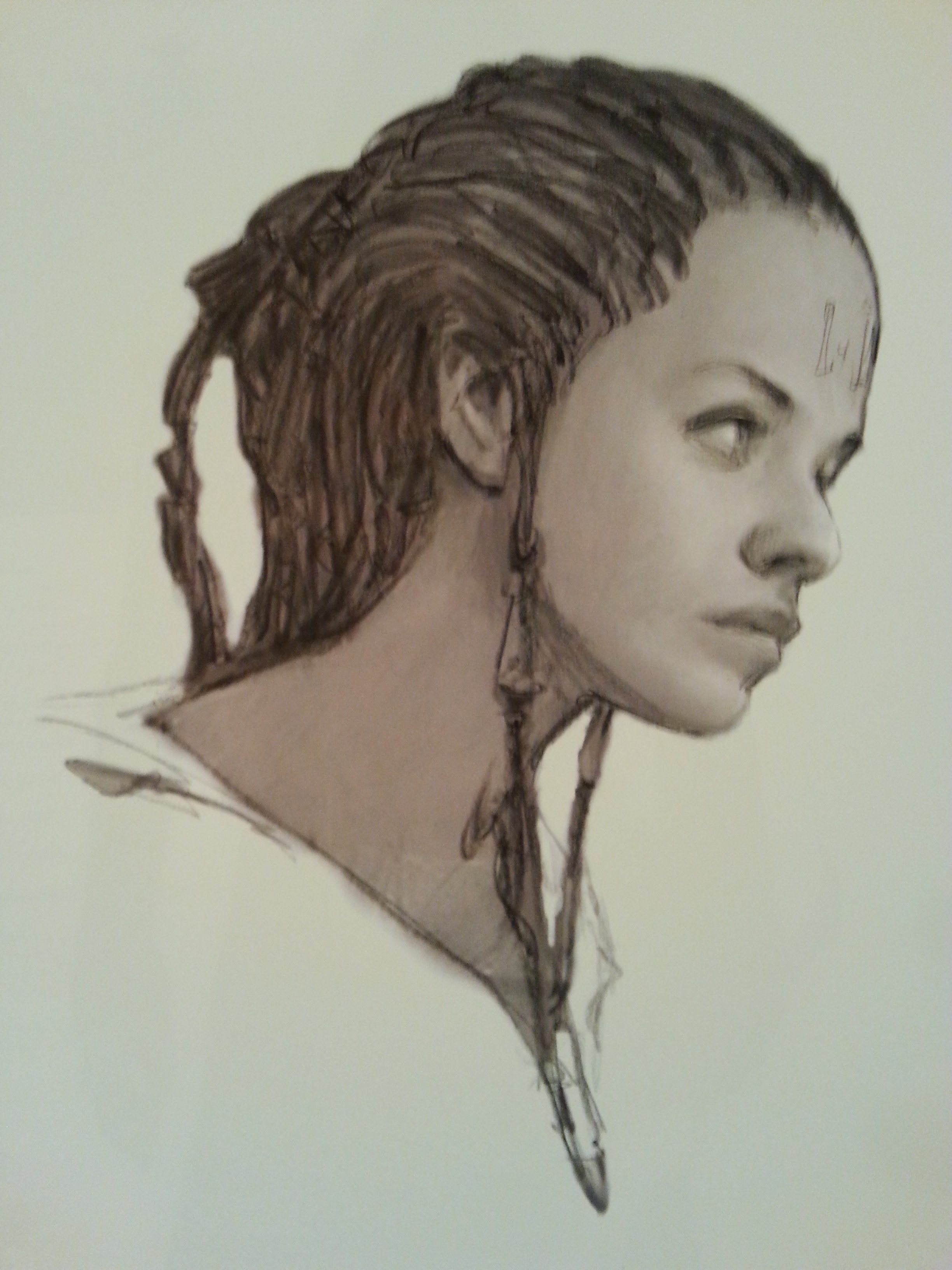 October 2014:
The final designs for Snoke and Maz Kanata were confirmed.  Snoke's appearance shifted in a more youthful direction at Abrams' request in an effort to further distance the character's design from that of Emperor Palpatine.  After many various iterations of the character, including Snoke even being proposed as a female at one point, they finally achieved the look they wanted for the Supreme Leader of the First Order.
Primitive Lightsabers Concept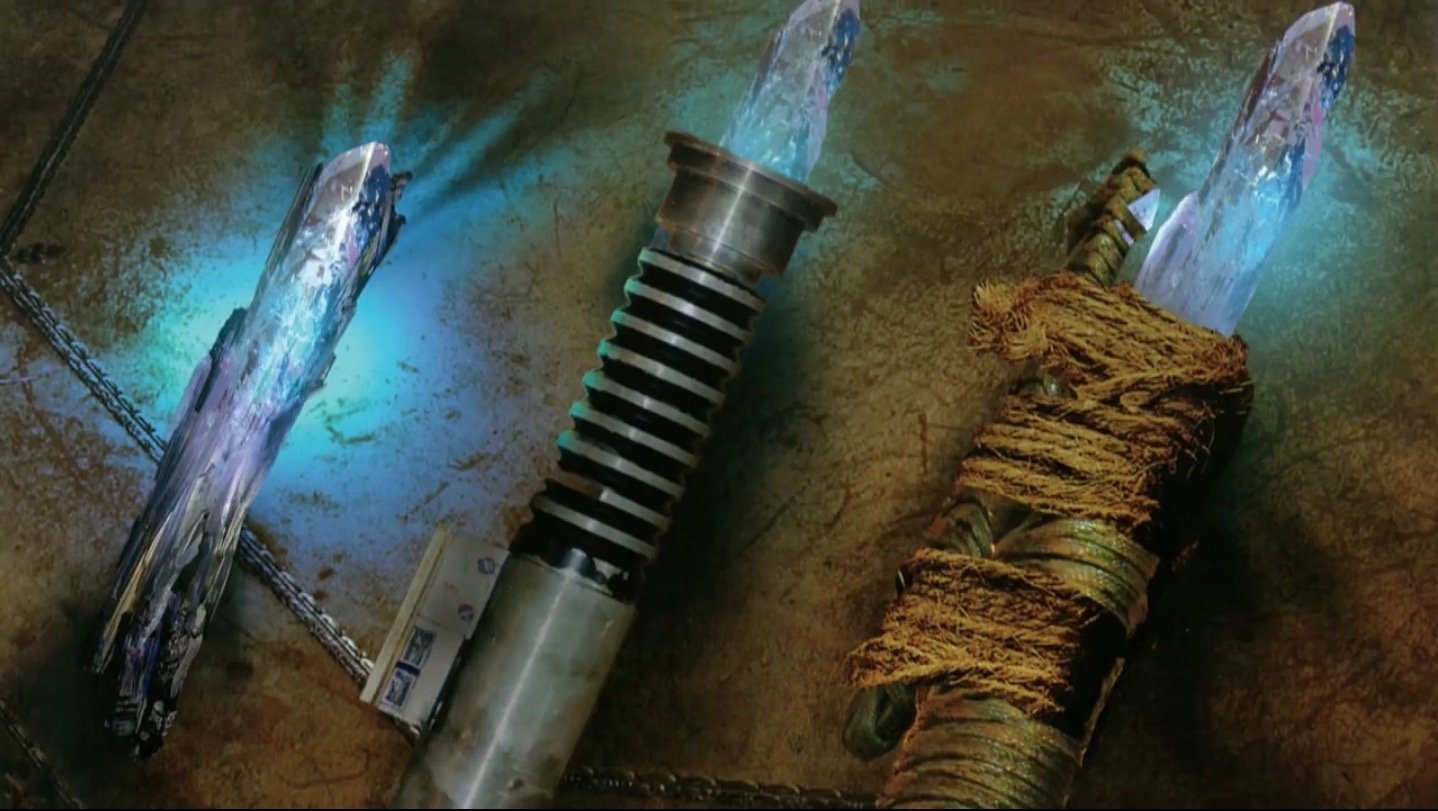 Post-Production
November 2014 – January 2015:
At ILM in San Francisco, the post-production shot turnover and delivery process officially began on November 7.  The ongoing digital shot creation process carried on deep into 2015, close to the December 18 release date for the film.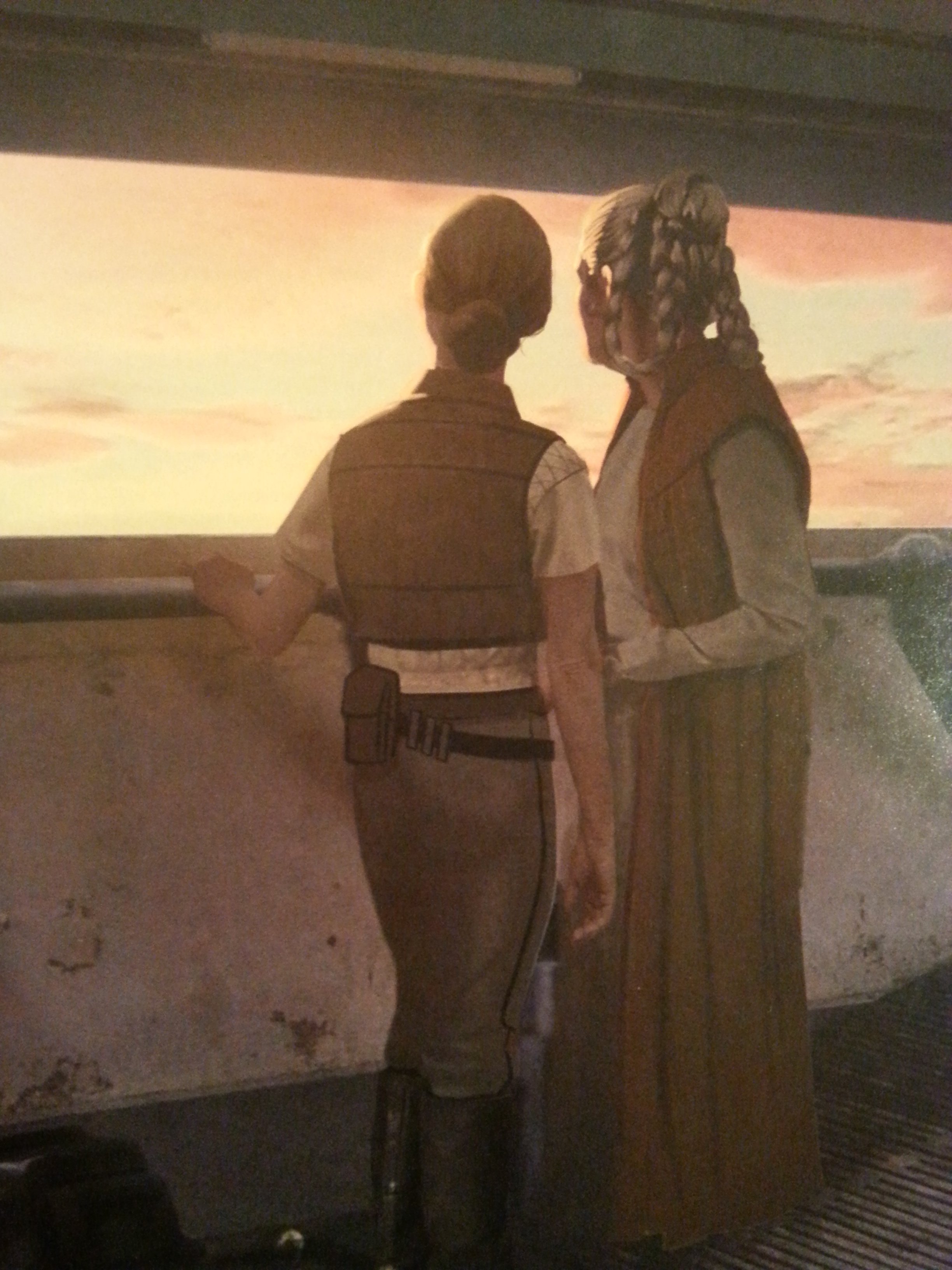 With 250+ pages of glorious artwork and production details, there is no way to convey all that this book has to offer in this article. But hopefully, through our summary of the production process detailed in the book and the amazing art above, you got a pretty good glimpse at what it took to bring this film to life and the importance of art and visualization throughout the entire production process.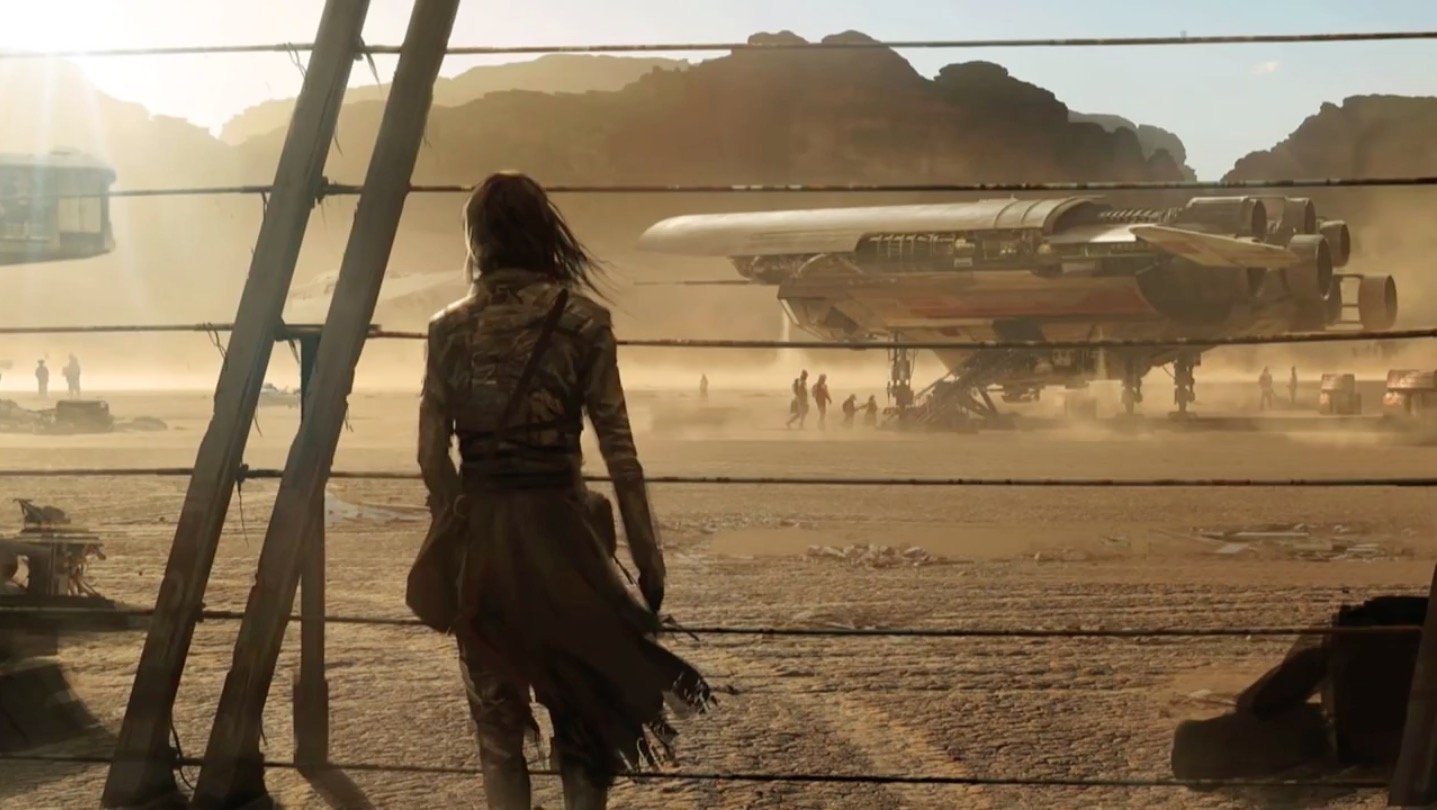 I highly recommend that all Star Wars fans eventually find room on their bookshelves for this one.  It can be purchased wherever books are sold, and would also make a great gift.  So what are you waiting for?  Get out there and pick up your copy of this little gem, and enjoy its depictions of what could have been along with what is now forever a part of the saga that will hopefully keep enchanting us for years to come.
Jordan Pate is Co-Lead Editor and Senior Writer for Star Wars News Net, of which he is also a member of the book and comic review team. He loves all things Star Wars, but when he's not spending time in the galaxy far far away, he might be found in our own galaxy hanging out in Gotham City or at 1407 Graymalkin Lane, Salem Center, NY.