A week ago, the big trailer for Star Wars Episode VII: The Force Awakens finally arrived. Right before that happened, I called upon users of The Cantina to share upload their reactions into a big video – and now, thanks to the efforts of the community, the video is now here. (Plus, see John Boyega, Daisy Ridley, and BB-8's reactions to the trailer at the bottom of the article!)
I'd like to give credit where it's due (as I had very limited involvement in the production of the video itself), so some acknowledgements are in order. Firstly, I'd like to thank Darth Lexor Kai for editing all the footage together. I know he's typically busy with editing the podcast (along with something important he has in the pipeline), so it meant a lot to me that he was able to take time out of his busy schedule to work on this. Secondly, I'd like to thank TIDMADT for letting me use his server space to direct the uploaded videos. I did this on very short notice, but he was very cooperative overall, and I couldn't do it without him. Both of these guys are amazing staff members and buddies, and I'm glad that I can post alongside them on our forums.
Finally, I would like to thank the users of The Cantina whose reactions made this video a reality. Many of them made it into the video itself – but sadly, not all participants could be included. I personally thank A Good Friend, AlphaWolf, Aras Volodka, DBZMerciter2005, Darth Lexor Kai, *Definetly Not A Sith Lord*, Fizzgig, Gojiroth, Ganon136, Grand Master Galen Marek, ITG, Jedi_Felipe357, Killerbanana16, Lord Phanatic, and Old Biff From The Future for the submissions that made it into the video, and I also would like to thank Adam Barnard, AstromechRecords, Capri, Darth_Purgius, Jedibri, LukeRyan, Mark Y Moon, Mordreth, Nickname320, Ooobly Jooblies, Pipe.Fett, skysamfreeman, Suspicious Moon, Suspiria, and Trevor for their submissions that couldn't quite make it in.
This was a lot of fun – almost as much fun as seeing the trailer itself! In any case, I'd like to thank everyone involved for making it all come together. The Force is with you guys!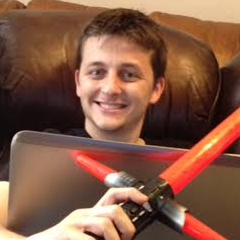 Grant has been a fan of Star Wars for as long as he can remember, having seen every movie on the big screen. When he's not hard at work with his college studies, he keeps himself busy by reporting on all kinds of Star Wars news for SWNN and general movie news on the sister site, Movie News Net. He served as a frequent commentator on SWNN's The Resistance Broadcast.