Kylo Ren travels with a couple of biker scouts and a shadow trooper… I have this on the best authority. Even more surprising than this, he can sew, and it turns out he isn't a bad guy after all. More info after the break…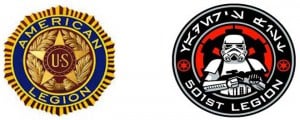 This weekend I got to spend time with two of my favorite groups, the 501st Legion and the American Legion. Both are wonderful organizations with a long history of charitable activities, and it was great to see them coming together for a good cause.
Like most people, I really didn't know a lot about the American Legion before I joined. That's kinda sad… I am a veteran. I knew they were an organization for veterans, but I had no idea what they did. I didn't really think they did anything, just a bunch of old guys sitting around a bar mourning their lost youth. My impression couldn't have been further from the truth. Founded in 1919, the American Legion currently has about 2.4 million members in 14,000 posts worldwide. Across the country and beyond, the Legion helps hundreds of thousands of veterans, military families, schools and young people.
Last Saturday, Florida Post 88 held their second annual Fall Festival, hosted by the ladies Auxiliary. "The American Legion Auxiliary is the largest Women's Veterans Organization in the World," said Joann Mahle, Post 88 Auxiliary Treasurer. "We help support our veterans and their families. We raise money throughout the year for different Veterans and children's organizations. This year, the American Legion Post 88's Auxiliary with help from the Legion Family of Jacksonville, FL, invited the children of our community along with other Legion Family members, to participate in our yearly Fall Festival. This year we sold chicken dinners to raise money for C.O.T.A. (Children's Organ Transplant Association). This event was free for the children of our community as well as the children of the American Legion Families."
The Fall Festival was a perfect fit for the 501st Legion. Formed by South Carolina residents Albin Johnson and Tom Crews in August 1997, The 501st is an international fan-based organization dedicated to the construction and wearing of screen-accurate replicas of Imperial Stormtrooper armor, Sith Lords, Clone Troopers, bounty hunters, and other villains from the Star Wars universe. Legion members make appearances at casual, promotional, and charitable events, often at the request of Lucasfilm's Fan Events department. Although not officially affiliated with the Walt Disney Company or Lucasfilm LLC., the 501st Legion is Lucasfilm's preferred Imperial costuming organization.
BJ Savage, Squad Leader of the local detachment of the 501st, was happy to get involved. "Squad 7, of the Florida Garrison serves the northwest part of Florida. We are happy to appear at any community events that involves charity or love of Star Wars, sci-fi, and costuming. We are very proud to support the American Legion and local charity organizations whenever possible. "
4 members of the 501st attended the Fall Festival, 2 biker scouts (bikerscout73 and penguin-padawan), a shadow scout (shea_wars) and Kylo Ren (plagu3is). Their outfits, naturally, were amazing, and you could really see the level of love and care members of the 501st put into their equipment. "Saturday, at the Fall Festival, members of Squad 7 were greeted with an abundance of smiles from many children, as well as their parents! Many pictures were taken and memories made. We were very pleased to be able to be a part of such a great event!"
"Everyone was very excited, and were waiting on pins and needles for them to arrive," Joann said, "They were the highlight of our festival. The children and adults were very eager to get a picture with the characters, especially myself, I personally grew up watching Star Wars and still love it as much today if not more than as I did as a child."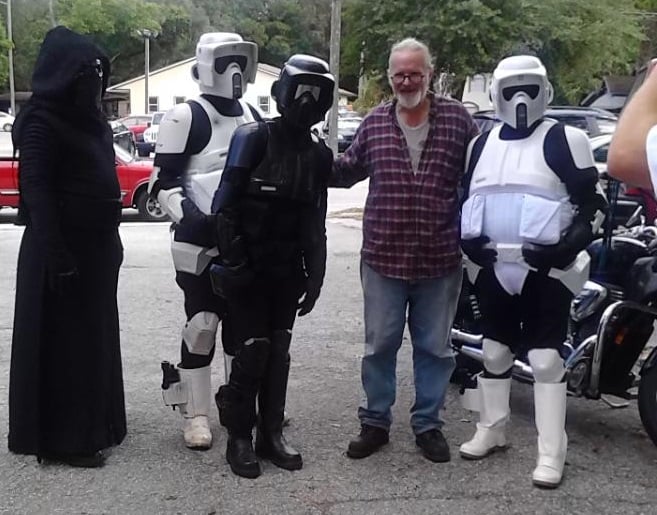 Personally, I had a great time. I have known about the 501st for a long time, and I have seen them around at various events, but I have never had the pleasure of being a part of an event with them before now. And believe me, it was a rare pleasure indeed. The men and women of the 501st, though entirely volunteer, are thoroughly professional and, though I think some of the parents were more excited than the kids, went the extra mile to make sure the Fall Festival would be a memory for these kids that will last a lifetime! Special thanks goes out to BJ from the Florida Garrison who reached out and helped guide the American Legion organizers to make sure all the small details were taken care of.