Star Wars Rebels: Season 2 Press Conference; Potential Live-Action Crossovers.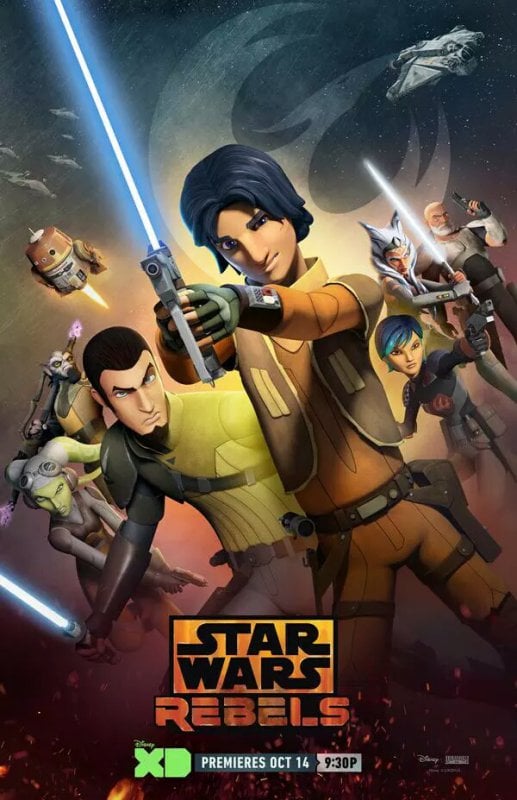 Not too long after Sarah Michelle Gellar's role was revealed for the new season of Star Wars Rebels, a recent press conference was held discussing the future of the series recorded by Skywalking Through Neverland. In addition, Simon Kinberg also discusses the possibility that the characters could appear in a live-action movie.
Some of the major points displayed in the videos are as follows (via Star Wars Underworld):
Every Ghost crew member's background is extended greatly upon.
Sabine's role is more extensively developed, to the point where she's been described as being as a prominent focus of the overall story arc as Ezra is. Her Mandalorian background is given much more of a focus, and Dave Filoni has noted that he has come up with extensive notes describing the culture of Mandalore.
Ezra's story arc involves him finding his place in the Galaxy – as a Jedi and as a Rebel.
Kanan's past as a Padawan is greatly explored, complete with a confession.
Hera's past on Ryloth is also discussed – notable, considering that her father was a revolutionary on The Clone Wars. She has multiple episodes revolving around her.
Chopper will even get a "hugely important" episode revolving around him – and he ends up getting a new friend.
Boba Fett is definitely on the table for a future appearance; however, he will not show up in Season Two.
Character from The Clone Wars are included in a case-by-case basis – they are included only if it is felt that they help the overall story arc develop as opposed to pandering to the fanbase.
Captain Rex's inclusion, for instance, is heavily based around the conflict with Kanan and his distrust for Clone Troopers based on Kanan's PTSD from surviving Order 66.
Likewise, Ahoska Tano's role in the show is deeply tied to Darth Vader's – she's the best chance that they have to keep the Sith Lord at bay, as the season premiere demonstrated that he's on a level substantially above the Ghost crew. Her story arc also confronts her decision to leave the Jedi Order and how she passes on her knowledge to Ezra in spite of recognizing that she is not truly a Jedi anymore.
In addition, Simon Kinberg also got around to discussing the possibility that characters from the show might one day appear in live-action with Nerdist.
"There's certainly potential for it. And as a fan of everything that Lucasfilm's doing, it'd be fun to see different characters pop up across different stories," the producer who works in both live-action and animation at Lucasfilm said." But the thing we're really focused on is just making sure there is real continuity, that it is a unified universe from a story perspective, where anything that happens in Rebels is canon, in the same way as the original movies or prequels, The Clone Wars, and the movies going forward. There's just a lot of care that's taken to make sure that whatever happens in whatever different story right now is acknowledged, and that it actually feels like a coherent world or galaxy."

"The idea of characters actually popping up or transferring from animation to live-action and live-action to animation, we're obviously open to because we have a lot of characters from the original movie and actually prequels who pop up in Rebels as substantial characters," Kinberg continued. "That was true in the first season and will continue to be true in the second season, I'd say. Our second season is more Clone Wars, but there are lots of characters from the original movies too, like Vader, who will be a big part of the show now. So we've talked about it, and the Lucasfilm folks are–I've never seen anything like it, where they're so good at telling story over not just different media, but completely different worlds… All of it is incredibly well unified and planned."
Star Wars Rebels will have a more extensive conference – featuring a new trailer for the season as a whole – at the New York Comic Con on October 8. The show officially resumes October 14. Stay tuned as we cover Rebels and everything else related to Star Wars.
Grant has been a fan of Star Wars for as long as he can remember, having seen every movie on the big screen. When he's not hard at work with his college studies, he keeps himself busy by reporting on all kinds of Star Wars news for SWNN and general movie news on the sister site, Movie News Net. He served as a frequent commentator on SWNN's The Resistance Broadcast.