Special Collider Jedi Council With Freddie Prinze Jr. Live In Studio!
Collider Jedi Council did a special episode this week with a very special guest. They had Freddie Prinze Jr. – Kanan Jarrus himself – on the show for about 90 minutes, weighing in on the weekly topics as well as giving us a little more insight to season 2 of Star Wars Rebels and Kanan as a character. Freddie just happens to be a mega Star Wars fan himself, and he had a lot to say about what to expect moving forward with Rebels.
Check out the full video as there were so many things discussed that we can't include in this article, but below are some highlights from this week's episode with Freddie Prinze Jr.:

On Kanan's problems with Rex:
All that stuff sith the Clone Wars and dealing with the fact that he's gonna work with a guy who looks exactly like the guy that killed his master…my uncle was a Vietnam veteran and suffered mega PTSD and I try to apply every story that I could and make it a part of that.
On Playing Kanan:
I try to bring as much of my life and the people whose lives I know like my own to this character. I love Star Wars as much as anyone who grew up loving Star Wars, and the last thing I want to do is screw up a character that I think is awesome.
I approach it with kid gloves. Every time he sort of breaks the Force, Dave always makes sure that he pays for it. So we always exist within the rules of Star Wars that have been established. We try to stay really honest, and [Filoni] and I have a tremendous amount of passion for it.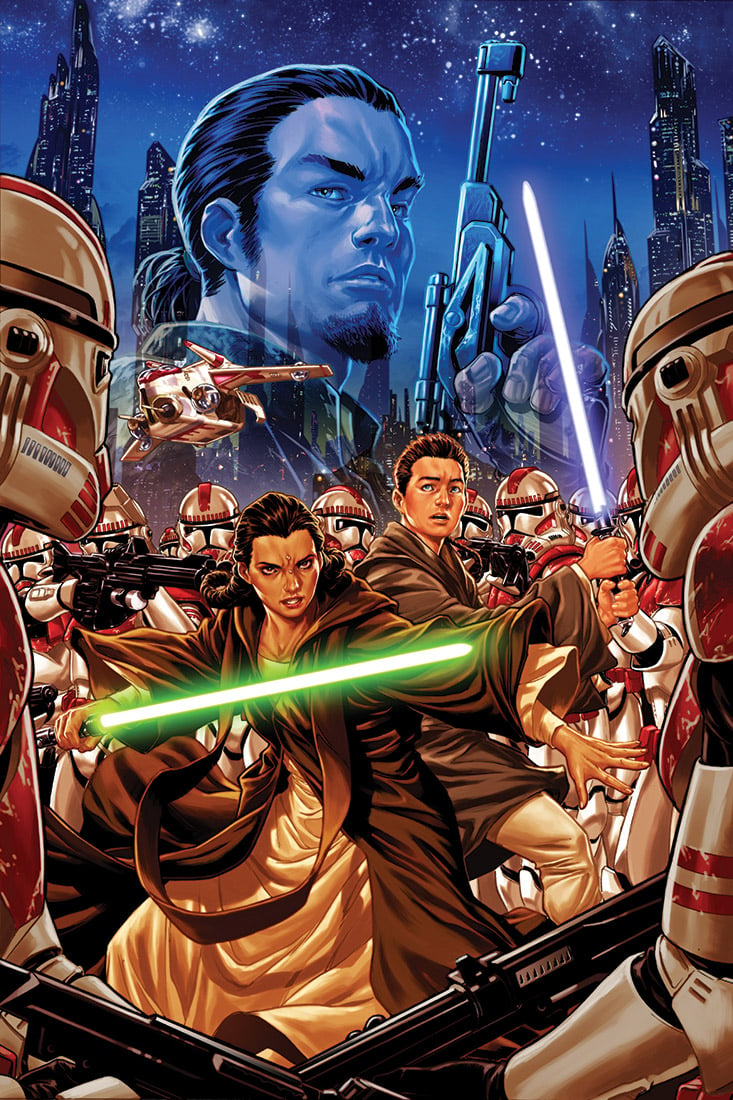 On the Kanan Comic, A New Dawn, and Preparing for His Role:
The comics, I am reading to my daughter right now, for bedtime stories – as brutal as they are – but my daughter has also seen every episode of Clone Wars by the time she was five. Star Wars tells the truth man, the good guys don't always win and sometimes your mommy and daddy can say "You're the best" and "It's gonna work out" and it don't. I've always felt those were powerful life lessons.
The Comic wasn't written when we started the show. Greg was just our lead writer. Everything you saw in the comic, we discussed then. I knew everything that happened in the book, the comic, everything that's happened to Kanan and pretty much everything that's gonna happen to Kanan.
On What to Expect in Season 2:
The look is much darker. The lighting is darker. You can see a lot of the atmosphere. Some of the characters are going to have good things happen to them. We're going to learn a lot more about Sabine. Don't think it's just a girl they are selling for action figures; there's a plan. We knew about the plan before season 1 started so we all had confidence in it.
With Kanan, you know about him, so the highs he hits at the end of season 1 will be balanced. If you want to say he passed one of his Jedi trials in season 1, you could argue that he completed two of them, and maybe get away with that. At the end of season 2, a trial is complete, and every one will know exactly which one it is – and it's the kind of thing that sort of makes or breaks you as a Jedi, I think. I've never seen a Jedi endure what his character is going to have to endure and how it's going to affect, not only Ezra, but the relationship between him and Hera. There's going to be a lot of hurt and a lot of pain.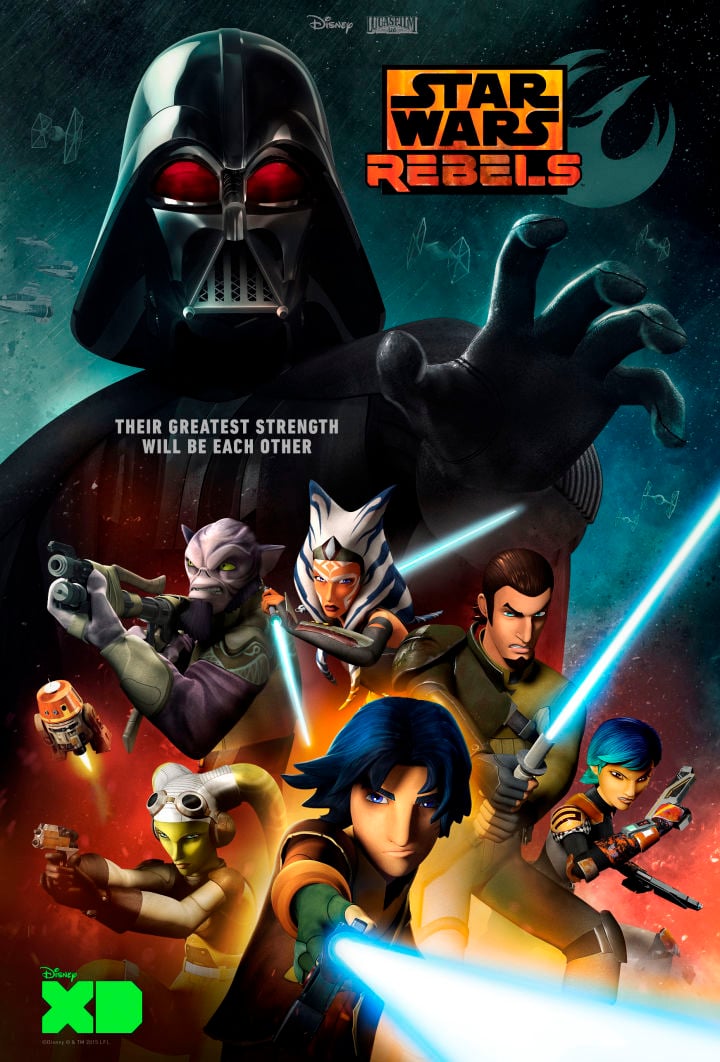 On the more mature subject matter of Season 2:
If you're a four-year-old girl, ask your dad first. There's much more real stuff going on, not just for Ezra, but for Kanan its life-changing stuff. He will have to learn how to be a better Jedi or it's game over basically. The end of Season 2, where they send us, what we have to deal with, the special characters that are there with us, it's game over.
On the Season 2 Characters:
There are more legendary characters to come that some you've seen in season 1 and some that you have not seen yet. And there's new characters as well. There was a shot in the last teaser they released, and Sabine challenges a Mandalorian to one-on-one combat, and that character will have a cool presence in the show's future. The actor playing the role is highly capable. This episode will come out fairly soon; I think it's like 6 or 7.
On Agent Kallus in Season 2:
Kallus is a huge part of our show. He's not just the heel that chases us from time to time. In season 2 you'll see a completely different side of him, and in the future that they have planned – he's in our projected future as well. You'll see the road that he goes on. They treat him the way they treat a member of the rebels, as far as the amount of character and story that they give him – which is basically a Kallus episode.
On the number of seasons planned for Rebels:
I'd say, for me, and this isn't a Disney plan or a Lucas[film] plan, I think we have 6 seasons that would make logical sense, not each one being a year – I'm not saying it's the same amount of time between each season. That said, I think their plan is somewhere between 5 and 7, closer to 7. And as long as they want to do it, I'll do it.
On the possibility of Kanan crossing over into live-action:
I would love to see that happen. I'm pretty much retired man; I'm a stay-at-home dad. I take my daughter to jiu jitsu, to boxing, to ballet… It would be the one role that I'd ever consider, if the age worked and the timing worked and it was something they wanted to try, but even then it would be a stretch. I really like being home. I feel like my earning years, my big-time hard work "let's go to Australia for 6 months" years, those are long gone behind me, and I'm pretty sure they only film Star Wars in London, so…[laughs] I'm not trying to go to London for months on end.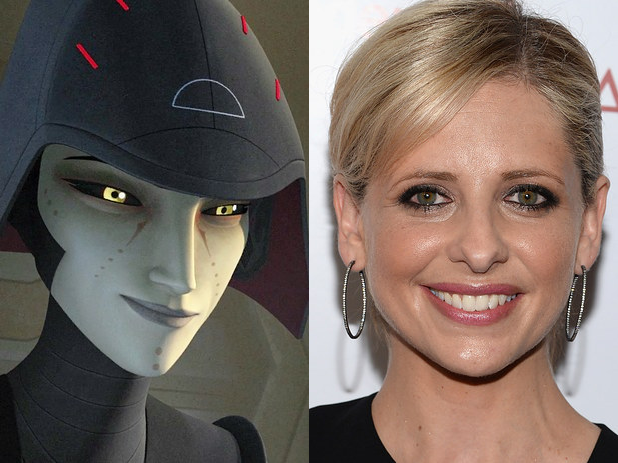 On the Seventh Sister and Ahsoka:
You can tell she has fun with it. Ezra's a mouse and she's a cat. She's not hungry; she just wants to play.
You'll definitely see [Kanan and the Seventh Sister] fight. That wasn't casting on accident; you'll definitely see them fight.
And you'll see Ahsoka come in and handle some business. Ahsoka is, I would say top three, four, as far as fighting combat skills Jedi of all time. I put her at that level. If you're going to have a Vader fight, you want it to be with the number one contender, and it's Ahsoka. It ain't Luke, it ain't Kanan – Kanan gets whooped on – but Ahsoka's greatest strength is relentlessness. She never quits, ever. No matter how beat down she is, she's up again. When she comes in, time stops, music stops; it's not necessary until the fighting begins again. It's epic.
On the Grand Inquisitor and Filoni's statement that we've seen him before on Clone Wars:
I won't tell you who it is, but I will tell you, that question gets answered in an episode that takes Kanan to an entirely next-level place. Everyone will sort of get to discover it at the same time Kanan does. When that episode happens, and it's not early in the season, it's closer to just past the halfway point, and it's an epic moment for Kanan where he learns exactly what type of Jedi he thinks he's going to be. That question gets answered quite specifically.
Don't forget to send your questions on Twitter to @kristianharloff. Keep in mind that the show now has a new hashtag – #ColliderJediCouncil.
Jordan Pate is Co-Lead Editor and Senior Writer for Star Wars News Net, of which he is also a member of the book and comic review team. He loves all things Star Wars, but when he's not spending time in the galaxy far far away, he might be found in our own galaxy hanging out in Gotham City or at 1407 Graymalkin Lane, Salem Center, NY.