Updated With Official Description of the First Order Origins! Speculation: Origins of the First Order.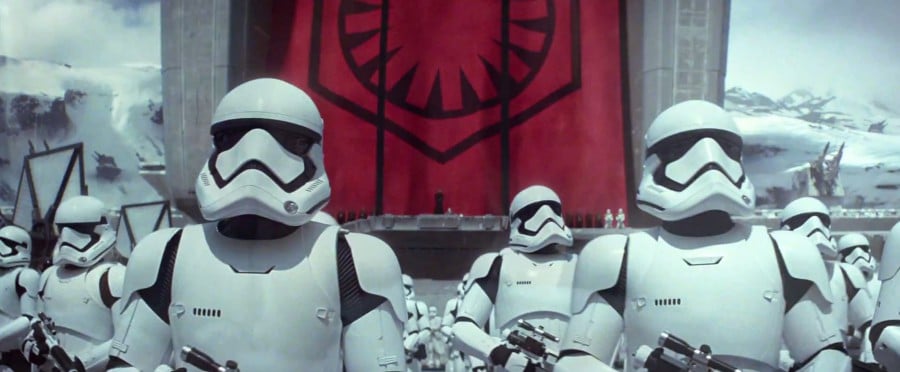 Having already discussed the real world historical analogy  concerning the First Order here. Hit the jump to read speculation on the potential origins of the First Order and its leaders.
Let me preface the rest of the article by making it extremely clear that this is almost pure speculation, some well known rumors well be referenced but understand that what I am posting comes from my mind alone and is meant to provoke thought and conversation. In going into this I have outlined in my head three broad outlines of what the First Order might be. What will actually turn out to be in the film may be any of the following, none of the following, or bits and pieces from each.If you disagree with my ideas then that is a good thing, and I ask you to immediately respond in the comments with your own theories.

Anyway with that disclaimer aside let's get into the speculation shall we?
Scenario One –  Lord Snoke reborn.
Let's assume here that Snoke is an ancient Sith Lord that has somehow been awakened. The awakening has actually occurred long before the film itself, the First Order being formed around the cult of a reawakened Snoke. A good analogy for this scenario is the Empire in Episode IV, an emperor is referenced but he isn't any sort of driving force towards the plot. What really matters is his enforcer Kylo Ren, same as the villain of Episode IV was Darth Vader. In addition to this, Gleeson plays a Tarkin like role as the Big Bad whereas the Bigger Bad is the relatively unseen Snoke. So for the Serkis fans amongst us this would be a highly disappointing scenario as Snoke would have a cameo type situation at best. The question of who is Kylo Ren is relatively independent of requirements in this scenario. If one was to build any sort of Kylo Ren they want i.e.- spoiled aristocrat, son of Han, failed apprentice, etc; any one could fit into this scenario. The First Order itself is only as old as Snoke himself, and may even be separate from a greater Empire in this scenario.
Scenario Two – Prince Kylo.
Let's assume here that the First Order is virtually the extent of what was once the Empire. It converted into a hereditary monarchy of sorts following the fall of Palpatine, think Roman Empire in a sense I suppose. Kylo Ren is the spoiled prince of this Empire and his father is on his death bed, whose death may even be the immediate driving force of the plot. Kylo's power over his subordinates comes from his royal name, and he is well known as a bloodthirsty warmonger. Leia and other leaders of the Resistance view him as their worst political nightmare come true. Unknown to all but Kylo himself is that there is a malevolent entity influencing Kylo behind the scenes, Snoke. For those familiar with my infamous "Third Order" theory, this scenario ties most closely to it. For those unfamiliar with it here is a general overview of the idea. But that doesn't mean Scenario Two needs the "Third Order" theory, it just requires a background of Kylo Ren as an Imperial aristocrat. This scenario could also offer more Snoke than Scenario One as we see him manipulate and twist Kylo towards some unseen agenda.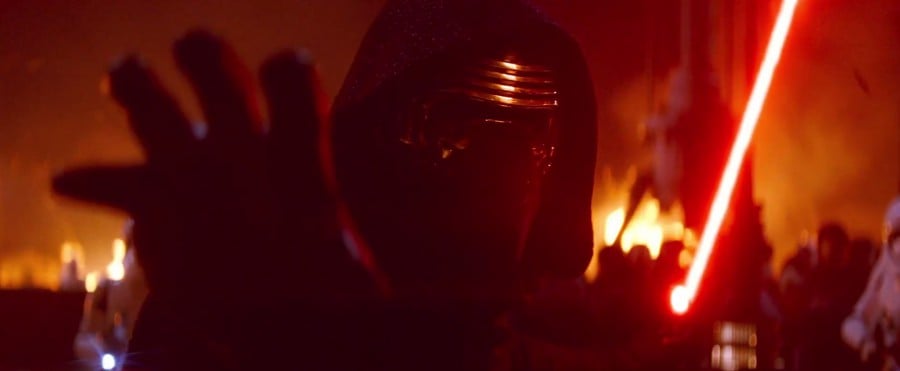 Scenario Three – The Cult of Vader.
In this scenario the First Order is a radical branch of the Empire centered around Kylo Ren. Here Kylo Ren is depicting himself as Darth Vader himself and uses his limited Force abilities to strike fear in both his subordinates and the civilian population. The First Order is gaining popularity as it promises a return to the glory of the old Empire and "Darth Vader" proves to be a powerful figurehead even if the figure behind the mask is unstable. Like in Scenario Two, Snoke is a behind the scenes influence on Kylo Ren and others. While any build-a-Kylo Ren works here, Kylo Ren Solo requires a lot of explanation that may plague the film with plot holes, in a sense Prince Kylo does similar just at a slightly lesser extent.
In conclusion I won't even pretend to assume that any of these scenarios are correct. Even if they do luckily end up having elements of truth I would immediately go to Vegas if it ends up a 100% match. Think of this as throwing speculation at a wall and seeing what sticks. I welcome any and all conversation on the topic, are there any scenarios you have envisioned that I didn't? The comment section and The Cantina are open to your own theories and comments upon my own
UPDATE!
Only hours after we posted our speculation on the origins of the First Order, an official description hit the web, found on the side of the leaked packaging for one of the First Order Stormtrooper toys:
#SDCC #TheForceAwakens Stormtrooper figure packaging confirms First Order are new on the scene in Episode 7 @starwars pic.twitter.com/YPSD45V2oV

— Eric Goldman (@TheEricGoldman) June 27, 2015