Adam Driver's Stunt Double Talks The Force Awakens, J.J. Abrams and The Cross-Guard Lightsaber!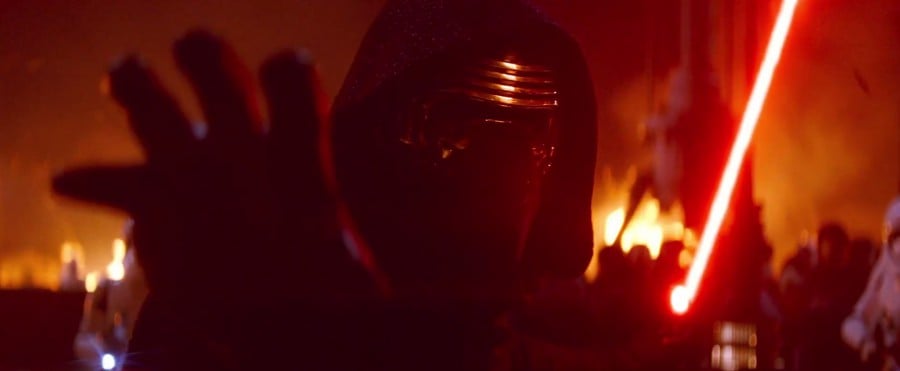 Adam Driver's stunt double in The Force Awakens is the 26-year-old Hungarian Toth Gyula. In an interview for a local film site, Toth discussed his experience during the filming and revealed a few small bits about the controversial cross-guard lightsaber…
When you see Kylo Ren performing an action sequence in The Force Awakens, it's not Adam Driver beneath the mask, but his stunt double Toth Gyula. The young Hungarian worked on movies like Game of Thrones, Hercules, Age of Ultron and much more, but his most memorable role will always be his appearance in TFA.
From Index.hu:
(translated from Hungarian thanks to our reader Levente Gyimesi)
Q: How were you selected for the main evil stunt double?
A: Last April, I was working on The Avengers 2, which was already a huge thing, because as a kid I loved comic books. One day I received a text message, that it would be a stunt casting for the new Star Wars. They were looking for high stuntmen, and could I come to London? At first I thought that this is a joke, and somebody was messing with me.
Then I looked into who owns the phone number and found out that it was a stunt-assistant, with whom I had previously worked together. I went out for a day of casting where I was first viewed by the stunt-coordinator, then the chief make-up artist and eventually the producers themselves, and in the end asked if I was free to film Star Wars 7? Of course, I said yes right away, and I did not mind at all that this meant I was left out of the remaining Avengers 2 action scenes.
 

Q: Will Star Wars 7 be as spectacular, jumping lightsaber duels, like the new trilogy, which are choreographed martial artist Nick Gillard? Or will they return to the "old man's" samurai technology as Luke and old Obi Wan fenced?

A: I can tell that it is not by chance that the title is The Force Awakens, the lightsabers will have a major role. More, however, really I cannot say, everybody will see at the cinema.
Q: That's how strict the precautions are in the Star Wars 7?

A: Even at the one-day casting in the beginning I was taken straight to the studio Pinewood from the airport to the main building. Until then, I could not go anywhere until I wrote under a 20-page statement of confidentiality, one sheet with separate signature. In the studio I could walk only with escort and special magnetic card. On every corner there were security guards, they often stopped and asked for confirmation of my identity and say that I'm really have license for being there. It was necessary anyway, because the were other filming the studio was doing in parallel with TFA, and they did not want anyone there to peek.

Q: But if there is such a rigor, how could a bunch of sketches and story elements be leaked last year?

A: I do not know. Probably the reason may be that the bigger the secrecy, more the people are curious and want to know some little information.I have never seen as stringent measures as in theStar Wars 7 shooting. The precise production plan, to know what we are going to shoot the next week, I never got to know in advance.

The entire story of the film is still a black hole for me for example. I will only put together all the pieces in the cinema on full screen, I still have a lot of white spots. The characters appeared  through code names not to be able to identified ahead of time by accident. Of course, there were so vicious fans who flew drones in the studio courtyard to film the outside scenery. There was also a separate alarm code in such cases: released 50 security guards on the set, everyone were put in black hoods and sheets and led them to the tents that the drone can not take pictures of them.
Q: What do you tell about the crossbar red lightsaber that divides the extreme fans?

A: It was strange, especially in the very first days of April, when I had to show that I am capable of what movements. I have only got a wooden practice sword, but it's also there was this characteristic crossbar.

I was just looking at it: What is THIS? I came for a Star Wars production, not a medieval movie or something. During the filming, however, when i could take the real one, it was damn good. And of course there is also the reason why SO (crossbar), but I can not say anything about it. The agreement I signed says if anything leaked, I get tens of millions of forints penalty. (36 000 USD)

Q: So I can ask you some generalities only? For example, did JJ Abrams really have a minimum green background and what he could, actually built?

A: Yes, the director paid attention to be true in every scene, and not just imagining the environment on the set, but actually be in it. I do not want to exaggerate, but I think 70 percent of the scenery was actually built and could be touched. It has made me much more confortable in the scenes, and for the actors probably also easier to play in than in front of a green background.

J.J. Abrams really feels what the fans didn't like in the Star Wars prequels. He strove to capture the IV-V-VI. atmosphere. During filming, he worked through the tools of the old trilogy, and only marginally used the technology at present. In Abrams's film we can see sparkling effects if anyone shoots ray gun fire into something like a long time ago. And it is very good that he really made these sparks on the set.
Q: Have you met personally Mark Hamill, Harrison Ford and the old main actors? Was there a common scene with them?

A: Let's just say that I met each of them a staff party and they were very funny and kind. But young actors are nice too, direct and likeable, for example,Adam Driver came over and hugged me at the end of the last day of shooting. I do not feel that we are filming a huge-expectation-Star-Wars-7 which makes everybody tense. But it was typical of the whole shooting that everyone did his job professionally as in any other film. The result will speak for itself: it was not a coincidence that Kevin Smith wept with joy on the set, because I was there the same day and I saw exactly what he did.

Q: How long have you been shooting in London?

A: June to November, but not in a row. We shot for three weeks, then they gave me a week off, I spent four days out, then two at home, and I went back. I've never worked on such productions abroad for a long time, but it was probably a much better way than to shoot at a stretch, because so it was time for the family as well. Fortunately, my partner also works in the film industry, so it was an absolute understanding about the commute. And London is not the end of the world.