'The Book of Boba Fett' Collects Strong Initial Reaction Among Critics and Fans
The Book of Boba Fett has already premiered its first chapter on Disney Plus, and after a few days, Rotten Tomatoes has already collected enough critics' reviews to start forming a picture of how the series is being received. As of the posting of this story, 46 critics have submitted their scores, and 86% of them are giving the series a thumbs up. Meanwhile, 71% of the 369 audience members that have rated the show are giving it their approval.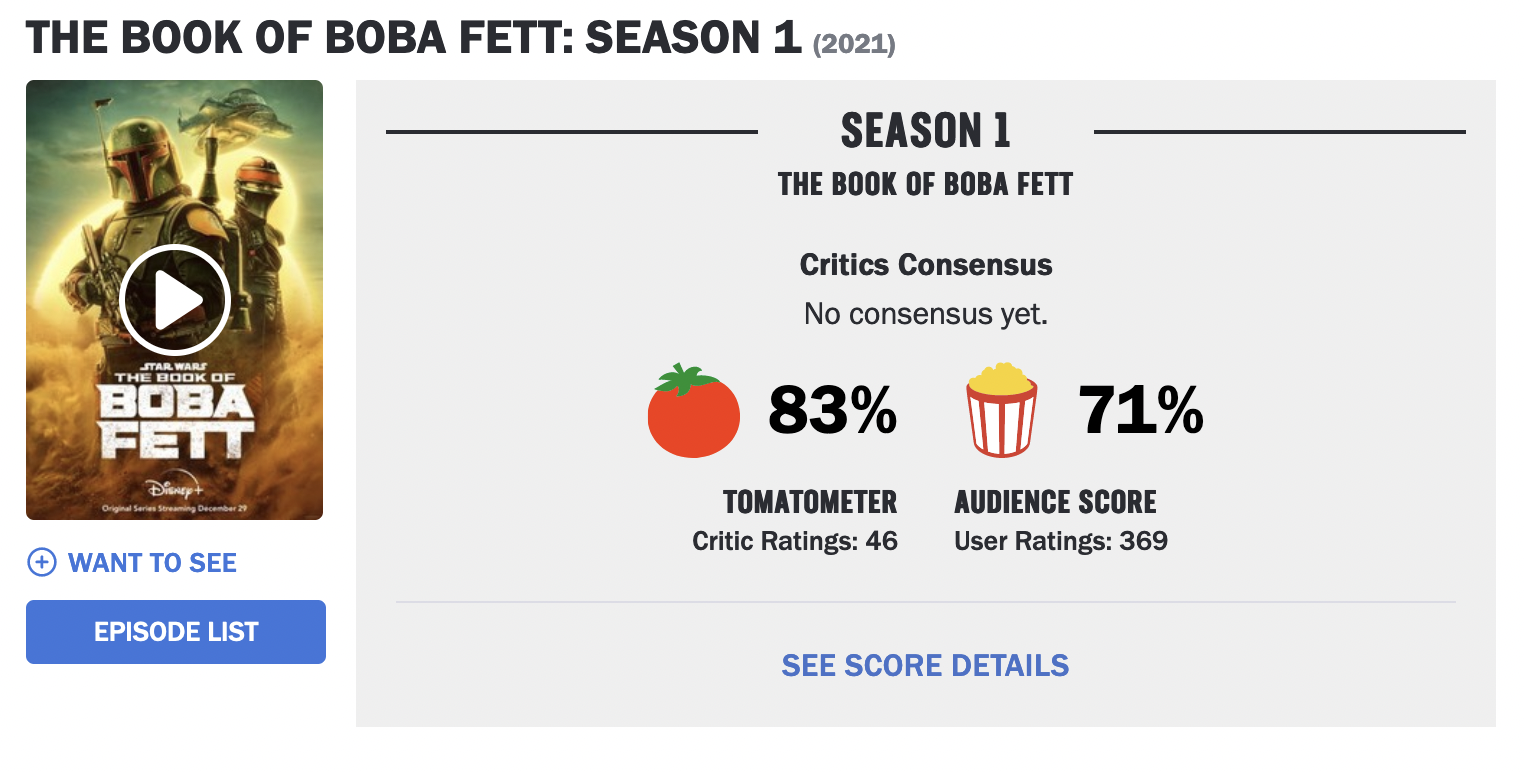 The numbers are generally strong, but in comparison with the initial response to previous Disney Plus shows, they may seem a little low. Going no further, the initial response to both The Bad Batch and Star Wars: Visions was around 94% positive from critics. Respectively, 96% and 80% of the audience members gave those series the thumbs up during the first few days. These numbers are from a couple of days after each series premiered, and the number of submitted scores, both from critics and audiences, was lower than those from The Book of Boba Fett for both series.
It must also be said, though, that the ratings for The Book of Boba Fett will certainly change as weeks go by and more episodes start airing. The Bad Batch, for instance, has now half of the critic reviews for the entire season than it had for the series premiere, and the rating sits at 88%. On the other hand, it has almost four times as many audience-submitted reviews, and the rating has gone down to 81%. Similarly, Visions added more reviews from both critics and fans, and the critics' approval rating has gone up to 96%, but the audience score currently sits at 68%.
Once again, the numbers for the new chapter in The Mandalorian saga will probably go up. Over 90% of the critics and audience members liked either season of the original show, and we would not be surprised if this is the case for The Book of Boba Fett once new episodes start airing and showrunner Robert Rodriguez starts delivering on the many promises he made during the marketing campaign.
You can check out our review of the first episode of the series right here. Make sure to come back every Wednesday for our reviews of each new episode.
Miguel Fernández is a Spanish student that has movies as his second passion in life. His favorite movie of all time is The Lord of the Rings, but he is also a huge Star Wars fan. However, fantasy movies are not his only cup of tea, as movies from Scorsese, Fincher, Kubrick or Hitchcock have been an obsession for him since he started to understand the language of filmmaking. He is that guy who will watch a black and white movie, just because it is in black and white.