Boba Fett Feature, 'The Bad Batch' Season One Companion, And More, In Star Wars Insider #206
From a Boba Fett spotlight to The Bad Batch companion guide, Star Wars Insider #206 is a robust collection of unique and exciting content.
Star Wars Insider #206 hits newsstands on Tuesday, November 2 (US/Canada) and Thursday, December 2 (UK).
Boba Fett is featured on the common cover (with the subscriber-exclusive cover showcasing the famous bounty hunter in a sweet retro art piece) to tease "The Fett Family's Finest"—a feature article within the issue focused on Jango and Boba Fett's movie/TV scenes throughout the Star Wars universe thus far. 
From Boba Fett's infamous introduction in the original 1978 Star Wars Holiday Special, to Jango Fett's demise in Attack Of The Clones, the article only adds to growing mandalorian fever as we approach The Book Of Boba Fett arriving December 29 exclusively on Disney Plus. 
The rest of the issue is packed with quality content ranging from an extensive companion guide for The Bad Batch to a fascinating behind-the-scenes peek at Industrial Light & Magic. 
Check out the below content teasers to explore what else this issue has to offer! 
Model Magic
Founded by George Lucas in 1985, Industrial Light & Magic (ILM) brought groundbreaking special effects to the forefront of cinema. This is a fascinating feature interviewing ILM alumni as they reminisce about their time at the company creating some of the most memorable Star Wars moments. 
The Mandalorian's Kuill: An Interview with Misty Rosas
Bringing Kuill—one of the fan-favorites of The Mandalorian's first season—to life wasn't an easy task. Check out this brilliant interview with Misty Rosas, performance artist, on how she took on the challenge to create one of the most memorable characters of the show. 
The Bad Batch Companion Guide
I'm a huge fan of companion guides (any kind of visual dictionary that shares cool info bits and pieces is my favorite) and this guide to The Bad Batch doesn't disappoint. It's seven pages of extensive information on each episode inclusive of our favorite characters, locations, and moments.
A Perspective On The Prequel Trilogy
As a huge prequel trilogy fan, I was more than excited to read this interview with production designer Gavin Bocquet—the production designer on The Phantom Menace, Attack Of The Clones, and Revenge Of The Sith. 
A New High Republic Story
Part Two of Star Wars: The High Republic "Past Mistakes" by Cavan Scott continues the battle between the Republic and the Nihil (Part One appeared in Star Wars Insider #205). 
Languages & Linguistics
Want to speak Bocce? Think you have what it takes to learn Tusken Raider communication strategies? This fun feature asks experts to explore the languages of a galaxy far, far away. 
Interview With Joanna Berry, Video Game Writer
Star Wars: The Old Republic and Star Wars: Squadrons writer Joanna Berry gives an inside look of what it's like to create dialogue, storylines, and characters for these epic gaming quests. 
With great fan-featured creations in "Artists' Alley" to new toy & collectible teasers in "Launchpad", some of our favorite themed sections also appear in this issue and showcase the intentional updates we've come to expect from the publication. 
Explore the below links to find where and when you can access this robust Star Wars Insider issue along with past issues.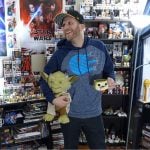 Tony Gorick is a self-proclaimed candy connoisseur with a passion for Star Wars and roller coasters. Whether he's working at his friend's arcade or watching classic Saturday morning cartoons, he does so with unsettling enthusiasm.