Updated with the Winners! SWNN Giveaway: 'Star Wars: The Ultimate Pop-Up Galaxy' & 'Star Wars: Galaxy's Edge – The Official Blackspire Outpost Cookbook'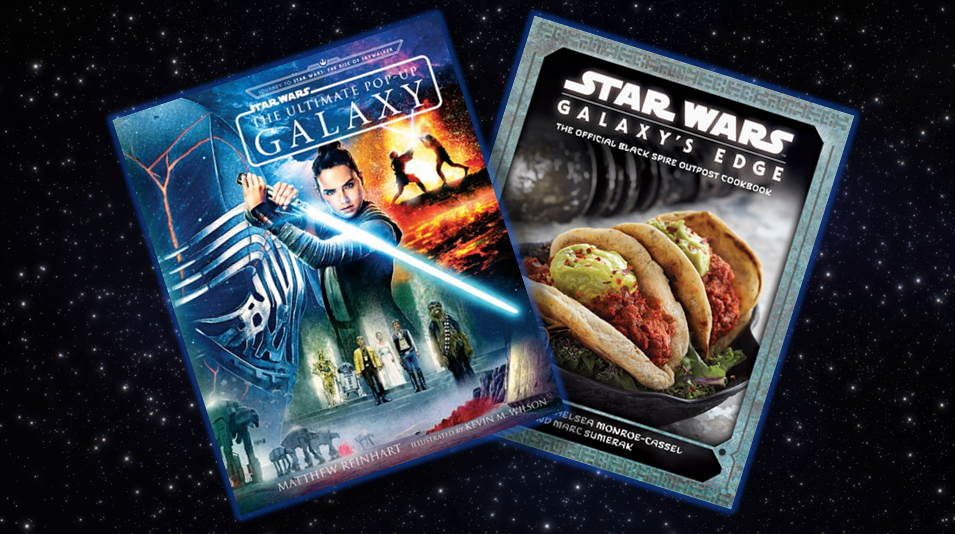 The final week of our five-week series of giveaway contests with Insight Editions has arrived! Read on for more information on this week's prizes and to find out how to enter the contest.
Our first prize is a true gem that would be a delight for any Star Wars fan, especially those on the crafty/artistic side of the galaxy. Explore the galaxy far far away in this giant feat of paper engineering from best-selling paper engineer Matthew Reinhart. You can check out our review for Star Wars: The Ultimate Pop-Up Galaxy (here).
(from Insight Editions):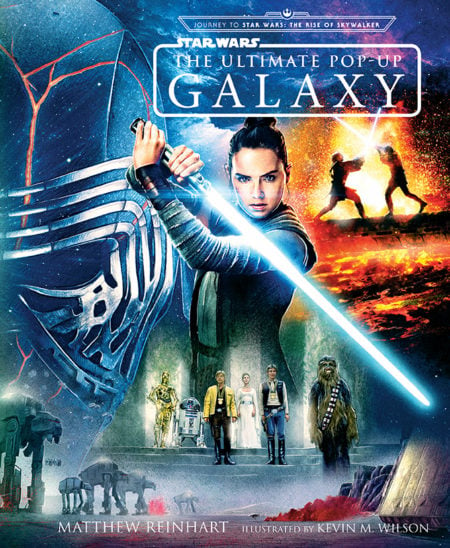 From the war-torn battlefields of the Clone Wars to the rebels' last stand over the Death Star and the Resistance's climactic clash with the First Order on Crait, this one-of-a-kind pop-up book takes fans on a unique interactive adventure that brings the Star Wars saga to life in a whole new way.

Featuring the most iconic moments from the entire saga rendered as ingenious pop-up creations, Star Wars: The Ultimate Pop-Up Galaxy allows fans to interact with the action, launching rebel snowspeeders against AT-AT walkers, helping the Millennium Falcon escape First Order pursuers on Jakku, and more. Presented in a dynamic 360-degree format that enables the action to be viewed from all sides, the book also opens up to form a displayable 3D diorama of the entire saga.

Packed with amazing Star Wars moments and hidden surprises to discover, Star Wars: The Ultimate Pop-Up Galaxy represents a whole new level of sophistication and interactivity in pop-up books and is guaranteed to thrill fans of all ages.
It's time to get cooking with our next prize, the official Black Spire Outpost cookbook, inspired by Disney's theme park, Star Wars: Galaxy's Edge. Cook an entire meal for your Star Wars family with a ton of tasty looking dishes to choose from. You can start out with some Mon Cala Sardine Fritters or even a bowl of Yoda's Rootleaf Stew. Then head on to the main course where you can try the Braised Shaak Roast or some Ronto Roasters. Cap it all off with some dessert and a Carbon Freeze cocktail (or a tall glass of blue milk for the younglings). There are plenty of fun Star Wars dishes for the whole family to try. You can check out our full review of the cookbook (here).
(from Insight Editions):
This exciting new cookbook is inspired by the cuisine from Disney's hugely anticipated theme park expansion, Star Wars: Galaxy's Edge. Based on the delicious delicacies found in Black Spire Outpost on the planet Batuu, this cookbook provides Star Wars fans with a wealth of delicious intergalactic recipes. Engaging, fun, and informative, Star Wars: Galaxy's Edge Cookbook is the definitive guide to the delectable cuisines of a galaxy far, far away.
It's definitely a great time to be a Star Wars fan. With The Rise of Skywalker just a few weeks away and The Mandalorian in full swing, the franchise has a lot to offer its fans at the moment. Though fans have been somewhat divided over the sequel trilogy, there's still a lot to look forward to across the board, and it's been great to see the majority uniting once again in their love for Star Wars (largely thanks to the franchise's first live-action series, The Mandalorian).
What are you looking forward to the most in the future of the Star Wars franchise?
All you need to do is answer the question above in the comments section of this article by November 29th for your chance to win the one of the two Star Wars books above from Insight Editions.
Two winners will be chosen at random from the comments section (all participants must answer the question in their comment to be eligible) and contacted by us for shipment information. If a winner does not contact us within 5 days of the announcement, we will pick another winner.
Due to shipping limitations, the contest is limited only to participants from North America.
UPDATE!
And the two winners (randomly picked) are:
Curt Bilson – Star Wars: The Ultimate Pop-Up Galaxy
Adam Goswick – Star Wars: Galaxy's Edge
The winners have to send us their full name and address to our email – viralhide@gmail.com. If they don't do so in the next 5 days we will pick another winner.
Jordan Pate is Co-Lead Editor and Senior Writer for Star Wars News Net, of which he is also a member of the book and comic review team. He loves all things Star Wars, but when he's not spending time in the galaxy far far away, he might be found in our own galaxy hanging out in Gotham City or at 1407 Graymalkin Lane, Salem Center, NY.