The Mandalorian: "Chapter Four – Sanctuary" Review, Giveaway, and Discussion
The Mandalorian's fourth episode is here bringing another age old western trope to the Star Wars universe. Keep reading for a spoiler free review, another giveaway, and a full spoiler break down of "Sanctuary".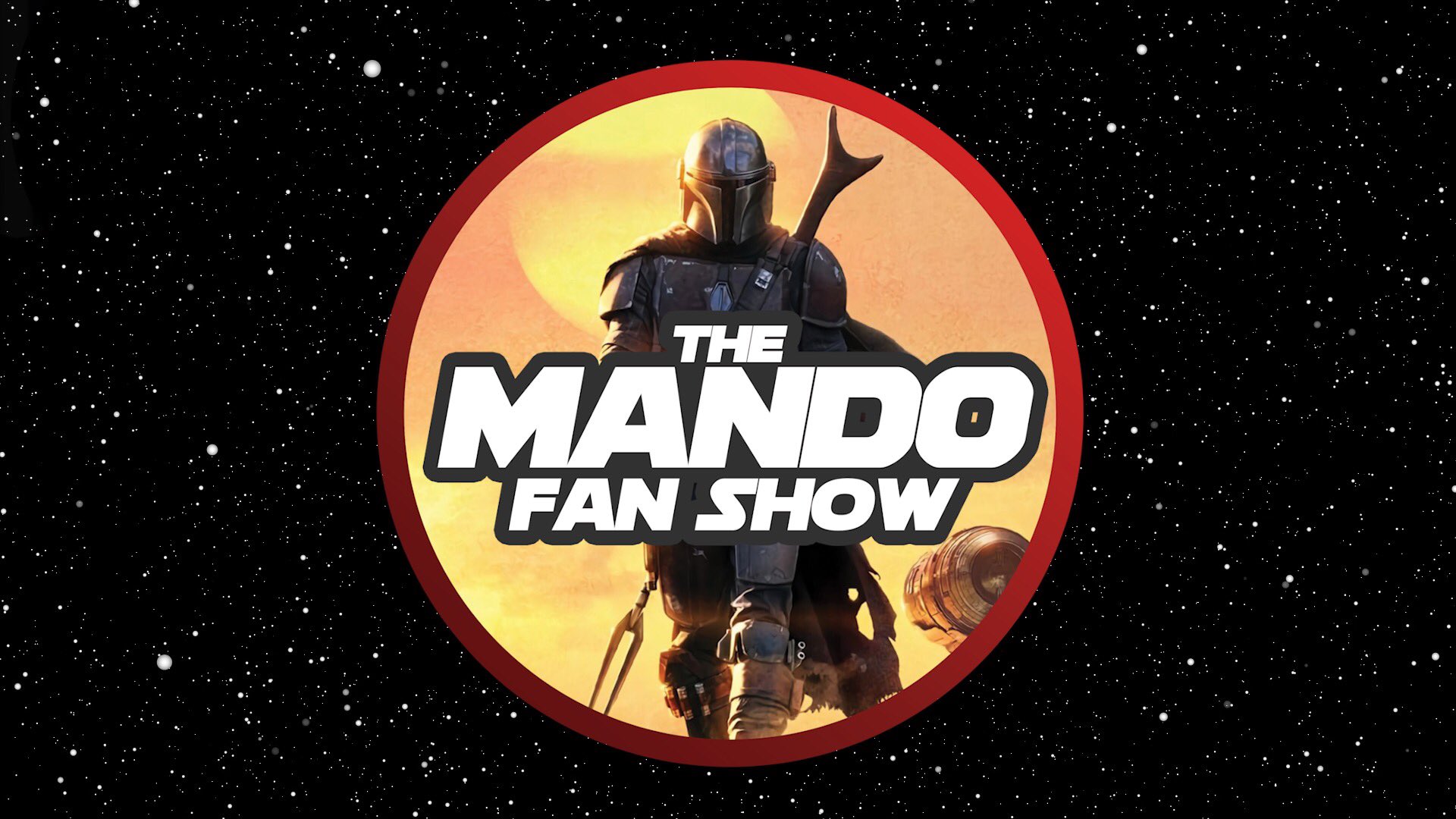 Also, be sure to check out an all new episode of "The Mando Fan Show" later today with hosts John, Lacey and James of The Resistance Broadcast as they dive even deeper into the fourth installment of the The Mandalorian.
Sanctuary is a very interesting and unsuspectingly pivotal episode of The Mandalorian.  It is pivotal in the fact that this is where we get to see where the Mandalorian is heading with its season long arc.
The first three episodes of The Mandalorian told a singular story of Mando's bounty and his decision to protect he child while violating the guild code.  The episodes were each individually outstanding, but there was a sameness to them that couldn't be sustained over an entire series.
Watching Mando wander deserts with a baby in tow while repeatedly fighting off bounty hunters after his little friend made for some excellent action set pieces and some thrilling Star Wars takes on old west cliché's, but to build out an entire show there was always going to need to be more than that.
In "Sanctuary", The Mandalorian starts to feel like a TV show for the first time.  This has both good and bad outcomes.  The good is in the diversity of characters and moods and in a story that expands the repeating theme of keep moving and survive into a broader context. The good is in building out the central character's personality and motivations (a difficult task for a character who never shows his face).
The bad is that the episode starts to feel more standard than the show has to this point.  Out of context, this could have been an episode of any sci-fi series.  Take out the Mando and some of the iconic SW elements that pop up, and this could have easily been an episode of Star Trek.
All in all, the good here does heavily outweigh the bad.  It may not feel as theatrical and unique as the first few episodes, but it also builds out a direction for the future and makes me believe this is a show that could sustain itself over multiple seasons.
Episode score 7/10
Before we get into some spoiler-filled thoughts, don't forget to leave a comment below with your own personal thoughts on this episode and we'll enter you into this week's giveaway. Last week, our random generator chose The Original Drew as our winner. Congratulations! Send an e-mail to viralhide@gmail.com for shipping details. This week, we're giving away a Black Series figure of Kylo Ren from The Rise of Skywalker .
SPOILERS AHEAD….
So, now for the spoilers.  Keep reading if you've already watched "Sanctuary".
The episode kicks off with a cold open showing us a rustic village that is attacked by Klatoonian raiders.  Right from the start, you recognize this setup from a 100 different movies or TV shows.  Wholesome villagers out of their depth call on the grizzled violence of a mercenary for protection.  The villagers learn to defend themselves, and the mercenary is tempted by the lures of domesticity.
If you think The Mandalorian is going to seriously deviate from this formula, then you are likely to be disappointed.  But deviating isn't the intent here.  The Mandalorian seems intent on showing us the tropes of Westerns through a Star Wars lens while entertaining us along the way.  And to that end, they definitely continue their success.
Mando is looking for a place to lie low with "baby yoda" for a few months so he can hopefully be forgotten by those out to kill them both. He picks the solitude of the planet Sorgan but is soon disappointed when he crosses paths with the long awaited Cara Dune (Gina Carano).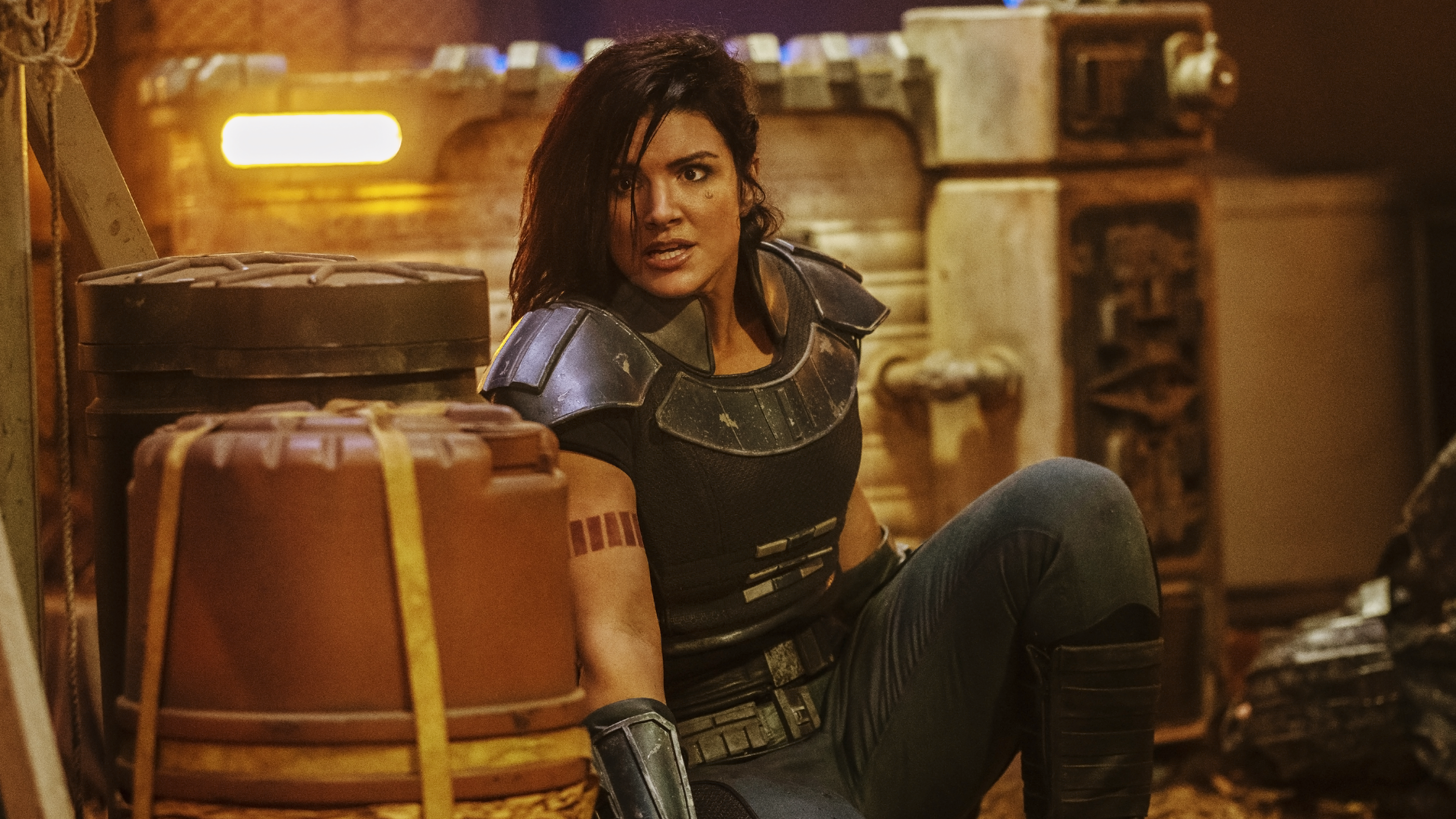 Cara is an ex-rebel trooper in hiding after abandoning her post when her role became too political in the wake of the Empire's fall.  One of the more interesting bits of the episodes is the readiness Mando displays to just give up his hiding spot since it has already been taken by Dune.  It re-emphasizes his personal code and shows that even though he is a bounty hunter his moral code is not a selfish one. He respects Cara's situation and is willing to start over again to allow her to remain inconspicuous.
But fate (and story) have another idea in mind for both the Mandalorian and the former rebel.  As he is readying to leave the planet, the villagers from the cold open come and offer him money and seclusion in exchange for helping out with their raider problem.  Mando conviнces Cara to take the deal as well and they both (along with baby yoda) relocate to the remote village.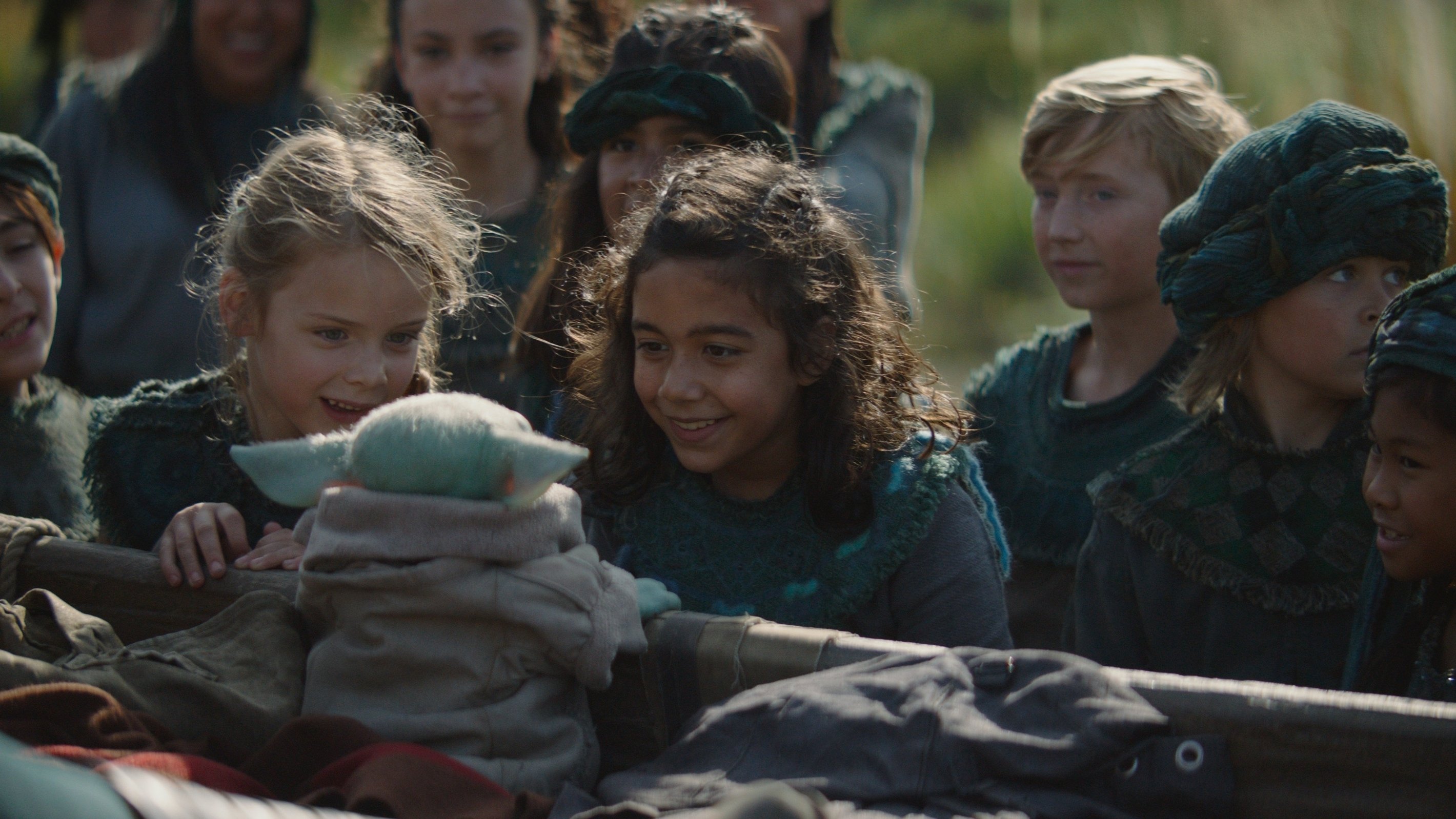 The rest plays out as you might expect.  Baby Yoda thrives in the wholesome atmosphere around other children.  A lovely widow starts to figuratively take off a bit of that Mandalorian armor, and Mando starts to consider what a life of krill farming would be like.
Cara and Mando train the villagers to fight and take out the bandits and their unexpected AT-ST in the main actions set piece of the episode.  Mando considers leaving Baby Yoda on the planet so he can be raised in peace.  This bit seemed a bit forced as we know that there is still a bounty on the child.  It seems unlikely that Mando would just leave him behind defenseless against future attackers who would come.
But, they don't make us suffer through the forced drama for long.  Predictably a fob wielding bounty hunter shows up looking for the youngling.  Mando is distracted by his blossoming flirtations with Omera (Julia Jones), but Cara Dune dispatches the mercenary before he can do any damage.  And in the end, of course, Mando realizes that the domesticity that was tempting him was no more than a pipe dream as long as people were still coming for him and the child.
So, we end where we started.  Cara and Mando go their separate ways and he takes off with the child to find a new sanctuary.  The episode was not a complete break from formula in that regard.  It would have been nice to see some of the new characters stick around so that we could start to see some expansion in the relationships with actors who aren't puppets or behind masks.
Hopefully the next episode will continue to expand the plots and roster of characters to build out the universe of The Mandalorian.  This episode was a solid first step on that road.  While not as memorable and unique as the first three episodes, it made important steps towards building this show into a series  that will last.
That's all we've got for The Mandalorian this week but be sure to check out "The Mando Fan Show" and join us again next Friday when we discuss Chapter Five! What did you all think of "Sanctuary"? Sound off in the comments or head over to the Cantina to discuss!