New Excerpt from Timothy Zahn's 'Thrawn: Treason' Focuses on Thrawn's Protégé Eli Vanto and the Chiss Ascendancy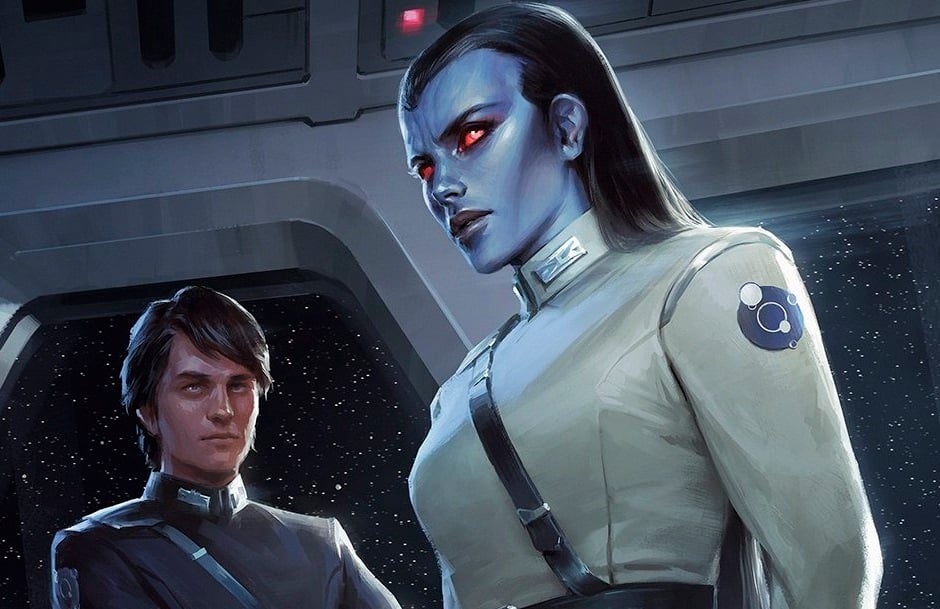 The third chapter of author Timothy Zahn's canonical Thrawn series will find its way to bookshelves everywhere next week, but today, you can check out a new excerpt from the upcoming novel.
The second book in the series focused on Thrawn's relationship with Darth Vader with no continuation of Eli's story that had been set up in the first book. Eli is an imperial officer and understudy to the Grand Admiral himself. At the end of Thrawn, he was sent to the Unknown Regions as a liaison to Thrawn's people in the Chiss Ascendancy. In the previous excerpt, we saw some interaction between some of the Empire's heavy hitters in an encounter between Thrawn, Tarkin, and Director Krennic. Now, in the brand new excerpt, we get a glimpse at what Eli has been up to since he left imperial space to join the Chiss.
(from io9):
He was halfway to the bridge, passing the standard green- and blue-rimmed compartment doors, when the double-red-rimmed door to the navigation ready room a dozen meters in front of him slid open. One of the navigators stepped out into the corridor and turned toward the bridge.

Normally, seeing the back of a navigator's head wouldn't have given Eli a clue as to who she was. All of the Steadfast's navigators were girls, nearly all of them between the ages of seven and fourteen, when Third Sight was at its strongest. On top of that, they tended to keep to themselves, and in all his time aboard he'd only met three of the five.

Vah'nya was the exception to all the rules. She was twenty-two years old, and unlike the children who shared her job she felt perfectly comfortable mixing with the rest of the adults aboard. Eli had seen and talked with her on a number of occasions, and had found her congenial company.

"Navigator Vah'nya," he called.

She turned to face him, a small smile touching her lips as she saw who it was. "Hello, Lieutenant Eli," she said. "What brings you to this part of the ship?"

"I've been ordered to the bridge," he said, eyeing her closely. Not just good company, but also highly intriguing. Though her Third Sight was slowly fading, as it did with all navigators, even at twenty-two she still had greater skill than all but one or two of the younger girls.

He'd looked into it a bit, and as far as he could tell no one knew why her ability had lasted this long. But then, with the whole Chiss navigation system a deep, black secret, it wasn't surprising that it hadn't been very well studied.

On top of all of Vah'nya's other interesting qualities, she was the only person aboard he'd been able to persuade to call him by his real name. That alone would have earned her high marks in his book.

"Ah," she said. "So you were not merely coming to see me?"

"No, not at all," Eli said, feeling his face warming. He wasn't entirely sure of the protocol regarding fraternization among the officers and crew, and he had no intention of learning about it the hard way.

"Too sad," Vah'nya said, in a tone that could have been mild sarcasm or complete sincerity. "Did Junior Commander Velbb say what it was about?" she added as the two of them continued forward.

"Actually, it wasn't Commander Velbb," Eli told her. "The order came from Senior Captain Khresh."

"Really?" she said, frowning. "That is unusual."

"I know." Eli gestured to her. "What about you? Are you coming on watch?"

"Yes," she said. "Though I feel I'm unlikely to be needed."

Eli wrinkled his nose. She had that right. Barely three hours after the Steadfastarrived in this system, Ar'alani had ordered a hard shutdown of the entire ship, a stage below even dark stealth mode, cutting unnecessary power use and all emissions, including active sensors. She'd given the ship one final burst from the drive, and from that moment on they'd been drifting, dark and silent, through the loose asteroid belt three hundred million kilometers from the system's sun.

That had been nearly a week ago. Eli had checked the ship's position, and studied the passive sensor reports, and he still had no idea what they were doing here. His best guess was that they were still following the ship they'd been tracking ever since leaving the Unknown Regions and that Ar'alani was afraid of spooking it.

As well she might. They were a long way from Chiss space and the various vague threats arrayed against them. This was a system deep within the Galactic Empire.

And the threats here were anything but vague.
For the full excerpt, head on over to io9. Thrawn: Treason releases on July 23.
Jordan Pate is Co-Lead Editor and Senior Writer for Star Wars News Net, of which he is also a member of the book and comic review team. He loves all things Star Wars, but when he's not spending time in the galaxy far far away, he might be found in our own galaxy hanging out in Gotham City or at 1407 Graymalkin Lane, Salem Center, NY.