The Resistance Broadcast – Sheev Palpatine: A Star Wars Character Discussion
Watch or listen below! On this episode of The Resistance Broadcast we do our first single character focus and who better to start with than The Emperor, Darth Sidious, "Sheevy Babes" Sheev Palpatine!
We also dive into our segment Will of the Force where we tackle questions like – Will Star Wars: Episode IX be the last time Adam Driver ever portrays Kylo Ren??
As always we end the show with your tweets in #ResistanceTransmissions! The Resistance base is now open, so come on in and join us!
On this transmission of The Resistance Broadcast:
John Hoey, James Baney, and Lacey Gilleran!
WATCH OR LISTEN
The podcast is now watchable on video, and make sure you are subscribed to our YouTube channel which is FREE!
If the audio version is your preferred method nothing has changed, so no worries! You can always find us on Soundcloud, iTunes!, and Spotify! Now on to this episode!
WILL OF THE FORCE
Will Darth Vader's castle appear in Episode IX?
PATRON SUBMISSION: Bryan Pothier – Will there be any surviving Skywalkers by the end of Episode IX?
Will Janina Gavankar ever play Iden Versio in a live action Star Wars series or film?
Will Star Wars: Episode IX be the last time Adam Driver ever portrays Kylo Ren?
Will Rian Johnson's previously announced new trilogy be made?
PATRON SUBMISSION: Don Boring – Will we see a surprise character return in Episode IX? (If you answer YES, QUICKLY guess who.)
HOW TO SUPPORT THE PODCAST
Our podcast episodes are free as always but if you'd like access to more exclusive content and rewards and support the show and crew you can sign up for our Patreon page!
Starting with tiers as low as just 2 dollars a month, you gain access to all of our additional content, videos, commentaries, giveaways, polls, and a lot of fun daily rewards, perks, and other fun stuff! Simply click HERE and take a look at the options! We appreciate any and all support. Thank you!
Special thanks to our Patreon Generals Adam Odle, Carmelo, and Val Trichkov and our Patreon Admirals Don Boring, Brian Shellito, Tampa Movie Guy, Matt Bain, Bryan Pothier, and Jason O'Donnell!
BUY YOUR RESISTANCE BROADCAST MERCH!
Pick up some of our awesome designs on a shirt, coffee mug, tank top, sticker, hoodie, pillow, anything! Simply go to our Resistance Broadcast store on TeePublic – check out our 40+ different design and pick what you like, like our brand new aurubesh backed logo below! You can head right to the store by clicking on the image below! Thanks for the support and enjoy the swag!!!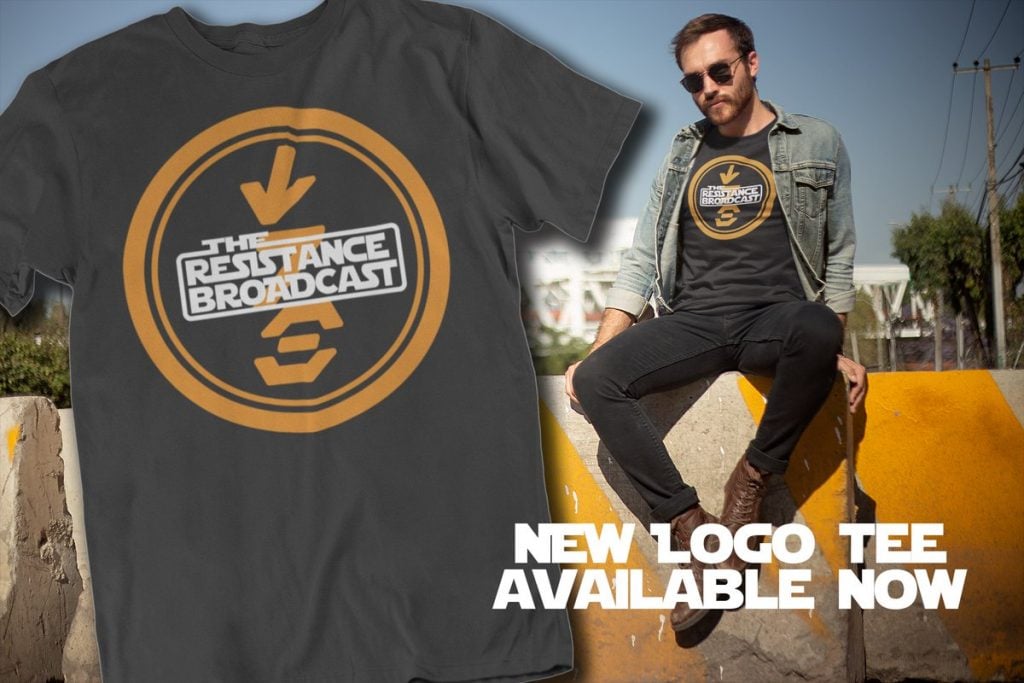 DID YOU MAKE IT ON THE SHOW?
We pitch a situation to you, and you fire away! Did yours make it on this week's Resistance Transmissions?
Listen and find out, and follow us on Twitter @RBatSWNN!
Time to give you the spotlight in #ResistanceTransmissions! The funniest and most clever answers to this will be read on the podcast with a shoutout!

What were Emperor Sheev Palpatine's final thoughts as Vader threw him down the reactor core? #StarWars #Podcast pic.twitter.com/bIcEPz95UC

— The Resistance Broadcast | Star Wars News Net (@RBatSWNN) January 7, 2019
Special thanks to Matt Pasterick for our theme song!
John Hoey is the Lead Editor and Senior Writer for Star Wars News Net and the host of The Resistance Broadcast podcast
"For my ally is the Force, and a powerful ally it is."