More Details on the Upcoming 'Star Wars: Age of Rebellion' Publishing Line from Marvel Comics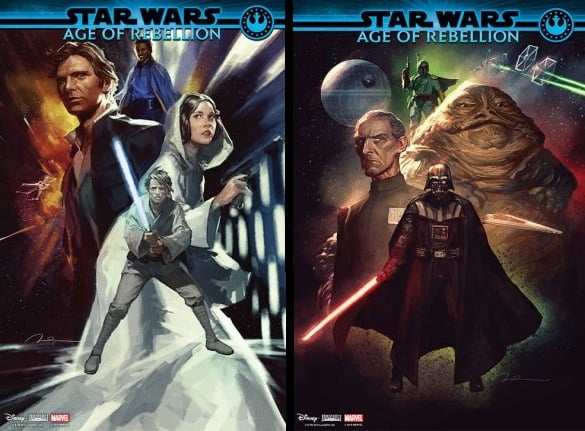 If you've not been reading Marvel's Star Wars: Age of Republic anthology comic series, you've been missing out on some great one-off stories about some of the most notable characters from the Star Wars prequel trilogy and the Clone Wars television series. However, if the prequels are not your jam (or if you just can't wait for more Star Wars), then you've got a lot to look forward to this spring when the series changes over to the Star Wars: Age of Rebellion moniker.
It was announced at New York Comic Con last year that Marvel would be releasing anthology one-shot comics across three different eras in the year or so leading up to the release of Episode IX. After the three-month run of Star Wars: Age of Rebellion, the stories will continue with Age of Resistance in the summer. But for now, we'll be focusing on Age of Rebellion as Marvel has just announced some new details about the upcoming series.
(via Hollywood Reporter)
Age of Rebellion will consist of nine issues that will be released over the course of three months with various stories spotlighting fan-favorite characters from the original trilogy.
Eight of the nine issues will be written by Greg Pak and illustrated by Chris Sprouse and Marc Laming with covers by Terry and Rachel Dodson. These stories will focus on Princess Leia, Grand Moff Tarkin, Han Solo, Boba Fett, Lando Calrissian, Jabba the Hutt, Luke Skywalker, and Darth Vader.
The final issue, Age of Rebellion Special #1, will be a collection of stories from Marc Guggenheim, Si Spurrier, Caspar Wijngaard, Andrea Broccardo and New Yorker cartoonist Jon Adams.
The Age of Rebellion line will run from April through June. Starting in July, Marvel will launch Age of Resistance as we draw closer and closer to the release of Episode IX.
Jordan Pate is Co-Lead Editor and Senior Writer for Star Wars News Net, of which he is also a member of the book and comic review team. He loves all things Star Wars, but when he's not spending time in the galaxy far far away, he might be found in our own galaxy hanging out in Gotham City or at 1407 Graymalkin Lane, Salem Center, NY.