The Resistance Broadcast – Should Obi-Wan Kenobi Appear in Episode IX?
Listen or watch below! On this episode of The Resistance Broadcast we discuss if Obi-Wan Kenobi should appear in Episode IX! Will he appear? If so how will he appear? CGI Alec Guinness? Ewan McGregor? We talk about all of the possibilities surrounding the Jedi who has been with us since the beginning. Listen in and then let us know what you think!
This week we bring back IS THE FORCE WITH YOU?, this time deciding whether the Force is with us or not about one topic – does Star Wars need to take a theatrical movie hiatus at some point?
To close it out we feature your tweets in RESISTANCE TRANSMISSIONS, did your tweet make the show? JOIN US!
SHOULD OBI-WAN KENOBI APPEAR IN EPISODE IX?
On this transmission of The Resistance Broadcast: John Hoey , James Baney, and Lacey Gilleran!
Be sure to subscribe to our YouTube channel or follow us on Soundcloud so you are alerted when new episodes post! If these formats aren't your thing, subscribe to us here on iTunes!
IS THE FORCE WITH YOU?
After Return of the Jedi in 1983, Star Wars took a 16 year hiatus, returning in 1999 with the prequel trilogy. After 2005's Revenge of the Sith, Star Wars was deemed finished (aside from 2008's The Clone Wars), but was revived with the sale to Disney in 2012, which lead to its return in 2015 with The Force Awakens, 10 years after Revenge of the Sith. Star Wars movies have had two extensive decade or more breaks since it took the world by storm in 1977. Does Star Wars need these hiatuses to make the movies feel special?
So here is the pitch – While it likely will not happen, Star Wars movies should take a minimum five year film hiatus at some point in the future. Is the Force with you?
Our DISCUSSION this week is all about Obi-Wan Kenobi in Episode IX!
What is next for Kenobi? He has been seemingly hovering over this sequel trilogy, albeit ever so slightly. Will Kenobi make an appearance in the movie? Or was McGregor/Guinness's voice over in TFA simply a nod/easter egg? Should Kenobi return? Will Kenobi return? How will the FINAL installment in the Skywalker saga reference or treat it's longest tenured Jedi who has been a part of it since the first episode?
RESISTANCE TRANSMISSIONS!
We pitch a question to you, and you fire away! This we we asked you, what would Vader have to say to lure YOU out from hiding? We received a lot of great answers, and as always we picked the most fun and creative ones. Did yours make it on the show? Listen and find out!
It's #ResistanceTransmissions! Vader threatening to turn Leia to the dark side drew Luke out from hiding.

If it was you hiding from Vader, what would Vader have to say to draw you out of hiding to attack him? BE CLEVER! Best answers will be read on the #Podcast! #StarWars pic.twitter.com/4hrGECxkiu

— The Resistance Broadcast | Star Wars News Net (@RBatSWNN) September 18, 2018
BUY YOUR RESISTANCE BROADCAST MERCH!
The only way to support our ability to give you two free weekly episodes is by buying some of our awesome designs on a shirt, coffee mug, tank top, sticker, hoodie, pillow, anything! Simply go to our Resistance Broadcast store on TeePublic – check out our 30+ different design and pick what you like.
We created the hashtag #MakeSolo2Happen! Join the campaign! Grab yours on sale HERE – let's make it happen!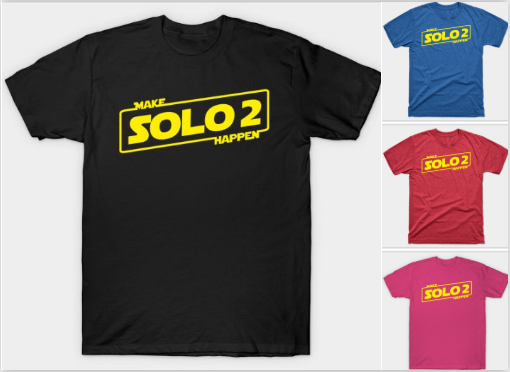 Special thanks to Matt Pasterick for our theme song!
John Hoey is the Lead Editor and Senior Writer for Star Wars News Net and the host of The Resistance Broadcast podcast
"For my ally is the Force, and a powerful ally it is."